Winter CSA Week 3: Thawing
News
Expected Harvest
Through Our Deepest Freeze
By Derek McGeehan
Winter Harvest #3 (Week A) should include potatoes, garlic, lettuce mix, carrots, greens choice (arugula, baby kale, spinach), cabbage choice (napa, green, red), and a root choice (kohlrabi, purple daikon radish, hakurei turnips, scarlet queen turnips).
**We're still thawing out after the deep freeze and the greens are only just beginning to show their tolerance so we're not exactly 100% sure what greens will be in the share besides lettuce mix**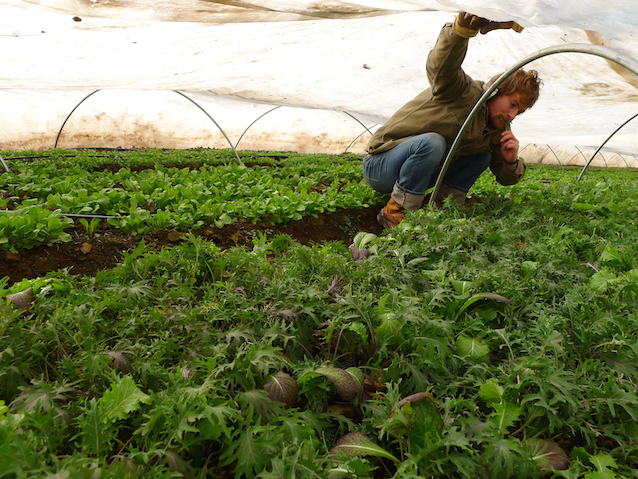 Checking on the greens underneath two layers of interior row cover in the high tunnel. Amazingly, as of Sunday afternoon, much of them look like they should be harvestable this week and beyond. The taste is also truly incredible thanks to the cold; I'm pretty sure that was the sweetest kale I've ever eaten.
Notes From The Field
All is Not Lost
By Derek McGeehan
Heading home after some serious snow play.
Our fingers and toes are still crossed (maybe frostbitten) as we continue to positively hope for successfully getting through this unforeseen deep freeze. Now, at least, 5 degrees without wind doesn't feel all that cold; when it's sunny and 15 degrees it feels warm. At least we have some snow to play in, too.
We are looking forward to trying to wash in the barn this week when it will be 40 degrees instead of 15-20 like last week. The washing experiment taught us that when it is that chilly, water freezes quickly to the conveyor chain on our root washer rendering it unusable. Hannah then bravely sprayed off the roots as much as possible while laying them out on bread trays. It had to be done very quickly before any of them froze.
It appears that a January thaw is in store for us this week and quite unbelievably it may be in the 50s next weekend. Crazy?
One important issue that we somehow (?) overlooked while we were more focused on successfully growing and storing winter crops is how to appropriately heat the barn in the future, warranting some serious consideration for a system that can heat the entire lower floor. We've managed to make the pick up room somewhat comfortable/tolerable using greenhouse plastic, tarps, old row cover, and space heaters, but this doesn't feel like a permanent solution to us, even though it is contemporary-rustic-farm-chic.
Thanks for growing with us!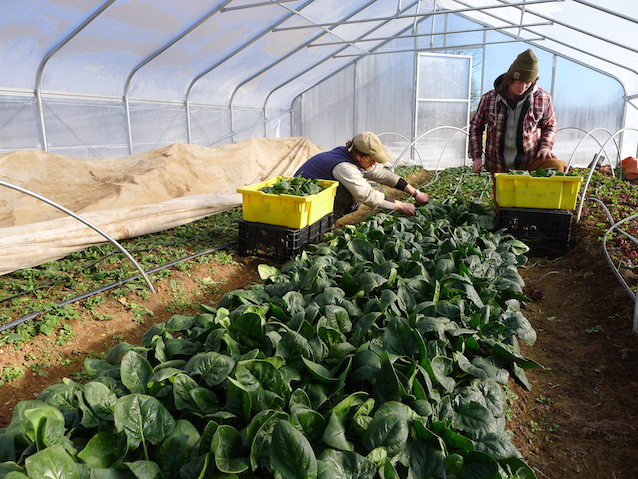 Harvesting cold tolerant spinach with Pat from the new hoop tunnel last week for share #2.
How I Enjoyed My Harvest
Healing Soup and Warming Stew
By Linda Dansbury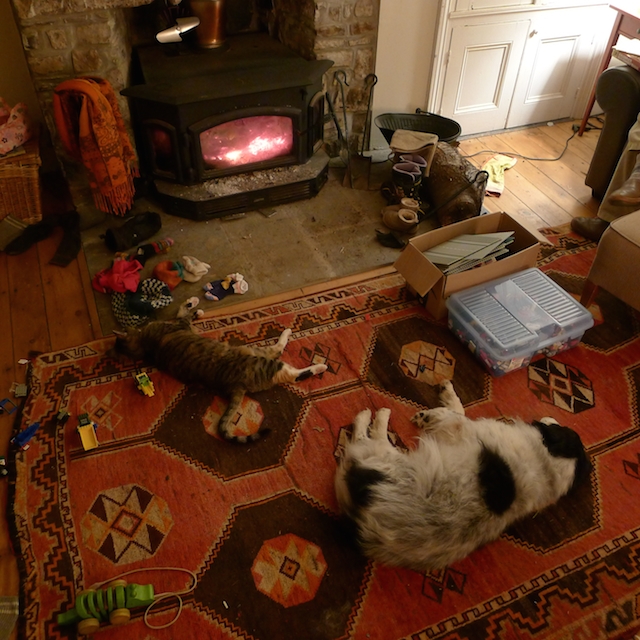 Farm animals Sugar Snap and Borchie warming by the fire. Barn cats Monday and Grrrl Cat have been brought into warmer climes as well and have settled into a hibernation-like state.
Record breaking temperatures, and yet we are still going to receive delicious greens this week and beyond. I am so happy that D&D decided to take this challenge on, starting a few years ago. Thank you for the amazing produce!
Onions, carrots, kale, garlic and local chicken - This week a family member came down with a cold, so I quickly cooked up chicken soup - studies show that it isn't just an old wive's tale that chicken soup helps heal the body. Since I still had kale from a couple weeks ago, I added kale in at the end to add additional nutrients to the pot - yum!
Onions, carrots, sweet potatoes, potatoes, daikon radish, kohlrabi, turnip, celeriac, garlic, kale and local beef - this cold weather had us craving comfort foods - rich, warm, yummy stew is what did the trick. I had both stewing meat and short ribs so first I browned the meat and removed from pot. Added onions and carrots to pot and got them going for a bit. When they were starting to get a bit soft, added garlic and after a minute sprinkled in a couple tablespoons of flour and mixed it all up with the veggies and kept the mixture moving in the pot (doing this "cooks" the flour so it will thicken the stew but not give it a raw flour taste). Next I added about half a bottle of red wine and de-glazed the pot. Added some tomato paste and tomatoes that had been frozen during the summer. Added beef stock, added meat back in and let that simmer for about an hour. Meanwhile, I chopped up all the other veggies and added them to the pot and simmered it all for about another hour and a half. It was delicious and made enough for a few meals.
Sweet potatoes, potatoes, celeriac - made "mixed mash" - cut everything up - I don't even peel the potatoes or sweet potatoes - boiled until all were tender and then mashed as normal. Depending on what it is going with, garlic and/or thyme/rosemary can be added to the pot too.