Celebrating 15 Years of CSA at Anchor Run!
News
Notes From The Field
It's Spring After All
By Derek McGeehan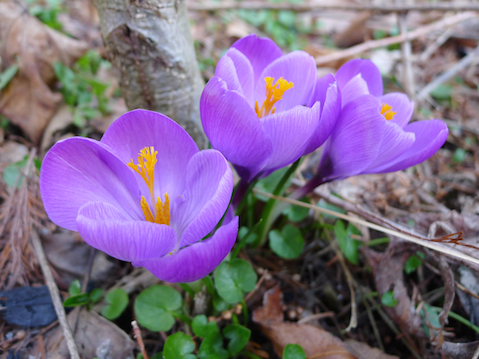 2018 crocus on the final day of February

Just like last year we enjoyed a late February spring tease followed by a month of March winter weather and are about to endure another Nor'easter one day after the official astronomical start of spring. Endure feels like the perfect word to describe life on the farm during a wintry March when cabin fever can ail us all. We're itchin' to begin our work outside, plowing and planting into dry ground on nicely made raised beds during a chorus of spring peepers and catcalls of the eastern American toad. Last year we weren't able to plant outside until April 11th, a week later than planned, and this spring is looking similar. But do not worry - harvests should begin on time thanks to the benefits of minimal season extension technologies such as floating row cover!

We began sowing the seeds for future food in our heated Greenhouse during the final week of February. It is now home to around 50,000 plants nestled in their warm trays. Plants from the first week of seeding will soon be one step closer to outside exposure; we'll move them to our unheated Hoop House to harden off. This will allow them to get used to spring weather in Bucks County before they go to their final locations in the soil in the field.

Starting next week we'll loosen and prepare the soil in our Hoop Tunnel and High Tunnel for early season beets, salad radishes, and tender hakurei turnips which will accompany the first few rounds of CSA shares. Hopefully the week after we'll begin preparing soil outside in the fields for the multiple acres that will need to be planted in April. It's almost time to truly hit the ground running, but right now we must endure another round of winter weather!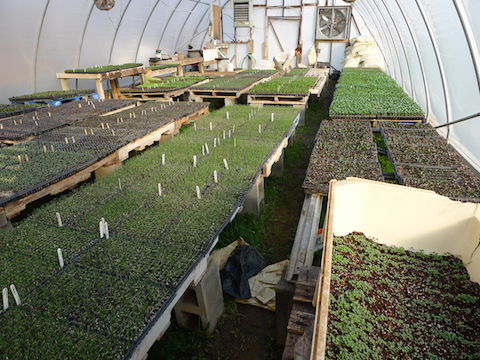 Green in the Greenhouse! Onions, leeks, scallions, bok choy, cabbage, kale, kohlrabi, romaine and bibb lettuce, endive, escarole, radicchio, dandelion, spinach, chard, beets, peas, celery, fennel, parsley, cilantro, dill, tomatoes, peppers, flowers

Sign Up Soon For Your CSA Share!
by Dana Hunting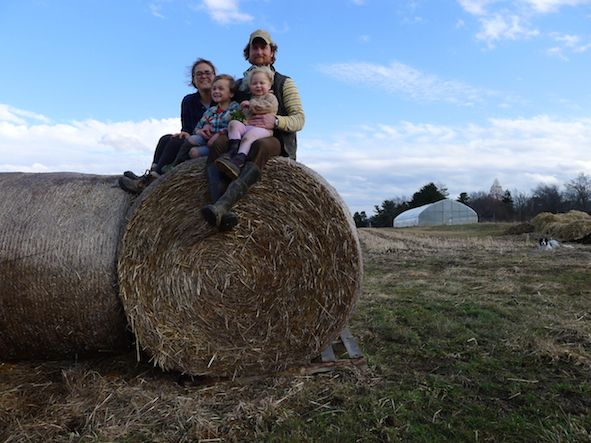 Farm family in February

Secure your
26-week-long share of fresh local certified organic produce
from farmers you
know
and can
trust
. Celebrating Anchor Run CSA's 15th year - and our 10th here - 2018 is sure to be a great season!
Log in here
to join. Contact us if you have any questions, concerns, ideas, or trouble logging in.
We're anticipating
even more fruit
this year: a 20% increase in
strawberry
patch size; 3-year-old
blackberry
plants and 2-year-old
raspberry
plants should yield very well;
watermelon
, including a seedless variety, will be with us for many summer weeks; and after a successful trial last year of an organic
cantaloupe
variety we're quadrupling the crop this year. This spring we're also planting 500 fall-bearing
raspberry
plants to extend that season as well as 150
blueberry
plants (because we all love blueberries).
Besides fruit, you can expect a wonderfully
diverse array of fresh produce
in the pick up room and in the fields for u-pick. We're hoping to be able to provide you with even more
choice
and
balance
. Feedback is always welcome;
we're your farmers after all
!
Our total number of members will be the same this year as it has been for the past 5 seasons (250 weekly). As of now we're about 75% full.
Refer a Friend Credit!
by Dana Hunting
Interested in helping your CSA meet its membership goal? Participate in our Refer a Friend Program. If your efforts result in a new CSA member we'll credit your account as follows: $10 for a new Full Share member; $7 for a new Medium Share member; and $5 for a new Half Share member! Simply let us know who the new members are via e-mail. (New members are ones that join after this announcement)

A Few Dates for You
by Dana Hunting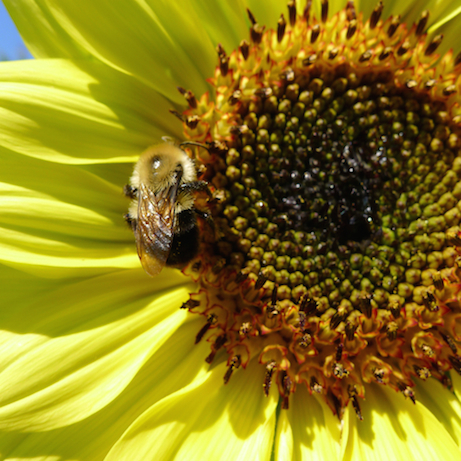 Summer sunflower and bumble bee
April 29: New Member Orientation and Farm Open House 10am-2pm (u-pick/field tours on the hour and pick up room/barn tours on the half hour). Rain date will be May 6th.

May 1:
CSA share balance due (
log in
to view your balance)
May 7: Establishment of Week A or Week B for Half Shares (also log in to view)

May 14: First week of pick up for Full, Medium, and Week A Half shares (probably)

May 19: First potluck of the year

May 21:
First week of pick up for Week B Half shares (probably)
June 2:
'What Now?!' class full of pointers on how to use your CSA share
Late April/Early May:
Workshift opportunities should begin. We'll announce via e-mail/newsletter and you can sign up on the website calendar. Instructions are
here
.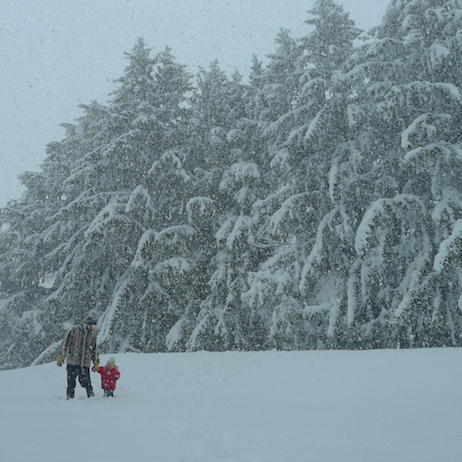 Looks like this year's workshifts will include shoveling snow.