Harvest Season Commences Week of 5/21/18
News
Notes From The Field
Harvest Season Begins Week of 5/21/18
By Derek McGeehan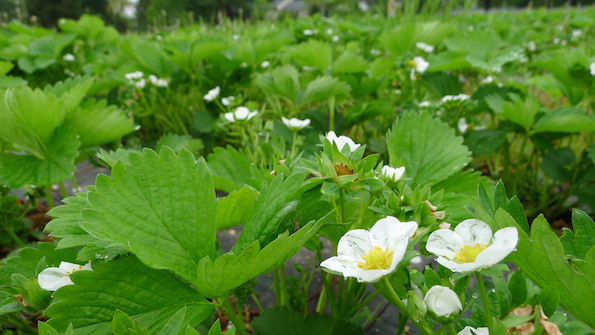 Strawberry plants are flowering!
Wow, we've been busy and time has flown by! It's now the middle of May, the harvest season is about to commence, tomatoes are in the ground, swallows have returned, eastern gray tree frogs are singing, forests and fields are green, and strawberries are flowering. It's been a month since our last official newsletter went out. It's difficult to spend enough time in front of a computer with all of the outside work we've had to do and a lack of rainy days hasn't forced us inside (until now). We've turned the corner away from frost and are now focused on planting traditional summer crops like squash, cucumbers, basil, melons, tomatillos, husk cherries, flowers, and tomatoes. Things are rolling along and we're right on schedule.
Most crops on the farm are looking healthy without any major surprises. Fortunately leaf miner damage seems to be minimal, almost absent. The ever-present springtime flea beetle, however, seems to have outsmarted our floating row cover in one field and is completely absent in another. The cool and previously dry weather hasn't stimulated too much weed growth though we've spent a lot of time cultivating to keep them from gaining any footholds.

We muscled through 3 or 4 days in the 90s, set up irrigation on the entire farm, and now of course are enjoying days and days of moisture and cool weather. It comes at a good time anyway. We're looking forward to seeing returning members and new faces on the farm, see you soon!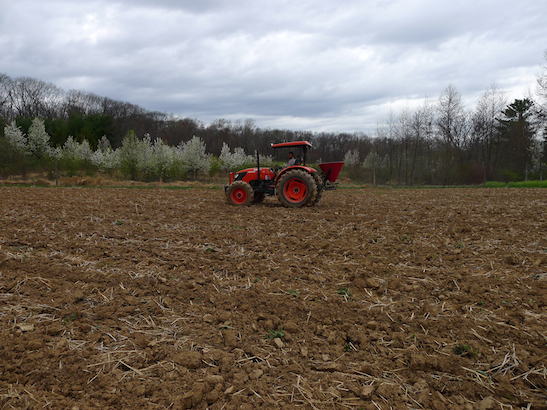 Sowing a cover crop mix of oats, peas, and sunflowers on a fallow field.
Expected Harvest
First Harvest Week of 5/21/18
by Dana Hunting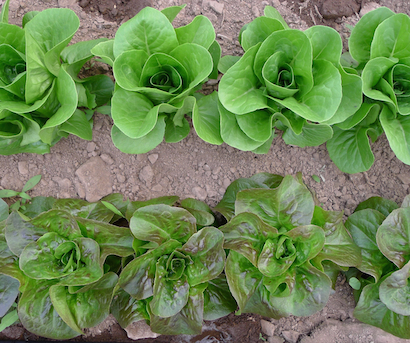 Lettuces!
Hypothetical Week #1 Harvest (Week A): lettuce, romaine lettuce, spinach, kale, pea shoots, green garlic, greens (arugula, broccoli raab, greens mix), bok choy, radishes, hakurei turnips, chard, chicory (endive, escarole, Italian dandelion, radicchio), herbs (chives, dill, cilantro). Some items will be a choice. U-pick should include perennial herbs. In next Sunday's newsletter the official list will be included (a lot can grow/change in a week).

Some Pick Up Information
by Dana Hunting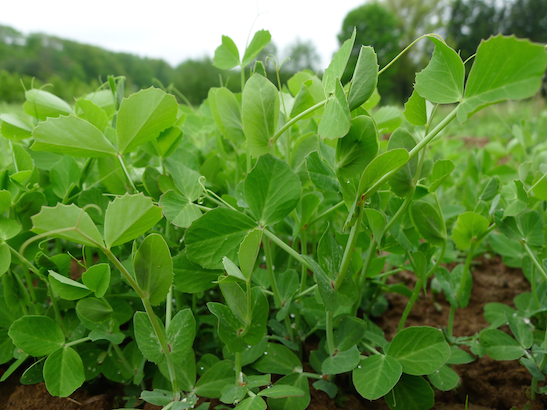 Pea shoots should be in the first few harvests.
Another e-mail will come your way with your specific pick up day information and balance but you can always
log in
to the website to check.
Pick up begins the week of 5/21/18 for Full, Medium, and Week A Half Shares. Week B Half Shares begin the following week of 5/28/18. We're open Memorial Day weekend and during all summertime holidays. Log in to view your pick up day/week now, or wait for the next e-mail.
Pick up days are Monday 1-8pm, Thursday 1-8pm, and Saturday 10am-12noon. When you signed up for a share you selected one of these days. Half Shares are also designated Week A or Week B. If you're a returning member you have the same week as last year. If you're a new member you've been assigned Week A or Week B. Log in to check now, or wait for the next e-mail.
It is very important that you come on your correct and assigned pick up day since we harvest specific amounts for the number of members coming on that day. Sign in sheets are provided by the pick up room when you arrive to collect your share. Log in to check now, or wait for the next e-mail.
You can temporarily switch your pick up day/week by e-mailing us by 5pm Sunday prior to your pick up week.
Allotments for the farmer harvested share and u-pick portion will be specified on the blackboards in the pick up room. Staff will be available in the pick up room to assist new members.
U-pick can be collected any day of your pick up week Monday-Sunday 8am-8pm. Weekly u-pick allotments are specified in the pick up room on the u-pick board.
Bring your own bags and scissors and wear appropriate farm footware. Please be courteous in the pick up room and in the u-pick fields.
Parking is available in the large stone lot at the end of the driveway. Parking next to the barn is available for handicapped persons and for cars with sleeping kids.
Driveway speed limit is 10mph.
The bridge immediately north of the farm on 2nd Street Pike (route 232) is temporarily closed for repairs. Alternate routes abound if you're approaching from that direction. If heading south on 413 from Buckingham take a right on Township Line Road, a left on Cherry Lane, then a left on 2nd Street Pike. If heading north on 413 from Newtown take a left on Penns Park Road then a right on 2nd Street Pike. If heading south on route 232 from New Hope it looks like taking a right on Pine Lane to Township Line Road is best. Consult Google Maps for more help. The bridge is scheduled to reopen in June.
If you still have a balance, please remit payment no later than June 1st, 2018. You can mail it or give it to Becky in the pick up room.
Workshifts for Week of 5/14/18
By Derek McGeehan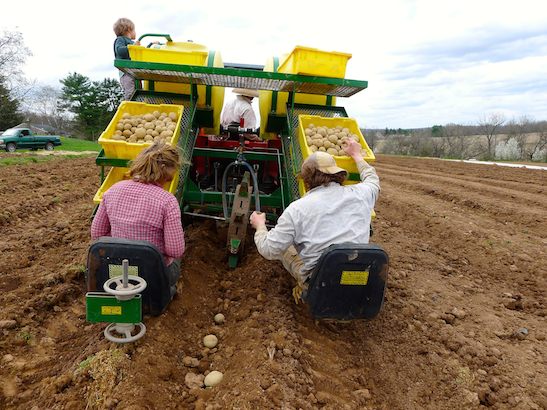 Transplanting 2 miles of potatoes a few weeks ago with the farm crew.
We had been planning to begin a regular workshift schedule this week but due to the rainy forecast we're going to postpone workshifts until next Sunday and the following week. Being in the fields when they're perpetually soggy and moist is not a great idea.

Workshifts scheduled as of now:
Sunday 5/20 10am-12noon
Sunday 5/27 10am-12noon
Workshift sign-up instructions may be found
here
.
Once the forecast changes we'll post more workshifts during the week.
Thank you!
Upcoming Events
by Dana Hunting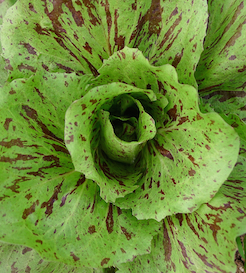 radicchio
June 2nd 1-3pm: Now What?! Workshop hosted by longtime CSA member Gia Yaccarino. Click link for more information.

June 9th 6-9pm: Potluck under the pavilion