CSA Week 2: Floating Through
News
Expected Harvest
Flood Tolerant Veggies
By Derek McGeehan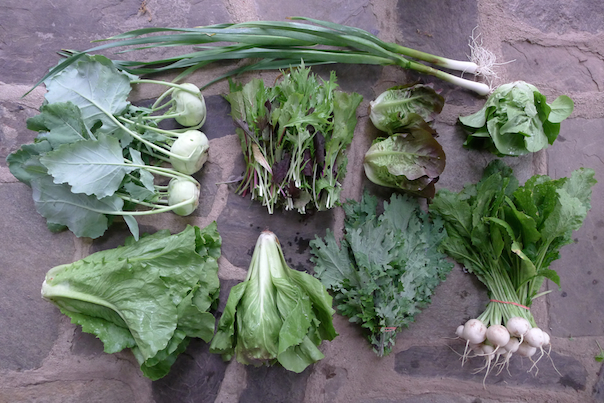 Note: Pick up on Memorial Day, Monday, will run as regularly scheduled, 1-8pm. E-mail us before Monday if you need to switch to a different pick up day (Thu, Sat).

Main Season Harvest #2 (Week B) should include hakurei turnips, romaine lettuce, head lettuce, green garlic, kale, bok choy, endive, escarole, radicchio, beets, kohlrabi, broccoli raab, and greens mix. Some items will be a choice. U-pick should include perennial herbs from the herb garden. Herbs ready for harvest should include mint, thyme, oregano, lemon balm, catnip, sorrel, and anise hyssop.

Please note that due to the crazy weather and excessive rainfall what's offered in the pick up room could be slightly different than what is listed here.
Notes From The Field
The Good, The Bad, and The (ugly) Rain
By Derek McGeehan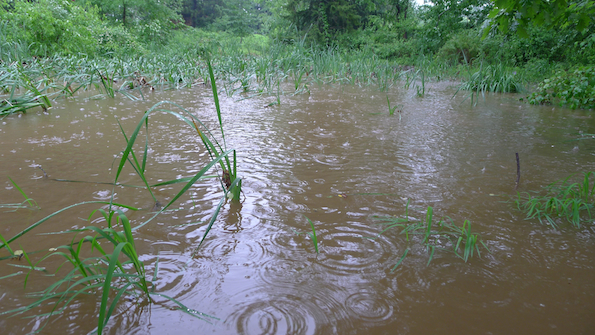 An overflowing pond unfortunately cloudy with sediment.
Another 3.75 inches of rain fell at the farm this morning bringing the total for the month up to almost 10 inches. In my memory this was the worst flash flooding event we've had on the farm since the summer of 2009, the last time I remember receiving 3+" in such a short timeframe. It's very much a good thing that I waited until after our field walk to work on the newsletter because I was rendered mentally exhausted, frustrated, sad, confused, forlorn, desperate, scared, and empty of spirit after battling the torrent spilling down the driveway with a rake, a hoe, and eventually the tractor amid the driving relentless rain.

The field walk revealed our worst fears weren't realized and erosion was luckily "minimal". No major new erosion channels were formed in any of the fields and no crops were washed away (that was taken care of in April when we had 2.5" of rain in a couple of hours). The field walk also nicely revealed healthy crops ready for harvest such as beets and kohlrabi, dill and cilantro which should be offered this week or next.

Most fortunately prior to this weather event the ground had dried out just enough to allow us to work the soil and make beds for many of the crops that desperately need to find an outside home. These crops include eggplant, okra, winter squash, lettuce, basil, summer squash, cucumbers, beans, and edamame, about 5,000 feet in total. The dry soil also gave us the chance to get caught up on cultivating. Considering the wet weather of the past two weeks we could be in a worse position. Hope you all made it through this most recent bad weather event!

Workshifts for Week of 5/28/18
by Dana Hunting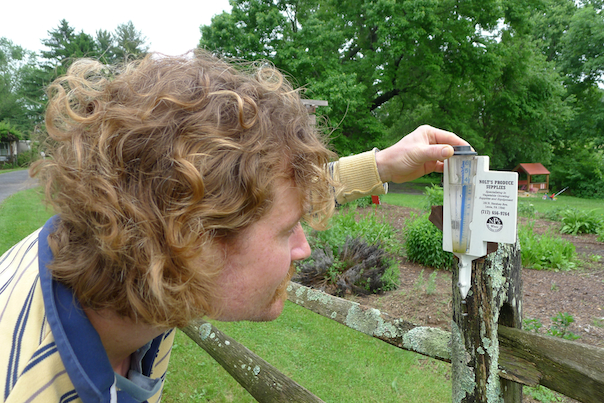 Let's hope for a dry week so we can actually get some outside work done!
Workshifts scheduled for this week:

Wednesday 5/30 10am-12noon
Wednesday 5/30 6-8pm

Friday 6/1 10am-12noon
Sunday 6/3 9-11am
Workshift sign-up instructions may be found
here
.
Workshifts typically meet under the large red maple just outside of the pick up room. Please wear appropriate clothes and footwear for working outside and bring your own gloves and water.
Thank you!
Some Pick Up Information
by Dana Hunting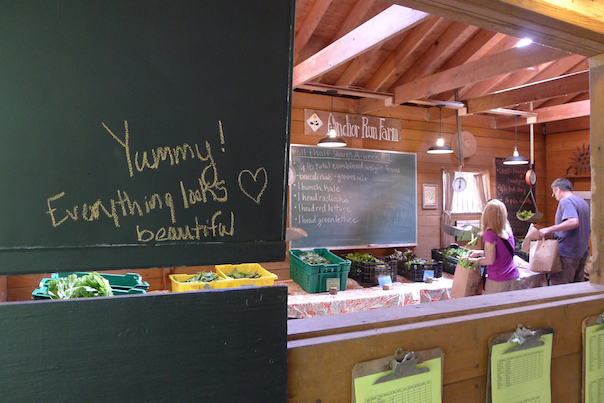 Anchor Run CSA pick up room and a nice note.
Pick up begins the week of 5/21/18 for Full, Medium, and Week A Half Shares. Week B Half Shares begin the following week of 5/28/18. We're open Memorial Day weekend and during all summertime holidays. Log in to view your pick up day/week or look at the e-mail that was sent and included all of that information.
Pick up days are Monday 1-8pm, Thursday 1-8pm, and Saturday 10am-12noon. When you signed up for a share you selected one of these days. Half Shares are also designated Week A or Week B. If you're a returning member you have the same week as last year. If you're a new member you've been assigned Week A or Week B. Log in to view your pick up day/week or look at the e-mail that was sent and included all of that information.
It is very important that you come on your correct and assigned pick up day because we harvest specific amounts for the number of members coming on that day. Sign in sheets are provided by the pick up room when you arrive to collect your share. Log in to view your pick up day/week or look at the e-mail that was sent and included all of that information.
Sign in when you arrive. Sign in sheets are located on the left in the barn hallway just outside of the pick up room.
You can temporarily switch your pick up day/week by e-mailing us by 5pm Sunday prior to your pick up week.
Allotments for the farmer harvested share and u-pick portion will be specified on the blackboards in the pick up room. Staff will be available in the pick up room to assist new members.
U-pick can be collected any day of your pick up week Monday-Sunday 8am-8pm. Weekly u-pick allotments are specified in the pick up room on the u-pick board.
Bring your own bags and scissors and wear appropriate farm footwear. Please be courteous in the pick up room and in the u-pick fields.
Parking is available in the large stone lot at the end of the driveway. Parking next to the barn is available for handicapped persons and for cars with sleeping kids.
Driveway speed limit is 10mph.
The bridge immediately north of the farm on 2nd Street Pike (route 232) is temporarily closed for repairs. Alternate routes abound if you're approaching from that direction. If heading south on 413 from Buckingham take a right on Township Line Road, a left on Cherry Lane, then a left on 2nd Street Pike. If heading north on 413 from Newtown take a left on Penns Park Road then a right on 2nd Street Pike. If heading south on route 232 from New Hope it looks like taking a right on Pine Lane to Township Line Road is best. Consult Google Maps for more help. The bridge is scheduled to reopen in June.
If you still have a balance, please remit payment no later than June 1st, 2018. You can mail it or give it to Becky in the pick up room.
Upcoming Events
by Farmer Dana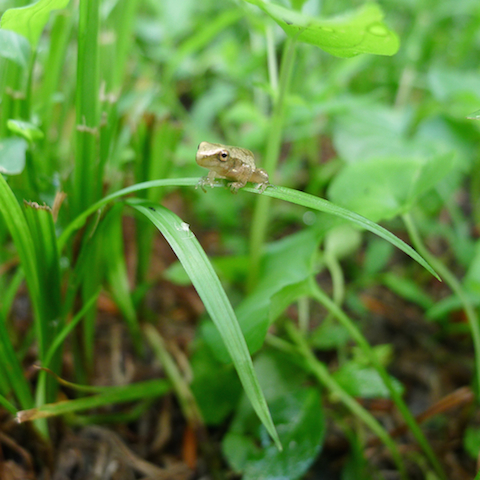 This baby tree frog wants you to come and enjoy the farm and join us for our potluck!

Saturday July 14th 6-9pm: Potluck under the pavilion
How I Enjoyed My Harvest
Tender Greens
By Linda Dansbury
Last week I wrote that this article would begin this week; however, my pick up day is Thursday, so that only gives me a couple days to enjoy the yummy veggies prior to my Sunday posting.
Mini head lettuce, spinach, pea shoots, radicchio, chives (including blossoms), radishes - made really yummy salads - the more flavors and textures, the tastier the salad. Homemade salad dressings are as simple to make as they are delicious to eat. For a simple vinaigrette, just remember a vinegar to oil ratio of 1:3 or 1:4 so it is nicely balanced. From there, add whatever herbs and/or spices you like - I tend to slant the dressing toward the flavorings of the main course - I use rice wine vinegar, a neutral oil, a drop of sesame oil or tamari for Asian meals. For European, I tend to add garlic, basil and oregano (dried is fine) to my dressing. Homemade dressings keep for at least a week in the fridge.
Lettuce, chives, green garlic, pea shoots, radishes, ground lamb - made lettuce wraps - the small, cupped lettuce leaves were perfect to hold small amounts of lamb that had been sautéed with sliced onions and green garlic, bulghur and Middle Eastern spices. Used pea shoots, julienned radishes and chives for toppings before rolling the lettuce wraps up.
If you have a tasty way you enjoy your harvest, or a request or question, email me at lindadansbury@comcast.net and please put Anchor Run in your subject line.
Greens How to...
By Linda Dansbury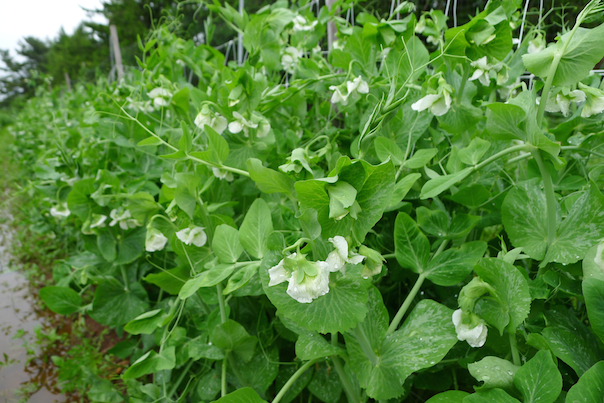 Snow peas are flowering which means we'll all be picking peas very soon!
This time of year, the harvest is ever changing and not truly known until it is time to harvest due to the fluctuating (and particularly adverse) weather conditions.
Derek tells me he is certain about some crops, so here are a couple of tips on greens:
Green tops - don't throw away the radish, turnip, beet and kohrabi tops! They can be sautéed or stir fried by themselves or along with the other greens we receive, added to soups or frozen to add to homemade vegetable broth. A simple way to blanch prior to freezing is to boil a large pot of water. Place the greens you want to blanch in a large colander set over a larger pot or over the sink. Boil water and then slowly pour over the greens. When cool enough to handle, squeeze out as much of the water as you can, make balls out of the greens, place in freezer bags (label) and freeze. Later, when making broth, soups you want to add greens, or stews, just take the greens out of freezer as needed and use. This method is also great if you just don't have time to use all the greens we receive at this time of the year. In addition, if the chard stems are not used in a recipe, freeze for adding to vegetable broth.
Greens are in many cases interchangeable in recipes - for example, the leaves of Swiss chard may be used instead of spinach in most cooked recipes. Too much kale? Make kale pesto - experiment with individual greens or a mixture. In our
June 2nd Workshop called "Now What"
, Gia along with attending members will exchange ideas of how to both enjoy the greens when you first bring them home and how to preserve them, making pesto/pistou, and freezing, plus many other techniques. Even long-timers always learn new tricks and recipes, so be sure to attend this fun event!
It is best to cut the tops from the roots when you get them home to preserve both flavor and freshness of both parts of the crop.