CSA Week 3 Newsletter: Berry Focused
News
Expected Harvest
Peas and Strawberries are Here!
By Derek McGeehan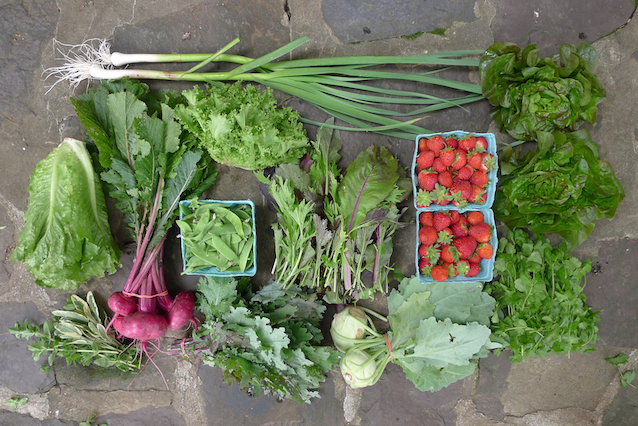 Harvest #3 (Week A) should include strawberries, kale, romaine lettuce, mini lettuces, beets, scarlet queen turnips, kohlrabi, endive, escarole, chard, greens mix, Italian dandelion, radicchio, green garlic, scallions, basil, dill, cilantro, and parsley. Some items will be a choice. U-pick should include perennial herbs, snow peas, and strawberries.

Notes From The Field
Onward
By Derek McGeehan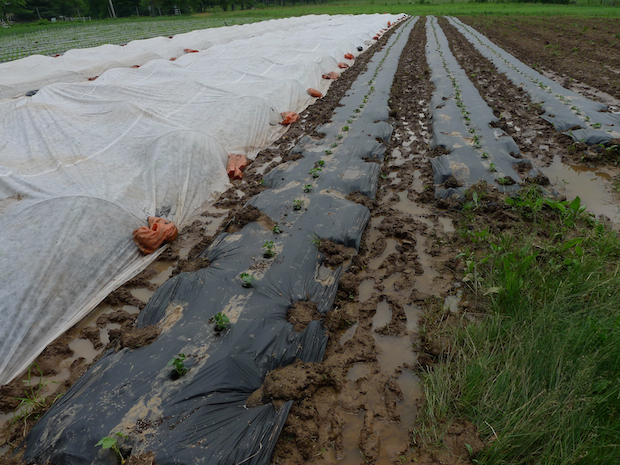 Soggy Field Two.
by Farmer Derek

A typical wet farm scene from the past few weeks is shown above. This is the summer nightshade patch including tomatoes, peppers, eggplant, okra, and sweet corn. We're righteously assuming the perpetually soggy ground will eventually dry out leaving happy plants in its wake. This field had been left fallow for almost 4 full seasons so we're anticipating robust growth and healthy crops. This field does seem to be subjected to a high water table so we'll see what does happen. Tomato plants that have been in the ground for almost 4 weeks are thriving fortunately.

We did manage to transplant a lot of crops this past week, pushing and pulling the transplanting wheels up and down thousands of feet of raised beds. We're so used to wet ground that we don't even think about using the tractor for this task anymore. Most of the time during the growing season we pull the water wheel transplanter with the tractor. It deposits water in holes made in the soil with 3 spiked-wheels that are fully adjustable based on row space needed for specific crops. In wet weather we pull it with human power, and skip the water addition part. It is a really good system and a really good work out.

Upcoming this week: trellis and prune tomatoes, transplant 3000 sweet potato slips plus other crops, cultivate, seed, weed, harvest, bed prep. Onward.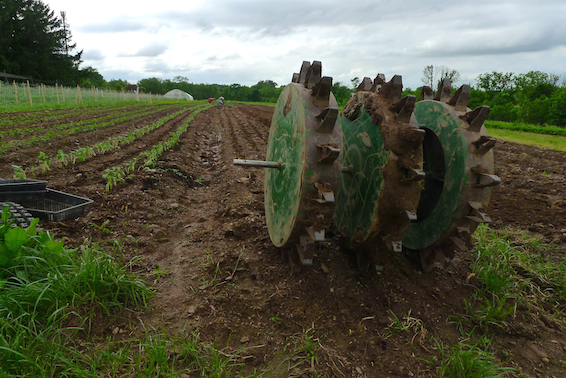 Transplanter spiked-wheels.
How I Enjoyed My Harvest
Great Greens!
By Linda Dansbury
by Linda Dansbury

Salads taste so much brighter with farm fresh greens, so we have eaten large salads usually adding a little bit of most of the greens. Derek tells me the next couple of weeks of harvests will include a lot of lettuces, chicories, and other greens so here are a couple of ideas for you. I welcome emails from members sharing how you enjoy your harvest - please email me at lindadansbury@comcast.net and please use Anchor Run in the subject line.
Romaine lettuce - the head of romaine we received was epic! A really delicious way to enjoy it is to put it on the grill briefly and then make it into a Caesar salad. Cut the head into quarters, leaving the core intact. Brush lightly with olive oil and place on grill on indirect heat. Do not walk away or it will burn. You just want to char it slightly. Remove from grill, chop into bite-sized pieces and dress with your favorite Caesar dressing.
Kohlrabi, turnips, green garlic, cilantro - made a saute/stir fry. Thinly sliced the kohlrabi and turnips and sauteed them, leaving them alone enough to create browned spots. I added the green garlic when I thought the veggies were about half cooked. When they were almost tender, I added the chopped greens to the pan and allowed them to wilt. I then drizzled a bit of sesame oil and salt and pepper. Removed from heat and put a generous amount of chopped cilantro on top.
Radishes, turnips, kohlrabi - added them to salads for added crunch. Also cut up and ate some along with my lunch each day.
Kohlrabi and Turnips
By Linda Dansbury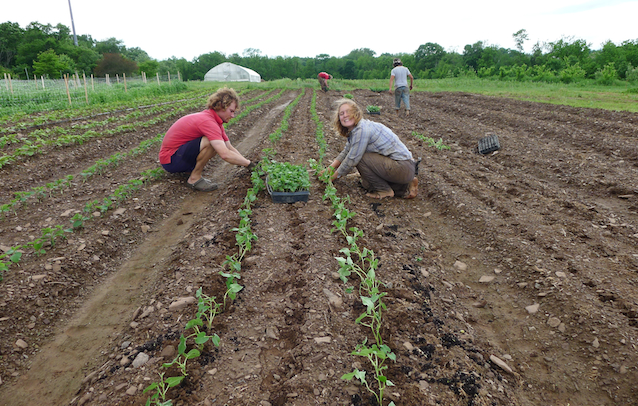 Hannah was still smiling after transplanting beans and edamame (and winter squash, summer squash, cucumbers, lettuce, dandelion, basil, eggplant, okra, corn) during another soggy week. Camera person could have requested it.
The rainy, gloomy weather has slowed down some veggies, but others, including turnips and kohlrabi are thriving - so, what do you do with them? These 2 veggies are asked about by members as much as any we receive. Both are in the brassica family - the same as broccoli - and have the same high level of vitamins and antioxidants.
They keep best if the tops are removed and stored separate from the bottom. See last week's newsletter for things you can do with the greens - don't throw them away! Both turnips and kohlrabi store well in the fridge.
Both the turnips and kohlrabi are yummy raw and cooked. I often use the turnips instead of radishes in salads and both are great as part of a crudite platter with your favorite dip. A favorite of mine,
Radishes with Goat Cheese Dip
is on this site.
Grate kohlrabi into your salads or use for cole slaw. Try the
Kohlrabi Slaw
recipe for something different.
So, how about cooking? Veggies in this family become mild and almost nutty tasting when cooked. Both veggies are tasty when simply sauteed until tender in a little butter or oil - add fresh herbs, salt and pepper near the end of cooking. Both are also great when used as ingredients in stir fries, or cut into cubes and added to soups and stews. One very tasty option for turnips is the
Asian Turnips with Miso
on this site. It demonstrates how to use the veggie and greens in one delicious dish.
Strawberry Storage
By Linda Dansbury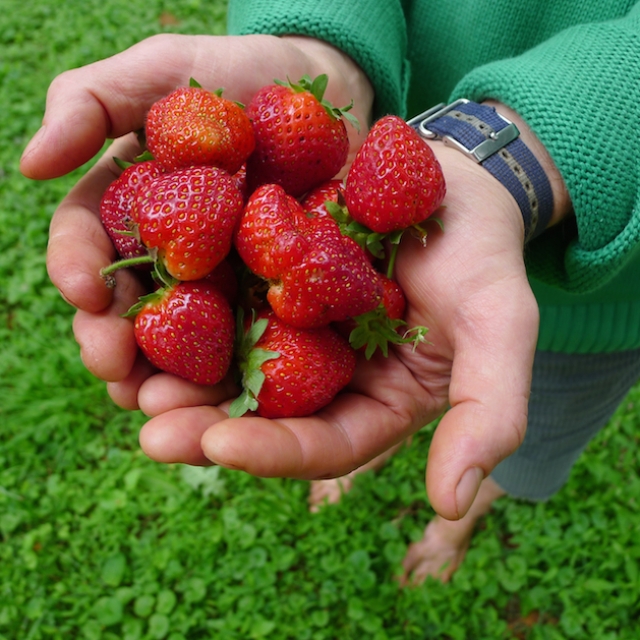 The strawberry harvest commences today. All of this rainy weather means the strawberries may be wet when you pick/receive them, making them very susceptible to rotting. There is nothing more depressing than having your berries rot before you get a chance to eat them. If they are wet when you get them home, gently lay them out on a towel and allow to dry before putting them in the fridge - I do keep mine in the u-pick containers because it allows them to breathe.
Never wash berries and then put into the fridge - they will rot quickly.
Enjoy!
Now What?! Recap
By Gia Yaccarino
I will be honest – Anchor Run CSA never ceases to amaze me! I shared with one member at the workshop that when I originally joined Anchor Run CSA, I was solely focused on the "A" part of CSA. The "C" part snuck up on me and had me hooked! Reflecting on today's workshop, I was again focused on the "A" part – how to store, how to prep, recipes… Again the "C" part snuck up on me! The workshop included first year members and seasoned members and everyone shared and offered their input. There was such an awesome exchange of ideas and advice. Absolutely amazing! We talked about ways to store our herbs – placing them in a glass of water on your counter is great option! And once the Basil starts coming in – remember to keep it out of the fridge.
Of course, the workshop would not be complete without food! I shared BBQ Zucchini Chips and Cinnamon Apple Chips when we briefly spoke about using a dehydrator. I also made Radish and Turnip Lasagna – as in no noodles, the sliced and baked radish and turnips acted as the noodles! Members who tried and enjoyed the Kale Stem Pesto remarked "So instead of putting the center rib in the compost pile!" And I also shared a new family favorite – Kohlrabi in a Peanut Teriyaki sauce. I promise the recipes will come in a future newsletter.
Overall, I hoped to try to encourage members to think outside the box regarding using their share. I will confess that until maybe 4 or 5 years ago, whenever Bok Choy was part of our share, the only thought I had was "make rice for stir fry". Now I use Bok Choy in so many ways – using the leaves for a wrap, having the stem with peanut butter, or using both leaf and stem in a Mexican Casserole!
Dandelion Greens and what to do with them also had a little talk – my favorite options are salads and Dandelion Green Pesto. If the Dandelion Greens are too bitter for your taste – try massaging them! Blanching also helps tame the bitterness.
Blanching greens to freeze and save for later was also discussed. I don't mean to diss the turnip greens – but with all the yummy produce we are getting in our share, they are not on the top of my list of what I want to eat. But I am so grateful in the winter that I had blanched them, squeezed out all the water and froze the little ball in a Ziploc bag or a mason jar!
Thank you to everyone who attended – I had a fabulous time and I hope you did too!
Workshifts for Week of 6/4/18
By Dana Hunting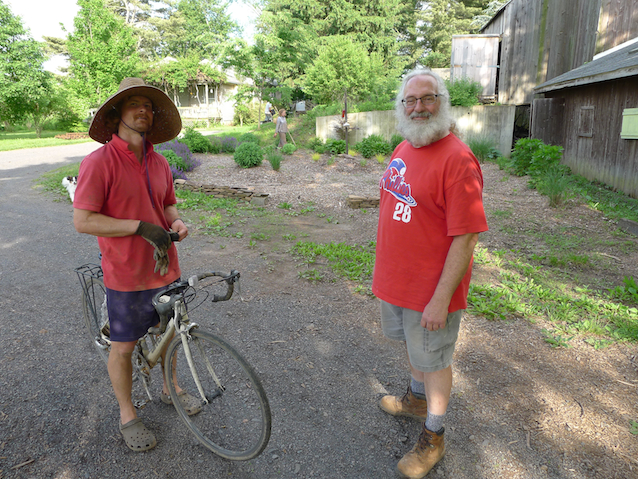 Weeknight and weekend workshift leader Jeff Bence (right), farm member since 2004!
Workshifts scheduled for this week:
Wednesday 6/6 10am-12noon
Friday 6/8 10am-12noon
Sunday 6/10 9-11am
Workshift sign-up instructions may be found
here
.
Workshifts typically meet under the large red maple just outside of the pick up room. Please wear appropriate clothes and footwear for working outside and bring your own gloves and water.
Thank you!
Upcoming Events
by Farmer Dana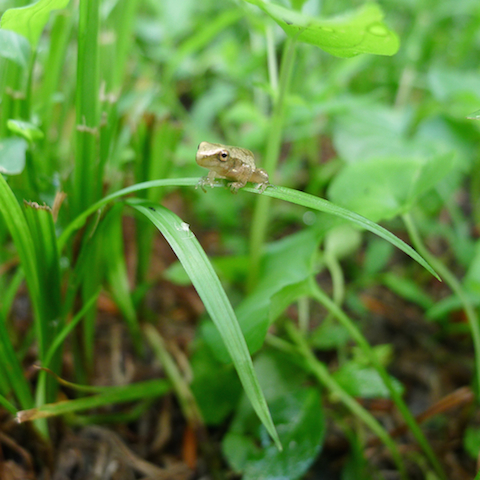 This baby tree frog wants you to come and enjoy the farm and join us for our potluck!

Saturday July 14th 6-9pm: Potluck under the pavilion