CSA Week 6: Feeling Like Summer
News
Expected Harvest
Summer Transition
by Farmer Derek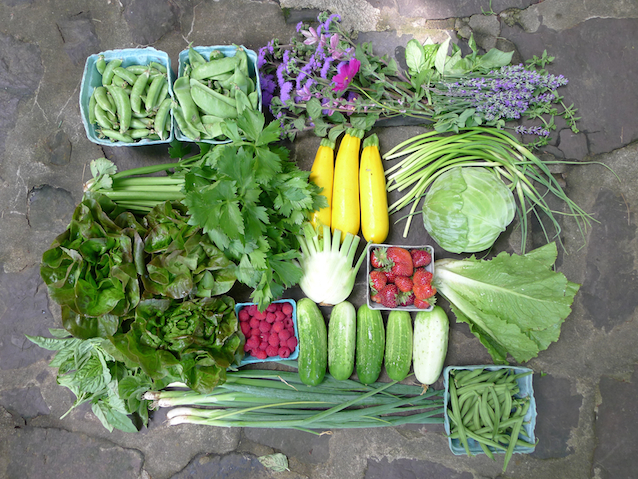 Main Season Harvest #6 (Week B) should include garlic scapes, scallions, cabbage, zucchini (yellow and green), cucumbers, lettuce, herbs (dill, cilantro, basil, parsley), raspberries, fennel, celery, and greens (chard, kale, dandelion, radicchio, endive). U-pick should include peas, flowers, herbs, and the last of the strawberries.

Notes From The Field
Summertime
by Farmer Derek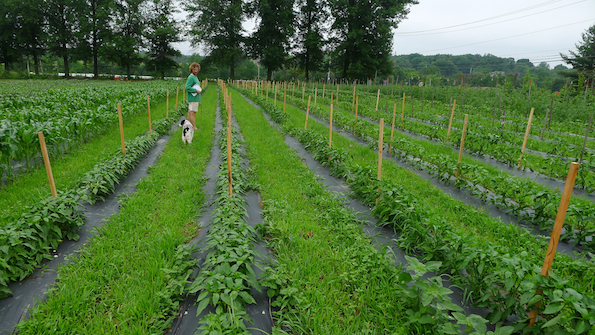 Pepper plants freshly staked and mowed thanks to farm staff.
Seasons changed this past week and along with the planet's relative location to the sun along its orbit our farm work begins to transition to more harvesting and crop maintenance and slightly less ground preparation for planting. This translates to a hopefully reduced amount of time I have to spend on the tractor. Harvests transition now as well, with the early summer crops of zucchini and cucumbers beginning to increase exponentially. Strawberries are unfortunately waning but in their place raspberries are coming in. Peas will end soon but beans are ripening and will be in shares for a couple of months if all goes as planned. Turnips, kohlrabi, radishes, endive, escarole, and romaine will exit shares until the fall. Chard, kale, and dandelion should be in shares to satisfy the need for cooking greens. Lettuces will be abundant for a while (our plan is for them to be available the entire season).
Last week was a busy time. With the continued lack of rain irrigation had to be set up and used. Around 5,000 leeks and 2,000 celeriac were planted, along with the 3rd installment of zucchini and cumbers, the 12th planting of lettuces, the 6th of scallions, dill, cilantro, and the 4th of basil and beans. Thousands of bed feet had to be finalized for all of those plants and another few thousand made ready for the 7,000 strawberry plants that are arriving this coming week.
Since we're now in summer it's worth briefly reflecting on spring's treatment of the farm. Overall I think harvests have been good and I'm thankful for that. Some crops suffered from our wettest May ever, such as spinach, which we lost 70% of, and radishes, which split and cracked. Early spring greens like arugula bolted prematurely, I'm assuming from the hot days we endured while the crops were covered to keep insects out. The 1st planting of beets was great, which came out of our movable high tunnel, but numbers 2 and 3 are a bit delayed and smaller than we would like. Peas and strawberries have been as good as we could ask for. We were very lucky the extremely wet weather didn't coincide with the strawberry season. Pea shoots didn't work out as well as I remembered them from years past; they weren't as tender as we would have liked. The turnips coming out of our hoop tunnel were more damaged than is ideal however the kohlrabi was great. Head lettuce, romaine lettuce, endive, escarole, and radicchio have been great. Kale met its potential but Swiss chard did not. We lost the 1st planting to leaf miner and plantings 2-4 were slow growing, perhaps also due to the excess moisture. They're now happier and will be harvested into the foreseeable future. Italian dandelion has been a reliable producer like always.
Ultimately we hope you've enjoyed the harvests thus far and are excited to eat the next phase of food coming out of our organically managed soils and farm with the help of our farm crew and members and support from our community.

Workshifts for Week of 6/25/18
by Dana Hunting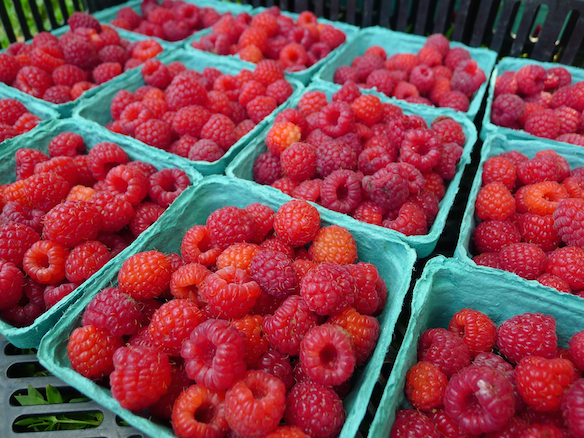 Workshifts will help pick wonderful raspberries for shares this week!
Workshifts scheduled for this week
Wednesday (6/27) 9-11am
Wednesday (6/27) 6-8pm
Friday (6/29) 9-11am
Sunday (7/1) 8-10am
Workshift sign-up instructions may be found
here
.
Workshifts typically meet under the large red maple just outside of the pick up room. Please wear appropriate clothes and footwear for working outside and bring your own gloves and water.
Thank you!
Upcoming Events
by Farmer Dana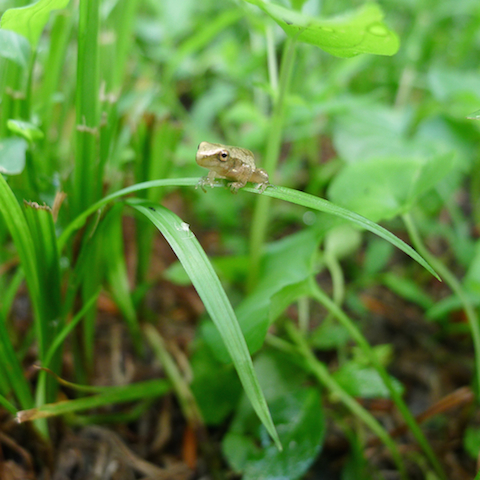 This baby tree frog wants you to come and enjoy the farm and join us for our potluck!

Saturday July 14th 6-9pm: Potluck under the pavilion
U Pick Note
By Linda Dansbury
The u-pick flower garden is now open for picking. Pictured above are salvia flowers with buckwheat in the aisles, which will soon be mowed.

I did my U Pick yesterday and it was really pleasant to do so - several of you also spent time in the field. The peas are VERY plentiful!! If you go to the far end of the rows the pea pods are hanging on the ends of the stems like little Christmas ornaments on a tree - you will finish picking your allotment in just a few minutes. If, when you get to the field, others have found those, don't be discouraged - there are a lot, and I mean a lot of pea pods under the plants - walking the rows they are not obvious, but just squat down and you will see them.
As for strawberries, I am sure there are still a few small berries on all the plants, but the bottom few rows still have some large berries too. Just be patient and look carefully - you definitely have to get down near the plants and gently move the leaves around to see them - walking along the rows only reveals a berry here and there.
Be sure to try and get to the field today (if this is your week to pick) or in the next few days before the heat comes in. Peas do not like the heat, and although Derek will irrigate if needed, based on the forecast, by next weekend the plants are likely to start to suffer plus the weather will not be as enjoyable to spend time picking.
Also, if your farm-provided u-pick containers are still in good shape, please bring them back to the farm for re-use.

What to do with Fennel?
By Linda Dansbury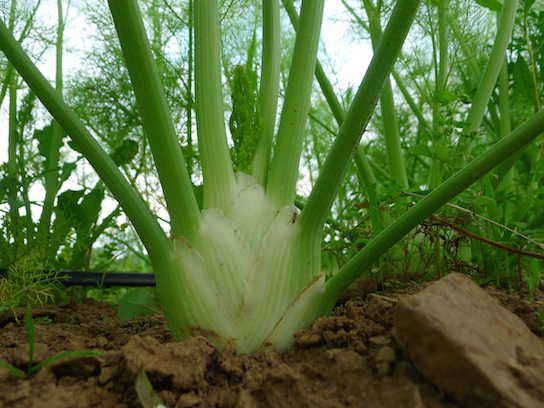 Fennel is one of those veggies that most people have heard of, but many do not know what to do with it. Fennel is high in fiber, potassium, folate, vitamin C, vitamin B-6, and phytonutrients, which all support heart health. So, it makes sense to incorporate it into your diet. Fennel is one of those crops that is very flexible in how it can be enjoyed - raw in a crudite platter, added to a salad or as the star ingredient in a salad, roasted, grilled, put in smoothies, or cooked for long periods of time. We normally receive 2 crops of fennel - now, as in early summer and then again in the fall. For the summer crop I like to grill or make it into a salad, while in the fall I like to roast it or simmer it as in
Seafood Stew with lots of Herbs
. There are a few fennel salad recipes (
1
,
2
,
3
) on this site, plus
Shaved Fennel Salad with Parmesan
and the
Radicchio, Fennel and Proscuitto Salad
- all of which are delicious - we will receive fennel for the next few weeks, so try them all! The technique for
grilling
is also on this site. Fennel keeps for at least 2 weeks when stored in plastic in the fridge, so you can save up for a couple weeks and have more of it to use if you have a larger family.
Please enjoy and send me how you like to use your veggies at lindadansbury@comcast.net and please put Anchor Run in the subject line so I can find your email.
How I Enjoyed My Harvest
Fennel, Peas and other Delights!
By Linda Dansbury
The diversity of crops is increasing exponentially week-to-week. Here is a snapshot of how I enjoyed my harvest. Please share how you enjoyed your harvest at lindadansbury@comcast.net. and please put Anchor Run in the subject line.
Summer squash, scapes, scallions - grilling is often my cooking method of choice. There are so many ways to prepare summer squash but my go to and favorite way to enjoy it is to grill it. I normally slice it into what looks like pickle spears. Drizzle with olive oil and then place on a grill allowing it to turn brown, but cooking slowly enough that it can soften a bit. Once done, it can be used in so many ways - plain and eaten with another drizzle of olive oil (or not), salt and pepper and/or chopped fresh herbs; added to a pasta dish, either in a hot pasta dish or cold one. This time, I chopped up the list from above and made a room temperature salad, adding a vinaigrette made of a bit of balsamic vinegar, Dijon mustard, olive oil and salt and pepper. One mixed, I added a generous amount of chopped basil and a small grating of Parm cheese. So yummy my mouth is watering just thinking about it!
Beets, greens, scapes, scallions
-no, you didn't miss the beets in the pick up room. I had not used mine up yet (although the greens were long eaten in a dish). I roasted my 2 weeks worth at one time, peeled them and placed in fridge. Once roasted, there is so much you can do with them. I made the
Roasted Beet and Beet Green Risotto
, but instead of beet greens, I used dandelion and Radicchio. For the rest of my beets, I made a vinaigrette and added scallion, scapes and sliced roasted beets. This preparation keeps for a couple weeks and I will either use with the beets as the focus or add a couple slices to green salads.
Fennel, parsley
- made the
Shaved Fennel and Parmesan Salad.
Year-to-year, I forget about recipes on this site. So, as we receive crops I search again and am always happy to find great ways to use our veggies. This salad is so simple and delicious - I am not always a fan of eating fennel raw, but the combination of parsley, thyme and lemon juice and the addition of Parm cheese is such a delicious combination - try it!
Peas - I have to say that this week, I didn't cook any of the peas. Instead, I snacked on them raw. So sweet, these peas need nothing added. I ate some along with lunches and when I came home from work really hungry I grabbed a handful and dipped them in hummus (if I had thought ahead, I would have defrosted one of the few containers of baba ganoush I still have in my freezer from last year's eggplant crop - but more about that at a later date)!