CSA Week 7: Hello Heat
News
Expected Harvest
Cool Treats
Farmer Derek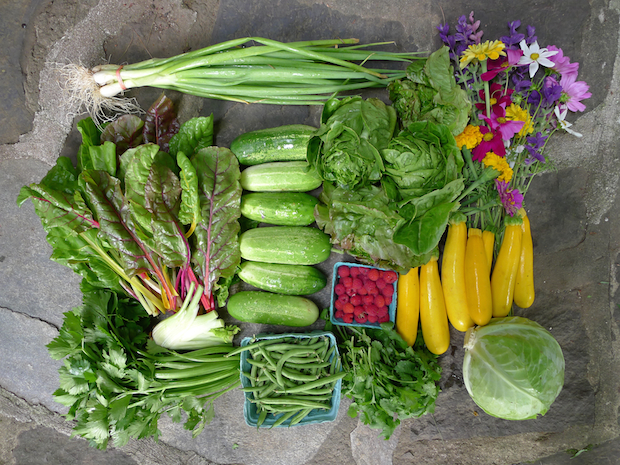 Main Season Harvest #7 (Week A) should include cabbage, zucchini (yellow, green), cucumbers, scallions, lettuce, greens (chard, kale, dandelion), herbs (basil, dill, cilantro, parsley), raspberries, fennel, and celery. Some items will be a choice. U-pick should include green snap beans, herbs, flowers, and raspberries.
Notes From The Field
Amidst A Heat Wave
By Derek McGeehan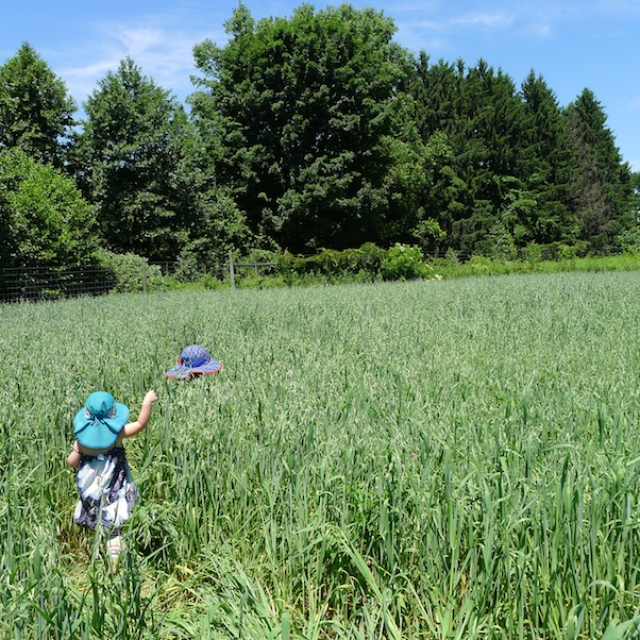 It's very hot but that's okay. It would be less okay if we hadn't received a generous dose of rain last Thursday. We'll still be irrigating this week, though, since the 3" that came down came fast and furious and probably mostly ran off, ran downhill. With the heat we're saying goodbye to peas and strawberries until next season but will be welcoming the start of cherry and grape tomatoes and will be opening raspberries for u-pick.
Last week we enjoyed wonderful weather for working outside. Next year's 7,000 strawberry plants were planted as well as more lettuces. Winter squash, cantaloupe, and the 2nd planting of watermelon was uncovered to give pollinators access to their flowers. High tunnel and field tomatoes were pruned and clipped to their trellis twine and wire, respectively. Sweet and hot peppers were buttressed with twine to prevent them from flopping. Cover crops of oats, peas, and sunflowers were mowed on fallow fields (see above photo).

We're now safely into the time of season when we can begin spring crop clean up. Crop residue will be mowed and turned into the soil to feed the succeeding cover crop as well as next year's harvestable crop. Irrigation, trellising, and weed suppression fabric will be removed. We were once at our maximum footprint, now we begin to reign it in, sort of mimicking reducing daylight after the summer solstice. We still have a few more months of planting fall and winter crops, though, and have much, much, much harvesting to do, but at least the bulk of the planting is behind us for this season.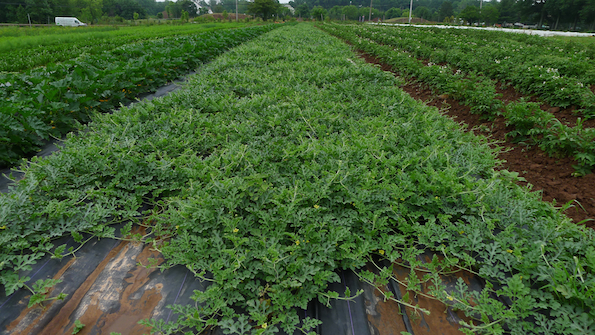 Uncovered zucchini and watermelon and hilled potatoes.
Raspberries Versus Strawberries
by Farmer Derek
Our two-year-old raspberry plants are yielding nicely and the last-to-ripen strawberry variety has been fruiting concurrently. We treat strawberry plants as annuals, rotating the patch around our multiple u-pick fields. The raspberry patch, conversely, is perennial, and will remain in the same location for 5-10 years. Because these plants are closely related (in the rose family) and can potentially suffer from the same pests and diseases we've been trying to prevent any movement between the two crops. This is why we were picking raspberries with workshifts while keeping strawberries open for u-pick. Now that the strawberries are finished we'll open up raspberries for u-pick. This is the first year both crops yielded simultaneously and is also the first year we've grown this very late strawberry variety. Overall it was a later strawberry harvest than past years. Next season they probably won't overlap. Either way, we're hopeful that you're enjoying the raspberries that are in the pick up room. This is our first foray into the raspberry storage world and we have realized that they don't keep very well in our storage cooler. We sincerely apologize if your 1/2-pint of raspberries had any moldy fruit.

Workshifts For Week of 7/2
by Dana Hunting
Workshifts scheduled for this week:

Friday (7/6) 8-10am
Sunday (7/8) 7-9am
Workshift sign-up instructions may be found
here
.
Workshifts typically meet under the large red maple just outside of the pick up room. Please wear appropriate clothes and footwear for working outside and bring your own gloves and water.
Thank you!
Upcoming Events
by Farmer Dana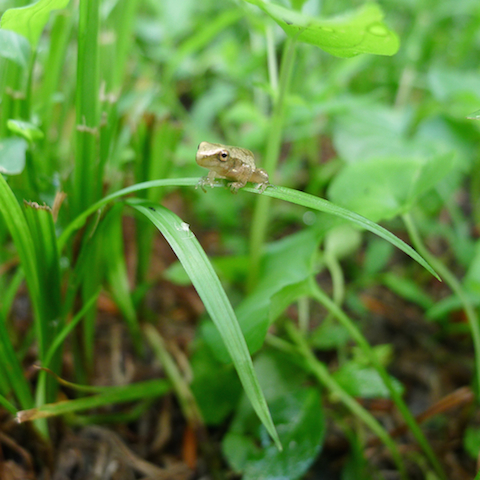 This baby tree frog wants you to come and enjoy the farm and join us for our potluck!

Saturday July 14th 6-9pm: Potluck under the pavilion
U Pick Flowers Note
By Linda Dansbury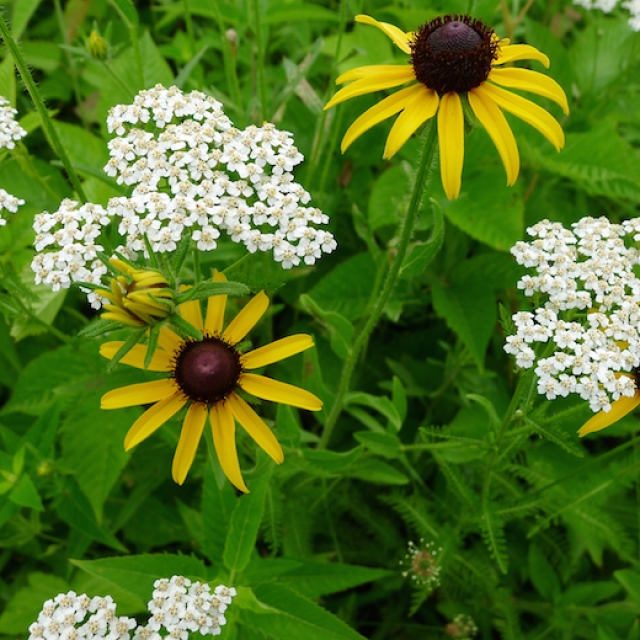 I hope everyone is enjoying their U Pick - I could tell this week that peas had been picked so am happy many of you got out there to get your share. If you are planning to go in the next few days, remember to hydrate well, wear hats, sunglasses, sunscreen and comfy, but sturdy shoes. The peas are much more difficult to find now, but if you really look within the middle of the plants, you will find "pockets" of peas close together and the quality is still great.
The flowers are among my favorite u pick items because I love having fresh flowers around my home. A very important note is that flowers wilt significantly very, very quickly after cutting, especially in this heat. I always bring some type of jar with me that has water in it so that right after I finish cutting the stems, they go right into the jar with water. I also do my flower cutting last. When I get home, I re-cut the stems again and place in my vase of choice. Flowers this fresh last a long time so enjoy the beauty in your own home.
How I Enjoyed My Harvest
Transition into Summer
By Linda Dansbury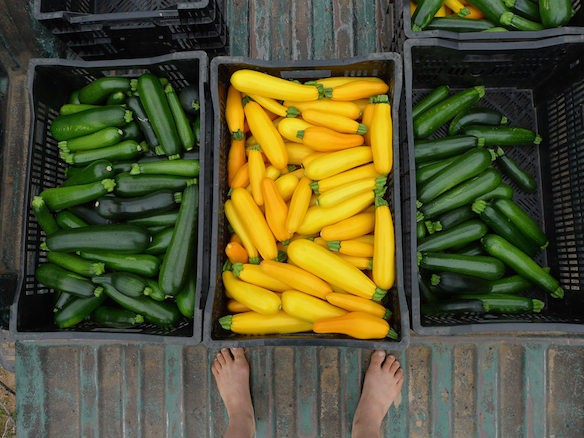 We are now quickly moving from spring veggies into summer with the arrival of zucchini and the first of the green beans. This week was a busy week, so cooking was pretty simple - beautiful mixed green salads with scallions, turnips, cucumbers and herbs. The weather was aboslutely perfect for being outside grilling and eating so I took advantage of it before the blistering heat arrived. Here are a few things that I cooked this past week - please send me how you enjoyed your harvest to lindadansbury@comcast.net and please put Anchor Run in the subject line so I can find your email.
Scapes, scallions, sumer squash, herbs - grilled the 3 veggies. When they were cooked as we like them, I chopped them up and placed in a bowl with chopped fresh herbs, olive oil, a very small splash of balsamic vinegar and some grated parm cheese. It was a very delicious summer salad.
Herbs, scapes - used in a marinade for lamb chops, then grilled the lamb chops.
Peas, scapes, mint - I just quick sauteed the peas and scapes in a bit of olive oil. When they were slightly browned and barely tender, I topped with fresh chopped mint.
Kale, chard, dandelion, scapes, cilantro, basil
- made the
Kale Rice Bowl.
This is a go-to for weeknight meals - easy and delicious. The recipe calls for cooking garlic, ginger and pork all together, but because I was using scapes, I added them along with the greens toward the end of cooking so we could taste the garlic. If you haven't made this dish, try it. Use Hershberger ground pork rather than grocery store pork - the added flavor makes a huge difference.
Peas, squash, scapes, scallions, greens, cilantro - made a large stir fry - I always make sure I have pantry ingredients - sesame oil, tamari, fish sauce, hoisin, chili sauces (in different types) because stir fries are delicious, healthy, fast and easy once you have the method down.