CSA Week 8: Starts With Perfect Weather
News
Expected Harvest
Productive Produce
by Farmer Derek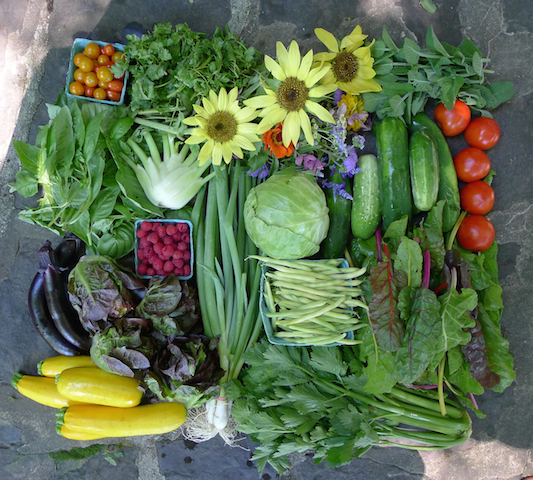 Main Season Harvest #8 (Week B) should include cabbage, zucchini (yellow, green), cucumbers, scallions, lettuce, greens (chard, dandelion), herbs (basil, dill, cilantro, parsley), tomatoes, eggplant, fennel, and celery. Some items will be a choice. U-pick should include green and yellow snap/bush/string/wax beans, herbs, flowers, tomatoes (cherry, grape), and raspberries.
Notes From The Field
Big Harvest Time
by Farmer Derek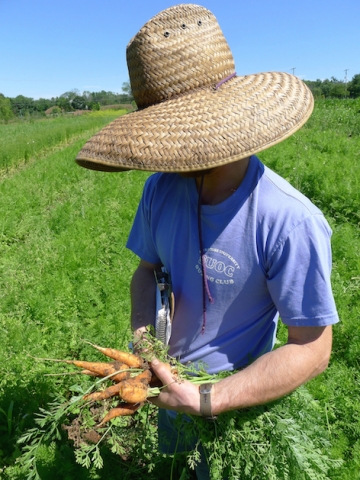 Carrot check
It's upon us, the time to harvest carrots and garlic. Carrots were direct seeded into cold and chickweed-threatened raised beds back in early April, went through multiple rounds of cultivating and weeding, and appear to have made it through our wettest-ever month of May. Raised beds and a slightly pitched field hopefully kept all of the carrots in perfect condition by draining most of the excess water away. We won't know the truth of this until we undercut the beds to loosen the soil and extract all of the roots, but our test tugs have revealed tasty orange carrots. Our goal this week will be to harvest the approximate 5000' row feet and begin distributing them next week. Dry soil allows for tractor-loosening the beds which makes this task 10-100 times easier and faster.

Garlic, garlic, garlic. Garlic is an amazing crop. Planted in November as a clove, it spends the winter under an inch of soil and several inches of straw, growing rapidly above and below ground April through June after the soil sufficiently warms to its liking. Anchor Run has saved and used its own garlic cloves as seed since 2004 and we now have our own unique varieties. This may or may not be fully true, though, since we basically are planting clove clones each year. They're not really mixing genes since they don't flower and there is no cross pollination followed by seeds. This is because we pull out and eat the scape, which would eventually turn into the flower. By removing the scape we're forcing the plant to redirect its energy into its bulb instead of for reproduction (so cruel). So, by saving cloves based on flavor, size, performance, etc, we are basically narrowing down to a variety that suits us best. At this point, though, we'd rather have a nice mix of varieties with a variety of flavor and size of bulbs, cloves, and let what we save and plant be random, up to chance.

We all enjoyed the green garlic in the early spring, then the scapes were a treat. Next we'll enjoy the fresh garlic from uncured bulbs straight out of the soil, followed by cured and shelf-stable bulbs through the remainder of the season. Around 300 pounds of the cured garlic will then be planted as seed this coming fall and the cycle will continue.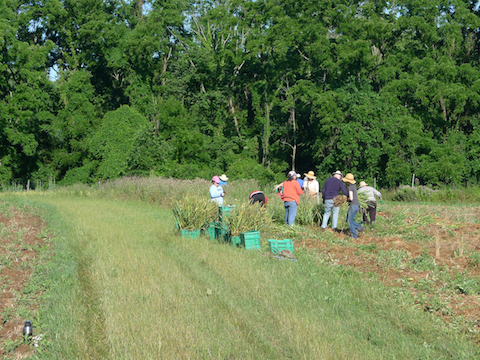 Pulling garlic in 2016.
Workshifts this Week: Carrots and Garlic!
by Farmer Dana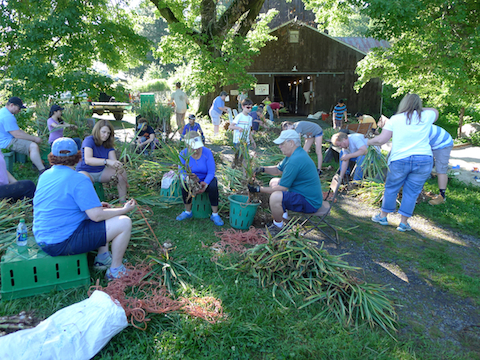 Garlic tying for hanging and curing in the barn in 2016.

Workshifts scheduled for this week:
Tuesday (7/10) 9-11am: should be harvesting carrots
Tuesday (7/10) 6-8pm: should be harvesting carrots
Wednesday (7/11) 9-11am: should be harvesting carrots
Wednesday (7/11) 6-8pm: should be harvesting carrots
Friday (7/13) 9-11am: should be harvesting carrots
Sunday (7/15) 8-10am: should be harvesting, tying, hanging garlic
Sunday (7/15) 9-11am: should be harvesting, tying, hanging garlic
Sunday (7/15) 10-12noon: should be harvesting, tying, hanging garlic
Workshift sign-up instructions may be found
here
.
Carrot shifts are kid-friendly but please don't sign them up on the website (if they end up working like you their hours can count).

Workshifts typically meet under the large red maple just outside of the pick up room. Please wear appropriate clothes and footwear for working outside and bring your own gloves and water.
Thank you!
Upcoming Events
by Farmer Dana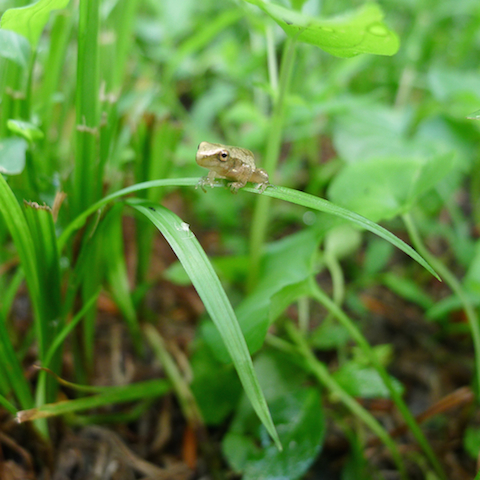 This baby tree frog wants you to come and enjoy the farm and join us for our potluck!

Saturday July 14th 6-9pm: Potluck under the pavilion
How I Enjoyed My Harvest
Light, Flavorful Dishes
By Linda Dansbury
We just got out from under a wicked heatwave. Even the dogs didn't want to be outside running around! I focused on using veggies in ways that were light and flavorful. Below are a few of my dishes from this week. Please send your ideas to me at lindadansbury@comcast.net and please put Anchor Run in the subject line so I can find your email.
kohlrabi, peas, celery, cucumbers - ate with my lunches - veggies this fresh and delicious do not need anything with them to enjoy.
Summer squash, garlic scapes, lettuce, parsley
- made the
Warm Summer Squash and Sausage Salad.
(click on recipes, type in summer squash and you will find the recipe, along with many others that are delicious)
.
This is another go-to dish for the summer. Simple, fast, healthy and one pan/one bowl dinner. As with other dishes I have described, since I used the scapes, I added them late in the process.
Summer squash, peas, basil, scapes
- I made a new dish originally called Zucchini Noodles with Asparagus, Peas and Basil Vinaigrette. For this site, I have renamed it
Summer Squash Noodles, Early Summer Veggies and Basil Vinaigrette
. I state the original name of the dish to show you again how to be versatile in thinking through recipes. Asparagus and squash are not available at the same time, but the other ingredients are. The recipe also called for frozen peas. I used my snap peas and cut them up. I will make this dish again, but will replace peas/asparagus with green beans, allowing a bit of additional cooking time for the beans. The recipe states the vinaigrette is great with chicken, shrimp, pork and as a salad dressing. It is a bit thinner and more vinegary than pesto, but can be used similarly. It keeps for a week in fridge and is yummy!
Cabbage, turnips, radicchio, scallions -
made the
Asian Cole Slaw,
again, being versatile by using greens we have in addition to the cabbage we have. I also added scallions, which are not part of this particular recipe.
Celery Uses
By Linda Dansbury
Maybe you are thinking "enough with the celery already". For the first couple of weeks, I figured everyone would be effectively using their celery with no problem, but now that we are still receiving it and will be for a couple more weeks (hopefully), I thought I should take a few minutes and talk about it.
I think it is one of the most under used and under appreciated veggies. People only think of it as being used raw in crudite platters, or added to salads or stuffed with peanut butter. And, even worse, the beautiful leaves from farm celery find their way to the compost pile.
Celery leaves are known primarily as a throwaway top to an already underappreciated vegetable and are so often discarded. It's a real shame. Celery leaves are actually a bonus to their stalks and completely virtuous on their own.
Celery leaves are delicious, nutritious, and packed with intense celery flavor. Prep them like you would any herb: minced, coarsely chopped, or left in their true, whole-leaf form. Toss the tender leaves with salad greens and vinaigrette. Throw them into stir-fries, stocks, soups, and sauces. And...they make delicious pesto - just use your favorite pesto recipe using celery leaves instead of basil, parsley, kale, etc
.
Store your celery in a plastic bag in the fridge and it should stay crisp for a week or two.

Farmer Derek also recommends adding celery plus leaves to a breakfast smoothie!

U-pick Tips
By Linda Dansbury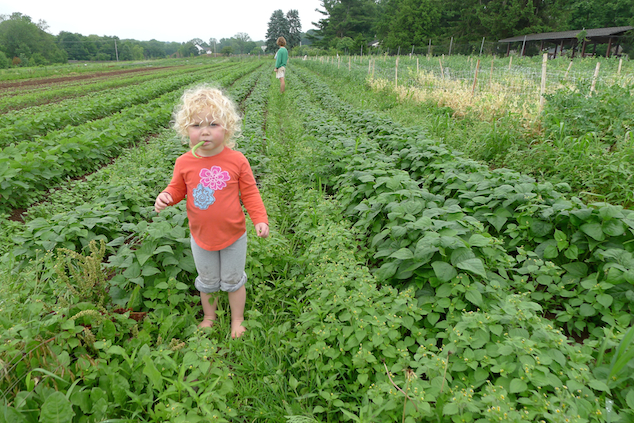 U-pick green/snap/string/wax/yellow bean patch prior to mowing.
I truly hope everyone is taking advantage of the U-pick fields. The time is well worth it, and it is so relaxing and peaceful to be in the field. It is also great to meet other members who have the same interest in healthy and delicious food.

A couple tips:
The raspberries are delicious, but the extreme heat made them ripen unevenly - I was in the field Friday afternoon and found that the top of the raspberries looked perfectly ripe, but when given a gentle tug they did not release - I checked the underneath and saw that the bottom was not ripe, so I left those and moved on. I am hoping they ripen over the weekend - if that happens, the berries will be very abundant. I still found many delicious berries by gently lifting the branches and looking underneath. It only took about 10 min to get my share - a very worthwhile use of my time.
Maybe you have heard on the news that the ticks are especially bad this year - a tick has come home with me in each of the last 2 weeks, so be sure to carefully check yourself and any family members that pick or do workshifts with you when you get home.
Beans: string, snap, green, yellow, wax are interchangeable names for the beans we grow, all can be used and cooked the same way. Field signs say "snap beans". Also, you'll probably notice the harmless Mexican Bean Beetle and its yellow larvae on the plants. There's nothing we can do to truly control them except for mow the spent bean plants before they multiply and spread to newer plantings. Their favorite variety is Provider which is our first planting and will be mowed very soon.
Be sure to come out and pick!!