CSA Week 9: Helping Hands
News
Expected Harvest
Welcoming New Ones
by Farmer Derek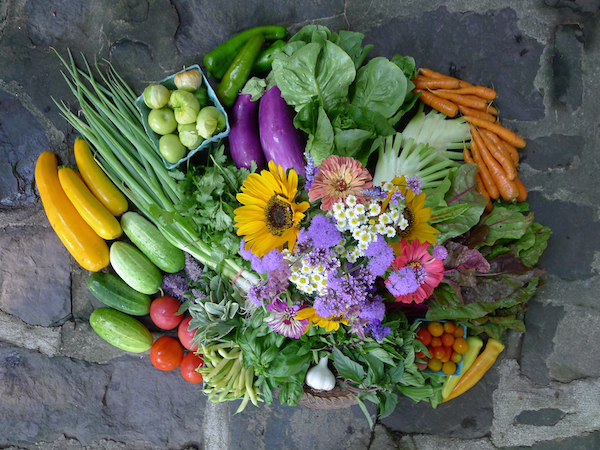 Main Season Harvest #9 (Week A) should include carrots, zucchini, cucumbers, eggplant, tomatoes, lettuce, Swiss chard, Italian dandelion, fresh garlic, scallions, cabbage, fennel, celery, sweet peppers, hot peppers, okra, and herbs (Italian basil, Thai basil, cilantro, parsley). Some items will be a choice. U-pick should include yellow snap beans, tomatillos, herbs, flowers, and hopefully cherry and grape tomatoes (though the farmers may end up picking them for the pick up room).

Notes From The Field
Whew
by Farmer Derek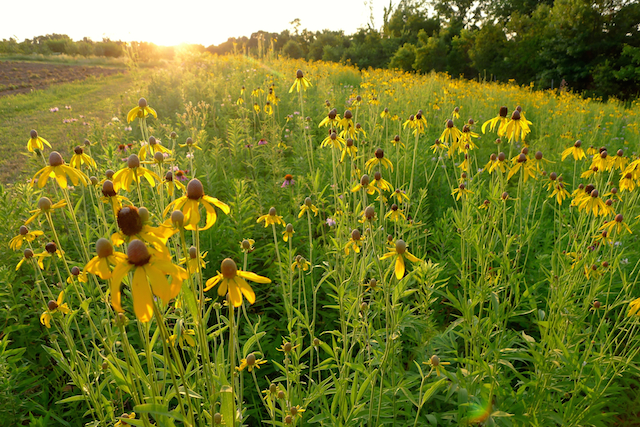 Gray-headed prairie coneflower pollinator habitat sunset.
Tired, relieved, thankful. Carrots and garlic are out of the soil and resting in the safety of the barn. Both will be in shares starting this week. Carrots look and taste great (in our humble acceptance of a variety of sizes and strange shapes). For a mid-summer carrot the ones I've sampled are definitely sweeter than I remember. Our farm crew probably spent about 40 cumulative hours retrieving these from the soil with the help of 4-5 workshifts; they're out and we're very happy about that. There was even enough time Friday afternoon and Saturday morning to chisel plow, sow a cover crop, and disc it in there plus where the peas, strawberries, spring greens, spring brassicas, and spring lettuces were.

Today's epic garlic harvest was also a major success. Around 45-50 CSA members came out over the course of 4 hours to help pull, clean, pile, retrieve, tie, prune, and hang around 12,000 garlic plants. Added to the already frantic nature of this immense task was imminent incoming rain which conveniently, thankfully, beneficially held off until the final truck load was driven back to the barn (amidst rumbles of thunder). We did end up having to move everything inside the barn into any and all available space to continue tying for hanging. Amazingly it all went smoothly and successfully and we even finished up 15 minutes early. I was truly exhausted after the 4 hours of hustling, very thirsty after forgoing water for 5 hours, thinking about breakfast at 12:30pm, and running low on the 1 mug of coffee I enjoyed around 7am. Completing this kind of job done with so many great members of our food community is one of the main reasons I love Community Supported Agriculture. Thank you folks!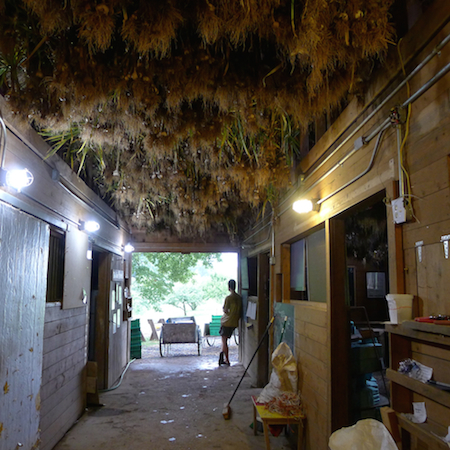 Job complete.

Workshifts for Week of 7/16/18
by Farmer Dana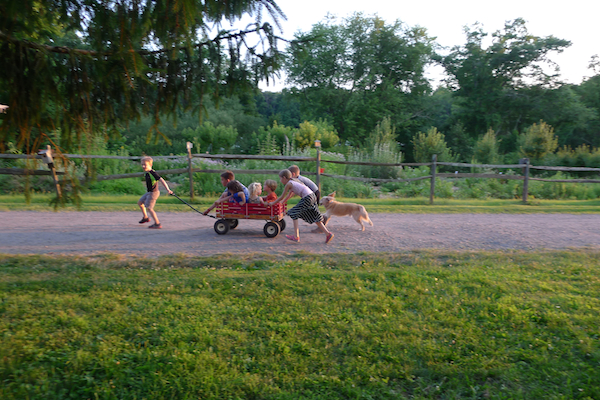 Kids classic at the potluck.
Workshifts scheduled for this week:
Tuesday (7/17) 9-11am
Wednesday (7/18) 9-11am
Wednesday (7/18) 6-8pm
Friday (7/20) 9-11am
Sunday (7/22) 8-10am
Workshift sign-up instructions may be found
here
.
Workshifts typically meet under the large red maple just outside of the pick up room. Please wear appropriate clothes and footwear for working outside and bring your own gloves and water.
Thank you!
Basil, Basil, Basil
By Linda Dansbury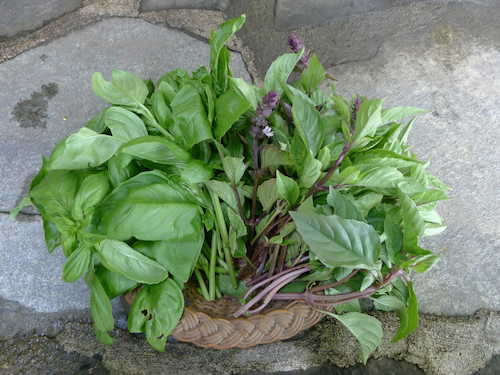 Italian and Thai basil.

Beautiful basil is in the pick up room for us and there is also some we can be cutting ourselves in the herb garden. You may have noticed there are 2 different looking plants.
Sweet/Genovese/Italian basil
- this is the one most of us are familiar with. It has large, soft leaves and green stems. It is the basil used most often, when recipes just say to use basil. I love it this time of year in bruschetta with our wonderful tomatoes, chopped and put on top of grilled veggies, added to marinades, salads, and more. To preserve what we are receiving, make the
Basil Vinaigrette
in batches to use as a salad dressing or as a topping for fish, chicken or tofu. It keeps about a week in the fridge. For longer storage make pesto or pistou. The main difference between the two is that Pesto contains cheese and pine nuts, but traditional Pistou just has 4 ingredients: basil, garlic, olive oil, and sea salt (the article I read about it says you must use a good quality sea salt to truly bring out the deliciousness of the fresh basil). I have added a
Pistou
recipe to this site so you can see the ratio of ingredients and of course there are also Pesto recipes on the site.
Thai Basil
- the plant is in the same botanical family as sweet basil, but in looks it is distinguished by purple stems and the leaves are more pointed and sturdy. Thai basil does taste different, and has definite undertones of licorice and is overall more pungent than sweet basil. Some chefs say they are interchangeable, others do not. Thai basil is used in many southeast Asian cuisines including Vietnamese, Cambodian, Taiwan and of course Thai. Interestingly though, Thai's famous green curry uses sweet basil as its base, not Thai basil. I have added a recipe for
Taiwanese Braised Eggplant
that features adding Thai basil at the end of cooking - try it to see if you notice a difference in the flavor.
How I Enjoyed My Harvest
Wonderful Bounty
By Linda Dansbury
This time of year, the weight of the harvest really starts to increase, so bring your strong bags and muscles to the pick up room! The sheer variety and amount of produce makes it pretty easy to figure out what to eat each day. Please share how you enjoyed your harvest by emailing me at lindadansbury@comcast.net and please put Anchor Run in the subject line. Here is some of how I enjoyed my harvest this week.
Summer squash, eggplant, scallions - grilled veggies along with our protein for the night, which kept the kitchen cool and clean up to a minimum. Cut the veggies up, drizzled with a bit of olive oil and grill, being careful to turn them so they don't burn. Removed from grill and sprinkled a bit of salt - we like to use a sea salt for finishing plus chopped herbs. This is one of my favorite ways to enjoy these. Any leftovers can be made into or added to a salad.
Summer squash, garlic scapes, basil, scallions, green beans, tomatoes
- a couple of weeks ago, I added a new recipe to this site called
Summer Squash Noodles with Early Summer Veggies and Basil Vinaigrette
.
It was originally a recipe calling for asparagus and frozen peas. We like it so much that I changed it up last night. I started by sauteing scallions and locally raised mushrooms and a few cut up green beans. When they were to desired texture, I added a few cut up cherry tomatoes and moved them around until the juices started to be released. I then added the summer squash noodles and stirred them until warm, removed pan from heat and added some of the Basil Vinaigrette - it was delicious! And...I am thinking of renaming the dish to say Summer Squash Noodles with Whatever Else you want to put in the Dish...!
Cilantro, Thai Basil, pepper - for anyone that has read my articles for years, you know I like southeast Asian food. Last night we grilled a whole fish and I made a Thai sauce for topping it - combined cilantro, Thai basil, hot chili pepper (frozen from last year), fish sauce, tamarind paste, brown sugar, water, thinly sliced galangal (can use ginger) and water in food processor. Then put in small saucepan and added a chopped up sweet pepper. Simmered for a few minutes while fish grilled. Removed fish fillets from bones, topped with the sauce and grated some fresh lime zest over.

Scallions, garlic scapes, green beans, summer squash, greens, herbs - made a large stir fry - there are so many recipes on line that I have only posted a few of them on this site. I do some type of stir fry just about every week. Once you do them a few times, they become pretty easy and fun to make. Chop up whatever you want to use - don't worry about what veggies a recipe lists - I always incorporate an onion flavor and garlic flavor and I also love ginger, but if you don't that's okay. I also make sure I have a good combination of veggies so the final dish ends up having both soft and crunchy elements in it. And, I always finish the dish with a bright flavor - chopped fresh herbs and/or a squeeze of lime.