CSA Week 10: Abundance
News
Expected Harvest
Introducing Watermelon
by Farmer Dana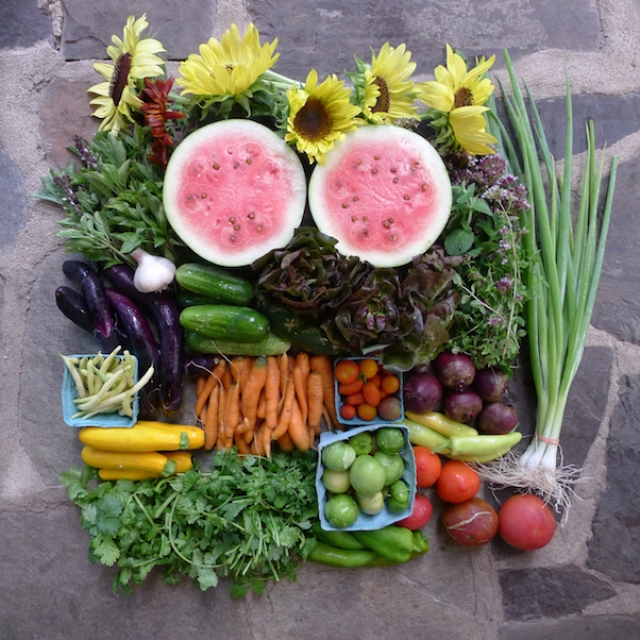 Main Season Harvest #10 (Week B) should include watermelon, tomatoes, zucchini, cucumbers, lettuce, fresh garlic, eggplant, sweet peppers, hot peppers, okra, scallions, beets, cabbage, celery, carrots, Swiss chard, Italian dandelion, Italian basil, Thai basil, cilantro, parsley, and dill. Some items will be a choice. U-pick should include tomatillos, yellow snap beans, cherry and grape tomatoes, flowers, and herbs.

Notes From The Field
Dry to Wet
by Farmer Derek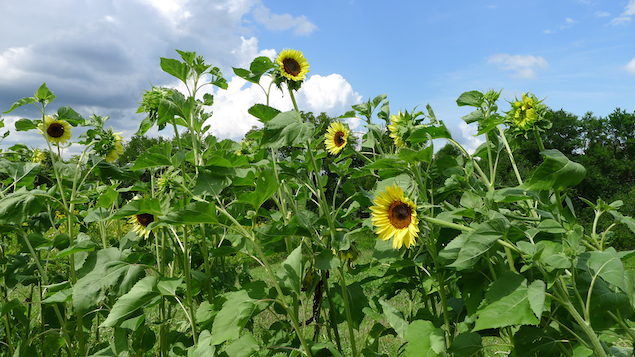 A little sun, a little flower.
Based on the forecast it appears we're in for a wet stretch of weather. Of course nothing is in moderation these days so we may receive rain each and everyday this week. Fortunately there's not much pressing field work that requires the tractor this week. However there is a lot of transplanting and direct seeding the following week so we'll hope for dry weather later this week and into next weekend.
This week we'll march on with lots of human power, hand-weeding many crops like leeks, new strawberries, celeriac, and scallions. We'll embark on the first round of harvesting watermelons and fresh onions. Watermelons will fill up an entire storage room and will be distributed, along with the 2nd planting, hopefully for the next 5-6 weeks. We grow 5 varieties of onions, 2 for eating fresh, 3 for curing and storing. Look for the fresh onions starting in a week or two.
This week we'll also continue crop maintenance by mowing, weed-whacking, pruning, and trellising. Spent crops will be cleaned up and prepared for sowing cover crops. We'll continue seeding in the greenhouse for future harvests. Weed-growth is at its collective seasonal peak so much of our focus right now is keeping them under control. Here we go.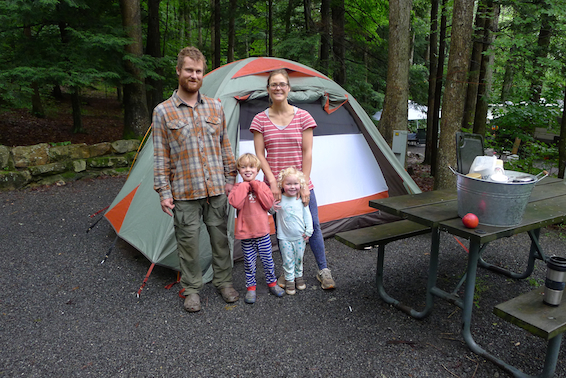 Long-weekend family camping trip to Greenwood Furnace State Park. To truly get a day off we must exit the farm. Bonus: no internet or cell phone reception.
Workshifts for Week of 7/23/18
by Farmer Dana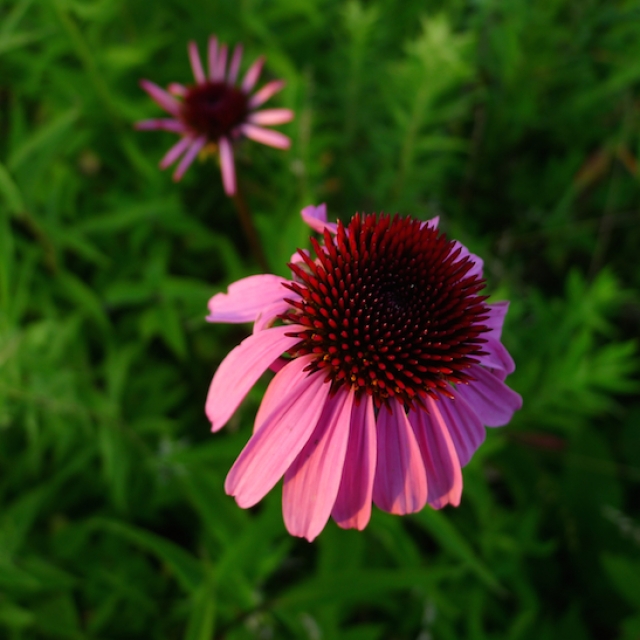 Echinacea aka purple coneflower in the pollinator habitat.
Workshifts scheduled for this week:
Tuesday (7/24) 10am-12noon
Wednesday (7/25) 10am-12noon
Friday (7/27) 10am-12noon
Sunday (7/29) 8-10am
Workshift sign-up instructions may be found
here
.
Workshifts typically meet under the large red maple just outside of the pick up room. Please wear appropriate clothes and footwear for working outside and bring your own gloves and water.
Thank you!
Tomatillos, Okra and More!
By Linda Dansbury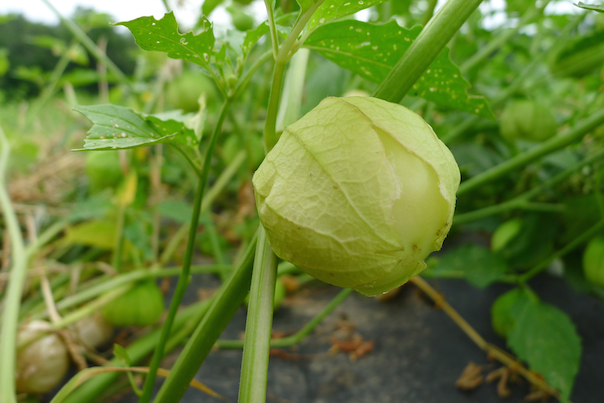 Tomatillo!
We are at the heart of the season now and summer veggies are peaking. This past week, we received fresh garlic - which simply means it has just come out of the ground and hasn't cured. I am sure you have or will notice the garlic hanging all over the barn. We will receive all this garlic that is hanging from now through the winter shares into 2019! Use the garlic we receive now as you would any other garlic, but store it in the fridge. Note that it is potent at this stage so you may want to try it and use a little less than normal - unless of course you want to scare the vampires away!
We had a nice surprise with the tomatillos on the U Pick board this past week. It is one of the veggies I didn't appreciate until I was an Anchor Run member. Tomatillos look like small green tomatoes and in fact in the same family. Nutritionally speaking, they are low in calories, high in dietary fiber and good contributors of vitamins A, B, C, K as well as the minerals potassium, magnesium and copper. Tomatillos store very well in the fridge, lasting for at least 2-3 weeks. I normally use them once I have 2 weeks worth of my share. A lot can be done with tomatillos - raw, they can be added to salads or used to make a salsa, either as a primary ingredient or in combination with tomatoes. Some of my favorites on this site from over the years include
Chicken Stew with Tomatillo Sauce
- I make batches of the sauce when I receive my share and freeze it in 2 cup batches. Then I can use the sauce as either a salsa or as the base for the chicken recipe, which comes out delicious as written but is really stepped up when put in a pressure cooker. Also,
Grilled Salsa Verde
and the
Slow Cooker Chicken or Pork Chile Verde
are both amazing!
Okra is another veggie I didn't know much about until Anchor Run. I had used it in making my version of Gumbo, but since I always make it in the winter for Super Bowl, I had only used frozen okra. Okra is a nutritional powerhouse, containing the vitamins A, B, C, E and K, plus calcium, magnesium, potassium and iron. Okra does not store for very long and is best used within 3-4 days. Some of my favorite recipes on this site are
Easy Indian-Style Stewed Okra, Louisiana Shrimp Gumbo
(a much lighter version than what a "typical" gumbo is - this one also includes celery and celery leaves), and the
Okra with Corn and Tomatoes.
Enjoy the harvest!
How I Enjoyed My Harvest
A Summer Bounty!
By Linda Dansbury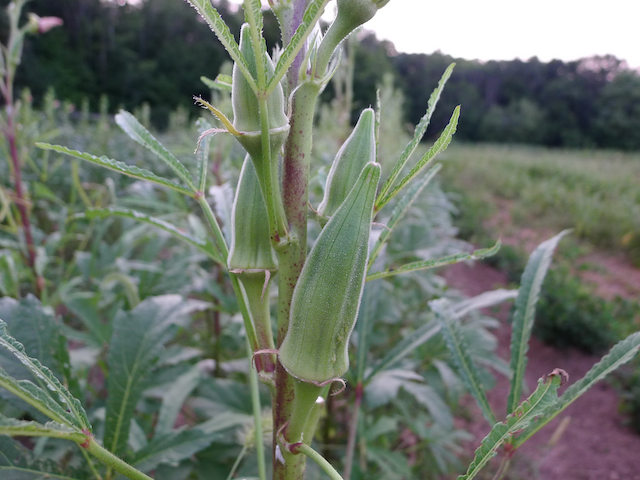 Okra!
The variety and abundance right now makes me so happy! I love that for a lot of the veggies we are offered choices of rather than having to take everything. For me, I grow a lot of things in my own gardens so this system enables me to take more of what I don't grow and less or none of what I grow myself. I love most veggies, so I don't avoid anything due to taste. I do realize however, that many members, especially recent ones, may be shying away from ingredients not familiar to them - if you are among this group, you are missing out. Until recent years, there was not much choice in the pick up room. At some point in the season, we received everything that was grown on the farm. I am greatful for this experience - even though I am an adventurous eater, without Anchor Run, I would not have tried many of the veggies that are grown. Please don't skip trying veggies such as okra and tomatillos (u pick). We have so many recipes on this site, tried and true by me, the farmers, interns and fellow members - all have contributed recipes to help you enjoy your membership. This is your opportunity to try something new at its peak flavor. If you don't like it, it is okay. My guess is that like me, you will find new favorite veggies and recipes!
Garlic scapes (the last of them, so sad), tomatoes, basil - made bruschetta - our go-to for sitting out on the deck. We grill or bake the bread which has olive oil drizzled on it and then lightly salted when it comes out of the oven. Bruschetta is nothing more than chopped up tomatoes, garlic, basil and good olive oil. No salt added, or the tomatoes will become watery.
Tomatoes, garlic - made pan con tomate - literal translation is Tomato Bread. This is a staple in Spain, in particular, the Catelonia region, where Barcelona is located. There are many recipes for it, but with the delicious local tomatoes I keep it very simple: do the bread as I do for bruschetta, but rub the slices with a split garlic clove when it comes out of the oven. Place a box grater over a bowl. Cut the top off tomato and then using your palm, grate the tomato on the large holes - it is easy, grate until there is nothing left but the skin. Add a little olive oil to the tomato and a bit of salt and serve - Yum! I made this for a friend last year and she single-handedly ate almost an entire loaf of bread - she still talks about it!
Basil, garlic
- made the
Pistou
recipe I posted last week. I even used the mortar and pestle rather than the processor.
Eggplant, garlic, Thai basil
- made the
Taiwanese Braised Eggplant
I posted last week. It was really delicious. I realized I did not have the black bean chili paste called for in the recipe - I did have black bean paste, so I used that and a squirt of Sriracha - it worked great. Served this with grilled Asian marinated chicken drums and thighs.
Eggplant, squash, fennel, pepper, scallions - grilled veggies and had as an antipasti platter along with the tomato bread - this was a wonderful meal sitting out on the deck.
Member Ideas and Suggestions
Veggie Stew
By Linda Dansbury
Fellow member Carrie Muench sent me a recipe she used for a Vegetable Stew. Soups and stews are a great way to use a lot of your veggies at one time. In most of these recipes, ingredients may be swapped in and out based on what the farm is offering that particular week. I particularly like stews in the summer. For a small family, like mine, you then have an easy dish for a few days - or, freeze some for later in the year. Served over rice or other grain, it makes a delicious vegetarian meal, or have a simple grilled meat or fish alongside. This version is called
Vegetable Provencal Stew
. If you are wondering what makes it Provencal, it is typically the addition of fennel and tarragon. This one looks pretty Italian to me though! Thank you so much for sharing Carrie!
Please share what you are cooking with fellow members by emailing me at lindadansbury@comcast.net and remember to put Anchor Run in the subject line so I can find your email.