CSA Week 11: Berries, Fruits, Veggies, Rain
News
Expected Harvest
Tasty Time of Year
by Farmer Derek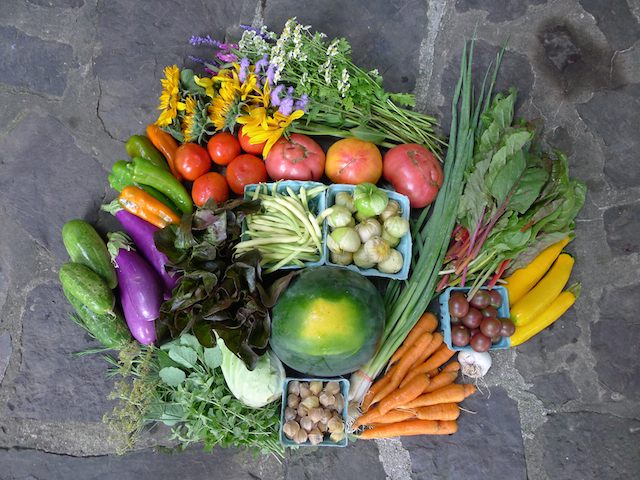 (not pictured: blackberries!)
Harvest #11 (Week A) should include watermelon, carrots, zucchini, cucumbers, eggplant, tomatoes, sweet peppers, hot peppers, okra, dill, cilantro, basil, chard, lettuce, scallions, garlic, cabbage, and beets. U-pick should include yellow snap beans, husk cherries, tomatillos, cherry and grape tomatoes, flowers, blackberries, and herbs.

Notes From The Field
Off and On Monsoon
By Derek McGeehan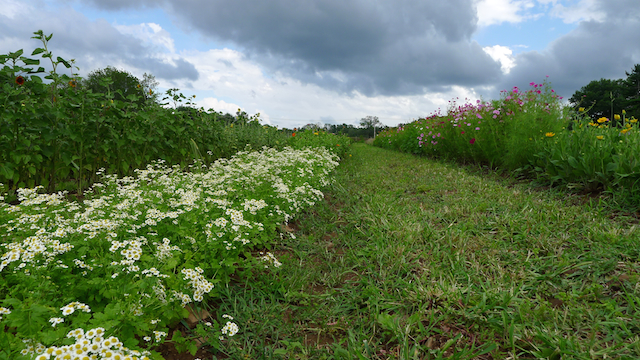 U-Pick flower patch on a stormy day.
It's safe to say it's been a difficult week on the farm though it could have been worse. We only received 4-5" of rain whereas locations in Central PA received 12-16". We're definitely super thankful for the sunshine the past couple of days as well as for Friday's rainfall missing us. We are lucky that the soil has dried out just enough for weed-killing tillage and bed-shaping which will allow us to transplant beets, chard, kale, lettuce, dill, and cilantro and direct seed carrots and rutabaga this week and thus stay on our planting schedule. Tomorrow, Monday, with hopefully enough time to for subsequent drying, we'll manually cultivate the thousands of feet of broccoli and cauliflower (and wherever else we have time for after a morning of harvesting for pick up). Tuesday, hopefully before another inundation of moisture, we'll do all the planting and seeding we have to do for the week. After that it will be whatever crop maintenance and harvesting the weather will allow for.
So far we've harvested 40% of the onion patch and will plan to harvest the remainder over the next couple of weeks. We let them semi-cure in the field before we transfer them to cold storage. They'll be in shares very soon. Round 1 of watermelon has been safely stowed and is currently being distributed in shares; we're monitoring round 2 closely and will hopefully be able to harvest it before it succumbs to excess moisture and disease pressure. Same goes for the cantaloupe. The earliest variety of potatoes could be harvested whenever the ground dries out enough for us to use our tractor-pulled potato digger. Winter squashes are slowly beginning to mature but also are battling disease pressure. Beginning in mid-August we'll think about retrieving the early varieties.
Thank you for your support and understanding during this difficult and challenging weather season - it could end up being our wettest or 2nd wettest season in 10 years! So far it feels like shares haven't been negatively affected by the extreme weather and we'll hope for continued quality and quantity.

Workshifts for Week of 7/30/18
Farmer Derek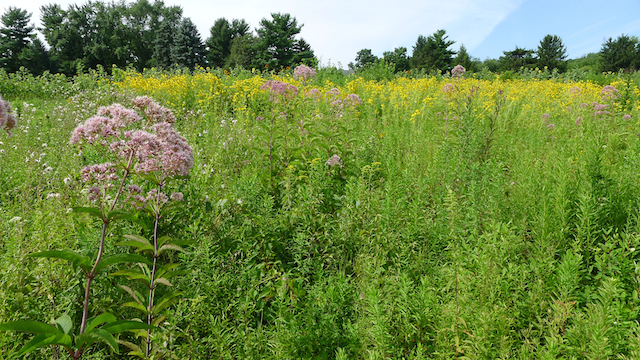 The pollinator habitat.
Workshifts scheduled for this week
Tuesday (7/31) 10am-12noon
Wednesday (8/1) 9-11am
Wednesday (8/1) 6-8pm
Friday (8/3) 9-11am
Sunday (8/5) 8-10am
Workshift sign-up instructions may be found
here
.
Workshifts typically meet under the large red maple just outside of the pick up room. Please wear appropriate clothes and footwear for working outside and bring your own gloves and water.
Thank you!
U-Pick Note
By Linda Dansbury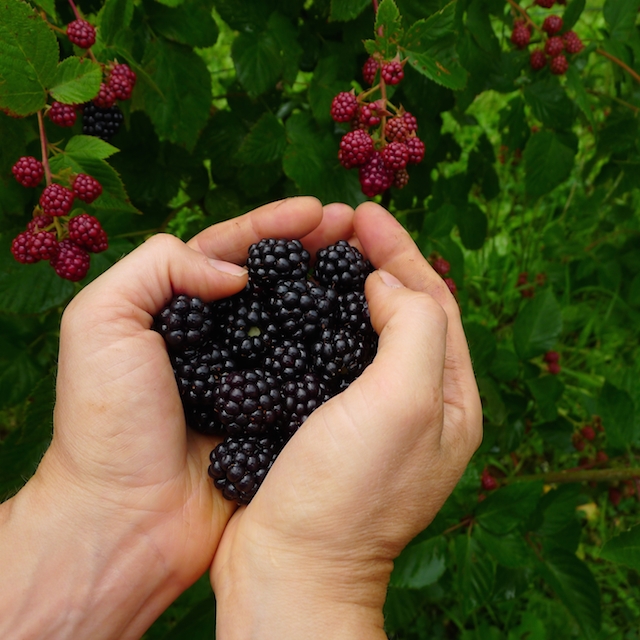 Two quick notes for this week:
Blackberries - as with raspberries, tug gently on the berry. If it doesn't release easily, it is not ripe. Look for the berries that are black all over - if they still have some lighter spots, they will not be nearly as sweet.
Tomatillos - I heard someone in the U-Pick field saying that the tomatillo husks need to be yellow to pick them (not true). The tomatillos are ready for picking as soon as the fruit fully fills out and expands the husk and the husk can even split - using this method, you find your share very, very quickly.
New and Abundant
By Linda Dansbury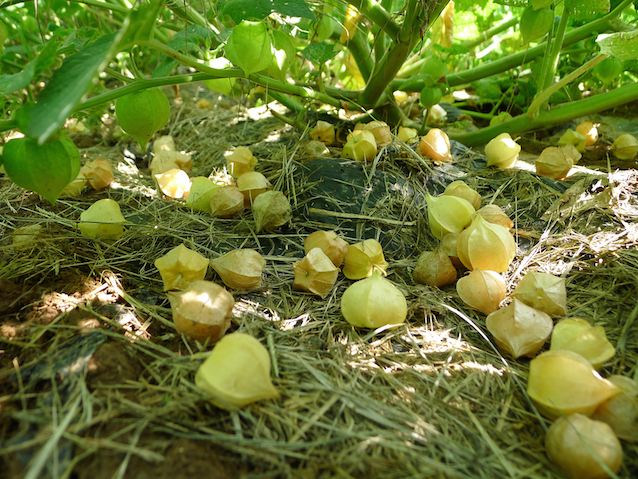 Husk/ground cherries
will be included in shares starting this week and into the foreseeable future. They get their ground cherry name because when they are ripe, they fall to the ground - and are thus so easy to pick. Even better, for this season the farmers experimented with landscape fabric to suppress weeds over the entire patch (same as with tomatillos) making harvesting easy and comfortable. The "husks" protecting the inner fruit dries up - keep the husks on the fruit until ready to eat. Ground cherries are amazing - they keep almost indefinitely just sitting on your kitchen counter - I would recommend spreading them out on a towel to let them thoroughly dry before keeping in a bowl, since we continually have wet fields to contend with. They were grown and enjoyed by the pioneers because of the extraordinary shelf life. They are a good source of beta-carotene, calcium, iron and other nutrients. Husk cherries have a tropical-like taste with a texture somewhere between a tomato and a grape. They can be eaten raw as a snack or added to salads, or cooked into pie filling. Search this site for recipes. My favorite is the
Ground Cherry Salsa
, which combines ground cherries, tomatoes, peppers, hot peppers and cilantro. It requires a lot of chopping (I guess you could break out the food processor), but the yummy taste is worth it.
Every year at the farm is different - some items struggle to mature, while others are abundant. This year, eggplants are one of the abundant crops so far. You may be wondering what to do with all of them, especially since they don't keep for more than about a week in the fridge. You have read that I love mine grilled, and made the braised eggplant last week - both yummy options. A few more that also freeze well are
Caponata
(1 & 2) - a favorite of mine, because it incorporates peppers, tomatoes, onions, garlic, herbs. It is a great dish to have as a side dish, on top of pasta, either with or without a meat component, or as a bruschetta. I make large batches and freeze in about 2 cup containers and am so happy to take out and eat all winter long. The other thing I make in batches to freeze is Baba Ganoush. Everyone that makes this dish has their own favorite version. The one on this site is mine - it is basically the one from the restaurant Zahav in Philadelphia. I like it because grilling the eggplant until the skin is really blistered and the eggplant is very soft results in a smoky flavor that you cannot achieve in the oven. Check out this site for other ideas - over the years we have added so many eggplant recipes, several from fellow members - even Eggplant Sandwiches! A new one from a member is added this week under Member Ideas and Suggestions.
Member Ideas and Suggestions
Eggplant Recipe
By Linda Dansbury
From fellow member Alissa Reinhardt - she said it converted her "non-eggplant eating husband so she needed to share". Thanks so much Alissa - it sounds delicious. This recipe is listed as a Spanish Appetizer, so in Spain it is considered a Tapas - I love making a number of small dishes and just eating a few appetizers and a salad as dinner. This recipe would complement the Pan con Tomate (tomato bread) I described last week. In emailing back and forth with Alissa, she said she got the inspiration after she had dinner at a Spanish restaurant. Check out
Baked Eggplant Tapas
.
Please send your suggestions to me at Lindadansbury@comcast.net and please put Anchor Run in the subject line so I can find your email.
How I Enjoyed My Harvest
An Abundance of Salads
By Linda Dansbury
This week, I was out a couple of times, and even had leftovers from a restaurant, so I didn't cook very much - I hope to spend a few hours today cooking.
I did have what I like to refer to as Summer Salads:
I use a combination of whatever greens I have on hand and a mixture of veggies from the farm. Try a combination of tomatoes, cucumbers, greens, basil and/or parsley. Add salt and pepper and good quality olive oil and a drizzle of balsamic vinegar - other optional add-ins include feta cheese and chick peas.
I also like using leftovers from grilling, including eggplant, squash and scallions plus sausage. Add a combination of robust greens and mix everything together. Make a simple lemon Dijon Vinaigrette and mix all together with fresh herbs. Yum!
How did you enjoy your harvest? Please email me at lindadansbury@comcast.net and please put Anchor Run in the subject line.