CSA Week 12: Fields of Plenty
News
Expected Harvest
Truly Tomato Time
Farmer Derek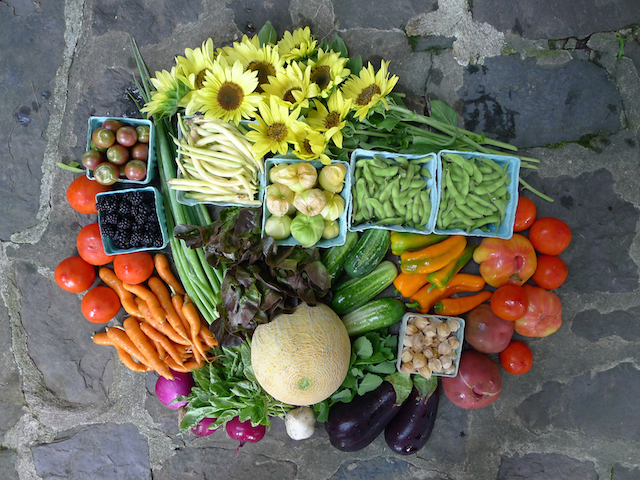 Main Season Harvest #12 (Week B) should include cantaloupe, heirloom tomatoes, field tomatoes, lettuce, eggplant, sweet peppers, hot peppers, okra, scallions, onions, garlic, carrots, beets, zucchini, cucumbers, and herbs. Some items will be a choice. U-pick should include edamame, yellow snap beans, husk cherries, tomatillos, cherry/grape tomatoes, flowers, blackberries, and herbs.
A brief note about pick up room herbs: basil on the farm is succumbing to seasonal basil downy mildew and pretty soon will be absent until next summer; quantities of dill and cilantro will probably be limited for a couple weeks due to erratic germination from the heat and humidity; and parsley won't be available again until this fall. Thai basil and Italian dandelion should be available this week in the pick up room, plus the herbs in the herb garden for U-Pick.

Notes From The Field
Holy Moly, a Ton of Tomatoes
By Derek McGeehan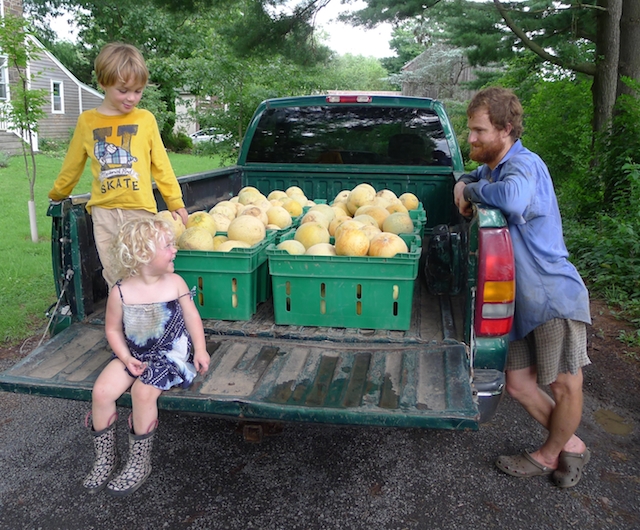 The 2018 cantaloupe harvest commenced on Friday.
The fields are giving us so much produce right now we're running out of storage containers and storage space! But that is a good problem to have, right? I think so. It does add a bit of stress to our days until we can safely stow all of the goodies, but we're slowly doing so. The big event this weekend was the unexpected cantaloupe haul. They seemed to ripen all at once. Friday we went out mid-day to gather what was ripe, initially thinking we're retrieve a bin or two. Ten full bins later we were satisfied we should wait two more days for more to ripen. Two more days later and 80% of the total harvestable fruit is out of the field after 3 hours of hot Sunday work (another 15 bins or so). Two more days from now we'll check again and the patch will be clear and we can check that off the to-do list.
All of the onions are out of the field - thanks to everyone who helped with that task - and will be distributed starting this week. The second planting of watermelon beckons us now and we'll focus on that tomorrow and/or Tuesday. Our "watermelon room" is half full with onions and cantaloupe but we'll make sure we get them in there as well. Potatoes will be started whenever we have sufficient bin and storage space so either later this week or next week. It's still early for them so we're not (too) worried. Hopefully there will be some dry weather to enable an easier time harvesting.
Tomatoes seem to be peaking right now. Last Thursday alone we harvest about 500 pounds of heirlooms from the high tunnel and 500 pounds from the field. Add that to Monday's haul and it's a ton of tomatoes. Fortunately our 2nd planting hasn't kicked in yet; hopefully that'll get going when the 1st one starts to wind down. We hope you are enjoying this mid-summer bounty!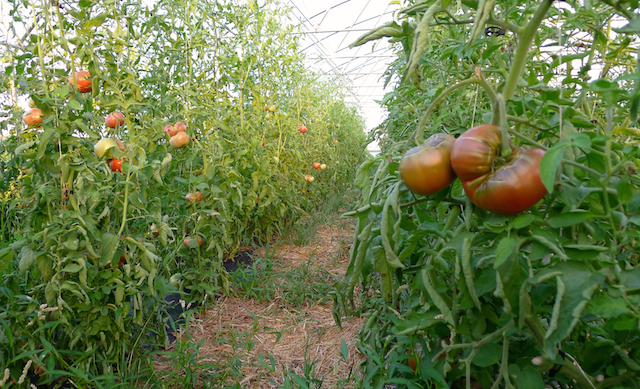 Heirloom tomatoes growing in the movable high tunnel.
Workshifts this Week (8/6-8/12)
Farmer Derek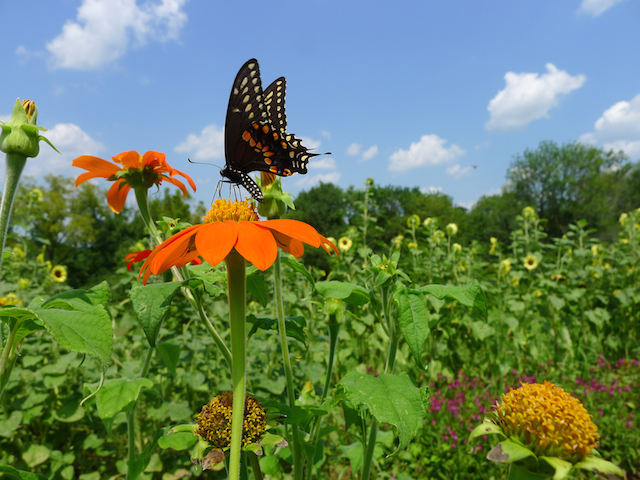 Swallowtail butterfly on tithonia (Mexican sunflower).
If you still need to satisfy the work for your discounted share price August is a busy month on the farm and we could really use your help!

Workshifts scheduled for this week:
Tuesday (8/7) 9:30-11:30am
Wednesday (8/8) 9:30-11:30am
Wednesday (8/8) 6-8pm
Friday (8/10) 9:30-11:30am
Sunday (8/12) 8-10am
Workshift sign-up instructions may be found
here
.
Workshifts typically meet under the large red maple just outside of the pick up room. Please wear appropriate clothes and footwear for working outside and bring your own gloves and water.
Thank you!
Potluck this Saturday!
by Farmer Dana
Join us for a meal under the pavilion 6-9pm Saturday August 11th. Bring a dish to share that serves 6 adults, your own place settings, and a beverage of your choosing. There may be a fire for s'mores as well as live acoustic music (if folks are kind enough to bring their instruments and play for all of us again!).

Edamame Time of Year
By Linda Dansbury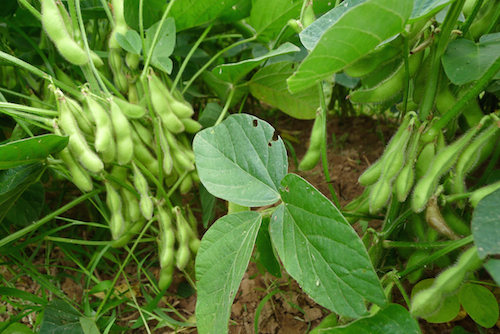 When edamame becomes part of the U-Pick list, it is the height of U-Pick at the farm. As with other veggies, check toward the bottom of the plants to find the beans that are filled out the most. Hold the branch with one hand and gently pull the pods off the plant.
Edamame are a great, low calorie, snack and is actually a green/fresh soybean. It is a complete protein and is high in calcium, vitamin C and other essential nutrients. The whole pods keep well for 5-7 days in a plastic container in the fridge. Edamame shouldn't be eaten raw. Bring a large pot of water to a rolling boil and add a lot of salt - a couple of tablespoons for 6 qt pot is not too much. Boil the beans - watch carefully, because they do tend to boil over - around 10 minutes. You don't want them mushy, I think al dente is a good term for how you want them cooked.
Drain and run under cold water and drain well again. They can be placed in a large bowl with just salt and eaten right out of the pod as a snack - honestly, that is how most of my edamame are used. In addition to salt, cumin, pepper, paprika and/or other spices may be added for variation.
Edamame may be frozen either in their shell or out. For best results, spread them out on a cookie sheet and freeze. Once frozen, place in a freezer bag or container. Freezing this way keeps them from freezing into a solid block.
Edamame can be used in any recipe calling for lima beans or fava beans. We have several recipes on this site. I think the
Edamame Hummus
might be the most popular.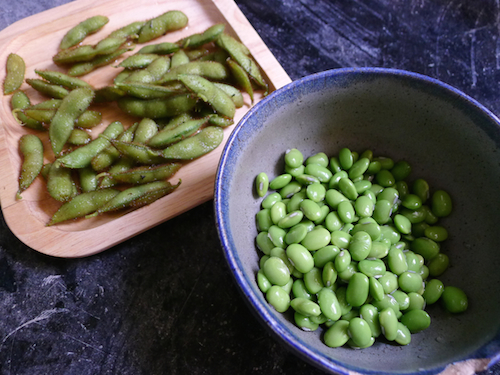 How I Enjoyed My Harvest
Using the Amazing Summer Bounty
By Linda Dansbury
Last week, I didn't have much opportunity to cook, so this week I tried to make up for it, and even found a new recipe. Send me how you enjoyed your harvest to lindadansbury@comcast.net and please put Anchor Run in the subject line. Besides the things listed below, I hope to do a few more today, although with the heat, I don't really want to heat up my kitchen too much!
Eggplant, summer squash, garlic, scallions, tomatoes, basil (could also use cilantro)
- I was searching for something similar to eggplant/squash parmesan, but wanted it to be lighter and healthier. I found a dish called
Layered Eggplant, Summer Squash and Tomato Casserole.
It does have a few steps to it but all can be done ahead except for baking. It is also good leftover.
Eggplant, garlic and parsley
- as I talked about last week, I did make the
Baba Ganoush
recipe that is on this site. It is so good. I served it 2 different times to friends and they loved it. I look forward to making more because none of it made it into the freezer
Ground cherries, tomatoes, sweet and hot peppers, scallion, garlic and cilantro -
again, as I discussed last week, I also made the
Fresh Ground Cherry Salsa
- twice! And once I do my u-pick, I will probably do it again. Really fresh and yummy.
Tomatoes, scallions, cucumber, peppers, garlic, basil (Thai), celery, carrot, cilantro
- I made the
Gazpacho
recipe that is on this site. I really like this version - and I have tried many - it is easy, most of the "work" is done ahead of time, but most importantly, it is delicious!
Member Ideas and Suggestions
More on Ground Cherries
By Linda Dansbury
Fellow member Dawn Wright emailed me with another great sounding recipe for Ground Cherries. I now have corn and am planning to grill a couple of extra ears so I can try the recipe. It does sound delicious. Please try the
Grilled Corn, Basil and Ground Cherry Salad,
using whatever herbs you have and send how you enjoyed your harvest to me at lindadansbury@comcast.net. Thank you for taking the time Dawn and as an aside, I find the
food52.com
website to be one of the best for recipes!