CSA Week 13: Much to be Thankful For
News
Expected Harvest
Peaking U-pick
Farmer Derek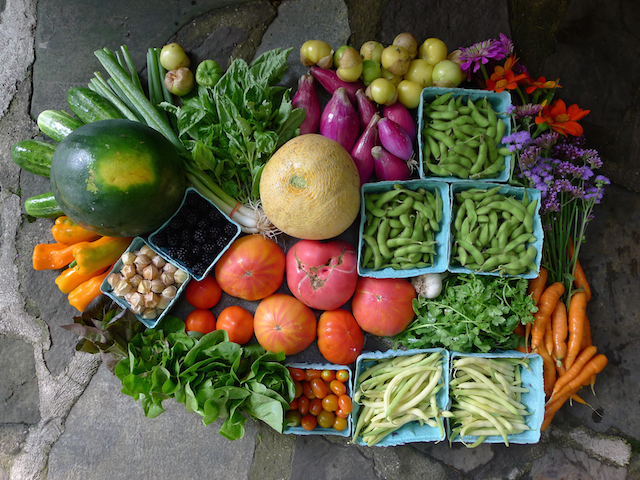 Harvest #13 (Week A) should include cantaloupe, watermelon, tomatoes, lettuce, eggplant, sweet peppers, okra, hot peppers, scallions, onions, carrots, garlic, zucchini, cucumbers, Italian dandelion greens, and herbs. Some items will be a choice. U-pick* should include edamame, yellow snap beans, husk cherries, tomatillos, cherry/grape tomatoes, blackberries, flowers, and herbs.
*U-pick is available to members 8am-8pm Mon-Sun of your pick up week. Per-week quantities are specified on the u-pick board. Quart, pint, and 1/2-pint containers are there for you to use to measure and retrieve your allotment. Please bring them back for re-use if they're in reasonable condition. Bring your own bags and scissors.

Notes From The Field
Middle of Main
By Derek McGeehan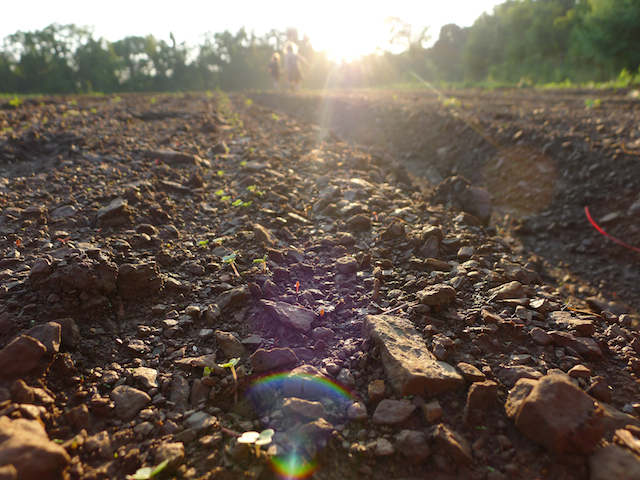 Sun setting over freshly germinated rutabaga.
Harvest weeks 13 and 14 represent the mid-point of our 26-week Main Season CSA and also come at a time of subtle changes in the season, daylight, weed growth, plant health, crop harvests, farm workload, and farmer mental and physical stamina. Seasonally summer is on the downward trend and with it daylight noticeably slowly decreases. Weed pressure begins to slacken as most weed species will germinate less as that magical combination of soil temperature and daylight combine into an unknown sum that is less appealing all of a sudden. Perhaps they know that they probably won't have time to procreate and pass along genes and will simply wait until next year. Traditional summer crops like basil, zucchini, cucumbers, watermelon, cantaloupe, and field tomatoes begin showing serious symptoms of disease and decline. We have multiple plantings of most of these but even later younger plantings get sick quickly. Tomatoes will be safe in our tunnels through September probably. Harvests will begin to transition away from some of the summer staples as we welcome winter squash, potatoes, and greens again later this month. The pendulum of the farm workload is in full swing in the other direction as we clean up fields and sow them into cover crops to add organic matter, increase soil fertility, consume leftover nutrients, and protect the earth over the fall and winter months. Look for fields of a flowering buckwheat overstory and radish and clover understory. Our farmer brains and bodies get a little more sluggish in August as the past 5 months catch up to us. As September approaches and temperatures moderate we'll be rejuvenated as we push through to the end of the growing season, prepare for fall and winter harvests, and reflect and plan for the next growing season. For now, we accept the highs and lows of this growing season and are thankful that even though we've had extreme weather the harvests have been ample and we've been able to share it all with our food community.

Workshifts this Week (8/13-8/19)
Farmer Derek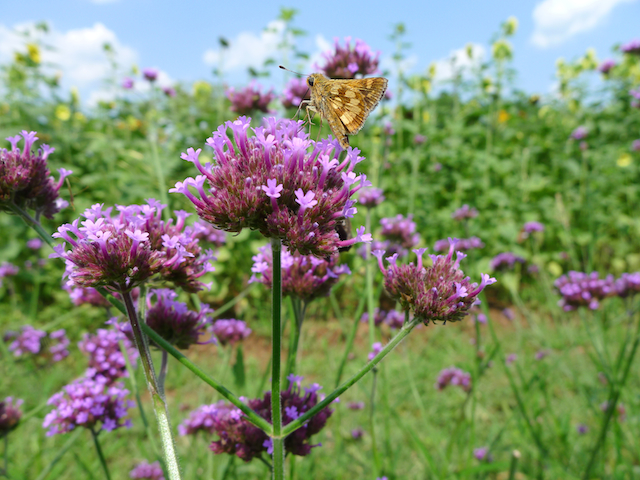 A peck's skipper butterfly on verbena in the u-pick flower patch.
Thank you farm members who came out and helped last week! If you still need to satisfy the work for your discounted share price August is a busy month on the farm and we could really use your help!
Workshifts scheduled for this week:
Tuesday (8/14) 9:30-11:30am
Wednesday (8/15) 9:30-11:30am
Friday (8/17) 9:30-11:30am
Sunday (8/19) 8-10am
Workshift sign-up instructions may be found
here
.
Workshifts typically meet under the large red maple just outside of the pick up room. Please wear appropriate clothes and footwear for working outside and bring your own gloves and water.
Thank you!
Maple Syrup & Honey For Sale Monday 10/22
by Farmer Dana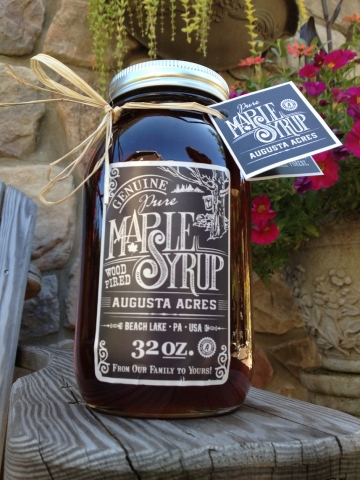 Susan and Todd Klikus of Augusta Acres Farm will be at Anchor Run CSA on Monday, October 22nd 1:00-6:30pm to share and sell their maple syrup and honey!

Augusta Acres is located in Beach Lake, PA and is a family-run operation. They farm using only organic methods and are members of Pennsylvania Association for Sustainable Agriculture and the Pennsylvania Maple Producers Association.
Sap from trees located strictly on the farm is boiled down in small batches on their wood fired arch to produce a maple syrup that is dark and robust.
Holiday Special: Buy 3 get the 4th for half price for both pints and quarts of maple syrup.
Their honey is extracted from on-farm apiaries and is an "all season", raw honey which is dark and very sweet.
Pints are $15; Quarts are $24.
Cash, checks, and credit cards are acceptable methods of payment.
Questions and to pre-order, contact Susan Klikus directly at susanklikus@gmail.com
If you can't make it to the farm this Thursday during those hours and you would still like to participate in this opportunity contact Susan at susanklikus@gmail.com and she will set aside your order to pick up on your regularly scheduled pick up day.
Using the Bounty
By Linda Dansbury
We are currently at the peak of the season in terms of both variety and volume of what we are receiving. This is a great time to share with fellow members how you are keeping up with the bounty! Email me at lindadansbury@comcast.net and please put Anchor Run in the subject line. Here is a few things I do/have been doing to keep up with it all.
Breaking it down into what needs to be used in what order helps keep it from becoming overwhelming. Think about what doesn't keep very long and plan out how to use those crops first: lettuce, tomatoes, okra, eggplant are the crops I find do not store more than a week, so I use them as we receive them. I make salads using the lettuce a couple nights per week, often adding other veggies from the farm including leftover grilled veggies. Okra normally gets stewed so we can eat it immediately or keep it/freeze it for later. Okra can be frozen too. Blanch it for 2 minutes, plunge into ice water, drain and dry on towels and then place in plastic container for freezer. Once cooked, the veggies will keep for several more days and some of them may be frozen to enjoy later. Please search for recipes on this site to help you.
Tomatoes
we eat nearly every night this time of year, and never tire of them! Bruschetta, pan con tomate, caprese salad, fresh salsa, and added to lettuces in salads are all so delicious. I also love making (and eating) the
Uncooked Tomato Sauce.
There are a couple recipes on this site. I love all of these ways and more to enjoy the tomatoes - nothing is better this time of the year!
The summer squash and cucumbers are waning at this time of year so can be managed fairly easily - if you are tired of grilling squash, make Zucchini Bread. It is really delicious and can be frozen. I did buy an inexpensive spiralizer this year, so making veggie dishes are fun, pretty, healthy and delicious! Now that we are only receiving a couple of cucumbers a week, I eat them with lunches and added to salads.
Below are the next groupings of veggies, which I will talk about next week.
Next up is green beans and tomatillos.
Then comes peppers and edamame.
Carrots, ground cherries both keep for a long time, so I use them as I want, but don't concern myself with using them before they go bad.
How I Enjoyed My Harvest
Pressure Cooker Delights
By Linda Dansbury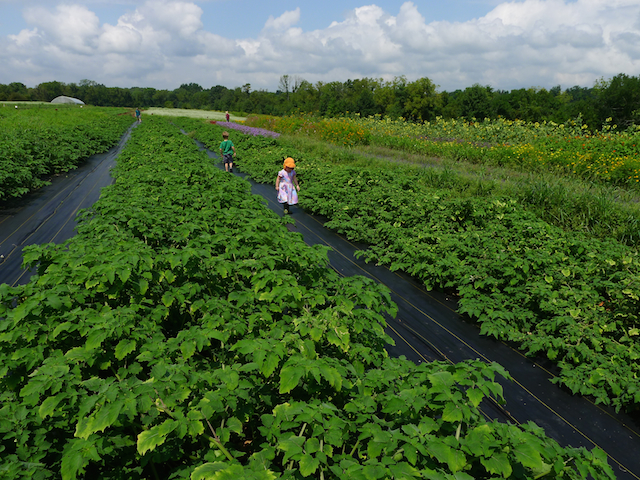 The husk cherry and tomatillo patch looking neat and tidy thanks to the 12.5' wide landscape fabric.
I tend to go through trends in my cooking - I will use a cooking technique and keep using it for a few days, or more. This past week I used the pressure cooker a couple of times and plan to do so again today. I don't have the famous Insta Pot, but a different brand that also sautes, pressure cooks and can be used as a slow cooker. I got it a few years ago - these things are pretty expensive, but I have found it well worth it and in this rainy weather where we don't feel like standing outside with the grill, I love using it because the food is awesome and it doesn't heat up or make a mess of the kitchen. Share how you enjoyed your harvest by emailing me at lindadansbury@comcast.net. Please put Anchor Run in the subject line so I can find your email. Now that we are in the height of the harvest season, how are you enjoying the huge bounty we are currently receiving?
Tomatillos, hot peppers, cilantro, garlic, scallions
- I made the Tomatillo Sauce from the
Stewed Chicken in Tomatillo Sauce
recipe. But, instead of following the exact recipe, I put it into the pressure cooker. Instead of rice, I made corn tortillas - filled the tortillas and rolled them, topped with more of the sauce and topped with cilantro and some local feta - YUM! Note that if you do this, use less chicken stock than the recipe calls for.
Stewing meat, carrots, okra, onions, garlic, herbs - again, used the pressure cooker to make a delicious meal using some of the bounty of the farm. I simply found a recipe with a blend of flavors I liked - that night I felt like Moroccan/Middle Eastern flavors and then added the veggies I wanted to used. It turned out tender and delicious!
Tomatoes, basil, local mozzarella - last night made a Caprese salad. Many of these call for balsamic vinegar, but with the tomatoes this delicious, I only add a touch of sea salt, and a drizzle of good quality olive oil.
Green beans, garlic, cilantro and Thai basil
- I grow Asian long beans at home so I found this recipe for ground pork and long beans - it is actually a lot like the
Kale Rice Bowl
recipe on this site, so I blended the 2 recipes. I am sure it would be good with our beans from the farm as well. I blanched the beans for 1 minute (in boiling water I was going to use for corn). Half the garlic and ginger was mixed into the meat. The meat was browned and then the beans and rest of garlic and ginger were added. I added a bit of fish sauce near the end and topped with fresh herbs. A tasty, quick, weeknight meal.
Ground cherries, cucumber, basil (or cilantro), scallions, hot pepper
- made the
Grilled Corn, Basil and Ground Cherry Salad
that Dawn Wright sent to me last week. I purposely made extra corn one night so I had leftovers for the salad. It was really delicious.
What is Papalo?
By Linda Dansbury
You may have noticed the tall plants in the herb garden with the sign Papalo. With cilantro being less available for a bit, I thought I would provide a bit of information about it:
Papalo
is a heat-loving alternative to cilantro, its flavors are both bolder and more complex. It has been described by some as somewhere between arugula, cilantro and rue; others say it tastes like a mixture of nasturtium flowers, lime, and cilantro. Younger leaves are milder flavored, gaining pungency and complexity as they mature.
Papalo is sometimes called "summer cilantro" due to its heat loving character and not bolting and setting seed until the late summer or early fall. So, try it in dishes such as salsa, tacos and any dishes with tomatillos and okra.