CSA Week 14: Thankfully Cooler
News
Expected Harvest
From Summer to Winter Squash
by Farmer Derek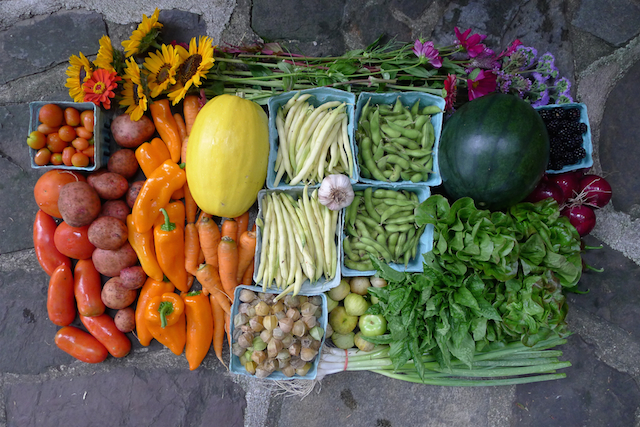 Main Season Share #14 (Week B) should include spaghetti squash, onions, carrots, potatoes, garlic, scallions, lettuce, sweet peppers, tomatoes, watermelon, eggplant, okra, hot peppers, Italian dandelion greens, and herbs. U-pick crops should include edamame, yellow snap beans, husk cherries, tomatillos, cherry/grape tomatoes, blackberries, flowers, and herbs.

Notes From The Field
Weather Respite
by Farmer Derek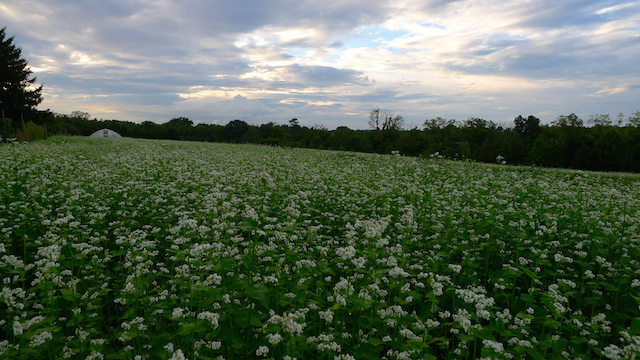 Flowering buckwheat is seen all over the farm right now providing nectar to pollinators.
Amidst what will probably be our second wettest season in 10 years we're remaining afloat and overall are satisfied with and thankful for this year's harvest so far. Undoubtedly there have been a few crops that were negatively impacted by the wet weather. Most noticeably the cherry and grape tomatoes never fully reach production potential and were stunted and challenged from the beginning while they endured our wettest May in 10 years. We also lost the spinach in the spring due to the weather but other than those two crops we've been lucky with the harvest.
We've also been extremely fortunate that the ground has continually dried out just enough between rain events that we've been able to do the minimally required work to keep plants alive (cultivate and weed) and to build homes for future crops (raised beds). For cultivating to be effective the ground has to be dry otherwise the weeds can easily re-root, especially when we can't cultivate in a timely manner because of the perpetually wet soil and the weeds grow sets of true-leaves beyond the initial cotyledon stage. Our fall brassica patch has been particularly troublesome and unfortunately is located in what is probably the wettest part of the farm. During dry seasons crops thrive in these soils; during wet years they struggle. So far the cabbage, broccoli, cauliflower, and brussels sprouts are surviving and growing but would definitely appreciate some drier weather with only minimal weekly rainfall (quarter-inch please).
Besides simply being a huge crop planting, the brassicas are plagued by grass, a terribly persistent weed that's hard to defeat especially when it's been allowed to grow for a week beyond the ideal cultivation period. We were desperately close to losing the battle at first cultivation. It wasn't an ideal time because the ground remained slightly wetter than suitable for cultivating, but with forecast rain the following day, we only had a small window of opportunity to try to kill the weeds. Our employees muscled through the manual cultivation and saved the brassicas. A week or so later, with the smallest of dry weather opportunities also followed by forecast rain, we cultivated them again (this time a whole day's worth of work). We also added in some tractor cultivation for the tops of the beds between the rows of plants. Between and immediately around the plants cultivating still had to be done manually with stirrup hoes, though. The forecasted rain didn't materialize immediately after cultivation so the couple more days of dry weather allowed further desiccation of the weeds and grasses. After this second round of cultivation the crops' canopy seems to be tall and wide enough to out-compete the weeds. We may have to hand weed in row eventually, but for now our focus shifts to saving the fall and winter carrots and rutabaga. Also, for the brassicas at least, we must hope that perpetually wet feet won't undermine our efforts. The forecast does look like it's changing for the better. Here we are.

Workshifts this Week (8/20-8/26)
by Farmer Derek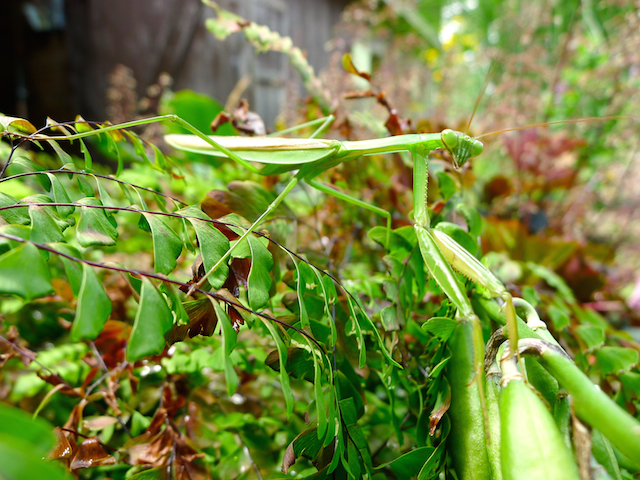 Working on the farm...
Workshifts scheduled for this week:
Tuesday (8/21) 9:30-11:30am
Wednesday (8/22) 9:30-11:30am
Friday (8/24) 9:30-11:30am
Sunday (8/26) 8-10am
Workshift sign-up instructions may be found
here
.
Workshifts typically meet under the large red maple just outside of the pick up room. Please wear appropriate clothes and footwear for working outside and bring your own gloves and water.
Thank you!
New Crop - Spaghetti Squash
By Linda Dansbury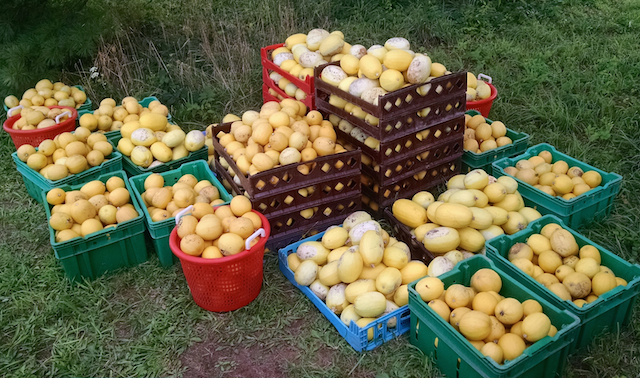 Spaghetti squash cooling down in the shade on 90+ degree day. Photo credit Hannah.
Spaghetti squash is one of the farm crops I really enjoy. It keeps well when stored in a cool, dry place such as a basement or otherwise cool part of your home. Do not store in the fridge - it will actually spoil faster. It will keep for up to 3 months - but check on it regularly to make sure that a small blemish isn't causing it to spoil faster. (The farmers recommend eating it sooner rather than later due to its susceptibility to spoilage. Plus you can eat it with fresh tomato sauce right now.) Nutritionally, spaghetti squash provides several necessary nutrients including folic acid, potassium, vitamin A and beta carotene and is low in calories.
Spaghetti squash can be be microwaved, boiled or baked whole or cut in half and baked and people swear by each method. My preferred way is to cut in half lengthwise, scoop out seeds, brush with olive oil and then bake in a 400 degree oven until the flesh can be scraped out in strands with a fork - timing depends on size of the spaghetti squash, so start checking at about 30 minutes for smallish squash and 40 or 45 for larger. I check with a small sharp knife. If the knife goes through somewhat easily but with a little resistance, the squash is done. Too soft and there will be mush rather than strands of squash.
Spaghetti squash can be enjoyed in many ways, but my favorite this time of year is to bake it and then top it with
Uncooked Tomato Sauce
. Yumm!
Member Ideas and Suggestions
Farm Delights
By Linda Dansbury
Evelyn Throne is a long time contributor for fellow members and came up with yet another great way to combine the farm ingredients in a simple, 1 pan, delicious meal. Thank you so much for sharing Evelyn - here is what she wrote to me:
"Chicken (I used thighs from Hershbergers) with enough tomatoes to cover them, (use what you have and supplement with canned chopped if needed, tomatillos sliced thin, scallions, half of a jalapeno pepper, sweet peppers and garlic along with a generous sprinkle of chili powder. Optional- a shot of apple cider vinegar. I threw all of this in a baking pan and cooked for an hour. Serve with chopped Cilantro. It was delicious!!!"
Please send your delicious ways to prepare the harvest to me at lindadansbury@comcast.net and please put Anchor Run in the subject line so I can find your email.
How I Enjoyed My Harvest
So Much Bounty
By Linda Dansbury
I prepared quite a few delicious dishes this week including a couple of new ones that turned out great. Please share how you enjoyed your harvest by emailing me at lindadansbury@comcast.net. Here is a sampling:
Edamame - I know I provided the low down on what to do with these in a prior newsletter. I tried something slightly different this week. We prepared sashimi this week and had the edamame as a side dish but instead of topped with plain salt, we used smoked sea salt and it was delicious. I then thought about it and using other flavored salts, cumin or paprika would also be delicious.
Tomatillos, onions, poblano peppers, okra, cilantro and pork shoulder (from Hershberger) - found a recipe in my pressure cooker cookbook for a lamb shoulder, which I changed out with pork. The recipe did not call for okra but I added it anyway. It turned out delicious - and made plenty to freeze for later. If anyone is interested in the detailed recipe, let me know at lindadansbury@comcast.net.
Tomatoes, garlic, chicken
- a few of my tomatoes were starting to get bad spots so I wanted to use them quickly and in a delicious way and found a recipe called
Garlic Butter Tomato Baked Chicken with Mozzarella.
It was very simple to prepare and was made all in 1 pan. Recipe says it is good with rice, crusty bread or steamed veggies. I made noodles from my
summer squash
I still had that I simply heated in olive oil but it would also be great with
spaghetti squash
. It calls for cherry tomatoes but I just cut up the tomatoes I wanted to use into the size of halved cherry tomatoes. I have added the recipe to this site.
Using the Bounty
By Linda Dansbury
Last week I provided some suggestions on using some of the most perishable crops. The next group are beans and tomatillos.
Green beans do keep fairly well, although you may have noticed the end of some of the beans rot quickly from constantly sitting on wet soil. Just trim the ends off. Beans can be blanched, plunged into ice water, drained, laid out on a towel to drain/dry and then placed in plastic freezer containers for use later in the year. My go-to is to make green bean salad. I will cook up a good amount of beans at a time. I cook slightly longer than I do for eating as a plain side dish, but not until mushy, about 4 minutes. I plunge in ice water bath - although you don't have to because the vinaigrette will dull the bright color anyway. While the beans are cooking and cooling I prepare the rest of the salad - chop scallions, garlic, tomatoes, and anything else you want to use up - leftover grilled veggies are great in this too. Make your favorite vinaigrette - mine is simple - olive oil and red wine vinegar in about a 3:1 ratio, salt, pepper. Mix all together. I like adding chick peas to the mix for both texture and taste. Add vinaigrette and mix well. Add lots of chopped fresh herbs and top with cheese of choice, if desired. This will keep in the fridge for at least a week - if it doesn't get eaten before that!
Tomatillos
- again, these keep fairly well in the fridge and I normally save up a 2-3 week supply and make the sauce for the
Stewed Chicken in Tomatillo Sauce.
I have also talked about several other recipes on this site. Tomatillos can be eaten raw - add to salads or salsas. They are delicious grilled - the smokiness suits this veggie really well.
Salsa Verde
is delicious served with chips or use as a topping for fish or chicken. I like making the sauce from the above mentioned recipe because it freezes really well and although it is meant to go into the chicken recipe it is equally good on its own as a salsa for chips.
Enjoy the bountiful harvest!
Home School Classes at Birchwood Farm!
by Farmer Dana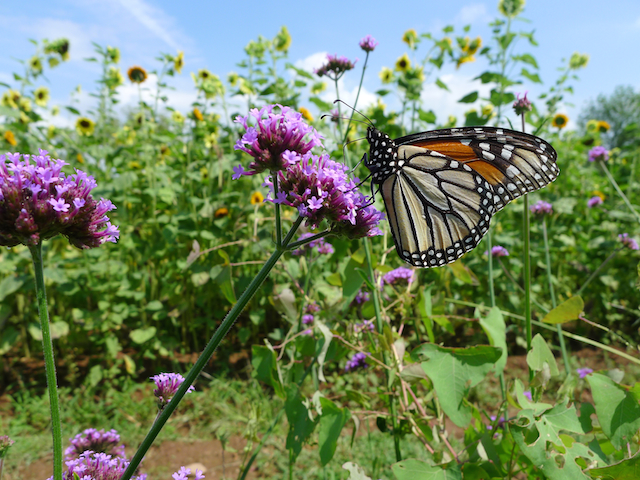 A monarch butterfly slurping some verbena nectar.
Birchwood Farm and Dairy
is a local farm striving to produce high quality products while focusing on the health and happiness of the land, its animals, and the community it serves. In addition to its commitment to sustainable agriculture, Birchwood believes education to be fundamental to its mission. They are therefore happy to announce the beginning of a youth educational program at the farm. Formerly an Apprentice Farmer with, and currently a member of Anchor Run CSA, Jenna Avery will be the program's director.
Jenna has a degree in elementary education with a concentration in science, as well as a masters degree in environmental education. Her teaching experience spans multiple educational settings, such as teaching various programs at an environmental education center in New Jersey, homeschool classes, substitute teaching in a variety of schools and grade levels, and tutoring. Jenna has found her passion in combining both her love for teaching and her fascination with the natural world, to help kids learn about science and the environment. From learning bird calls and studying chicken embryology, to simply observing the critters that live in a compost pile, Jenna believes these lessons are not only fun, but meaningful and capable of having a lasting impact.
Split into semesters, the program will concentrate on environmental, science, and farm-based themes which are suited for students of varying ages. Birchwood's goal is to help students develop a deeper understanding of the natural and organic agricultural world while connecting with nature and farming through a wide range of learning opportunities. Their programs will have a classroom that extends well beyond four walls consisting of hands-on and experiential learning through activities, experiments, and exploration. This program will not only help students grow both academically and socially, but also help them gain a lifelong appreciation for nature, farm life, food, and all living things.
If this is something that interests you, please follow the link to fill out their questionnaire. Thank you in advance as this will help them in their planning process. They look forward to hearing from you!