CSA Week 15: Hot and Dry?
News
Expected Harvest
Peaking Peppers
by Farmer Derek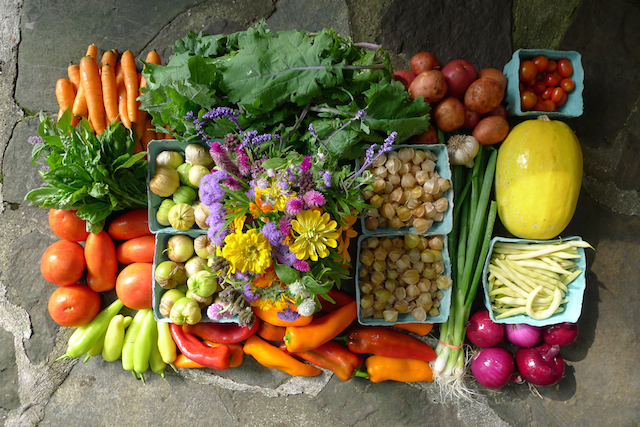 Harvest #15 (Week A) should include potatoes, spaghetti squash, carrots, onions, scallions, tomatoes, garlic, sweet peppers, eggplant, hot peppers, lettuce, chard, kale, herbs, and okra. Some items will be a choice. U-pick should include yellow snap beans, cherry and grape tomatoes, flowers, husk cherries, tomatillos, and herbs.

Notes From The Field
Driest Since...
by Farmer Derek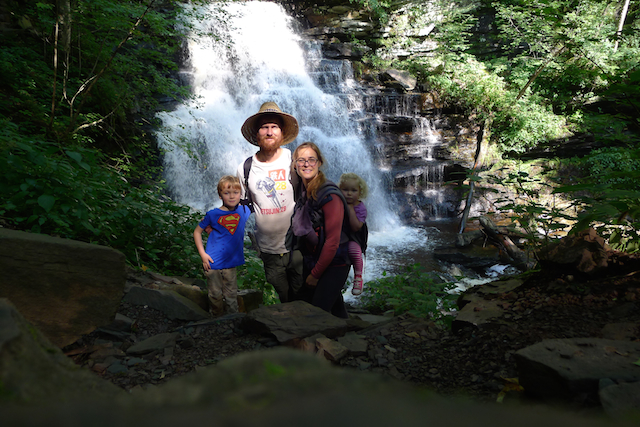 Camping and hiking at Rickett's Glen State Park this past weekend.
It's a strange feeling to not have to rush around completing certain parts of our to-do list prior to an impending rain event. Having a few days or even a week to complete jobs, get ahead, get caught up, and mildly enjoy the pace of production has been a rare luxury during this very wet season. Even sneaky thoughts of intentionally adding water to the fields now try to enter my brain. Phrases like "wow that soil looks dry" or "those crops look thirsty" pass between my ears and mock my prior too-much-water frustrations. Attempts to dissolve and dissipate these thoughts using farmworkmindfulness are invoked. Steady, I instead encourage the crops to be patient: you must send those roots down to find your own moisture. It will rain again, probably too much. Also, if we hadn't already received 2 months worth of rain in the first half of August maybe I would listen to your requests and/or complaints. You can do it I promise.

All seems to remain well. Shares of the harvest stay ample. Potatoes are now 66% harvested thanks to the 20 or so members who came out to help today. Butternut will hopefully be retrieved and stowed this week. Progress is even starting to be made towards our NRCS funded water management upgrades. Cover crops are thriving and taking care of the soil. Additional fall roots and greens like watermelon radishes, white and purple daikons, arugula, mustard mix, and baby kale have been direct seeded and are up and growing. Many man hours last week were spent weeding and cultivating fall carrots and rutabaga and they look great. Fall brassicas like cabbage, brussels sprouts, broccoli, and cauliflower were cleaned up again and probably appreciate this dry weather. Now we need to look closely at them to see if they require an additional dose of food (i.e. organic fertilizer) after all the drenching rain we received during their outdoor life which may have washed away nutrients as well as stunted their root growth. Veggie life goes on.

Workshifts this Week (8/27-9/2)
by Farmer Derek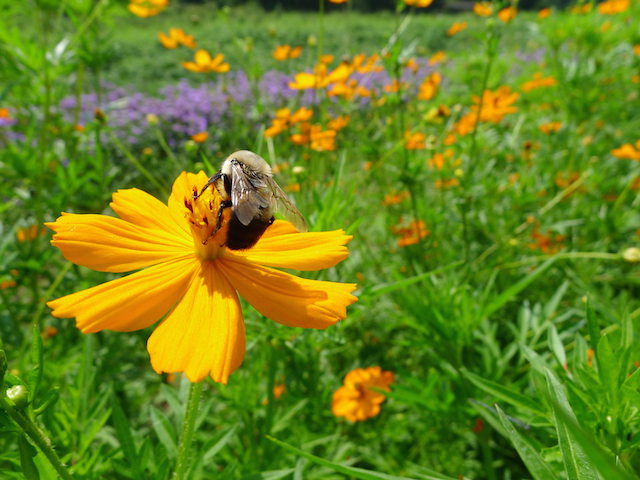 Bumblebee snacking on cosmo nectar in the u-pick flower patch.
Workshifts scheduled for this week:
Friday (8/31) 9:30-11:30am
Workshift sign-up instructions may be found
here
.
Workshifts typically meet under the large red maple just outside of the pick up room. Please wear appropriate clothes and footwear for working outside and bring your own gloves and water.
Thank you!
How I Enjoyed My Harvest
Fall to Summer
By Linda Dansbury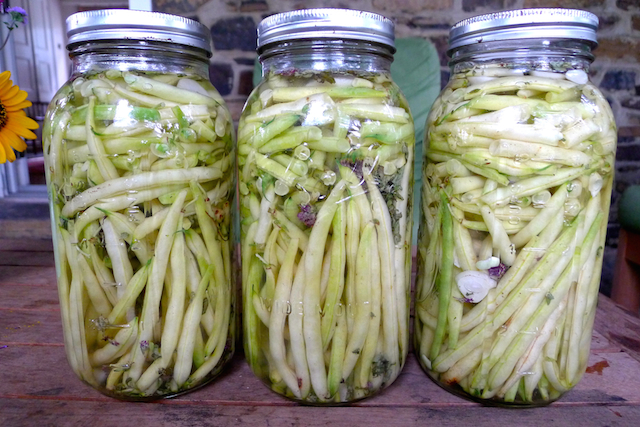 Farmer Dana's Bean Fermentaria - a sour, salty, crunchy snack in the making - lacto-fermented to keep our gut flora humming this winter. Yellow snap beans, garlic, oregano, and sea salt (2 Tablespoons per quart of water). Put the solid ingredients in a jar then pour the brine solution in, submerging everything. Around twice a day for a few days loosen the lids to allow CO2 to escape. Quite easy and delicious!
Well, we had a few nice cool days and the hours of daylight are decreasing significantly now, so thoughts start to move toward fall and warming dishes, but this coming week we are going back to summer weather again. I only made a few new dishes this past week. I did make another batch of
Tomatillo Sauce
and got that into the freezer for use later in the year. I happily snacked on edamame and got a lot of them put away into the freezer, half of which I took out of the shells prior to freezing, and the other half I left in the shells. I made another batch of
Gazpacho
and the summery taste as always was a treat. I made the riff on
eggplant parm
I described a few weeks ago - it freezes really well and my husband and I decided we like it better than lasagna - eggplant basically takes the place of the noodles. It is made into stacks so that it is easily served and frozen in individual portions. Do you have a dish you would like to share with fellow members? Please email me at lindadansbury@comcast.net and please put Anchor Run in the subject line so I can find your email.
Two dishes I made that I haven't talked about in previous newsletters are below:
Watermelon, tomatoes, chili pepper, basil, mint -
I made
Watermelon, Heirloom Tomato and Goat Cheese Salad
.
This is delicious - it doesn't sound like the flavors will come together as they do, but it is great - I made it for a farmer's market demo and so many people asked for the recipe and said how flavorful it is. The recipe has been on this site for a couple of years.
Zucchini, basil, garlic -
used the last of my summer squash in a new, very simple recipe:
Spiralized Summer Squash Casserole.
It is simple and delicious. Simply make a "filling" using ricotta cheese, parmesan cheese, basil and garlic. Make squash noodles and form into nests on a sprayed cookie sheet. Top each nest with some of the filling. Broil until slightly browned. Top with more basil and enjoy. I have added the recipe to the website.
Upcoming Event: Potluck 9/8/18
by Farmer Dana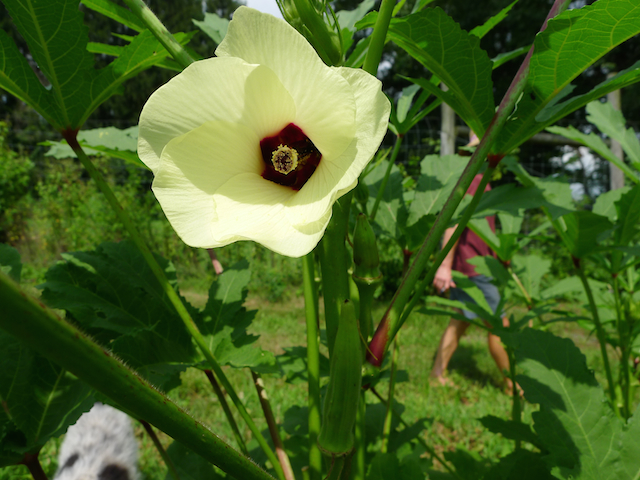 Not everyone loves okra but everyone probably can appreciate an okra blossom!
Join us for a meal under the pavilion 5:30-9pm Saturday September 8th. Bring a dish to share that serves 6 adults, your own place settings, and a beverage of your choosing. There may be a fire for s'mores as well as live acoustic music (if folks are kind enough to bring their instruments and play for all of us again!).