CSA Week 16: Labor Day, Week, Year
News
Expected Harvest
Sweet Sixteen
by Farmer Derek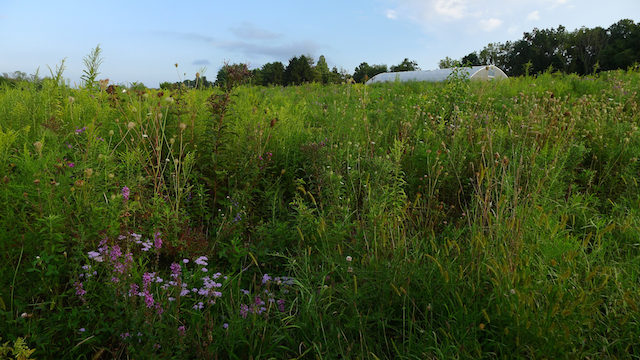 No time for a harvest photo today thanks to an absence of rain but at least the pollinator habitat is looking good. Share will be pretty similar to #15 shown below.
Harvest #16 (Week B) should include spaghetti squash, potatoes, onions, scallions, garlic, rosemary, lettuce, chard, kale, dandelion greens, tomatoes, sweet peppers, hot peppers, eggplant, and herbs. U-pick should include yellow snap beans, cherry and grape tomatoes, tomatillos, husk cherries, flowers, and herbs.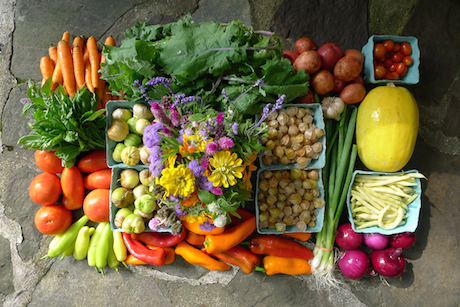 Notes From The Field
Sometimes It's Hard
by Farmer Derek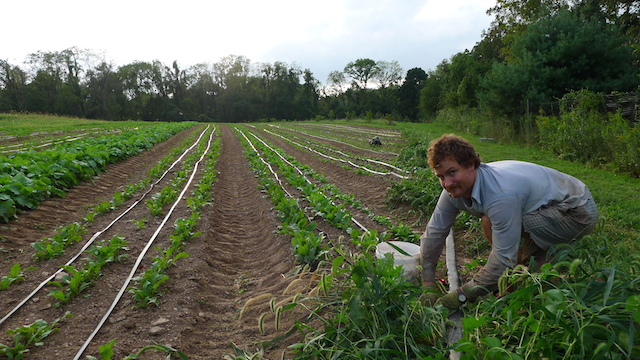 Somewhat reluctantly spent a good portion of Sunday installing irrigation infrastructure after all of the forecast rain missed us.
Well, I was definitely counting on and anticipating a healthy dose of rainfall this past Friday. Ninety percent chance of up to an inch had me convinced it was coming. Alas, it amounted to nothing and now I must contemplate setting up irrigation systems across the farm or await the next incoming round of wet weather. Perhaps we'll get lucky Sunday when there's another slight chance of rain; otherwise it looks like we'll have to wait until next weekend. It does feel strange to be discussing water and rain this way, wanting it, when for much of this season it's been the opposite. That probably adds some frustration (obviously). Sometimes it's nice to give oneself over to the controls of the weather. When it rains we're cared for and it removes some need for decision making because obviously in our climate we receive fairly regular rainfall as opposed to parts of the dry west where they simply know it won't rain so why not just always have irrigation at hand and set up. Thus we either wait for and depend on rainfall or we adjust and run the drip tape and set up the headers and/or set up the sprinklers. Please give us the appropriate amount of rain for once this season.
Last week we endured quite a heat wave for this time of year, especially on the heals of very cool and mild weather last weekend. The fields dried out so we were able to cultivate where needed, including with hand tools and with the tractor, as well as harvest the last of the potatoes and all of the butternut squash. We transplanted more fall crops including napa/chinese cabbage, kohlrabi, lettuce, radicchio, endive, escarole, dill, cilantro, and parsley. We cleaned up fields and sowed additional cover crops and also spread some compost on resting fields. It was a productive week.
Workshifts this Week (9/3-9/9)
by Farmer Dana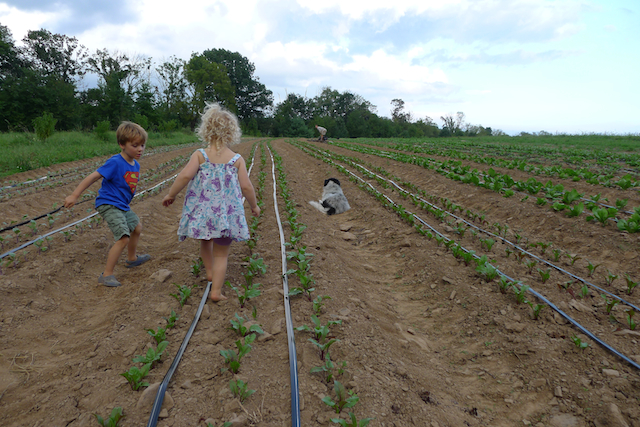 Coaxed the family to join in setting up the irrigation system towards the end of a long Sunday.
Workshifts scheduled for this week:
Tuesday (9/4) 9-11am
Wednesday (9/5) 9-11am
Friday (9/7) 9:30-11:30am
Sunday (9/9) 8-10am
Workshift sign-up instructions may be found
here
.
Workshifts typically meet under the large red maple just outside of the pick up room. Please wear appropriate clothes and footwear for working outside and bring your own gloves and water.
Thank you!
Upcoming Potluck
by Farmer Dana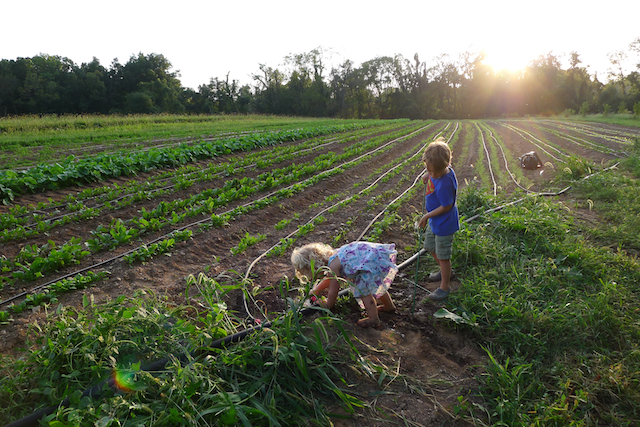 Mischievous kids automatically attracted to water and mud and long pointy sticks.
Join us for a meal under the pavilion 5:30-9pm Saturday September 8th. Bring a dish to share that serves 6 adults, your own place settings, and a beverage of your choosing. There may be a fire for s'mores as well as live acoustic music (if folks are kind enough to bring their instruments and play for all of us again!).