CSA Week 17: Cool and Tropical
News
Expected Harvest
Seasonal Metamorphosis
by Farmer Dana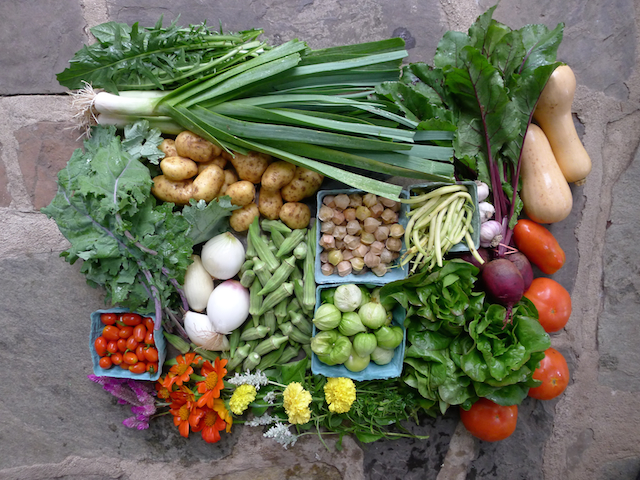 Main Season Share #17 (Week A) should include butternut squash, potatoes, garlic, onions, leeks, beets with greens, tomatoes, rosemary, kale, Swiss chard, Italian dandelion, lettuce, sweet peppers, hot peppers, okra, and eggplant. Some items will be a choice. U-pick should include yellow snap beans, cherry/grape tomatoes, husk cherries, tomatillos, herbs, and flowers.
Notes From The Field
Can We Ignore The Weather?
by Farmer Derek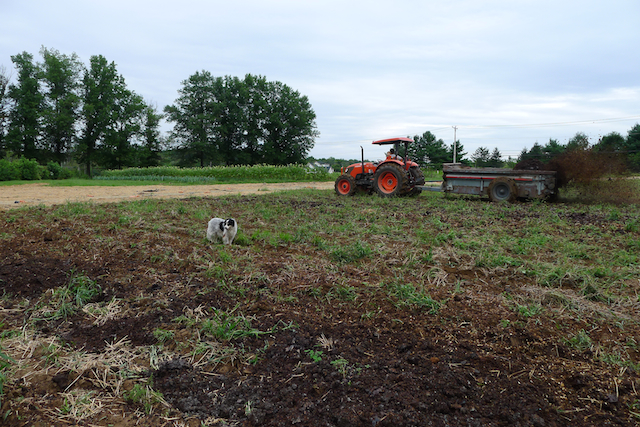 Spreading compost on a fallow field.
Last week on the farm...

The stifling heat and super dry conditions forced us to set up and irrigate all of the crops except for sweet potatoes which seem to be unbothered by anything. All the crops received two doses of water to give us the satisfaction that at least we used the drip tape enough to make the extra work worthwhile. The crops definitely needed a serious drink amid soaring temperatures after missed rainfall last weekend and perked right up after 6-8 total hours of trickle irrigation. That was the driest the farm has been all season.

The NRCS/USDA water management project commenced last week as well. A project 3 years in the making, it's great that it is finally beginning. Grassed waterways will be created in the most problematic areas to collect runoff, minimize erosion, and send the water hopefully where we want it to go. Significant quantities of soil need to be moved around. The waterways are 20-30' wide, 6-12" deep, and over a 1000' long. After the bulldozer does its job we sow appropriate seeds, roll out erosion control blankets, and add straw to hold moisture and protect the seeds. Two out of 4 areas have been completed.
Additional crops were transplanted and direct seeded including arugula, greens mix, hakurei turnips, scarlet queen turnips, broccoli raab, lettuce mix, mini lettuce, spinach, chard, curly kale, collards, and russian kale. Beds were reshaped to kill any germinating weeds prior to planting.
Compost was spread over a 1.5 acre fallow field. Half a day was spent trying to fix the ancient compost spreader that broke 3 or 4 times and prevented me from having time to sow an oat and clover cover crop prior to Friday night's rain and forced me to finish the task by working all day Saturday.

Crop maintenance was a big part of the workload last week including weeding in row and mowing walking aisles.

Half days were given to the crew on the hottest days.
Since we can't ignore the weather on the farm we'll endure what we're given this week and adapt to the conditions. Will this week be bookended by moisture from two tropical storms? Yippee.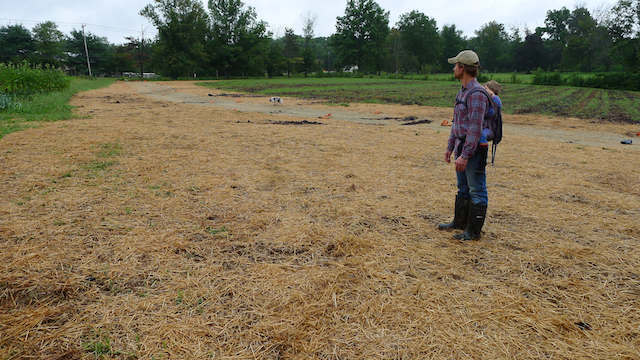 Field 2 waterway completed.
Workshifts this Week (9/10-9/16)
by Farmer Derek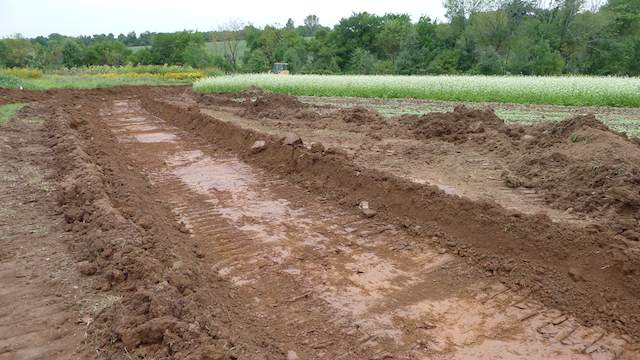 Grassed waterway construction commencing in Field 3. The earthmoving work won't involve workshifts but maybe you'll help us with some mulching.
Workshifts scheduled for this week:

Wednesday (9/12) 9-11am
Friday (9/14) 10:00am-12:00noon
Sunday (9/16) 10:00am-12:00noon
Workshift sign-up instructions may be found
here
.
We're quickly approaching the end of farm work opportunities so please consider signing up soon for a workshift if you chose the work discount option for your share. If you chose the discount but don't think you'll be able to fulfill the work obligation simply send us a check to cover the hours/balance (4 hours for a half share, $60; 6 hours for a medium share, $90; 8 hours for a full share, $120; or $15/hour if you worked partial).

Thank you!
Member Ideas and Suggestions
Love the Okra!
By Linda Dansbury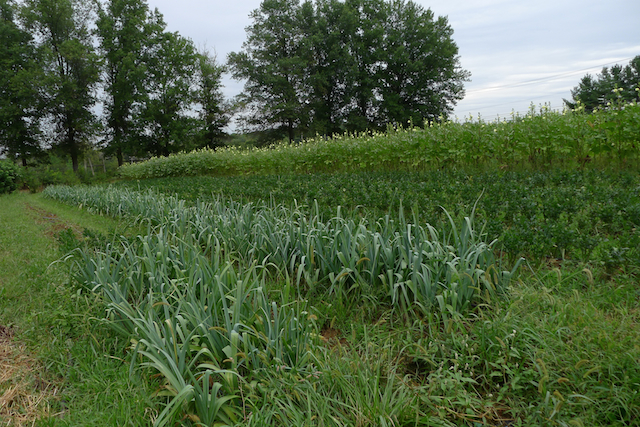 With subtle yellow flowers at their crown, Okra plants tower over leeks and celeriac. Okra has enjoyed this late summer heat and has upped its production 50-75%.
Okra!

If you haven't tried it yet (it has been a choice for the past several weeks and I for one have taken it most weeks), please do so. It is a versatile veggie - I have prepared it stewed and in a light shrimp gumbo, but our favorite, and possibly the easiest is roasted or grilled.

Grilled okra, simply heat the grill and place the pods on the grates for 2-4 minutes, turning midway through. If the pods are small, a grill pan keeps the pods from falling between the grates. When nicely charred, remove from grill and add a little salt and pepper and if desired, a squeeze of lemon. Websites often talk about a dipping sauce, but I don't really think they need it.
Thank you fellow member Carol Barry Marini for sending me the following on okra:
"As a displaced southerner, I've been thrilled to find okra in the pick-up room the past few weeks. I grew up eating it, but it's not as readily available up here...so, the past few weeks have conjured up many happy food memories for me!
I thought I'd send along a few of my favorite ways to cook it, in case you think other members might enjoy. Recipes/methods are below.
Roasted okra - As simple as it sounds. Trim the stem end off the pod, and split large pods lengthwise (if they're smaller than, say, your pinky you can leave them whole). Toss with olive oil, salt, and pepper. Roast at 425-450 for 15-20 minutes, shaking the pan at least once, until golden brown.
Fried okra - A little messy to make, but a special treat. Slice pods into small rounds (1/2 inch or so). Heat 1/4 to 1/2 inch of neutral flavored oil in a large skillet to ~375. Working in batches, dip okra into buttermilk, then into a mix of flour and cornmeal (I don't usually measure, but I think about 2 parts flour to 1 part cornmeal is about right). Fry until golden brown, remove from the oil and drain on paper towels, seasoning with salt when they come out of the oil.
Stewed with tomatoes
- I loved this as a kid. We'd have it as a side, or with chicken added as a main, served over rice in both cases. The recipe for
okra and corn with tomatoes
on the Anchor Run website is basically the method, but I think what we used to have was simpler...onion, maybe some garlic, sauteed in oil or bacon drippings, okra and tomatoes added and simmered for 15-20 minutes (longer if you find okra too slimy), and then seasoned with salt & pepper.
How I Enjoyed My Harvest
Enjoying the variety
By Linda Dansbury
I was away for several days, so took some time off from cooking. I was glad to get back into the kitchen to enjoy my veggies. Please send me how you enjoyed your harvest at lindadansbury@comcast.net and please put Anchor Run in the subject line.
Hot pepper, onion and herbs - made ceviche with fresh halibut using a bit of hot pepper and onion from farm. Yum!!
Peppers, parsley, garlic
- made
Romesco Sauce
using the beautiful red and orange peppers - I made it last year too, froze it and enjoyed it all year with fish, chicken, pork and veggies.
Tomatoes, green beans, onion, garlic - made a very simple roasted dish with halibut. Cut tomatoes into bite sized pieces (or use cherry tomatoes), thinly slice an onion, clean beans, but leave whole. Make a sauce by combining olive oil, minced garlic, dried oregano and coriander, salt and pepper, lemon zest and lemon juice. Dip the veggies in the sauce, remove them and place on baking sheet in a single layer. Cut the fish into 1-1/2" strips and dip into the sauce, drain and place on baking sheet, separate from the veggies. Roast in a 450 degree oven. The recipe I used said 15 minutes. The veggies were perfect after 15 minutes, but I took the fish out at 9 minutes and it was great.
Beautiful Peppers!
By Linda Dansbury
Late summer into fall the peppers are so prolific and delicious. But...you may be wondering how to use them all up.
Roasting, either in a hot oven or on the grill is a great starting point to so many end uses:
Roasted peppers - grill or roast in hot oven until the skins are nicely darkened on all sides. Place in paper bag until cool, remove skin and seeds and then slice into strips. Place in bowl, add thinly sliced garlic, a nice drizzle of olive oil, a dash of balsamic vinegar and a bit of salt and pepper - this is so delicious. Love it on grilled bread or added to sandwiches.
Pepper Puree -
a few years ago, fellow member Carolyn Lyday sent me the method as well as variations for using it. Click on the link to see all the ways she varies it and uses it.
Romesco Sauce
- I made this last year - it is similar to the Pepper Puree above. As with above, it freezes well for use throughout the year over fish, chicken, pork and veggies. This is a classic Spanish use of roasted peppers.