CSA Week 18: Here Came The Sun
News
Expected Harvest
Summer's Final Harvest
by Farmer Dana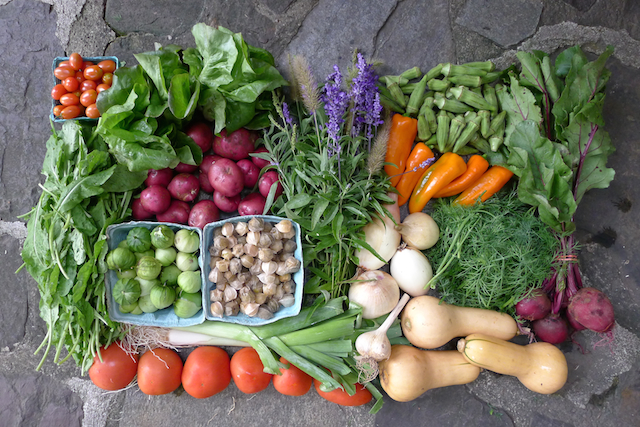 Main Season Harvest #18 (Week B) should include butternut winter squash, potatoes, beets with greens, garlic, leeks, fresh sweet onions, lettuce, tomatoes, sweet peppers, okra, hot peppers, eggplant, carrots, arugula, greens mix, Swiss chard, kale, Italian dandelion greens, dill, and cilantro. Some items will be a choice. U-pick should include cherry/grape tomatoes, tomatillos, husk cherries, herbs, and flowers.

Notes From The Field
Spinach as a Benchmark
by Farmer Derek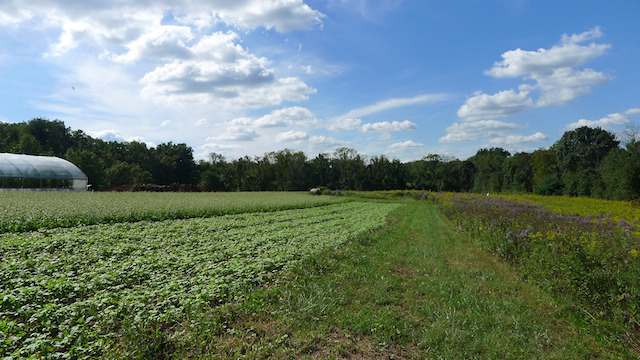 A welcomed Sunday sun scene. Two batches of a summer sown cover crop mix of buckwheat, oats, crimson clover, and daikon radish on the left and our perennial pollinator habitat on the right.
Some very good sunshine today thankfully exceptionally give us more please! Exuberant joy!

And a week ago we were on the heels of a heat wave, tired of the sun, and needing a bit of rain. A tale of two contrasts is the story of the season, or a tale of extreme weather, or just a tale of having to think too much about the weather and plan the workload each week in minute detail to get dry-ground-required jobs finished just prior to the next wet weather event. Okay so it could have definitely have been worse. Overall harvests have remained ample but because the whole season has been on the wet side our standard has probably changed. Just the other day I had a brief glimpse into a forgotten mindset from past seasons when moderate and adequate and evenly spaced rainfall allowed every single crop to reach its full potential graciously, gloriously. Now I realize that that is probably not an accurate memory but perhaps a wish.
Realistically there are conditions that crops on our farm thrive the most in. Probably excess rainfall has the most deleterious effect on crops. Most of our bare ground fields would be happiest with a 1/4" of rain a week. It was such a wonderful experience a few weeks ago when the ground began to dry out; the crops seemed to shine (I was probably projecting). Of course after the 2.5 weeks of dry weather with two heat waves intermingled they did get thirsty and asked for irrigation (we complied). But there really were times other seasons where the tops of the beds would dry out, surfaces of plants would dry out to help minimize disease, and in the organic matter rich healthy soil below there would be enough moisture to keep plants thriving on our ubiquitous north facing slopes. Those were the days.

Spinach, the most sensitive crop we grow and a benchmark of the weather, has had a tough time of it this season. Ten years ago we tried direct seeding spinach on the farm. It's not as fast and reliable as a brassica green like arugula so we switched to transplanting it a couple of years later in the spring. We harvested a good amount for a week or so that spring way back in 2013 I think. Two or three of the plantings then got upset about moisture and were unharvestable. We thought "why waste time, space, resources on a crop that is so difficult to grow?" So we took a break for a couple of years while enjoying some good weather seasons and then decided to give it a go again. For the past 3 years have been transplanting it and mostly have had more harvest success. This spring was the first time in a long while where 2 of the 3 plantings got sick and weren't harvestable. For our fall sowings we germinate in our artificially cooled crop storage room (55-60 degrees) then transplant out after 4-5 weeks of growing on in our hoop house. The last seven days of rain/mist/moist weather spinach does not like. Perhaps it will pull through for an October/November harvest. Today's sunshine has me hopeful. We have one more planting to make outside, then 3-4 plantings inside our tunnels where plants seem to do much better because of the climate and moisture control.

Workshifts this Week (9/17-9/23)
By Derek McGeehan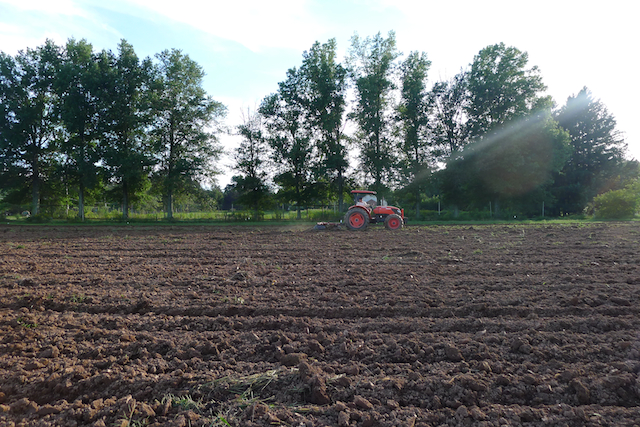 Using the disc harrow to incorporate a cover crop mix of oats, crimson clover, and forage peas on an unusually sunny Sunday.
Workshifts scheduled for this week:
Wednesday (9/19) 10:00am-12:00noon
Friday (9/21) 10:00am-12:00noon
Sunday (9/23) 9-11am
Workshift sign-up instructions may be found
here
.
We're quickly approaching the end of farm work opportunities so please consider signing up soon for a workshift if you chose the work discount option for your share. If you chose the discount but don't think you'll be able to fulfill the work obligation simply send us a check to cover the hours/balance (4 hours for a half share, $60; 6 hours for a medium share, $90; 8 hours for a full share, $120; or $15/hour if you worked partial).
Thank you!
How I Enjoyed My Harvest
Preserving the Harvest
By Linda Dansbury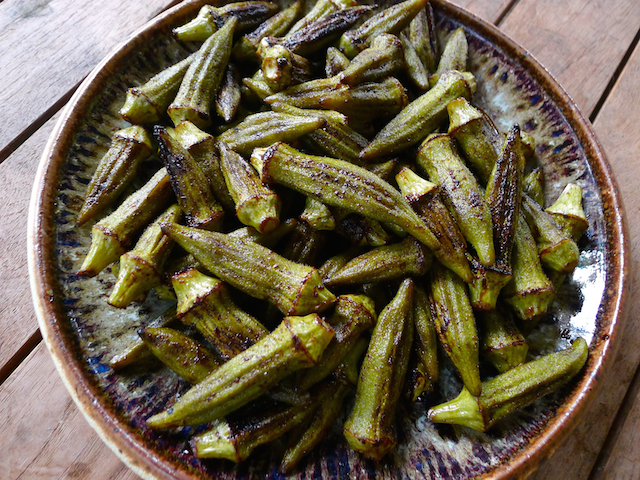 Dana and Derek's current favorite food: oven roasted okra!
This time of year, I find myself in the kitchen for longer periods to get the harvest cooked and put away for use later in the year. Usually, the weather is much cooler and less humid, but I guess the shorter day length is still driving me to do my "work". Below are a few of the things I made this past week. If you have anything you want to share with fellow members, please send to me at lindadansbury@comcast.net
Eggplant, peppers, onions, garlic, tomatoes
- made a nice batch of
Caponata
(
1
2
). We have 2 recipes on this site. I kind of do a blended version. The one recipe says to roast whole eggplants; the other says to cut them up before roasting - which is the route I take because it saves time. I ate some for dinner that night and froze the rest. The recipe recommends using it as a topping for bruschetta and to eat it at room temperature, but I typically cook up some sausage and sometimes a whole grain pasta and use it as a sauce - yum!!
Okra, tomatoes, onions, peppers, hot pepper
- made the
Okra with Tomatoes and Corn,
again, eating some as I made it and freezing some for later enjoyment.
Tomatoes, peppers, onions, hot pepper
- made Salsa using a recipe from my Ball canning book. There is also a recipe on this site I forgot about -
Oven Roasted Tomato Salsa
- I think I will make it this week, but will probably add some sweet peppers as well.
Spaghetti squash
- topped cooked spaghetti squash with one of the
Uncooked Tomato Sauce
recipes from this site. Delicious!
Peppers - these are so sweet I have been cutting them up and eating as a snack - yum!
Transitioning to Fall
By Linda Dansbury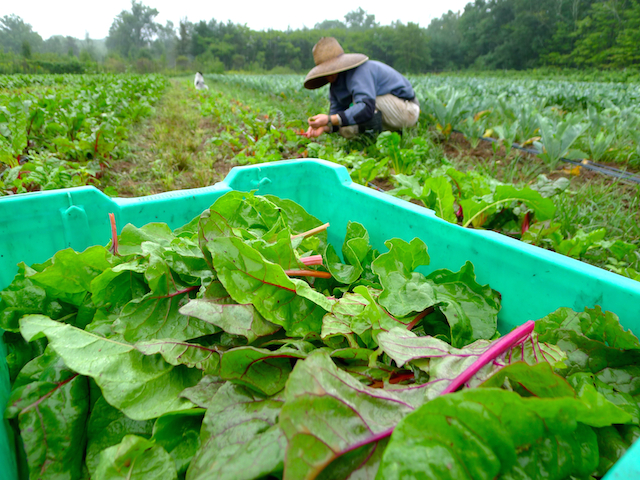 Swiss chard harvested on a misty morning last week.
Parts of the pick up room look like it is fall and parts still look like summer. I welcome the greens back and love to make veggie saute's, combining the last of the summer veggies along with fall's harvest. I participated in a seasonal cooking demo at the Farmer's Market yesterday and we did a combination of local mushrooms, roasted beets, sauteed peppers, kale and Swiss chard - the only seasoning was sea salt and pepper. Food is always appreciated at the Market, but everyone, even a couple that said they are not big veggie eaters, loved it.
I love it when the beets are fresh from the field with their tops on - remember to use the greens - they are nutritious and delicious - if we had the beet greens from the above beets, they would have been added. The greens don't last for as long as the beets in the fridge, so cut them off and store separately.
Since the Swiss chard and other greens are back, remember that Swiss chard is a great alternative to spinach in a lot of dishes. The crop right now is also so mild that I have been adding a few of the smaller leaves to my salads. A lot of people don't like dandelion greens, but I have found if you add them to a veggie stew that includes sweet vegetables such as peppers and beets, it really tames the bitterness of dandelion and other bitter greens. Dandelion is so healthy for you, so it is good to find a way to use it.
The onions and leeks are bountiful - if you don't use your onion share up each week, make sure to check them regularly and use the ones that are starting to get soft first so you don't end up having to throw any of them away.
Enjoy the harvest!