CSA Week 20: Sunshine Celebration
News
Expected Harvest
Fall Veggies Please Stand Up
by Farmer Dana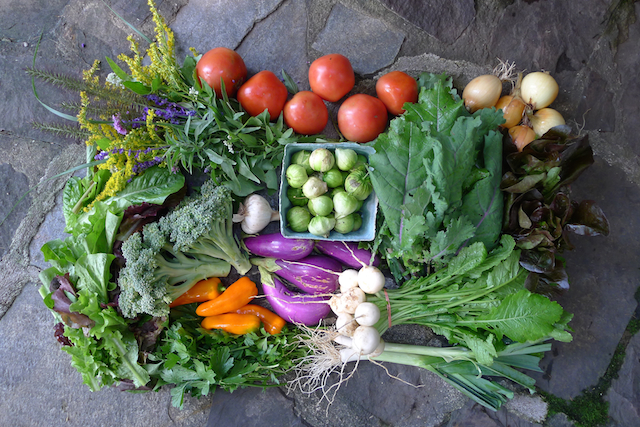 Harvest #20 (Week B) should include beets with greens, turnips with greens, herbs (parsley, dill, cilantro), sweet peppers, eggplant, hot peppers, tomatoes, potatoes, leeks, onions, garlic, lettuce, cabbage, broccoli, and greens (kale, escarole, Italian dandelion, bok choy, etc.). Some items will be a choice and might not be available at all times. U-pick should include tomatillos, flowers, and herbs.

Notes From The Field
The Return of the Sun King
By Derek McGeehan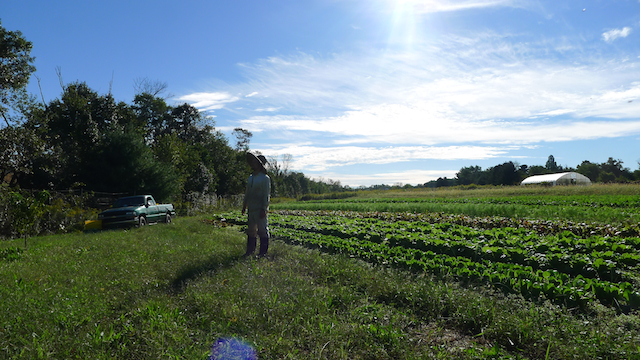 The first sunny harvest morning in weeks was a welcome relief but also a reminder of the hustle needed when harvesting lettuces, herbs, and greens.
We're welcoming October with open arms and smiling faces (and sunglasses) as a forecast of crisp cool sunshine beautiful weather descends and hopefully stays in place for weeks and weeks. September was a rough month for sure and we're happy to turn this page of the calendar. With the new month we're anticipating the harvest of some traditional early fall crops like broccoli, cabbage, and hakurei turnips. We're thankful to harvest any broccoli and cabbage at all and overall I'm sure the quantity and quality won't match the past few seasons but at least there should be some to whet our brassica appetite. In their footsteps over the next month should be cauliflower, watermelon radishes, and daikons.

Now that the ground is drying out and the sun is shining once again we can resume our normal weed control schedule and pull out all those freeloaders out there that thought they could grow unchallenged while they attempt to out-compete their more sensitive brethren, the crops we want to eat. We're thinking this week will be a turning point in the season when we can begin to feel a positive connection with the fields once again. We're looking forward to harvesting sweet potatoes and being pleasantly surprised by a good yield. We're predicting a renaissance of greens in the coming weeks as they soak up the sun and are able to consume the soil's nutrients without drowning. Spinach will grace us in two weeks time with an abundance of healthy dark green leaves. The first frost won't occur until November and the first freeze not until December. The first deep freeze won't happen until January. In the meantime we'll have an awesome fall season with bountiful harvests. Cheers!

Workshifts this Week (10/1-10/7)
by Farmer Derek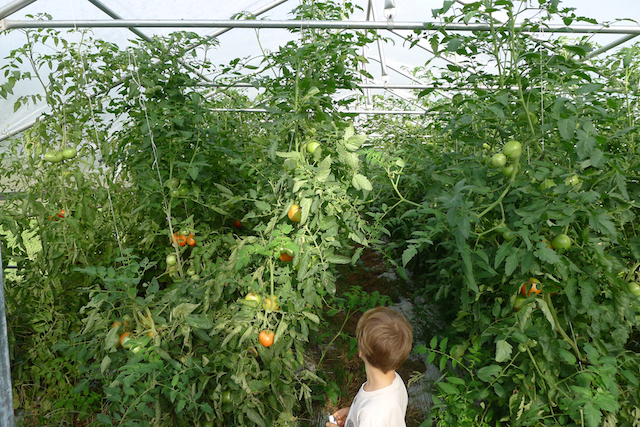 Tomatoes inside our hoop tunnel are still producing but will soon need to make way for fall and winter crops.
Workshifts scheduled for this week:
Tuesday (10/2) 10:00am-12:00noon
Wednesday (10/3) 10:00am-12:00noon
Wednesday (10/3) 5-7pm
Friday (10/5) 10:00am-12:00noon
Sunday (10/7) 9-11am
Workshift sign-up instructions may be found
here
.
We're quickly approaching the end of farm work opportunities so please consider signing up soon for a workshift if you chose the work discount option for your share. If you chose the discount but don't think you'll be able to fulfill the work obligation simply send us a check to cover the hours/balance (4 hours for a half share, $60; 6 hours for a medium share, $90; 8 hours for a full share, $120; or $15/hour if you worked partial).
Thank you!
Final Potluck of the Season - 10/6/18
by Farmer Dana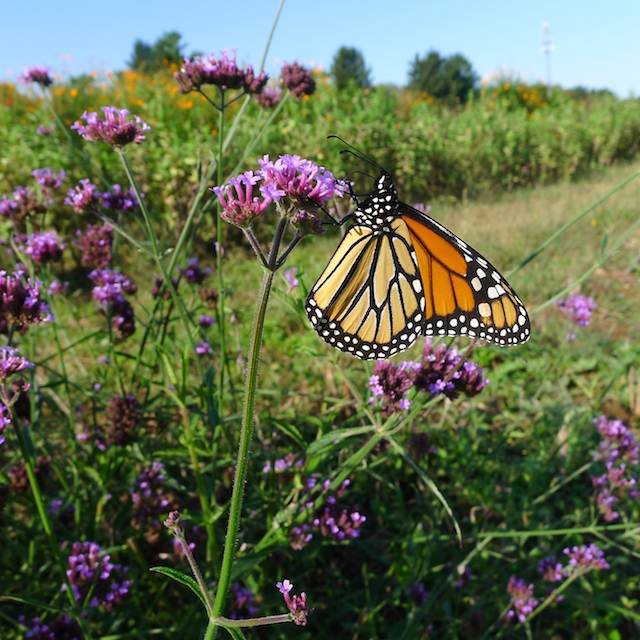 Thank you monarch for gracing us with your presence!
Help us celebrate the conclusion of our 10th season at Anchor Run Farm by joining us for a shared meal under the pavilion 4:30-9pm. Bring a dish to share that serves 4-6 adults, your own place settings, and a beverage of your choice. We'll have a small fire after the meal. Musical instruments and voices for singing are very much welcomed.
CSA Shares Available for Late Fall, Winter, and 2019 Main Season
by Farmer Derek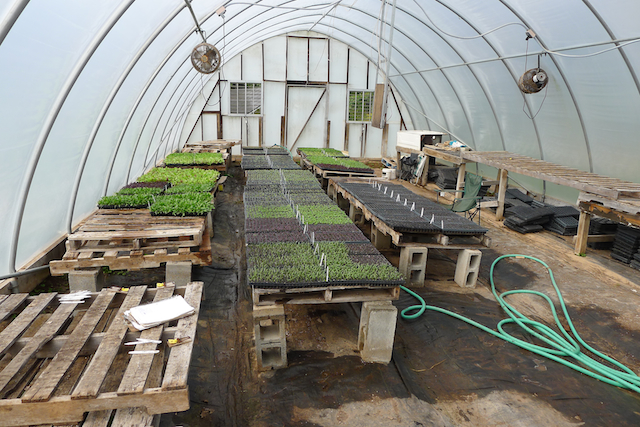 Finished flat seeding this past week. Been seeding every week since the last week of February. One more outdoor seeding to do. These crops are destined for the tunnels to be eaten this fall and winter. Seen here are 3 rounds of spinach; 5 rounds of lettuce mix; 2 rounds each of kale, mizuna, and red mizuna; and 1 round of cilantro and parsely.