CSA Week 22: Autumn Afterall
News
Expected Harvest
Autumn Produce
by Farmer Dana
Harvest #22 (Week B) should include garlic, onions, leeks, broccoli, savoy cabbage, roots choice (beets, celeriac, watermelon radish), potatoes, herb choice (cilantro, dill, parsley, chives), head lettuce, cooking greens choice (chard, kale, dandelion), salad greens mix/choice (lettuce, endive, arugula, greens mix), tomatoes, sweet peppers, hot peppers, green tomatoes, and radicchio. Some items will be a choice and some may not be available during all pick up times. U-pick is finished for the season as we return crop residue to the soil, sow cover crops, and give perennial plants times to prepare for the winter.
Notes From The Field
Produce, Start to Finish, Almost
by Farmer Derek
Just an unusually sunny day.
We enjoyed a productive past week on the farm. Prior to yet another rain event that begat the new fall-like feel temperature immersion we busied ourselves harvesting a few tons of sweet potatoes and half a ton or so of carrots with the help of CSA members. Considering the year we've had the sweets remained optimistic in their growth and output, satisfying our hopeful expectations. Carrots, less fortunately, endured more moisture than they can tolerate in our soils plus raised-bed situation; we had to return quite a few back to the earth where they'll enrich the next crop in the spring. Overall we still managed to salvage the same approximate weight as our total harvest last fall because we ambitiously sowed more seed this season.
Besides the retrieval of storage roots we also put the final touches on the Field 3 waterway and three water diversions therein. The dozer work complete, we had to sow tall fescue, rye grass, and oats then mulch 10,000 square feet of soil prior to Thursday's rain.
We also removed from the field all of the materials needed to grow eggplant, husk cherries, and tomatillos, plowed the soil, sowed a new (for us) cover crop mix of wheat, hairy vetch, and crimson clover, and incorporated the seeds into the soil with our disc harrow. That was probably our final opportunity to establish a cover crop prior to the winter.
On Friday commenced the indoor plantings for late fall and winter harvests. Crops going into our four tunnels will be harvested in December and January. Directly into the earth went the final sowing of greens which will be covered by our movable high tunnel after we finish dismantling the heirloom tomatoes. In addition to that, also on the agenda for this week is collecting additional storage roots including beets, purple and white daikons, and kohlrabi; erecting low hoops and covering crops prior to frost (!); cleaning up the hoop tunnel and preparing those beds to accept more late fall and winter greens; and constructing a waterway in Field 1.
Bon Voyage!

Workshifts this Week (10/15-10/21
by Farmer Dana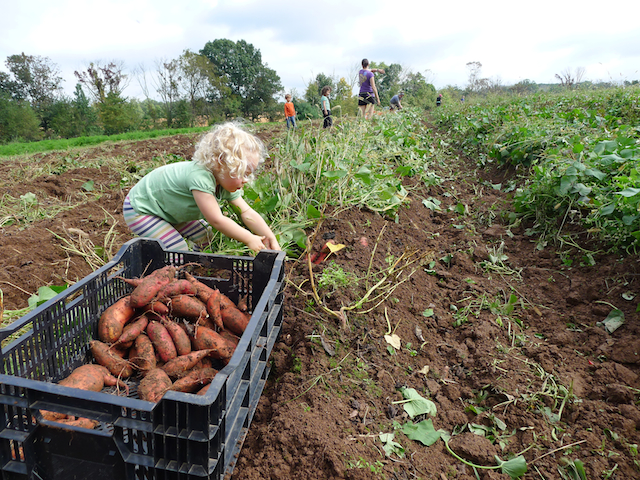 Harvesting sweet potatoes last weekend.
Workshifts scheduled for this week:
Tuesday (10/16) 10:00am-12:00noon
Wednesday (10/17) 10:00am-12:00noon
Wednesday (10/17) 6:00-8:00pm **Garlic processing in barn**
Friday (10/19) 10:00am-12:00noon
Sunday (10/21) 10:00am-12:00noon
Workshift sign-up instructions may be found
here
.
We're quickly approaching the end of farm work opportunities so please consider signing up soon for a workshift if you chose the work discount option for your share. If you chose the discount but don't think you'll be able to fulfill the work obligation simply send us a check to cover the hours/balance (4 hours for a half share, $60; 6 hours for a medium share, $90; 8 hours for a full share, $120; or $15/hour if you worked partial).
Thank you!
Maple Syrup & Honey For Sale Monday 10/22
by Farmer Dana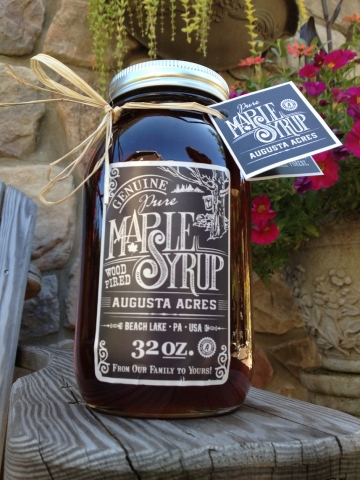 Susan and Todd Klikus of Augusta Acres Farm will be at Anchor Run CSA on Monday, October 22nd 1:00-6:30pm to share and sell their maple syrup and honey!

Augusta Acres is located in Beach Lake, PA and is a family-run operation. They farm using only organic methods and are members of Pennsylvania Association for Sustainable Agriculture and the Pennsylvania Maple Producers Association.
Sap from trees located strictly on the farm is boiled down in small batches on their wood fired arch to produce a maple syrup that is dark and robust.
Holiday Special: Buy 3 get the 4th for half price for both pints and quarts of maple syrup.
Their honey is extracted from on-farm apiaries and is an "all season", raw honey which is dark and very sweet.
Pints are $15; Quarts are $24.
Cash, checks, and credit cards are acceptable methods of payment.
Questions and to pre-order, contact Susan Klikus directly at susanklikus@gmail.com
If you can't make it to the farm this Thursday during those hours and you would still like to participate in this opportunity contact Susan at susanklikus@gmail.com and she will set aside your order to pick up on your regularly scheduled pick up day.
Wild For Salmon Buying Club Time
by Farmer Dana
The Anchor Run CSA Wild For Salmon buying club is open for ordering!

"Wild For Salmon is a fishermen owned business that makes fresh/frozen wild Alaskan sockeye salmon available to you at a common good price. Because we are the fishermen and we are local, we are able to provide you with the highest quality, flash/frozen, Alaskan sockeye available. Wild For Salmon is owned and operated by Steve and Jenn Kurian of Bloomsburg, PA."
Order by October 23rd.
Pick up date & time: October 25th, 1-8pm.
Pick up the farm.
For more information, click here.
CSA Shares Available for Late Fall, Winter, and 2019 Main Season
by Farmer Derek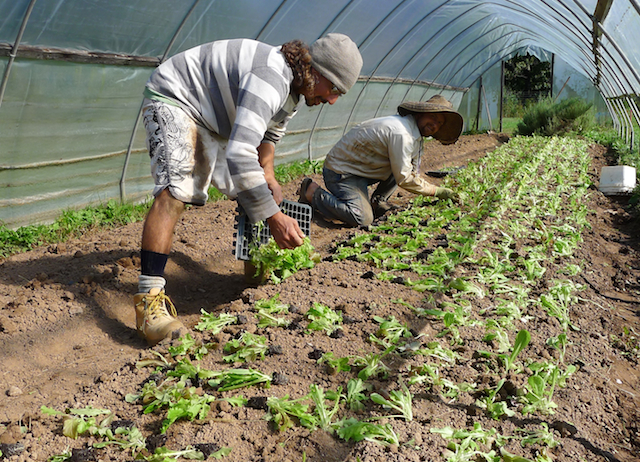 Transplanting lettuce mix and spinach in the hoop house last Friday for a November or December harvest.