CSA Week 24: A Sweet End to October
News
Expected Harvest
Frost Sweetened Produce
by Farmer Dana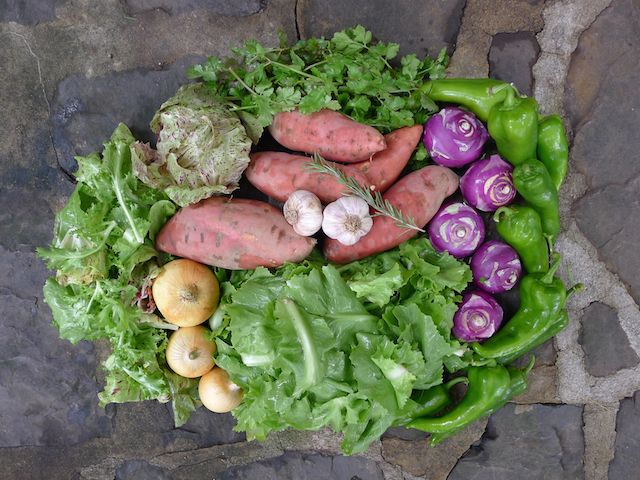 Main Season harvest #24 (Week B) should include sweet potatoes, garlic, roots (beets, kohlrabi, celeriac), greens (escarole, kale, napa, mix), herbs (dill, cilantro), onions, sweet peppers, hot peppers, radicchio, fennel, salad mix, and rosemary.

Notes From The Field
A Great Week, Appreciation of Good Weather
By Derek McGeehan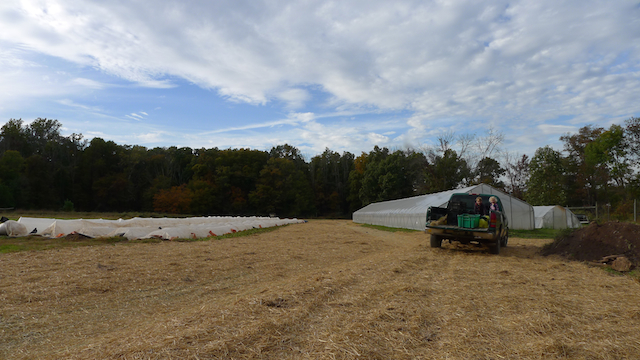 The water diversion in Field 1 was finished last week before the nor'easter.
It's a wonderful feeling to be satisfied after a very productive and enjoyable week of farm work. So much was accomplished last week including the planting of 12,000 garlic cloves and subsequent mulching of the entire patch with the help of two workshifts on Friday. We couldn't have finished that without the help from our amazing CSA members. We also wrapped up the water management project for this calendar year (more to come in 2019). Dry conditions during the construction of the waterway in Field 1 made the work much easier and faster to complete. After earth moving was finished and approved we seeded and mulched the 700'x40' area before Saturday's rain event. We also transplanted 3,000 lettuce mix and spinach seedlings into the hoop tunnel as well as cultivated the high tunnel greens. The dry ground also allowed me to spread compost for around 8 hours over multiple fields.

Perhaps the best part of last week was being able to look around and appreciate our farmscape once again. Most of this season we've spent wallowing in mud and feeling negative from the effects of sustained poor weather. The past two weeks were a real treat, a big change, as the ground was at its driest in months and our remaining crops seemed to respond well to the sun and wind. Leaves on trees are changing in color and much has been kissed by a few frosts rendering darkened hues as well as sweeter flavors. We lucked out with the frost; it wasn't too heavy here and even our peppers pulled through fine. With November arriving this week and the threat of frost and freeze temporarily suspended we're looking forward to enhanced growth of many of the greens we're coaxing along. Here's to sunshine and not too much rain.

Late Fall CSA Starts Soon - Sign Up Today!!
by Farmer Derek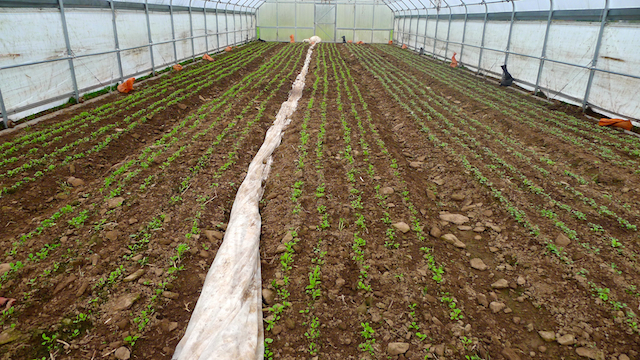 Movable high tunnel seeded and freshly cultivated. These cold sweetened greens will probably be harvested in December.
Sign in here
to join our 7th annual six-week Late Fall CSA. Full, Medium, and Half Shares are available.
Workshifts this Week (10/29-11/4)
by Farmer Dana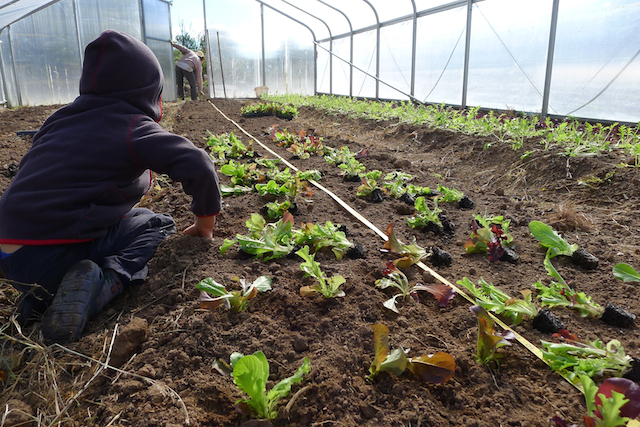 Transplanting Late Fall CSA lettuce mix round number 2 into the hoop tunnel.
Workshifts scheduled for this week:
Tuesday (10/23) 10:00am-12:00noon
Wednesday (10/24) 10:00am-12:00noon
Sunday (10/28) 10:00am-12:00noon
Workshift sign-up instructions may be found
here
.
We're quickly approaching the end of farm work opportunities so please consider signing up soon for a workshift if you chose the work discount option for your share!
If you chose the discount but don't think you'll be able to fulfill the work obligation simply send us a check to cover the hours/balance (4 hours for a half share, $60; 6 hours for a medium share, $90; 8 hours for a full share, $120; or $15/hour if you worked partial).
Thank you!
How I Enjoyed My Harvest
Roots!
By Linda Dansbury
Well, it seems we have transitioned right into winter - it is supposed to warm up this week to more normal temperatures but for now, I am welcoming it in warming dishes. Send me how you are enjoying your harvest at lindadansbury@comcast.net and please put Anchor Run in the Subject Line.
As I mentioned last week, roasted veggies are key to my cooking at this time of the year. I basically take everything out of the fridge (except for the greens) and storage, chop them up into similar sized chunks, drizzle with olive oil, salt, pepper and rosemary, and roast at somewhere between 380 and 400. Turning every 15 minutes is important so that everything cooks evenly and so nothing sticks to the pan.
Sweet peppers, potatoes, leeks, watermelon radish, celeriac - this week's roasted bounty - again, I made a lot and ate one night alongside a meat dish and then used another night for a frittata.
Kale
- made
Kale Chips
for a yummy, healthy snack. Recipe is on this site but it is simple: preheat oven to 375. Remove tough stems, tear into pieces - not too small because they shrink significantly in the oven. Toss with a little olive oil and salt - if you want, add another spice - cumin or cayenne are nice. Place on cookie sheet in single layer - if they overlap, they won't crisp up. Bake for 10 min, checking at 5 min or so. Remove from oven and enjoy!! I often make these and snack while I am preparing dinner.
Onions, garlic, Hershberger beef bones, cilantro - Made Vietnamese Beef Pho - my first time for it (had made Chicken Pho in pressure cooker several times). It came out great and really wasn't as labor intensive as I expected. I researched several recipes before I chose the one I did, and we were very happy with the results. Email me if you are interested and I will send you the recipe.

Some other cooking from this week included parsley and onions in my grandmother's recipe for meatloaf, carrots and onions in gravy for a sauerbraten.
I am always looking for new soup recipes - the one I just found uses both sweet potatoes and kale - yum!! It is appropriately called
Kale and Sweet Potato Soup.
It is Southeast Asian flavored and includes coconut milk - make sure you use a good quality coconut milk in your dishes, even if you have to plan a few days ahead and order - it really makes a huge difference.