Late Fall CSA Week 1: Giving Thanks
News
Notes From The Field
Welcome to the 7th Annual Late Fall CSA
By Derek McGeehan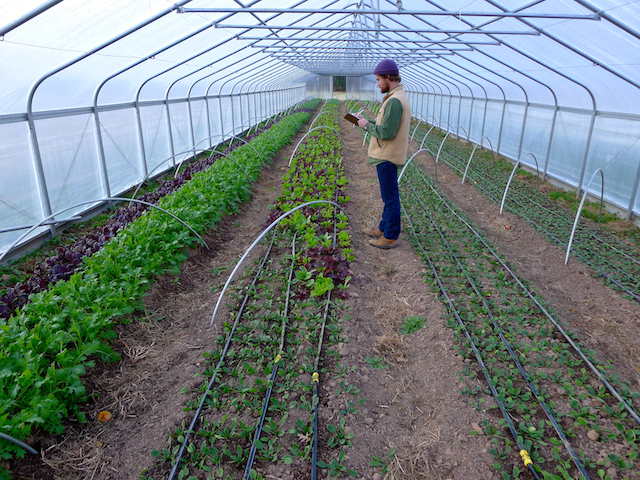 Greens in the hoop tunnel.
Thanks for joining us! Most of you were members of our Main Season CSA while some of you are new to our farm and perhaps new to CSA in general. This six week season should be a good one. Crops in our four tunnels are looking happy, healthy, robust, and right on schedule. After all of the extreme weather we endured during our 26-week Main Season it's nice to now be able to harvest from inside a more protected and almost weather-controlled environment. We still need to monitor and adjust accordingly the levels of moisture in the soil (irrigate or no), humidity levels (open doors during the daytime), and temperature (add extra covers inside the tunnels on low hoops). The cold weather suppresses diseases as well as pests so it almost feels 'easy' to farm inside during the cold months. A forecast high below freezing followed by night in the teens this coming week will have us perhaps feeling a tad uneasy but from experience we know that crops in the unheated-except-for-solar-radiation structures can endure much colder outside temperatures before they're damaged. One of our tunnels has a propane heater which we'll gladly set for 35 degrees.

We still have some crops outside under hoops and heavy duty row cover but we're not sure how they and the hoops plus cover fared with the 4-5 inches of snow. They're probably okay except for a few bent hoops and maybe flattened plants but we won't know until the snow is fully melted and we can remove the cover. (Monday update: hoops, cover, and crops stood up to the snow load so we'll retrieve what we can there before 15 degrees descends Thursday night).

Expected Harvest
Commence the Late Fall Share
by Farmer Dana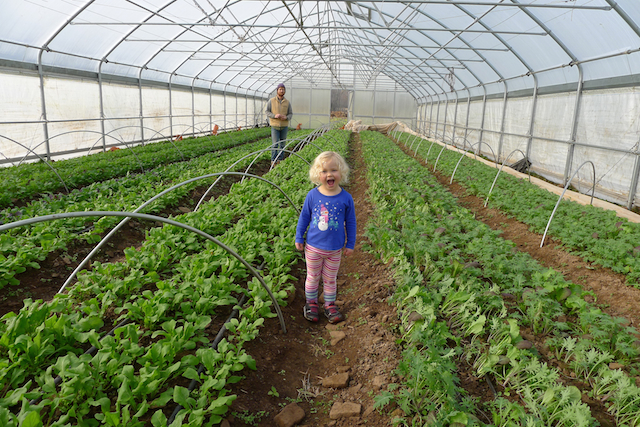 Greens in the high tunnel.
Late Fall harvest week #1 (Week A) should include sweet potatoes, carrots, garlic, chives, celeriac, hakurei turnips, daikon radish, potatoes, cabbage, napa/chinese cabbage, lettuce, and greens mix. Some items will be a choice.

Late Fall CSA Pick Up Information
by Farmer Dana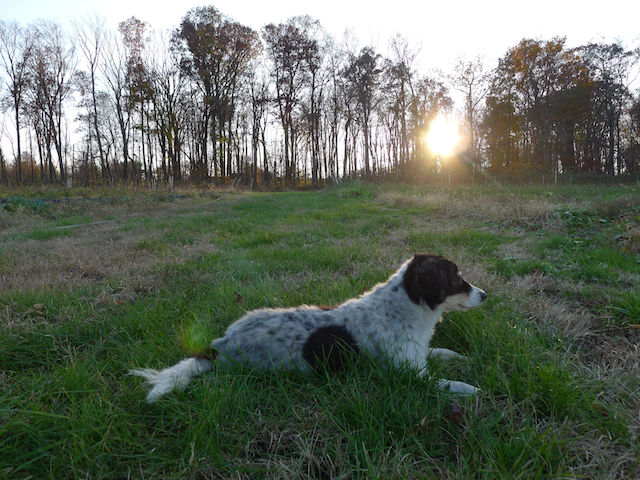 Farm dog plus sunset.
The Late Fall CSA begins this week for Full, Medium, and Half Share Week A members.
Pick up days are typically Wednesday 1-8pm and Saturday 11am-12noon, but due to the holiday this week pick up is on Tuesday 1-8pm instead of Wednesday. Saturday's pick up is still 11am-12noon.
You can switch your pick up day/week by e-mailing us. Log in here to view your day/week/balance.
Pick up begins next week for Week B Half Shares.
You can temporarily switch your pick up day/week be notifying us by 5pm Sunday prior to your pick up day/week. If you miss your pick up we will contact you to reschedule.
Bring your own bags to collect your share.
Full and Medium Shares pick up weekly, Half Shares every other week (A or B, log in to check your week).
During the week of Christmas (Late Fall week #6, Week B), pick up is Thursday instead of Wednesday.
Giving Thanks to Greens and Veggies
By Linda Dansbury
Do you have a set menu for your Thanksgiving Day dinner? Every family has their favorite traditions - we do as well, but I try every year to add something new to our menu, and it is usually the veggies. Think about doing something new for your family!
Roasted veggies - you might think you can't do this because of the turkey being in the oven, however, the turkey comes out and rests for about 30 min, and by the time it is carved and plated, there is plenty of time to roast veggies - try a mix of daikon/turnips, celeriac, onion, sweet potato and garlic. You can prep veggies early in the day - but place cut up celeriac and sweet potatoes in water with a little squeeze of lemon juice so they don't discolor. Dry well before placing on cookie sheet to roast. You can also place a variety of roots under the bird while it roasts.

Sweet Potatoes
- I for one grew up with candied sweet potatoes on the table so for that reason, I didn't think I liked sweet potatoes until I was an adult. A delicious sweet potato dish that can be prepped ahead of time is the
Sweet Potato Casserole
on this site. It is slightly sweet, but not cloying and it is a delicious addition to your holiday table.
Turnips, carrots, chives
- looking for a simple and not too filling appetizer to start your celebration? The tender turnips and sweet carrots we have been receiving are perfect with the
Radishes and Goat Cheese Dip
recipe on this site. The recipe says to use a food processor, but I just mix by hand.
Lettuces and mixed greens - all so delicious when touched by frost - I always have a large salad in between the main meal and dessert - make a light lemon vinaigrette and dress the salad lightly.
Have a wonderful, healthy and safe Thanksgiving. If you have a holiday tradition you would like to share, email me at lindadansbury@comcast.net and please put Anchor Run in the subject line.