Welcome to the 2019 Harvest Season
News
Expected Harvest
Greens, Greens, Greens
by Farmer Derek
Harvest #1 (Week A) should include lettuce mix, spinach, head lettuce, kale, arugula, greens mix, endive, green garlic, bok choy, radishes, broccolini, and asparagus. Some items will be a choice. U-pick should include a perennial herbs such as mint, thyme, anise hyssop, lemon balm, and oregano.

Notes From The Field
2019 Member Handbook; Pick Up Information
by Farmer Dana
Transplanting peas earlier this spring.
Please follow this
link
to access the
2019 Member Handbook
. Especially for new members, read this over before you come to the farm for your first pick up. It should answer many of your questions and will hopefully help you get situated. Staff will also be available to help while you are here.
Pick up begins the week of 5/13/19 for Full, Medium, and Week A Half Shares. Week B Half Shares begin the following week of 5/20/19. We're open Memorial Day weekend and during all summertime holidays. Log in to view your pick up day/week or look at the e-mail that was sent and included all of that information.
Pick up days are Monday 1-8pm, Thursday 1-8pm, and Saturday 10am-12noon. When you signed up for a share you selected one of these days. Half Shares are also designated Week A or Week B. If you're a returning member you have the same week as last year. If you're a new member you've been assigned Week A or Week B. Log in to view your pick up day/week or look at the e-mail that was sent and included all of that information.
It is very important that you come on your correct and assigned pick up day because we harvest specific amounts for the number of members coming on that day. Sign in sheets are provided by the pick up room when you arrive to collect your share. Log in to view your pick up day/week or look at the e-mail that was sent and included all of that information.
You can temporarily switch your pick up day/week by e-mailing us by 5pm Sunday prior to your pick up week.
Allotments for the farmer harvested share and u-pick portion will be specified on the blackboards in the pick up room. Staff will be available in the pick up room to assist new members.
U-pick can be collected any day of your pick up week Monday-Sunday 8am-8pm. Weekly u-pick allotments are specified in the pick up room on the u-pick board.
Bring your own bags and scissors and wear appropriate farm footwear. Please be courteous in the pick up room and in the u-pick fields.
Parking is available in the large stone lot at the end of the driveway. Parking next to the barn is available for people with physical challenges and for cars with sleeping kids.
Driveway speed limit is 10mph.
If you still have a balance, please remit payment no later than June 1st, 2019. You can mail it or bring it to the farm.
Workshifts for Week of 5/13/19
by Farmer Dana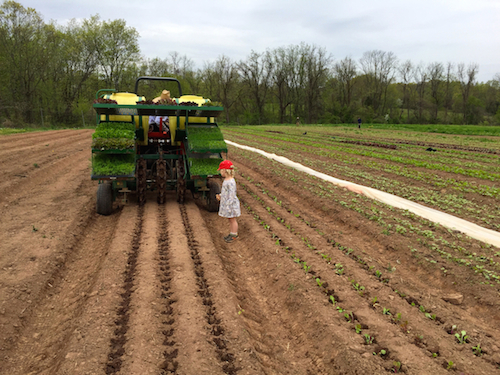 Using the water-wheel transplanter to achieve accurate crop spacing while ensuring transplant success.
Workshifts scheduled for this week:

Wednesday (5/15) 10:00am-12:00noon
Wednesday (5/15) 6:00-8:00pm
Friday (5/17) 10:00am-12:00noon
Sunday (5/19) 10:00am-12:00noon
Workshift sign-up instructions may be found
here
.
Welcome/Welcome Back to Delicious Local Eating!
By Linda Dansbury
Opening the endwall peak vents to satisfy the demands of the temperature sensitive lettuce mix.
I hope you are as
excited about the start to this year's season at Anchor Run as I am. The weather in April was excellent for crop growing, so the pick up room will already have an abundant supply of nutritious, delicious veggies. The heat-loving plants have not had time to grow and bear fruit yet, so there will be mostly greens for at least a few weeks. Abundant in particular are greens for salads! I eat salads nearly every night, varying the dressings with the seasons. The spring lettuces are tender and mild so don't need heavy dressings. Our website is designed to help you more easily enjoy your harvest. There are literally hundreds of recipes that are chosen or written around what is available from the farm. If you click on 'For Members' at the top of the website, there are several choices one of which is 'Recipes'. Click on it and a search bar will come up - if in the next couple of weeks you type in Salad Dressings, a long list comes up. Maybe a few will catch your eye. Or, if you type in Vinaigrette, several will come up that are wonderful with the farm greens. Most of the dressings keep in the fridge for about a week or more, so if you make 1 or 2 at a time, you will have enough for a week of yummy salads.
Green garlic, also known as spring garlic, is simply immature garlic. It looks like scallions or spring onions, except the leaves are flat and of course it smells like garlic. Green garlic should be stored in the refrigerator, where it will keep for up to 2 weeks, but best used within 1 week. Wrap the green garlic in a damp paper towel and place it in a plastic bag; or for a non-plastic alternative, stick the green garlic in a tall glass with some water in the bottom. To prep, treat it like a small leek: trim off the very bottom of the bulb (the roots are actually edible too, once the basal plate -- the part that holds the roots to the plant -- is removed), and use all of the tender white and light green parts. Dark green leaves can be saved for stock, or used to add flavor to a soup - pop them in whole, like a bay leaf. Use it wherever you'd use regular bulb garlic or green onions, or use it in recipes specifically designed to highlight its unique mild garlic flavor. Add raw green garlic to salads, dressings, and sauces. Try it braised, grilled, or pickled. Add it to a frittata, a soup, or pair it with other spring treats like asparagus. Put green garlic in pasta and rice bowls. I found a seasonal recipe that seems perfect for these cool, dreary days -
Asparagus and Spring Garlic Soup.
Upcoming Events
by Farmer Dana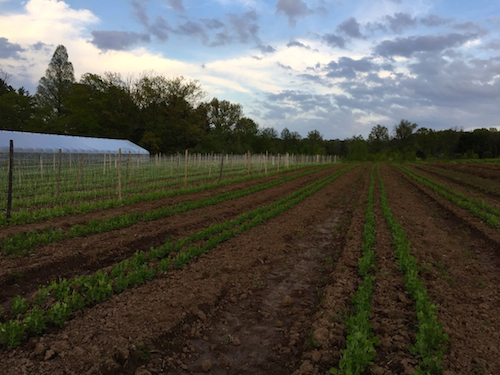 U-pick pea patch looking good on a spring evening.
Saturday, May 25th, 6-9pm: Potluck in the pavilion. Come out to the farm to celebrate the start of a new harvest season. Meet and mingle with your farmers and other CSA members. Bring a dish to share to feed six, your own place settings, and a beverage of your choice. The meal should be followed by a small fire. S'mores anyone?
Saturday, June 1st, 1-3pm: "Now What!?" workshop with Gia. Tips and tools of the trade to help you store and use your CSA bounty. A very helpful workshop for members new to the CSA concept.
Hershberger Heritage Farm Here on Thursdays 1-5pm
by Farmer Derek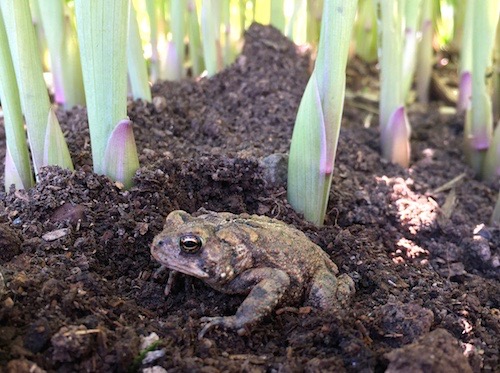 An american toad nestled under the solomon's seal in the half-moon perennial flower garden.
Hershberger Heritage Farm
will be at Anchor Run Farm 1-5pm on Thursdays during the harvest season to sell their organic and pastured poultry, meat, and other land proteins. Peruse their website for more information.