Harvest Week 2: Full Sun, Full Moon
News
Expected Harvest
Hope You Like Your Greens
by Farmer Dana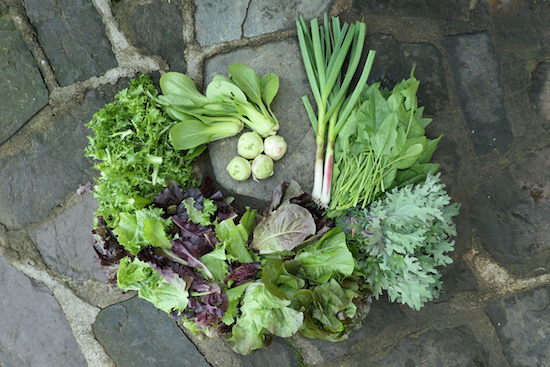 Harvest #2 (Week B) should include lettuce mix, spinach, Swiss chard, head lettuce, kale, arugula, greens mix, endive, green garlic, bok choy, kohlrabi, broccolini, and asparagus. Some items will be a choice and may not be available at all pick up times. U-pick should include perennial herbs such as mint, thyme, anise hyssop, lemon balm, and oregano.
Notes From The Field
We Love You Sunshine
by Farmer Derek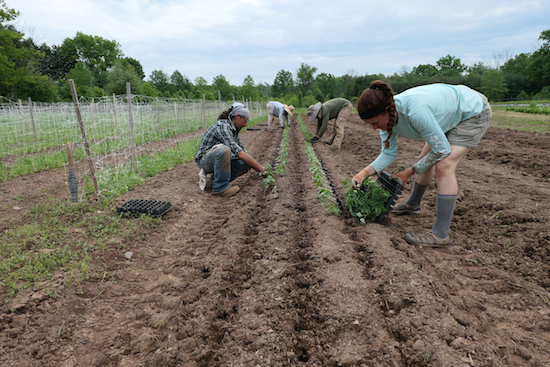 Transplanting the first of many rounds of snap beans this past Friday.
A snapshot of the farm in mid-May: Exceptional hustle amidst a wet, windy, and cold first harvest last Monday followed by the return of our off-and-on again friend the sun which allowed us to hustle again on Friday as we used the tractor and transplanted for the first time in over a week. Infinite weeding continues as we clean up what the cultivating hoes miss. Onions, carrots, cabbage, broccoli, kohlrabi, and kale have been merrily saved. Up next are beets. Last of the peas have been trellised. Next urgency is cultivating many crops that haven't been hoed due to the dominating wet weather pattern of the past couple of weeks. The commencement of harvesting means a significant amount of time each week is devoted to that so our window to tackle other tasks slightly narrows. However with successful harvests there's a feeling of optimism as the fruits of our labors can now be eaten. Spring crops, especially the lettuces and greens, have been thriving and should continue to do so. We do hope you love your greens as much as we do. Salads and smoothies for health!

Workshifts this Week - 5/19/19
by Farmer Derek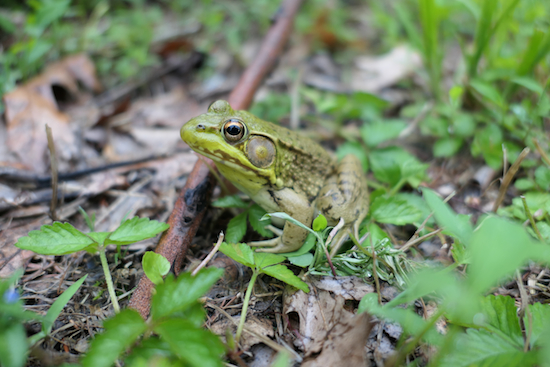 A uniquely named 'green frog' rests near the pond.
Workshifts scheduled for this week:
Tuesday (5/21) 10:00-12:00noon
Wednesday (5/22) 10:00am-12:00noon
Wednesday (5/22) 6:00-8:00pm
Friday (5/24) 10:00am-12:00noon
Sunday (5/26) 9:00am-11:00am
Workshift sign-up instructions may be found
here
.
2019 Member Handbook & Pick Up Information
by Farmer Dana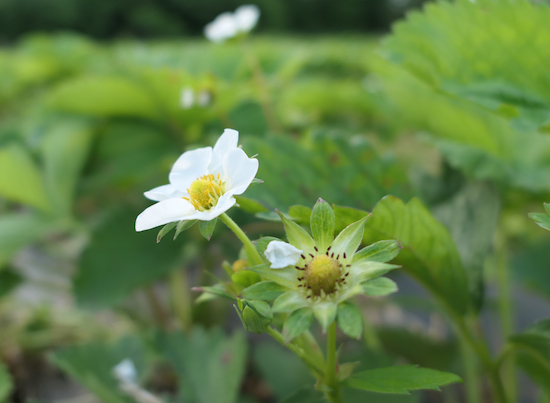 Strawberry season will be here very soon!
Please follow this
link
to access the 2019 Member Handbook. Especially for new members, read this over before you come to the farm for your first pick up. It should answer many of your questions and will hopefully help you get situated. Staff will also be available to help while you are here.
Pick up begins the week of 5/13/19 for Full, Medium, and Week A Half Shares. Week B Half Shares begin the week of 5/20/19.
We're open Memorial Day weekend and during all summertime holidays.
Log in to view your pick up day/week or look at the e-mail that was sent and included all of that information.
Pick up days are Monday 1-8pm, Thursday 1-8pm, and Saturday 10am-12noon. When you signed up for a share you selected one of these days. Half Shares are also designated Week A or Week B. If you're a returning member you have the same week as last year. If you're a new member you've been assigned Week A or Week B. Log in to view your pick up day/week or look at the e-mail that was sent and included all of that information.
It is very important that you come on your correct and assigned pick up day because we harvest specific amounts for the number of members coming on that day. Sign in sheets are provided by the pick up room when you arrive to collect your share. Log in to view your pick up day/week or look at the e-mail that was sent and included all of that information.
You can temporarily switch your pick up day/week by e-mailing us by 5pm Sunday prior to your pick up week.
Allotments for the farmer harvested share and u-pick portion will be specified on the blackboards in the pick up room. Staff will be available in the pick up room to assist new members.
U-pick can be collected any day of your pick up week Monday-Sunday 8am-8pm. Weekly u-pick allotments are specified in the pick up room on the u-pick board.
Bring your own bags and scissors and wear appropriate farm footwear. Please be courteous in the pick up room and in the u-pick fields.
Parking is available in the large stone lot at the end of the driveway. Parking next to the barn is available for people with physical challenges and for cars with sleeping kids.
Driveway speed limit is 10mph.
If you still have a balance, please remit payment no later than June 1st, 2019. You can mail it or bring it to the farm.
Upcoming Events
by Farmer Dana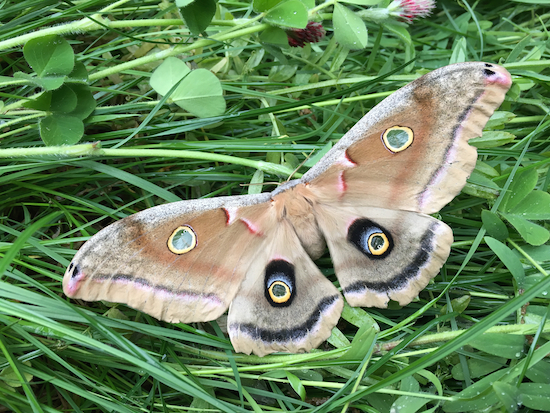 Polyphemus moth, one of the largest silk moths, found in a wheat, vetch, and clover cover crop.
Saturday, May 25th, 6-9pm: Potluck in the pavilion. Come out to the farm to celebrate the start of a new harvest season. Meet and mingle with your farmers and other CSA members. Bring a dish to share to feed six, your own place settings, and a beverage of your choice. The meal should be followed by a small fire. S'mores anyone?
Saturday, June 1st, 1-3pm: "Now What!?" workshop with Gia. Tips and tools of the trade to help you store and use your CSA bounty. A very helpful workshop for members new to the CSA concept.
How I Enjoyed My Harvest
Yummy Salads!
By Linda Dansbury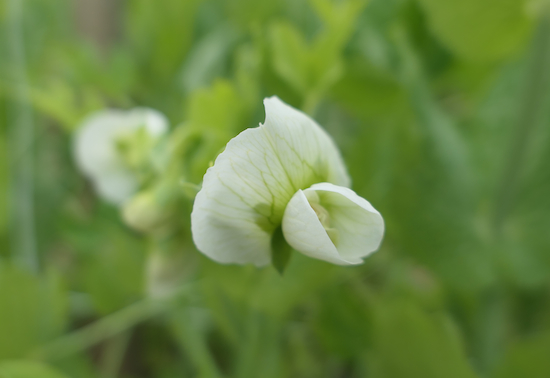 Snow pea flower, a sign of things to come.
Happy Anchor Run pick ups! When I walked into the barn and saw the variety and quantity of all of the greens/veggies, I got so excited and that feeling has stayed while getting to eat the fresh veggies. This is the spot where I try to provide weekly inspiration on how to use your harvest. I like to think of the newsletter as part of the Anchor Run community, so invite you to send me "How you enjoyed your harvest". It can be a recipe, a method, and/or you can ask a question about a veggie you are not familiar with. If sending a recipe that is not your own, please provide the source. Please email me at lindadansbury@comcast.net and please put Anchor Run in the subject line so I can find your email. I look forward to hearing from you during the season. My pick up day is Thursday, so I have only had a couple days to enjoy the harvest this week.
Broccolini, spring garlic - I love roasting veggies, so I tried the broccolini. Pre heated oven to 350 degrees. Put broccolini on cookie sheet in a single layer and added a few pieces of spring garlic. I cooked these on a fairly low temperature so I didn't burn the garlic. Tossed with a bit of olive oil, salt and pepper and then cooked for about 12 minutes until the stalks were getting tender and the tops had just a bit of browning on them. Really delicious.
Lettuce, spinach, greens mix, endive, arugula, radish - we eat salads almost every night and my favorite is when there is a broad mix of greens, each giving their own flavor and texture. I make a fairly light dressing and never use bottled on these gorgeous tasting greens. My go-to dressing is a blend of good quality olive oil and red wine vinegar used at about a 3:1 or even 4:1 ratio. I usually add some herbs - dried are fine in salad dressings, and I normally use a sprinkle of garlic powder, basil and oregano, in addition to salt and freshly ground pepper. Sometimes I add just a bit of Dijon vinegar, but haven't this week with these greens. If you are struggling with all the greens, remember that it is easy to turn a salad into a main course - add shrimp, or leftover chicken or steak and maybe a nice loaf of bread and you are good to go with an easy, healthy, delicious meal!
Kohlrabi and Turnips
By Linda Dansbury
A couple of the early non-greens veggies are kohlrabi, hakurei turnips, and radishes (we also see them in the fall). They can both be used immediately or stored for a few weeks in the fridge. But...this time of year, especially in the case of the kohlrabi, they are particularly sweet, crispy and delicious.
They can both be eaten raw or cooked - I like to eat the kohlrabi raw, as a snack, with or without hummus, or sliced and added to salads; think of them as another radish. Both are also delicious when added to your favorite coleslaw recipe. I happen to really like the
Asian Coleslaw
recipe on this site. Instead of using cabbage, try combining baby bok choy, the greens mix, and turnips and/or kohlrabi (spiralizer will make quick work of the veggies).
If you would rather cook them, one simple and delicious option is to cut into bite sized pieces, toss with a bit of olive oil, salt, and pepper and roast in a 425 degree oven, moving the pieces around every few minutes. Remove when tender, about 15-20 minutes, depending on how large the pieces are. If you have it, a few sprigs of fresh thyme in the pan adds a very nice flavor. You can eat as is, or, for a a really special dish, brown little bit of really good quality butter, and add the turnips/kohlrabi to the butter. Stir in some fresh greens, such as arugula, greens mix, or spinach. Zest a bit of lemon, adjust salt and pepper, mix and serve - you don't really want to cook the greens and they don't even need to be wilted - this is so delicious.
Enjoy the harvest!
Hershberger Heritage Farm Here on Thursdays 1-5/6pm
by Farmer Dana
Hershberger Heritage Farm
will be at Anchor Run Farm 1-5pm on Thursdays during the harvest season to sell their organic and pastured poultry, meat, and other land proteins. Peruse their website for more information.