Harvest Week 3: Berry Good Time
News
Expected Harvest
Strawberry Fields Hopefully Forever
by Farmer Dana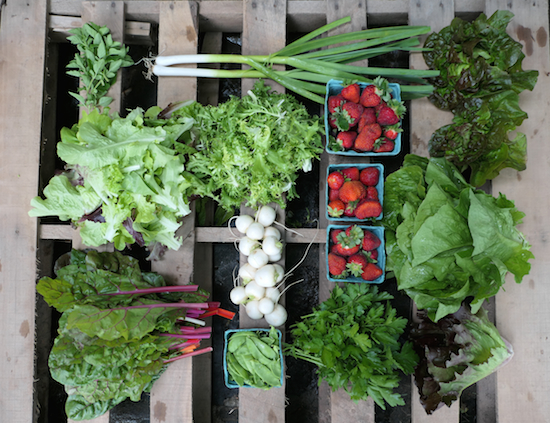 Harvest #3 (Week A) should include strawberries, green garlic, lettuce mix, romaine lettuce, head lettuce, kale, arugula, bok choy, greens mix, broccoli raab, swiss chard, hakurei turnips, kohlrabi, asparagus, broccolini, escarole, dill, cilantro, and parsley. Some items will be a choice and may not be available at all pick up times. U-pick should include strawberries, snow peas, and perennial herbs.
Notes From The Field
Satisfied
by Farmer Derek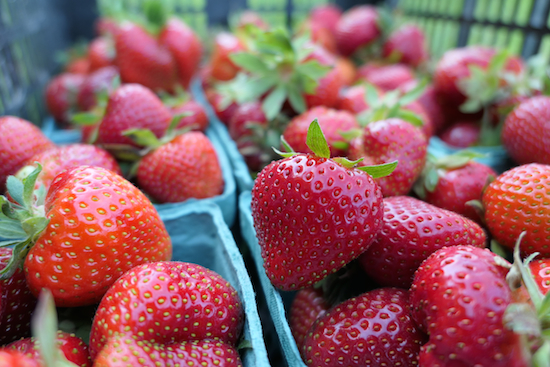 Hoping for a long harvest season of truly tasty red orbs of the strawberry kind.
And here we reside in that time of year when life as a farmer cannot be any busier. Constant work and worry, running, rushing, trying to accomplish a million tasks while working every day of the week just assuming one's energy level can be sustained to fulfill the goals. It's an interesting state of mind when we just arrive here and won't see the light at the end of the tunnel for another few months. Hey, we love it and live for it. And, fortunately for us and for you the one major variable we cannot control has been moderately cooperative thus far and in turn crops have been productive and harvests have been pleasing (weather, weather, weather).
Strawberry season is here and with it a frenetic pace to save all the harvestable fruits so we can all enjoy them. Seven varieties and seven thousand plants planted each and every summer, tended with loving care, watered to perfection, hopefully yielding abundant fruit and flavor. Peas arrive, too, but sadly acquired a soil born illness (pea root rot) so harvests will be more subdued. Soon we'll swing away from greens galore but for now we're fully enveloped in their glory. We love them. Enjoy your Memorial Day holiday!

Workshifts For Week 5/27/19
by Farmer Derek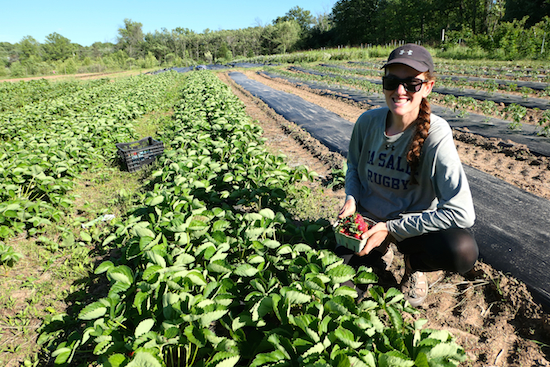 There's a good chance you'll be harvesting either strawberries or hakurei turnips this week, and maybe even with Farmer Haley!
Workshifts scheduled for this week:
Tuesday (5/28) 10:00-12:00noon
Wednesday (5/29) 10:00am-12:00noon
Wednesday (5/29) 6:00-8:00pm
Friday (5/31) 10:00am-12:00noon
Sunday (6/2) 9:00am-11:00am
Workshift sign-up instructions may be found
here
.
Upcoming Events
by Farmer Dana
Saturday, June 1st, 1-3pm: "Now What!?" workshop with Gia. Tips and tools of the trade to help you store and use your CSA bounty. A very helpful workshop for members new to the CSA concept.
How I Enjoyed My Harvest
Beautiful Greens
By Linda Dansbury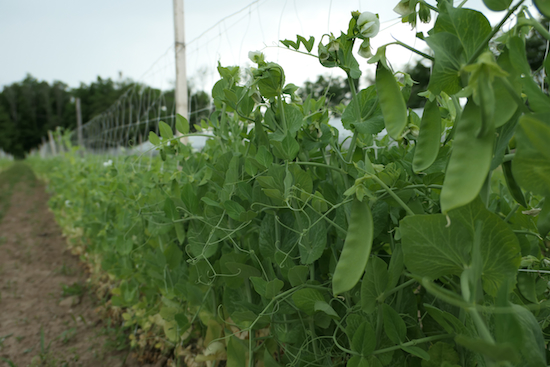 The harvest of snow peas begins this week. We're sad to report that our peas acquired a soil born disease this spring so the harvest will not be as prolific as last year.
I spent a couple of hours helping out in the pick up room the past 2 Thursdays and had the pleasure of speaking with members I have met over my years of being an Anchor Run member and met some brand new members. I consider this space in the newsletter a sharing column, so I would love for you to share your recipes, methods, and questions - please email me at lindadansbury@comcast.net. And please put Anchor Run in the subject line so I can find your email. So, how do I manage my greens? See how I used some of them below.
Turnips, green garlic, custom greens mix, kale, Swiss chard - as I have said many times, I love roasting veggies, so you can roast the turnips, or cut them up small (some of them are quite small anyway) and cook them in a pan until browned and starting to soften. Add some green garlic, salt and pepper. Add a bunch of chopped greens - any combo you want to use is fine. Keep moving them around in the pan until just wilted. Zest a bit of lemon over them, taste for seasoning and enjoy - this is a great side dish for any main dish protein.
Spinach
- my husband loves spinach salad, so when we receive it, we always have at least one
Spinach Salad with Hot Bacon Dressing.
With such a rich tasting salad, the rest of our meal is simple and light.
Bok choy, green garlic - sauted a bit of the chopped garlic in neutral oil, then added the entire baby bok choys and just cooked till they started to wilt and brown a bit. Added a splash of fish sauce and sesame oil and sprinkled with chive blossoms. A very simple, yummy side dish.
Kale - this past week, I made a couple of smoothies. You can use any greens you want and any combo of other ingredients - just look on the internet to find your favorites!
Arugula, endive, lettuce mix, head lettuces, spinach, custom greens mix, green garlic - salads, salads, salads! As I wrote last week, I love this vast combination of greens because of the variety of tastes and textures. I minced a bit of the green garlic and added to the salad dressing.
Endive - my German grandmother used to make a salad using nothing but endive, radishes and onions. I know a lot of you dislike endive, but I happen to love it. The dressing consists of a neutral oil, along with a mild vinegar - I like Solebury Orchards apple cider vinegar. A tiny bit of salt, pepper and celery salt. Instead of onions, I used chive blossoms. Brings me back to my childhood.

Storing/Using Greens
By Linda Dansbury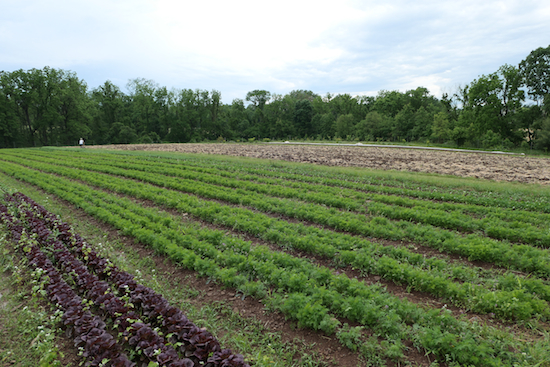 Lettuce has been abundant in harvests thus far. These carrots will hopefully be plentiful in a couple of months.
A couple of people asked me bout how to store all the lettuces/greens we receive. I know there are a lot of bags of tricks out there, but the simplest way I have found is to get large "Tupperware" plastic containers, place a folded up paper towel in the bottom (or use an absorbent towel), place greens into the containers, seal and keep in fridge. I use 2 containers at this time of the year - one for lettuce, and the other for mixed greens - custom greens mix, endive and arugula all go in. Easy for me to find what I want. I find the greens keep well for a couple of weeks - storing them in plastic bags allows water to puddle and causes rotting - nothing more disappointing than to see your beautiful greens all rotted.
This week we are receiving some of the most beautiful romaine lettuce I have ever seen. You can just add it to whatever salad mix you want or obviously make a Caesar salad. For a twist on an old favorite, cut the head of romaine into quarters, leaving the core in place to keep the quarters together. Brush with olive oil and place on the grill - do NOT walk away from the grill. Just barely char the lettuce, especially on the cut sides. If you leave it on grill for too long, not only will it burn, it will become a wilted mess. Use your favorite Caesar dressing - for a good bottled and more healthy version, look for Litehouse brand yogurt based dressing. One of the only store bought dressing I will use. I can't wait for this yummy treat!