Harvest Week 4: Berry Hopeful
News
Expected Harvest
Early June Veg
by Farmer Dana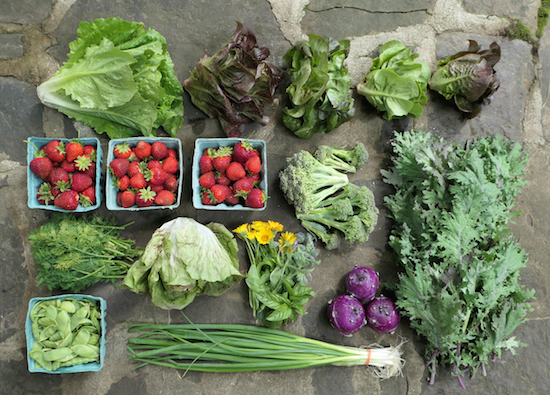 Main Season Harvest #4 (Week B) should include scallions, romaine lettuce, head lettuce, strawberries, dill, cilantro, parsley, kale, chard, endive, escarole, radicchio, Italian dandelion, bok choy, hakurei turnips, kohlrabi, broccoli, asparagus, and broccolini. Some items will be a choice and may not be available during all pick up times. U-pick should include strawberries, snow peas, and herbs.

Notes From The Field
At Least the Frogs are Happy
by Farmer Derek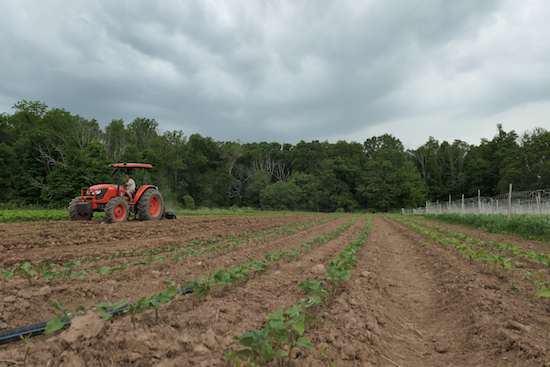 Quickly finalizing a few beds for needy bean and edamame transplants before the first of last week's rain events.
Whew. Here's hoping for some calm and dry weather. Last week's storms sure were crazy, exciting, and a bit scary. I hope you and your loved ones (and your property/possessions) made it through the storms okay. Damage to the farm could have been worse and I was expecting it to be so while watching the rain and wind pummel everything outside our windows. 'Only' 2.5 inches fell from the worst of the storms, providing the farm with enough rain to give the month of May the accolade of "second wettest May in 11 seasons". A total of 8.5" came down, 3/4" less than last May. So far I still feel lucky because that was our first deleterious rainstorm of this season. At this point last year we probably had a dozen or so. That storm was our first real test since the installation last fall of waterways and diversions to better direct the flow of water. We had some erosion but it would have been worse without those. We'll hopefully continue to make improvements to the farm's stormwater management as it appears these types of weather events are becoming more common. We must remain resilient, like Anchor Run's frog population, which was 'singing up a storm' during the storm.
Even though we battled the weather last week we were able to accomplish most of the tasks that were on our to-do list. Three thousand sweet potato 'slips' were planted as well as successions of lettuce, cantaloupe, basil, beans, and edamame. Ground was prepped for future plantings of strawberries, summer squash, cucumbers, beans, edamame, celeriac, leeks, and carrots. The onion patch was finally uncovered (ie row cover removed) after the spring threat of the pesky allium leafminer has passed. The onions have been covered since they were planted in mid-April. They've grown a lot, but so too have the weeds, and now those desperately need to be pulled out. So please join us for a workshift! We also finished harvesting the hakurei turnips and spent a lot of time harvesting strawberries for members. Additionally we moved the high tunnel off the lettuce mix to protect the heirloom tomatoes for the summer.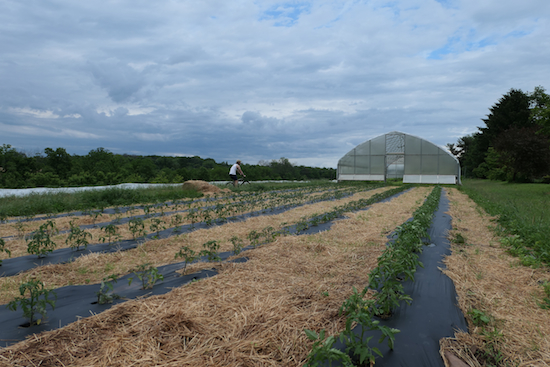 The movable high tunnel seen before it was moved to cover these heirloom tomato plants.
Workshifts for Week of 6/3/19
by Farmer Derek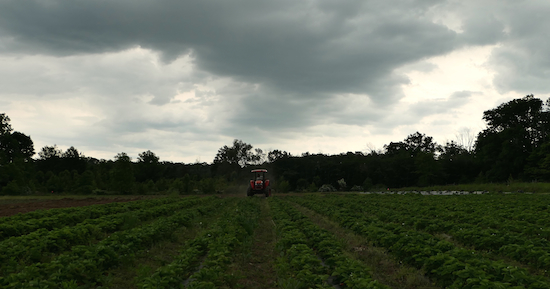 Stormy sky above the tractor.
Workshifts scheduled for this week:
Tuesday (6/4) 9-11am & 1-3pm
Wednesday (6/5) 9-11am & 1-3pm & 6-8pm
Friday (6/7) 9-11am & 1-3pm
Sunday (6/9) 9-11am
Workshift sign-up instructions may be found
here
.
We have some serious weeding to do so please consider lending a hand! We also need to harvest strawberries for pick up room distribution.
How I Enjoyed My Harvest
Enjoying the Fresh Deliciousness
By Linda Dansbury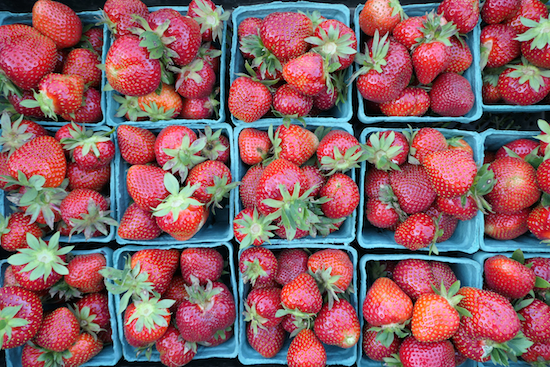 Wow, the weeks are speeding by and I am busy like the rest of you trying to figure out how to keep up with the amazing food we are receiving. Here are a few things we enjoyed eating this week. I would love to hear from you on how you enjoyed your harvest - I love to get new ideas from fellow members and even better, to share with the entire Anchor Run Community. Email me at lindadansbury@comcast.net. And please put Anchor Run in the subject line so I can find your emails.
Romaine - Enjoyed a charred romaine salad. Sliced the head into quarters, leaving the core intact so it stayed together. Drizzled with bit of olive oil and placed on a hot grill. Barely charred it on all sides, removed from grill and cut into bite-sized pieces. Place in a bowl lightly dressed with Caesar dressing. Added some fresh ground pepper. Yum.

Cilantro, mint, spring garlic - herbs help create delicious marinades for meats. The one I used this week leaned toward Middle East flavors and turned out delicious on chicken - just google marinades using herbs and you will find a lot of recipes. Use these recipes to create simple marinades (and salad dressings) rather than purchasing bottled ones.
Kale, spring garlic, cilantro
- made one of my favorite go-to dishes for week night dinners -
Kale Rice Bowl.
I love this dish - one pan (plus another for rice), cooks in under 15 minutes. It is best made using local pastured ground pork, as opposed to a lot of what is in the grocery stores - you can really taste the difference.
Bok Choy, Swiss chard
- as part of our Memorial Day celebration, I prepared
Asian Cole Slaw
. This is a very delicious recipe. You don't need cabbage to make it and the combo of bok choy and Swiss chard is delicious. I also added a bit of chopped parsley and cilantro for an additional burst of flavor.
A lot of new Veggies
By Linda Dansbury
I hope everyone is enjoying the delicious strawberries from the farm. They taste extra sweet to me because other local farms strawberry crops have succumbed to the extreme wet weather. The saturated soils of last fall when strawberries are planted prevented the plants from coming to a nice size; couple that with this past week's torrential rains leaving more standing water, and their berries have rotted. So, appreciate the water management actions that Anchor Run has invested in and enjoy the harvest!
This is the time of year when every week's harvest varies as more and more things mature. Some of the greens, such as broccoli raab, Italian dandelion greens, escarole and radicchio are deemed too bitter for some people. I tend to use bits of them in my mixed salads, so that the bitter hint is actually a plus. Here are some strategies to try to tame the bitterness.
Cut or slice the greens in small pieces or strips, soak in cold water in which a few ice cubes have been added for 30 minutes. This helps tame the bitterness. Likewise, blanching and/or cooking significantly cuts down the bitterness. Broccoli raab is the prime example. It's so good when quickly sautéed with garlic and red pepper flakes, but an overload of acrid flavor can destroy the dish's balance. To guarantee the right taste, first blanch the raab in a pot of boiling salty water until it turns bright green. Then drain the stalks and finish the newly non-bitter vegetables however you'd like.
Bitter vegetables respond well to hints of sweetness. Add a little extra sugar or honey to vinaigrettes intended for bitter veggies. Also, t
he combination of strong vinegar and a big pinch of salt can tame even the bitterest of bites with its own assertiveness. Look for vinegars with a lot of character: this is the right place to pour on your aged balsamic or imported sherry vinegar.
If you're sensitive to bitter flavors and not averse to adding fat, add cheese, cream, and butter to bitter vegetables; this shields your taste buds against their boldness. Creamy gratins are good formats to look to, and strong rich cheeses, like fontina and gorgonzola, make an ideal finish for anything with bitter greens.
There are a lot of recipes on this site for the bitter greens we receive that employ these methods, so try some of them! And remember, bitter greens are extra good for your body and your digestion!
Now What?! Recap
by Gia Yaccarino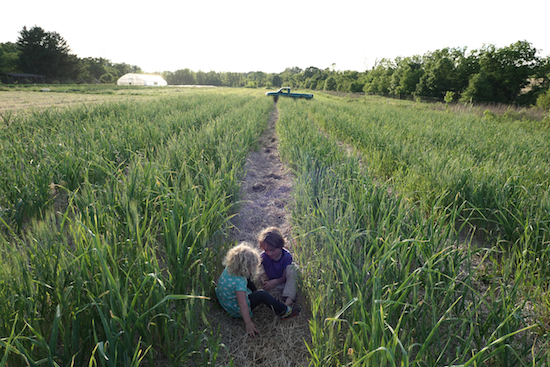 I love doing this workshop! The members who attend are always so eager to learn! This year was no different! People shared their ideas and asked lots of great questions! How to use all the lettuce definitely came up once or twice! I recommend using the salad mix first and save the full heads of lettuce until later in the week. Figuring out which greens should be used first, and which ones can wait is part of the CSA learning curve!
We talked about what types of containers to use to store our produce. I love the Rubbermaid ones with a little shelf on the bottom.
I also attempted to emphasize what a unique experience it is regarding how each member handles their share – being a CSA member is not a one-size-fits-all experience! But with that being said, we can learn soooo much from each other! So please, talk to each other in the pickup room or as you are doing your u-pick. I know that I learn new things each year from other members!
Of course, the workshop would not be complete without food! I shared BBQ Zucchini Chips and dehydrated tomatoes when we briefly spoke about using a dehydrator. I would love to hear from any member who has used their air fryer as a dehydrator!
I suggested that members use the center rib of the Kale for something like
Kale Stem Pesto
– which I had some to share! And I also shared a newer family favorite – Kohlrabi in a Peanut Teriyaki sauce. I promise the recipe will come in a future newsletter!
Overall, I hoped to try to encourage members to think outside the box regarding using their share. I will confess that until maybe 5 or 6 years ago, whenever Bok Choy was part of our share, the only thought I had was "make rice for stir fry". Now I use Bok Choy in so many ways – using the leaves for a wrap, having the stem with peanut butter, or using both leaf and stem in a Mexican Casserole! Look for the recipe on the Recipe page:
Bok choy Mexican casserole
. Or using the Bok Choy leaves to wrap the Kohlrabi in the Peanut Teriyaki sauce mentioned above!!! Swapping out a mild green you don't have with a mild green you do is a great way to modify a recipe! Same thing goes with bitter greens. Heck – experiment with your recipes and swap in a bitter green instead of using a mild green. Live life on the wild side!
Blanching greens to freeze and save for later was also discussed. I don't mean to diss the turnip greens – but with all the yummy produce we are getting in our share, they are not on the top of my list of what I want to eat. But I am so grateful in the winter that I had blanched them, squeezed out all the water and froze the little ball in a Ziploc bag or a mason jar! Yes – you can use Mason Jars in the freezer! That is real canning jars – not the ones the tomato sauce comes in and just say "Mason" on the side.
And there were things I didn't talk about – like using your u-pick herb share! Don't skip over it! And speaking of herbs – I am anxiously awaiting the arrival of Papalo and Sorrel!
Thank you to everyone who attended – I had a fabulous time and I hope you did too!