CSA Week 6: Welcoming Summer
News
Expected Harvest
Goodbye Peas & Strawbs, Hello Cukes & Zukes
by Farmer Dana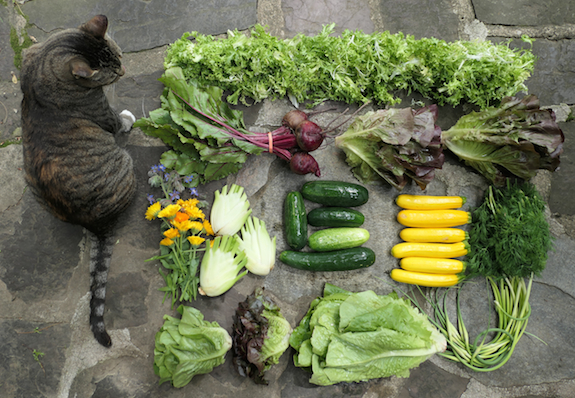 Harvest #6 (Week B) should include beets, head lettuce, romaine lettuce, garlic scapes, cucumbers, yellow and green zucchini, hakurei turnips, fennel, radicchio, kale, chard, Italian dandelion, endive, cilantro, dill, and parsley. U-pick will probably only include herbs this week as we wait on raspberries and beans to ripen and mature.
A pick up room board note: When we write, for example, "1 lb total combined weight from:" we mean you may take up to 1 pound total from the listed options which could be 1 lb of a single listed item or any combination of the listed items totaling 1 pound.
A pea note:
The snow and snap pea crops suffered this year. It was the worst production in our 11-year tenure for sure. We are certain it was due to the early onset of pea root rot which is caused by organisms in the soil or potting mix or even compost (
Fusarium, Rhizoctonia,
or
Aphanomyces
). Normally a simple crop rotation plan ensures crop success. Last year at this time each member was receiving 2 quarts of peas. Please accept our apologies for this disappointment. We'll plan for a better yield next year.
Notes From The Field
Summer Solstice Upon Us
by Farmer Derek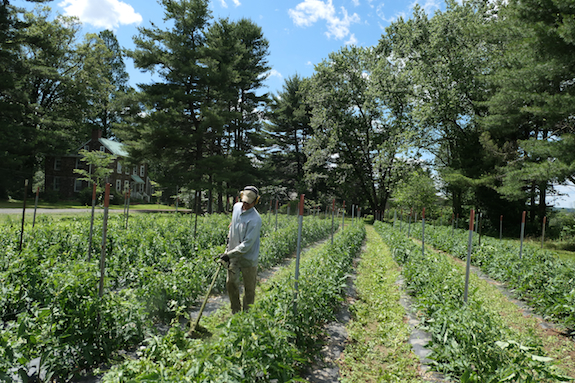 Putting the (temporary) finishing touches to a cleaned up field tomato patch.

As we approach this year's summer solstice the farm is in a good place, a good state, in this time as we make our revolution around our sun. As an organic produce farmer I'm out and about under the sun's gaze for much of the trip around the sun and I'm often transfixed by the beauty and grace that is present in the natural and agricultural 'scapes around the farm. Especially this time of year when multiple shades of green glisten and glow as most plants work hard to maximize photosynthesis and the creatures that share this space frolic and call as they raise their young or attempt to find a partner to do so. It's often easy to overlook this subtle beauty in the 'natural' world and I feel very lucky to be around it and see it while I work and walk around the farm. These plants and animals (and fungi, etcetera) that I share this space with remind me that we're a part of their world, or we're a part of the same world, or we're all part of these ecosystems where we call home. And we better do a decent job to take care of it for each other since we're dependent on each other while we both depend on the same space.

And to everything there is a balance, so back to production: We were quite busy last week. Celeriac, leeks, edamame, and lettuce were transplanted. Massive amounts of cucumbers and zucchini were harvested. All of the tomatoes were pruned and trellised. Peppers were staked. Watermelon and eggplant were uncovered. Walking aisles between beds were cleaned up for carrots, eggplant, peppers, and tomatoes. More seeds were sown into flats for future transplanting including broccoli, cabbage, and cauliflower. Sweet potatoes were cultivated and hilled. Ground was prepped for upcoming plantings of lettuce, beans, edamame, and hoop tunnel tomatoes. On the agenda for this week (if it stays dry) is finishing beds for the 2020 strawberries and the final planting of this season's zucchini and cucumbers, both of which are slated for planting the following week. We also need to transplant tomatoes, lettuce, beans, edamame, dill, and cilantro; seed; harvest; weed; cultivate; and mow.
Workshifts for Week of 6/17/19
by Farmer Derek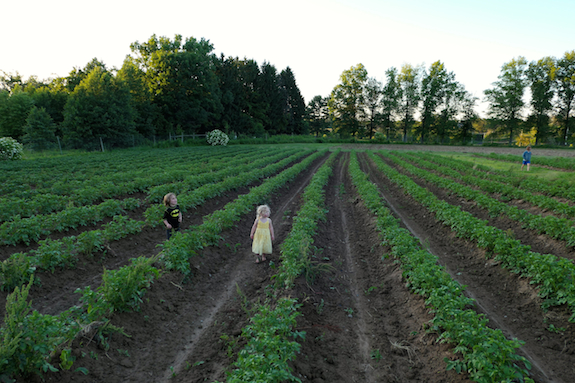 Potatoes cultivated and hilled, all 9,000 feet of them.
Workshifts scheduled for this week:
Tuesday (6/18) 9-11am
Wednesday (6/19) 9-11am & 6-8pm
Friday (6/21) 9-11am
Sunday (6/23) 9-11am
Workshift sign-up instructions may be found
here
.
Take advantage of these awesomely cool temperatures! Help your farmers pull some weeds and harvest this week. As of now it looks like there is a 'chance' of rain each day this week. If it is actively raining during the time of the shift it will be canceled.

Upcoming Events
by Farmer Dana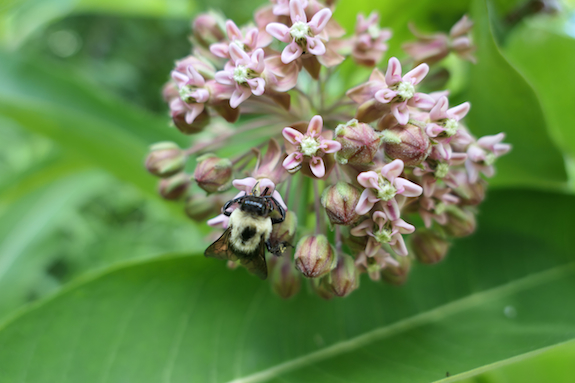 If you've never sniffed a milkweed flower, you absolutely must do so; there's perhaps nothing that smells better.
Saturday, June 29th, 6-9pm: Potluck in the pavilion. Meet and mingle with your farmers and other CSA members. Bring a dish to share to feed six, your own place settings, and a beverage of your choice. The meal should be followed by a small fire. S'mores anyone?
Fennel and squash
By Linda Dansbury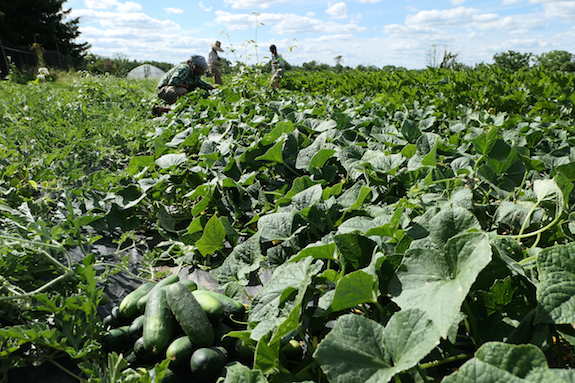 Cucumber harvest has begun and will hopefully continue for a couple of months.
The pick up room is so pretty with all of the colorful veggies!
A quick note on the squash - the yellow and green are interchangeable in recipes - so even when a recipe calls for zucchini, which is a green squash, you can use the yellow ones too. I like using a combination because it looks so pretty. Don't peel them! The skins are tender and contain a lot of important vitamins and minerals. There are several really nice summer squash recipes on this site. One of my favorite summertime meals is
Warm Summer Squash and Sausage Salad.
It is a one pan dinner and perfect to do now with the wonderful heads of romaine lettuce we are receiving.
Fennel makes its first appearance in our share this week. Fennel is in the parsley family, and provides good amounts of vitamin C, iron, fiber, and potassium.
All parts of the fennel plant—bulb, stalk, and the feathery fronds—are edible, and will add texture and flavor to salads, slaws, pastas, and more. Thinly sliced raw fennel bulb adds a sweet licorice flavor and crunchy texture to salads. To slice the bulb, stand it on the root end and cut vertically with a sharp knife or mandolin. To soften the flavor of the bulb, try braising, sautéing, roasting, or grilling it.
Fennel stalks can take the place of celery in soups and stews, and can be used as a "bed" for roasted chicken and meats. Fennel and seafood form a delicious combination. Use fennel fronds as a garnish, or chop them and use as you would other herbs, like dill or parsley. There are many fennel recipes on this site - both raw and cooked. Or, try the new recipe
Salmon and Fennel with Roasted Lemon Vinaigrette
using your Wild for Salmon fish!
How I Enjoyed My Harvest
Great Cooking Weather
By Linda Dansbury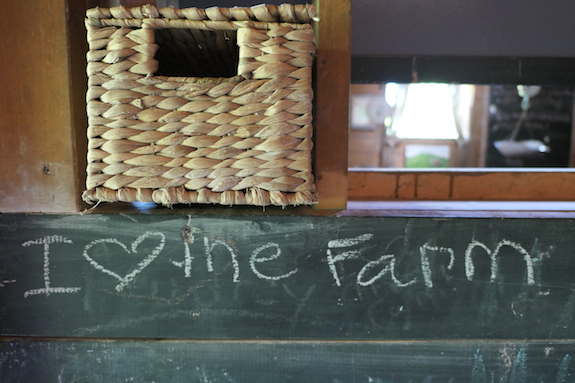 This past week was perfect for cooking indoors and outside and then sitting outside for dinner. Share with the rest of membership how you used your harvest by emailing me at lindadansbury@comcast.net and please put Anchor Run in the subject line.
Summer squash, basil, parsley, scallions - grilled all my summer squash, ate a few one night and then the next day I cut the rest up into bite sized pieces, and added to pasta. Chopped up the rest of the listed items, and then drizzled a bit of balsamic vinegar and good quality olive oil. Topped with some crumbled local feta cheese.
Garlic scapes, peas, cilantro. scallions - made stir fried rice with leftover rice. Blanched peas for 1 min. To a pan put oil and scapes for 30 seconds, then added the peas and eggs and stirred the eggs around. When eggs nearly cooked, added rice and broke that up, sprinkled some soy sauce and sesame oil and mixed well. Served with thinly sliced scallions and chopped cilantro.
Kohlrabi, turnips, chard, bok choy, scallions, garlic scapes, cilantro
- made the
Asian Cole Slaw
that is on this site. Yum!