CSA Week 7: Warming Up & Hopefully Drying Out
News
Expected Harvest
Deluge Survivors
by Farmer Dana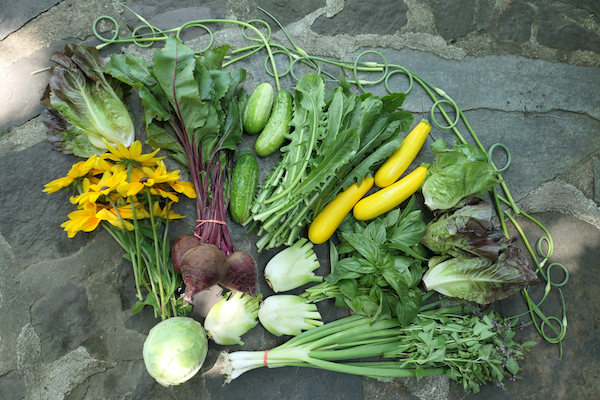 Harvest #7 (Week A) should include beets, cucumbers, zucchini, scallions, garlic scapes, cabbage, lettuce, kale, chard, Italian dandelion, radicchio, hakurei turnips, fennel, cilantro, dill, parsley, and basil. U-pick should include flowers and herbs.
Notes From The Field
Thus, The Wettest
by Farmer Derek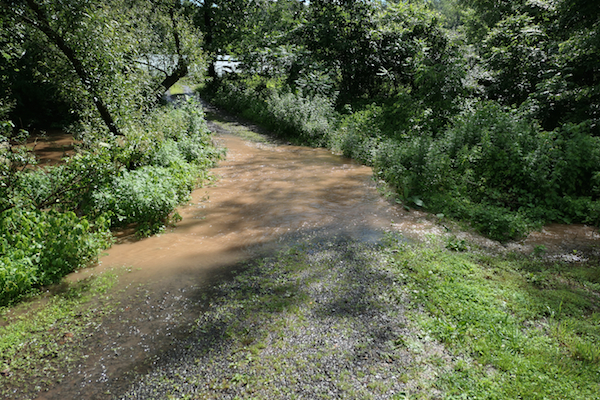 A flash flood caused by 1.1 inches of rain in a 20 minute burst on top of 3 inches already received over the prior two days. That's the path going out to the u-pick field.
And just like that this May/June combo is out wettest in 11 years. This "new norm" is beginning to render these extreme rain events less exciting and less panic-inducing. If I had to pick a week to receive 4" of rain and make most field work impossible, last week was a good choice. U-pick was in a strange pause, there was a lot less transplanting to do, and I didn't have any major tractor work that just couldn't wait. However, I did have to delay by one week our order of 7,000 year 2020 strawberry plants since the ground won't be dry enough for me to finalize bed-making in time for their midweek arrival (especially with the forecast rain Monday night). Even with the record-breaking rainfall the farm and its crops and its farmers still seem to be (mostly) happy and healthy. This sunny, dry, and windy weekend is much needed, especially for the farmers.
Assuming we have a nice and dry week we have a lot on our to-do list. Tomato plants are growing by leaps-and-bounds and need another round of pruning and clipping. There's much to cultivate and some to weed. We have the regular weekly successions of beans and lettuces to plant plus zucchini and cucumbers which seem to grow twice as fast now compared to April. Regular harvests will continue and very soon big harvests will commence with carrots and garlic. Soon we'll be transitioning spring production fields to cover-cropped resting fields as we clean up and prepare for the off-season recovery. For now we'll enjoy this ever-so-slight pause in the workload and gear up for another productive push when the weather allows. Happy summer!

Workshifts for Week of 6/24/19
by Farmer Derek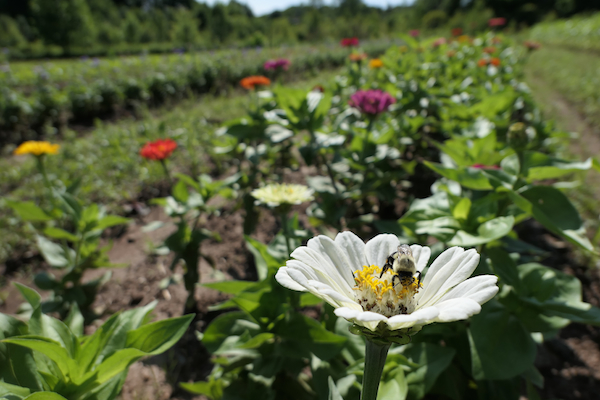 Welcome to the 2019 U-pick Flower Patch!
Workshifts scheduled for this week:
Tuesday (6/25) 9-11am
Wednesday (6/26) 9-11am & 6-8pm
Friday (6/28) 9-11am
Sunday (6/30) 9-11am
Workshift sign-up instructions may be found
here
.
Help your farmers pull some weeds and harvest this week! We had to cancel every shift last week due to the weather and now have some catching up to do.
If it is actively raining during the time of the shift it will be canceled.
Potluck Saturday 6/29!
by Farmer Dana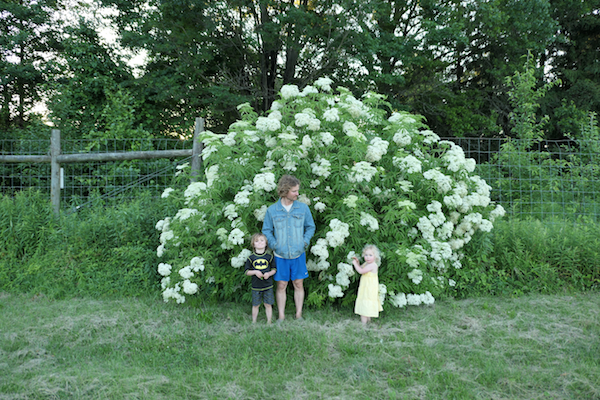 Come hang out with your local farm family this weekend!
Saturday, June 29th, 6-9pm: Potluck in the pavilion. Meet and mingle with your farmers and other CSA members. Bring a dish to share to feed six, your own place settings, and a beverage of your choice. The meal should be followed by a small fire. S'mores anyone?
How I Enjoyed My Harvest
Summer Salads
By Linda Dansbury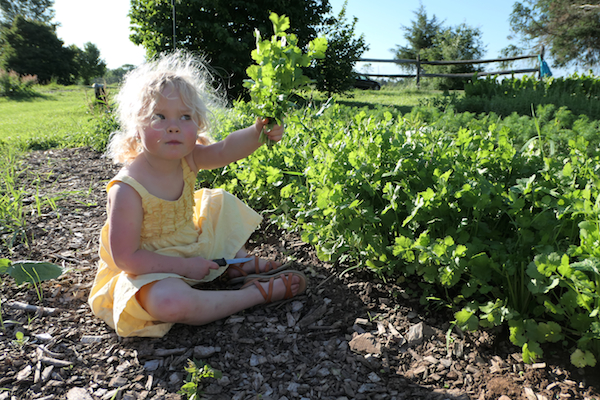 Freshly harvested cilantro from the herb garden.
The fresh harvest from the farm provides an opportunity to easily add extra servings of veggies to our daily diet. One of the things I do is to put together a serving of cut up veggies to have with my lunch each day. Recently, I have been using the turnips, kohlrabi, peas (gone, unfortunately), cucumbers. When I come home in the evening and am hungry, instead of a bag of chips, I get the veggies out - making or keeping a tub of hummus or Garlic Scapes with White Bean Dip adds flavor and protein to your snack. Please share how you are enjoying your harvest by emailing me at lindadansbury@comcast.net. And please put Anchor Run in the subject line.
Swiss chard, garlic scapes, scallions
- I sauteed local mixed mushrooms with chard stems and once-chopped garlic scape. When browned, added the chopped up chard leaves and cooked just until wilted. Topped with chopped scallions. This turned out to be a really delicious combo - I only added a little salt and pepper.

Summer squash, garlic scapes, romaine lettuce, parsley - made the Warm Sausage and Summer Squash Salad. As I said last week, this is an easy and delicious 1 pan meal. I used Italian sausage from Hershberger Farm.
Beets, beet greens, scapes, scallions, parsley
- made the
Roasted Beet and Beet Green Risotto.
One evening when I was already using the oven I roasted 2 weeks worth of beets, saving the tops. When cooked and cooled, I peeled them and placed in plastic container. Last night, we had the risotto.
Roasted beets, scallions, herbs
- made
Pickled Beets
using some of the roasted beets beets from above. I like adding some herbs to my mix. Pickled beets keep in the fridge for several weeks - if you don't eat them before then!
Turnips, garlic scapes, greens, including, Swiss chard and Italian dandelion, herbs - sliced up the larger turnips and left the tiny ones whole. Sauteed in olive oil until getting browned and tender. During the process, added Swiss chard stems and chopped garlic scape. When the turnips were browned and getting tender, added slivered chard and dandelion. When wilted, added a bit of sesame oil and topped with chopped cilantro.
Love to our Tiny Turnips!
By Linda Dansbury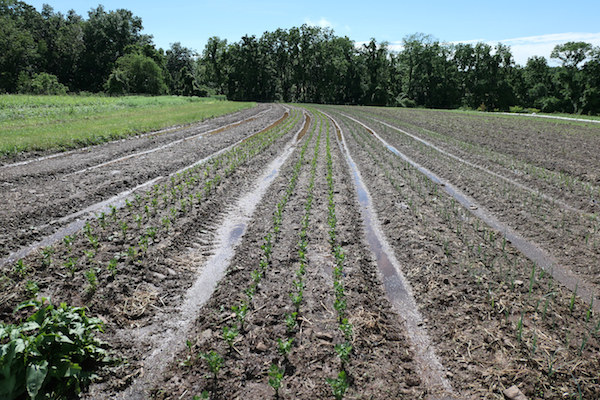 Sunshine puddles in the celeriac and leek patch. Unfortunately the deluge was not followed by a rainbow.
Every so often I ask our farmers if there are crops that people are asking about - Derek said that it seems people are reluctant to take the beautiful, little white orbs known as hakurei turnips. I absolutely love these little mild veggies because of their flexibility. Raw, they are delicious to eat all by themselves or dipped into your favorite dips or hummus. I also slice them and add to salads as you would radishes.
They also cook up easily and deliciously - sliced thin, add to a pan in which a little olive oil has been added. When tender and slightly browned, add garlic scapes and chopped greens and saute until greens are wilted and turnips are desired tenderness. The turnips caramelize when they brown and it almost sweetens the flavor. Add soy sauce or sesame oil and then finish off with chopped scallions and fresh herbs. A squeeze of fresh lemon juice also works well. See my note in How I enjoyed my Harvest.
Turnips are also delicious roasted. Cut in half or leave whole if small, toss in olive oil, salt and pepper, and roast till browned and tender. When they come out of the oven, toss with your favorite fresh herbs. Yum.