CSA Week 9: Abundantly Summer
News
Expected Harvest
Number Nine Summer Time
by Farmer Dana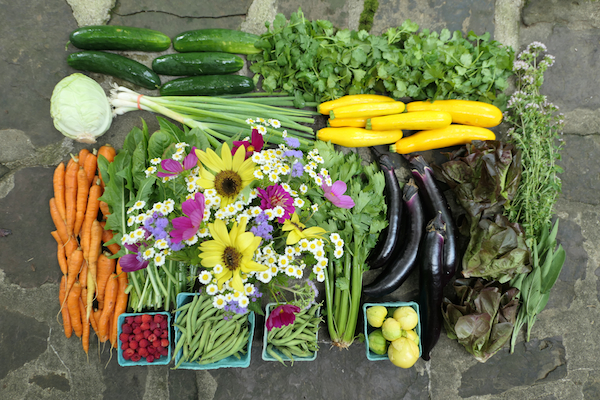 Harvest #9 (Week A) should include carrots, cucumbers, zucchini (yellow/green), Swiss chard, Italian dandelion, lettuce, scallions, eggplant, celery, cabbage, beets, parsley, cilantro, dill, and basil. Some items will be a choice. U-pick should include green snap/string beans, raspberries, tomatillos, flowers, and herbs.
Notes From The Field
A Little Rain is a Good Thing
by Farmer Derek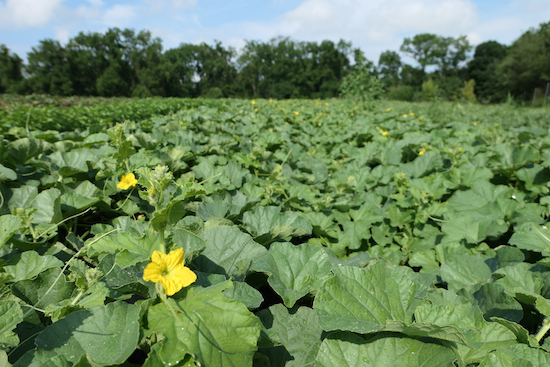 Cantaloupe and the 2nd planting of watermelon looking healthy. Our first planting of watermelon succumbed to excess moisture a few weeks ago when we received 4" of rain in a few days. Fingers crossed these melons reach maturity.
Last weekend I was looking forward to continued dry weather and by the end of last week I was feeling desperate for a bit of rain. And the weather gods did come through with practically 2" received over Friday and Saturday evenings. Following overly wet weather I'm very reluctant to invest time and energy into the set up of irrigation infrastructure. These days I would be very surprised if we don't receive ample rain every week or two. The hardest part is the mental game of deciding whether or not the crops need added well water or if they can wait for sky water. Two full weeks had gone by without a decent rainfall and our soil was probably at its driest in years. Two weeks is a test of tolerance, especially following the planting of 7,000 dormant strawberry plants on a 90 degree day. Physically and mentally, this task is one of the more challenging ones to participate in during the heat of the summer season. With the help of a couple of wonderful CSA members, farmer/mama Dana, and our great crew we managed to complete the job with nonstop planting over 5 hot and humid hours this past Thursday. Thankfully rainfall arrived Friday evening when it was absolutely needed. Another round came through on Saturday and now those dormant strawberry plants should be well on their way to waking up and converting sunshine to 2020 foodshine.
Mid-July marks a pretty big turning point of the growing season here. Spring crops are mostly harvested and now those areas will be cleaned up, mowed, composted, plowed, and sown into cover crops. The 'big harvest' time commences with the large and mostly one-time harvests of carrots, garlic (next weekend), onions (July/August), watermelon (July), cantaloupe (August), potatoes (August), winter squash (September), and sweet potatoes (October). End of June, all of July, and most of August is also the time for the twice or thrice weekly harvests of cucumbers, zucchini, eggplant, peppers, and tomatoes. Each time these crops are harvested the haul could range between 500-1000 pounds (or more occasionally). This is definitely our peak harvest season, and also peak sun and temperature. It's also the time when our farmer bodies begin to feel the labors of the past few months and our minds are challenged to push through this difficult time. I would say that by mid-August the reduced day length and proximity of autumn provide us with breath of relief. For now, we push through this bountiful season.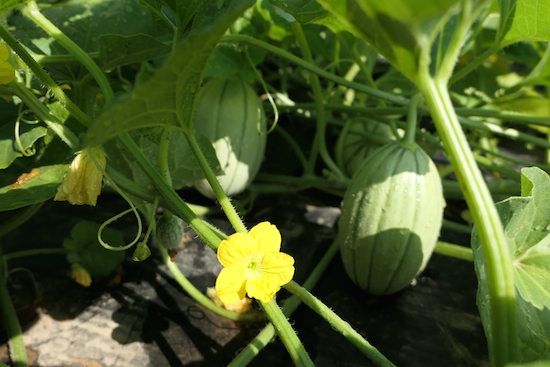 Little baby melons forming under vine canopy.
Maple Syrup & Honey For Sale Thursday 7/11
by Farmer Dana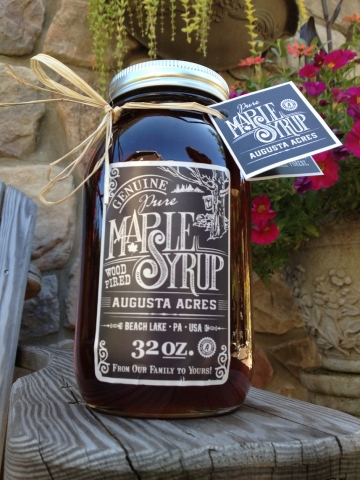 Susan and Todd Klikus of Augusta Acres Farm will be at Anchor Run CSA on Thursday, July 11th, 1:00-6:30pm to share and sell their maple syrup and honey!

Augusta Acres is located in Beach Lake, PA and is a family-run operation. They farm using only organic methods and are members of Pennsylvania Association for Sustainable Agriculture and the Pennsylvania Maple Producers Association.
Sap from trees located strictly on the farm is boiled down in small batches on their wood fired arch to produce a maple syrup that is dark and robust.
Their honey is extracted from on-farm apiaries and is an "all season", raw honey which is dark and very sweet.
Pints are $15; Quarts are $24.
Cash, checks, and credit cards are acceptable methods of payment.
Questions and to pre-order, contact Susan Klikus directly at susanklikus@gmail.com.
If you can't make it to the farm this Thursday during those hours and you would still like to participate in this opportunity contact Susan at susanklikus@gmail.com by end of day Tuesday July 9th and she will set aside your order to pick up on your regularly scheduled pick up day.
Workshifts for Week of 7/8/19 Including The Great Garlic Harvest!
by Farmer Derek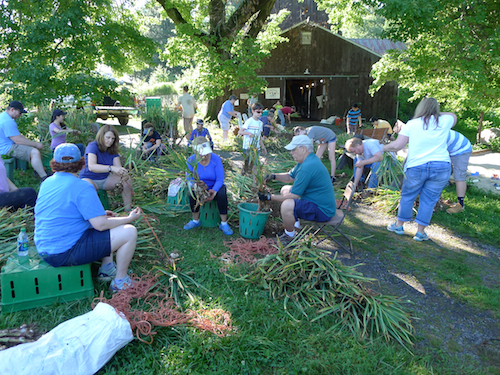 Tying garlic to hang from barn rafters in 2016.
Workshifts scheduled for this week:
Tuesday (7/9) 9-11am
Wednesday (7/10) 9-11am & 6-8pm
Friday (7/12) 9-11am
Sunday (7/14) The Great Garlic Harvest! 8-10am, 9-11am, & 10am-12noon
If it is actively raining during the time of the shift it will be canceled.
Eggplant is Here
By Linda Dansbury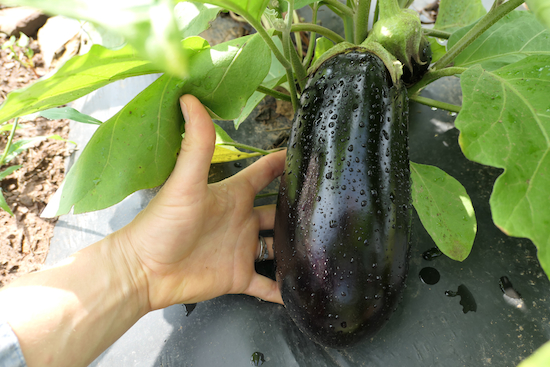 Eggplant looking good and quite large.
This week, some of us will receive eggplant and hopefully they will be with us for the remainder of the summer. Wonder how to keep it fresh? If you plan to use it within a day or 2, just store in an open plastic bag in a cool place. If you are going to keep it longer, place in a perforated or open plastic bag with a paper towel and place in the veggie drawer in the fridge. Use within 5-7 days. There are ways to freeze it, but I really don't like to do this with raw eggplant - I will prepare a dish and then freeze the dish instead.
Member Ideas and Suggestions
Inventive Way to Enjoy the Harvest!
By Linda Dansbury
Fellow member Lisa Mierniki sent me the following email regarding how she came up with a really delicious recipe. I love her message because she saw another, similar dish and thought about the ingredients she had from the farm and adapted a recipe/method to incorporate what she had on hand. This is how I try to think of things constantly as it relates to what is in my fridge. Thank you so much Lisa for sharing with members - and for all of you wonderful cooks out there, please share with everyone by emailing me at lindadansbury@comcast.net and please put Anchor Run in the subject line so I can find your email.
Here is Lisa's message:
I was watching Rachel Ray the other day and happened upon a recipe that I modified (a lot) and it was delicious! I am always struggling to use up the Fennel since I am not a big salad person. But I had a frozen chicken in the freezer to use, so here is what I did:
Boil (yes, boil) the frozen whole chicken in a large pot until cooked and save the chicken stock.
Chop up fennel, garlic scapes, [they are staying really well in my fridge!] and scallions [they, too, stay fresh a pretty long time].
I sauteed the chopped veggies in refined organic coconut oil. Once the veggies were cooked through/soft I added about a cup or so of the chicken stock to the mix, then let that simmer. When most of the liquid was gone, I then added my pieces of chicken (cut to whatever size you prefer) and continued to simmer the mix with just a little more chicken stock. I cooked up some gluten free spaghetti. Once that was done I topped it off with the chicken and veggie mixture. It was wonderful! And tasted like I had put multiple sticks of butter in it, when there was no butter used. My daughter just finished up the last of what I made, so I will call this a successful venture!
How I Enjoyed My Harvest
Zoodles and Salads and More!
By Linda Dansbury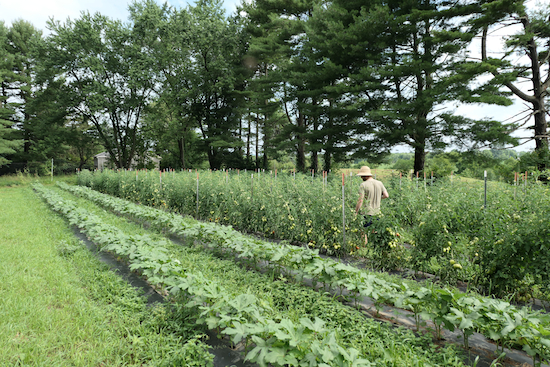 A combination of plentiful moisture and the most fertile soil on the farm pushed these field tomato plants to the largest and healthiest we've seen by early July. Their fruits are now starting to ripen.
It is really fun eating all of the great veggies we are receiving! Let me know how you are enjoying your harvest by emailing me at lindadansbury@comcast.net and please put Anchor Run in the subject line.
Zucchini, garlic scapes, scallions, basil - Zoodles are just fun to make! I normally mostly grill summer squash but it was so hot and humid I didn't feel like standing over a grill, so I got my spiralizer out and made zoodles out of a yellow and green squash - no peeling needed! I briefly sauteed garlic scapes and scallions in a bit of nice olive oil. Removed from heat, and added the zoodles and stirred, Salted and peppered and sprinkled on some julienned basil and fresh grated parm cheese. Yum.
Green beans, basil, scallions, scapes, parsley - when it is this hot out, I make salads out of a lot of our veggies. For green beans, I boil them a little longer than I do if eating plain so they absorb dressing. Immediately after cooking, I put them in ice cold water to stop the cooking. Allow to drain well and place in bowl. Add chopped scallions, very thinly sliced scapes, and chopped basil and parsley - in a couple weeks I will also add cherry tomatoes and chopped peppers. Make a simple vinaigrette of olive oil, red wine vinegar, salt and pepper. Add to green bean/veggie mix, toss and enjoy. I often add chick peas and/or goat or feta cheese. This tastes even better the next day and keeps for at least a week.
Cucumbers, scallions, parsley - another salad, my grandmother's version is one of my other favorites of summer. Slice cukes using a mandolin and place in bowl. Add thinly sliced scallions, chopped parsley and mix. Make a vinaigrette of red wine vinegar, neutral oil, a bit of salt, celery salt and pepper. Mix well and add to cucumbers. Mix well and enjoy.