CSA Week 10: Community Supported Garlic
News
Expected Harvest
Incoming Summer Produce
by Farmer Dana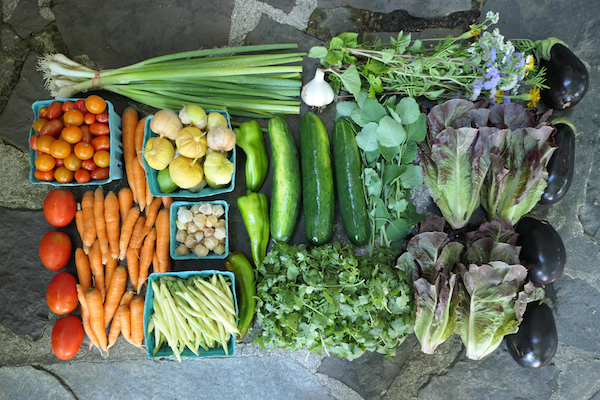 Harvest #10 (Week B) should include zucchini, cucumbers, eggplant, sweet peppers, tomatoes, scallions, fresh garlic, cabbage, celery, beets, carrots, hot peppers, Italian dandelion, basil, dill, cilantro, and parsley. U-pick should include tomatoes, tomatillos, husk cherries, snap beans, flowers, and herbs.

Notes From The Field
A Seriously Great Garlic Harvest
by Farmer Derek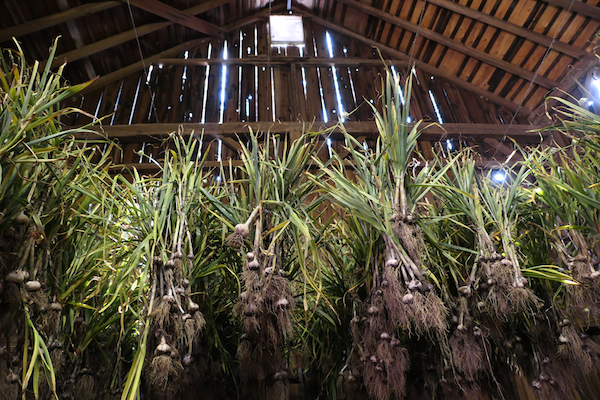 The final step of the garlic harvest: hanging from wire to dry and cure for 4-6 weeks.
And just like that, it is done. The Great Garlic Harvest of 2019 has been successfully completed by your farmers and 50 or so CSA members. We don't just say that it is one of the best workshift tasks to lure unsuspecting members out to help in this process. It is truly a wonderful team-oriented endeavor with our food community. Many hands do make lighter work. We start at 8am with 2,100 feet of garlic bulbs planted in 3 rows per bed, 6 inches apart in row. That's a total of 12,600 plants that need to be tugged out of the ground, bundled and tied together in groups of 5, then hung from wire and beams in the barn. It sounds and looks like a lot to accomplish, but with everyone working hard and together we were actually able to finish well before noon. Now, we simply let the garlic plants do what they want to do while they hang in suspension above our heads. Their outer skins dry out while the energy of the plant moves into the bulbs allowing for extended storage life. We'll replant 12,000 cloves in early November for a 2020 harvest. Our garlic has been saved and replanted every year for the past 16 years, so we can authentically call it Anchor Run Garlic.

Workshifts for Week of 7/15/19
by Farmer Derek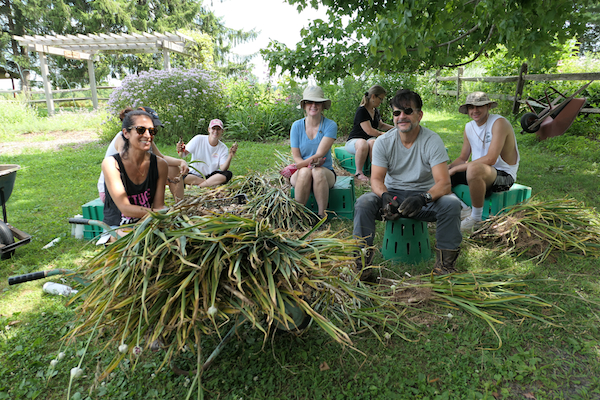 Processing garlic to be distributed as fresh/uncured bulbs for a couple of weeks.
Workshifts scheduled for this week:

Wednesday (7/17) 9-11am
Wednesday (7/17) 6-8pm
Sunday (7/21) 7-9am (special early-riser and heat-beating start time!)
If it is actively raining during the time of the shift it will be canceled.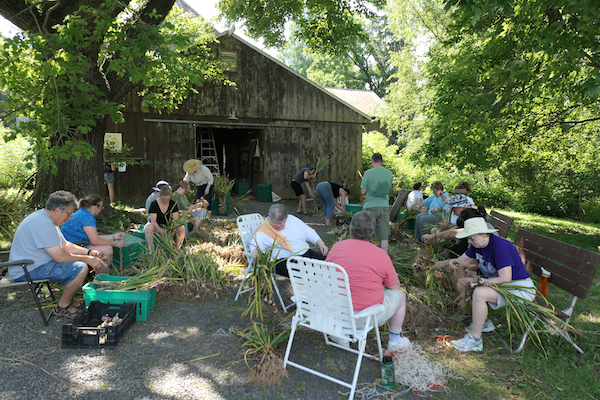 Tying garlic with string prior to hanging.
What to do with Tomatillos
By Linda Dansbury
A ripe tomatillo fills out and splits its husk.
Tomatillos are in the same family as tomatoes and eggplant and are very nutritious. Since our farmers have added the black fiber between the beds, they are so easy to harvest: the contrast of the color of the fruit to the black makes it easy to spot the fruit - just be careful walking the rows - the walkways are uneven. Tomatillos are ready to harvest when the husk starts to dry/turn yellow and splits open. The fruit often falls out of the husks, so they can be just picked up off the ground.
Tomatillos keep for a couple of weeks when stored in a plastic bag in the fridge. It is best to remove the husks before storing. I normally keep a couple weeks of pickings and then make into salsa or a sauce.
My favorites recipes are the
Chicken Stew with Tomatillo Sauce
and of course,
Salsa Verde
, which is what tomatillos are probably mostly known for. I make several batches a year of the tomatillo sauce for the chicken recipe. It freezes great and I always have the basis for an easy meal at hand. I have added a new version of Salsa Verde recipe to this site, because I love to broil or grill them and get that smokey flavor.
Summertime Haul
By Linda Dansbury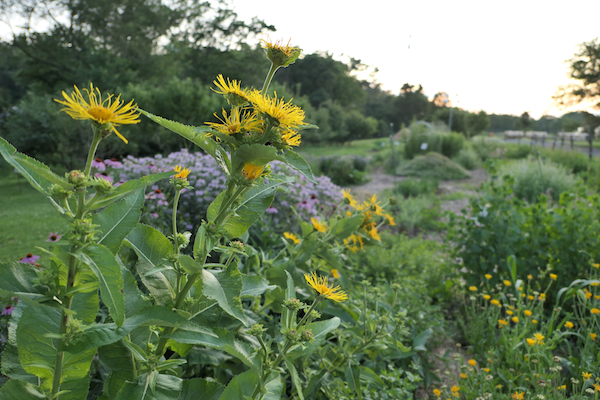 Elecampane in the herb garden at sunset.
This is the time of year you need to bring your muscles to the farm for pick up! The sheer weight of all the veggies is incredible!
Don't forget to do your share of U Pick each week of your pick up week. U pick veggies account for a significant part of your share. For the best experience in the heat of the summer, get to the farm early in the day if possible, make sure you wear protective, comfortable shoes, slather on sunscreen or wear long sleeves, pants and a hat. Sunglasses are a must in my mind as well.
Make sure you have scissors and bags, and if you have been bringing the harvest containers home, bring them back to the farm to re-use.
Enjoy the flowers! I have found the best way to do U Pick is to save the flowers for last because they wilt quickly. I bring a large mason jar in which I add some water to before I head to the farm. As soon as my bouquet is cut, I place in the mason jar for the ride home.
How I Enjoyed My Harvest
Yummy Stir Fry
By Linda Dansbury
How have you been enjoying your harvest? Please share with members by emailing me at lindadansbury@comcast.net and please put Anchor Run in the subject line so I can easily find your email.
I am constantly thinking about what needs to be used first out of each week's harvest so I concentrate on consuming the items that are the most perishable. Right now that are the greens, zucchini, cucumbers, eggplant, tomatoes, celery and scallions. Carrots, beets, cabbage, tomatillos can wait awhile, so I don't worry about them. Every couple of weeks on a Sunday, I will spend time preparing dishes with things like beets and tomatillos and cabbage.
Celery, cucumbers - I eat "bunny food" with my lunch every day so right now are my go-to things, along with cherry tomatoes, and a carrot and/or little turnip thrown in.
Green beans, scallions, cilantro, turnips, zucchini, greens - made a huge stir fry this past week, which fed me for a couple of nights. There are countless recipes on the internet, so choose one that sounds good to you but adjust the veggies to what we have now. They often don't include the mix of what we are receiving so you have to be flexible. Just remember to add things in the order that they take to cook.
Zucchini, garlic scapes, lettuces
- made the
Warm Sausage and Summer Squash Salad
on this site. I love this meal (as I have said countless times) because it uses one pan and 1 large bowl and comes together in 30 minutes, including chopping, so it is a great busy weeknight meal.
CSA Member & Coffee Roaster!
by Farmer Dana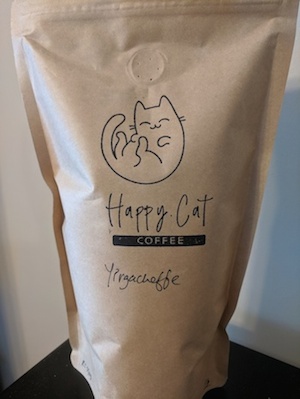 Longtime CSA member and coffee aficionado Sukhi Bedi has started his own small batch coffee roasting company,
Happy Cat Coffee
. Orders can be placed on the website and can be shipped directly to you, or you can arrange for him to bring it to the farm for you to pick up. Currently, Anchor Run CSA members can enjoy a 20% discount with code 'ANCHORFARMROCKS'.
Also, Sukhi is planning to be at the farm on Thursday, July 25th, 4:30-6:30pm with his freshly roasted coffee for sale.