CSA Week 13: At The Middle
News
Expected Harvest
Heavy Harvests
by Farmer Dana
Harvest #13 (Week A) should include cantaloupe, cucumbers, zucchini, carrots, scallions, fresh garlic, lettuce, sweet peppers, eggplant, hot peppers, okra, Italian dandelion, tomatoes, basil, cilantro, and dill. U-pick should include snap beans, edamame, blackberries, husk cherries, tomatillos, tomatoes (plum, cherry, grape), flowers, and herbs.

Notes From The Field
Abundance
by Farmer Derek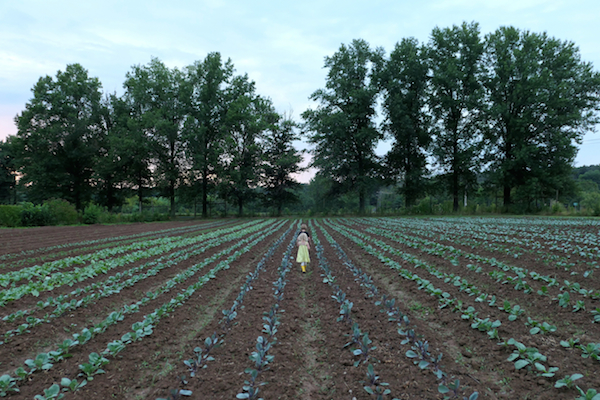 Fall brassicas looking good on a summer evening.
Harvests are particularly abundant right now, and I hope you are enjoying the bounty. Share weight is exceeding the 20 pound mark and you may need some serious muscle carrying the goodies away from the barn and fields. The high yield of some crops is the result of adequate rainfall, ideal soil fertility, and a slight increase in the number of plants grown, which typically follows a growing season with disastrous weather, like we enjoyed in 2018. We tend to overcompensate when yields are disappointing by growing more later, and when we grow more and have almost perfect growing conditions (like this year), crops are happy, thrive, and yield abundantly.
Not that everything has worked out perfectly this season. Peas drastically underperformed and unfortunately the heirloom tomatoes acquired some kind of blight earlier than normal. In contrast the field tomato plants were the healthiest and tallest I've ever seen and now that they're fruiting the yields seem to be following suit. Additionally the 2nd planting of tomatoes inside the hoop tunnel is also thriving and should keep tomatoes on our tables well into September.
The first planting of watermelon was lost during excessive rainfall but the 2nd planting has done well and the two cantaloupe plantings appear to have succeeded. Zucchini/summer squash plantings 2 and 3 aren't yielding as expected but cucumbers are rolling in. Overall a balance is achieved.
We're continuing to maintain our no-irrigation-no-problem vigilance as we wait out this current semi-dry spell with faith that it will rain again very soon. We also think that it would be silly to add water to increase yields when we don't need an uptick in yield. That said, we won't risk losing crops to a lack of moisture, but we have confidence in our current weather patterns to bring us ample rainfall frequently enough. Sure seems that way at least, based on this year and last. We also have the added benefit during dry weather that our fields face north, don't drain particularly well to begin with, and have a high amount of organic matter which retains moisture.
Workshifts for Week of 8/4/19
by Farmer Derek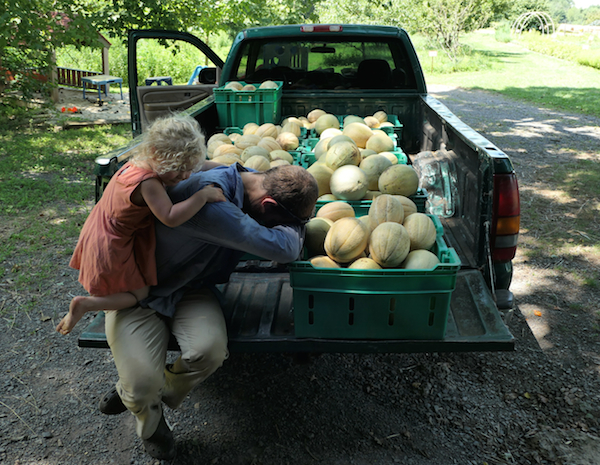 Exhausted after this mid-Sunday haul of cantaloupe.
Workshifts scheduled for this week:
Wednesday (8/7) 9-11am
Friday (8/9) 9-11am
Sunday (8/11) 8-10am (probably harvesting potatoes!)
If it is actively raining during the time of the shift it will be canceled.
Upcoming Events
by Farmer Dana
What we're pretty sure is a pickerel frog, it's species has been seen hopping around the farm noticeably more this year.
Wednesday, August 7th, 6-8pm: Bucks County Foodshed Alliance and Buy Fresh Buy Local® Bucks County announce the 2019 series of popular farm evenings that introduce consumers to the local small-scale producers who put the freshest foods onto our tables via direct sales, community-supported agriculture operations (CSAs), farmers markets, farm stands, and other venues. The farm evenings include a potluck dinner and a tour of the farm.
Saturday, August 17th, 5-8pm: Potluck in the pavilion. Meet and mingle with your farmers and other CSA members. Bring a dish to share, your own place settings, and a beverage of your choice. The meal should be followed by a small fire and perhaps even live music. S'mores anyone?
Peak U Pick - including Edamame
By Linda Dansbury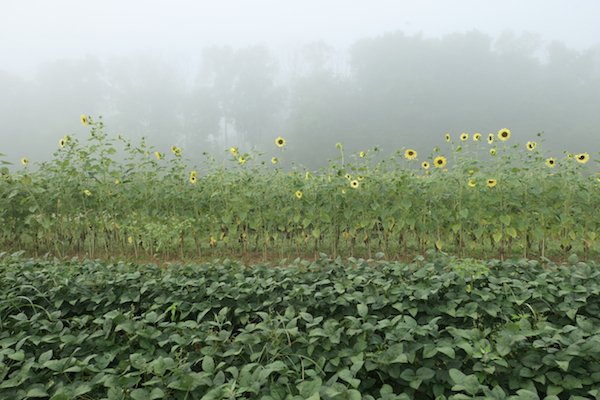 Sunflower cyclops on a misty morning.
July and August represent peak U Pick time. You can collect your U Pick allotment Mon-Sun 8am-8pm of your pick up week. Consult the U Pick board in the pick up room for current quantities. Please reuse the harvest containers and if you borrow the Farm's scissors, please return them after each use, so others can use them too.
A note about the blackberries - for the sweetest berries, pick the ones that are completely black and come off the plant with just a slight tug. If you have to really pull them, they are not fully ripe. Look toward the bottom of the plants and behind leaves too - they are plentiful!
Edamame will be available this week for the first time and will last about a month. Look toward the bottom of the plants for the plumpest beans. When you get them home, place them in a plastic bag in the fridge until ready to cook. To cook, bring a large pot of heavily salted water to a rolling boil and then add the edamame pods. Watch closely, because they have a tendency to boil over. Start testing for done-ness at 9 minutes. They are typically cooked to perfection by 11 minutes. Drain the beans and they are ready to eat! Place in a bowl and salt again - adding paprika, a flavored salt or another favorite spice is also yummy. Cooked beans will keep in the fridge for a few days, or freezer for a couple months. I do find that if I freeze them to use later, I prefer them to have already been shelled so I can use them in dishes that call for edamame, lima beans or fava beans.
How I Enjoyed My Harvest
An Eggplant Kind of Summer
By Linda Dansbury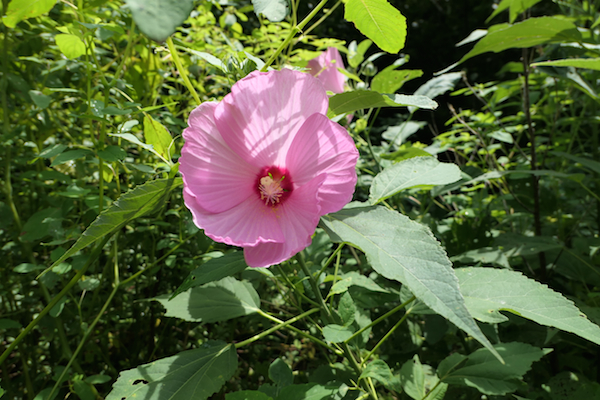 A newly discovered treat in the riparian habitat above the upper pond: swamp rose mallow.
Farmer Derek told me the eggplants are abundant this summer, so you have to prepare to cook and enjoy them each week. Grilling your entire take each week all at once can make it easier and relaxing to enjoy them. See below for what I did to enjoy my harvest - if you have something you love to do with eggplant or other farm veggies, please share by sending to me at lindadansbury@comcast.net and please put Anchor Run in the subject line.
Eggplant, sweet peppers, hot peppers, tomato, basil -
made the
Grilled Eggplant and Pepper Salad.
I grilled 2 weeks worth of eggplants at the same time and used the remainder to make
Eggplant Spread.
The Eggplant Spread and traditional tomato bruschetta made a delicious summer CSA dinner!
Cherry tomatoes, basil - if you have never done "burst tomatoes" before, try it - it works with store bought tomatoes because it helps concentrate the sugars, but it tastes unbelievable when using locally grown cherry tomatoes. Simply heat a bit of olive oil in a pan, and add just a couple slivers of garlic. Add the tomatoes and cook over medium or medium-low heat until the tomatoes start to break down a bit - about 10 minutes. Add a bit of salt and pepper and basil or parsley (if desired). Recipes for these often call for adding balsamic vinegar at the end, but these are so sweet, I love them the way they are. Serve along your desired protein or even over pasta.
Zucchini, tomatoes, garlic, pesto - made zoodles with tomatoes and pesto as a side dish. We are loving this dish right now.