CSA Week 14: Yes We Cantaloupe
News
Expected Harvest
'Lope Invasion
by Farmer Dana
Harvest #14 (Week B) should include cantaloupe, tomatoes, onions, garlic, eggplant, cucumbers, zucchini (limited), sweet peppers, scallions, carrots, lettuce, basil, dill, cilantro, Italian dandelion, okra, and hot peppers. U-pick should include edamame, snap beans, husk cherries, tomatillos, tomatoes (plum, cherry, grape), blackberries, flowers, and herbs.
Notes From The Field
Alignment
by Farmer Derek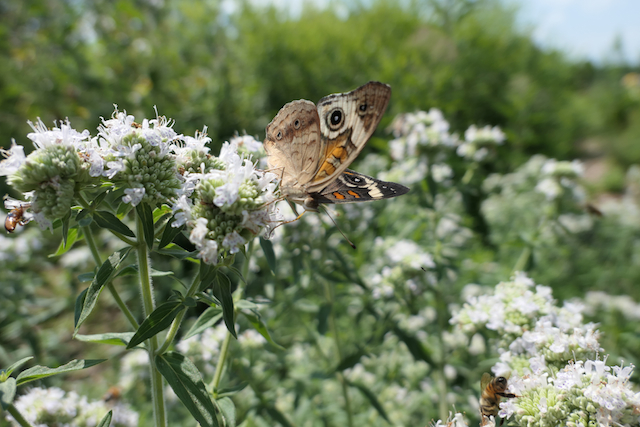 Common buckeye butterflies, honey bees, and other insects gathering nectar and pollen from the mountain mint patch in the herb garden.
We lucked out once again with some precipitation when the farm was ready and waiting, the sky providing almost an inch of light rain in a two-day period. Cover crop and carrot seeds needed another soaking to help stir that inner life force into waking and sprouting. Carrot seeds require a bit more TLC to get going compared to other crops we direct seed. Constant moisture supposedly helps them germinate but we're currently content with our dependency on rainfall which appears to be right on schedule this coming Tuesday. The carrots are just beginning to sprout and push through the soil to begin photosynthesizing the sun's rays into delectable carbohydrates while they pull in that satisfying carbon dioxide from the earth's atmosphere and in turn give us a bit more oxygen to breathe. In a couple of weeks we'll cull their competitors with stirrup hoes and hopefully it will be a successful fall carrot patch.
Speaking of success, the stars aligned this year and for whatever reason(s) we've produced more cantaloupe than we ever have. Which is definitely a good thing, but it also means we've got to make sure we harvest it right on time and store it perfectly until we can distribute it to you in the pick up room. This year we grew two new varieties, one round and one oblong. They're both potential varieties to grow next year.
Last week we underwent our annual Certified Organic inspection. It's a pretty straightforward affair for us since we've been managing the farm organically for 11 years, but we still need to provide documentation for all of our inputs/purchases to confirm they are organic approved, as well as records for crop yields, health, rotation, etc. The certification isn't cheap, but we still think it provides the only true proof across the food market landscape of non-toxic farming and processing practices. Because we're a CSA-only farm and all of our members pick up and harvest here there's probably more-than-enough proof in our members' observation. Having a third-party certifier and acquiring the USDA Organic seal does provide a universally recognized symbol, hopefully of integrity and good and clean food, giving you more reason to love your farm and trust our growing practices.
Workshifts for Week of 8/12/19
by Farmer Derek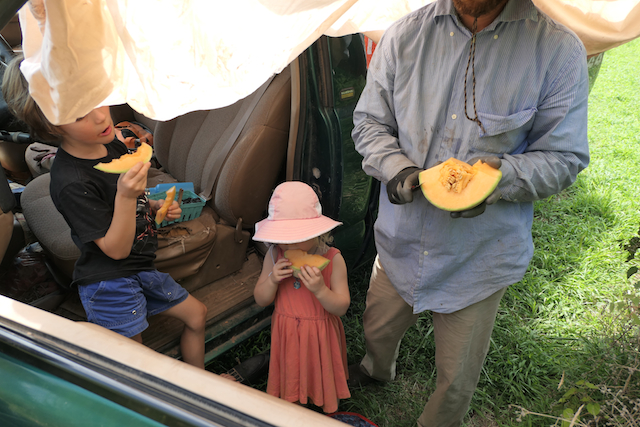 Cantaloupe taste test and nourishment before hauling a thousand pounds back to the barn.
Workshifts scheduled for this week:
Wednesday (8/14) 9-11am
Friday (8/16) 9-11am
Sunday (8/18) 8-10am
If it is actively raining during the time of the shift it will be canceled.
We're definitely into the final third of the workshift season. Work opportunities will lessen over the next couple of months so if you still need to complete your pledged farm labor hours for your share discount please sign up soon!
Upcoming Events: Potlucks and a Farm Tour
by Farmer Dana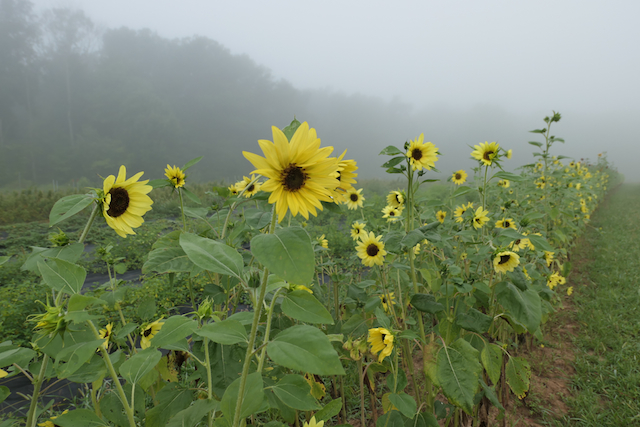 More misty morning majestic sunflowers.
Wednesday, August 14th, 6-8pm at Anchor Run Farm: Bucks County Foodshed Alliance and Buy Fresh Buy Local® Bucks County announce the 2019 series of popular farm evenings that introduce consumers to the local small-scale producers who put the freshest foods onto our tables via direct sales, community-supported agriculture operations (CSAs), farmers markets, farm stands, and other venues. The farm evenings include a potluck dinner and a tour of the farm.
Saturday, August 17th, 5-8pm: Potluck in the pavilion. Meet and mingle with your farmers and other CSA members. Bring a dish to share, your own place settings, and a beverage of your choice. The meal should be followed by a small fire and perhaps even live music. S'mores anyone?
How I Enjoyed My Harvest
Fun, Healthy Veggies
By Linda Dansbury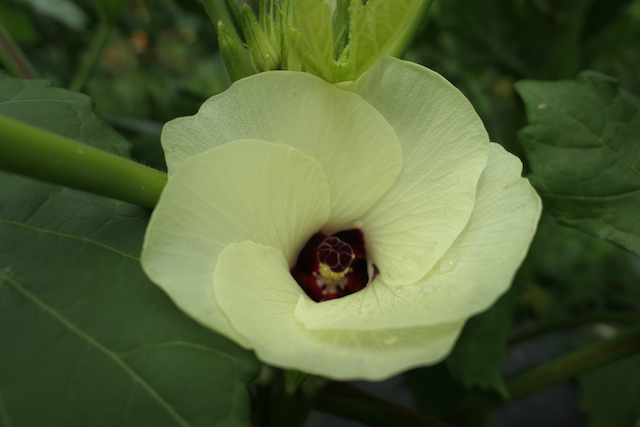 Okra flower.
I had a lot of fun preparing and eating all of the delicious veggies this past week. Eggplant, zucchini, and more. Please send me how you are enjoying your harvest by emailing me at lindadansbury@comcast.net and please put Anchor Run in subject line so I can find your email.
Zucchini, scallions, herbs, Hershberger Farm bacon
- made a quiche, using shredded zucchini as the crust. Just shred about 3 cups of zucchini and place in bowl. Add a beaten egg, salt and pepper and press the mixture evenly into a pie pan - deep dish works best. Bake the "crust" at 400 degrees for about 30 minutes. When it is set and browned around the edges, remove from oven. Reduce oven temp to 350, and proceed with your favorite quiche recipe. This makes a great dinner hot, and is good the next day at room temperature.
Cucumbers
- it is a banner year for cucs. I have been enjoying them as a snack at lunchtime and while I am making dinner. Also made cucumber salads a few times. If you want to know what to do with all of the cucumbers and like pickles but are not into canning, try the
Narrow Bridge Farm Refrigerator Pickles
on this site. They are easy and delicious.
Eggplant, scallions, mint, basil, garlic, hot pepper, dandelion greens
- made a nice sized batch of the
Thai-style Grilled Eggplant salad
(
on this site). The first use was as a side dish with some grilled chicken. I then had plenty left to make it into a main course. Browned some ground pork from Hershberger Farm with garlic and ginger, then added chopped up dandelion greens, and finally added the eggplant salad. Topped with a bunch of chopped cilantro - it was delicious.
Tomatoes, garlic, scallions, ground cherries, hot peppers, basil, parsley
- made the
Ground Cherry Salsa
- all I can say is Yum!
Zucchini, sweet pepper, scallions - made a batch of burgers called Garden Veggie Burgers - basically use a pound of whatever meat you want (it calls for ground turkey but works for whatever you want); add a cup of oats, 1/4 cup ketchup, 3/4 cup shredded zucchini, and chopped onion (I used scallions since we have them), 1/2 cup finely chopped sweet pepper - you can add a hot pepper if you want. Add salt and pepper to taste, mix well, form into burgers, grill and enjoy.
Member Ideas and Suggestions
Salsa Anyone?
By Linda Dansbury
Fellow member Tamela sent me a recipe from Food Network for Roasted Tomatillo Salsa. It is similar to what is on this site and is a great reminder of a delicious way to use your tomatillos, garlic, cilantro and hot peppers. Make a lot at a time and freeze for later in the year, such as when it is cold and snowy - it will bring back memories of a beautiful day like today!
Ingredients:
2 pounds fresh tomatillos, husked and well rinsed
2 fresh jalapeno peppers
1 medium white onion, quartered
4 tablespoons olive oil
4 cloves garlic, unpeeled
1/2 cup loosely packed fresh cilantro leaves
Juice of 1/2 lime
Kosher salt
Directions:
Preheat the oven to 450 degrees F.
Add the tomatillos to a baking sheet along with the jalapenos and onion wedges. Toss with 1 tablespoon of the olive oil and roast about 7 minutes. Turn the vegetables, add the garlic and roast until everything is slightly softened and charred, another 7 to 8 minutes. Set aside to cool.
Peel the garlic and remove the stems and seeds from the jalapenos. Add the roasted vegetables to the bowl of a food processor and pulse until still slightly chunky but well combined. Add the cilantro, lime juice and 1 teaspoon salt and pulse until incorporated. With the processor running, stream in the remaining 3 tablespoons olive oil until the salsa is slightly runny but not smooth. At this point you can season with additional salt if desired.
Serve with chips or as a salsa for tacos and burritos.