CSA Week 15: Hot and Dry
News
Expected Harvest
Still Feeling Like Summer
by Farmer Dana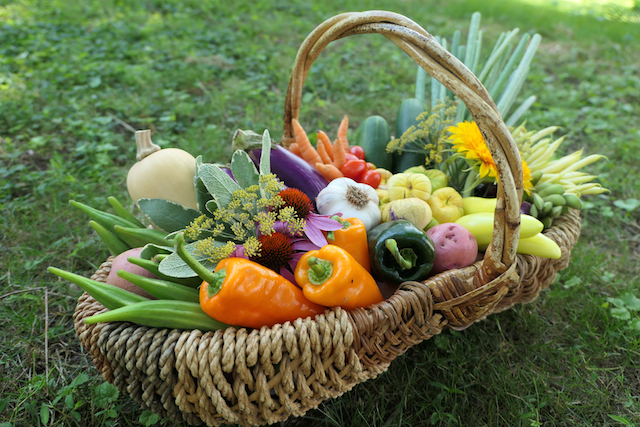 1st Place at the Middletown Grange Fair for this Market Basket! Taking a break from a share photo this week due to moving a literal ton of potatoes into storage.
Harvest #15 (Week A) should include cantaloupe, onions, scallions, lettuce, sweet peppers, hot peppers, okra, Italian dandelion, cilantro, dill, carrots, cucumbers, eggplant, garlic, tomatoes, kale, and Swiss chard. U-pick should include tomatoes (cherry, grape, plum), edamame, snap beans, husk cherries, tomatillos, flowers, blackberries, and herbs.

Notes From The Field
Where's The Wet Stuff?
by Farmer Derek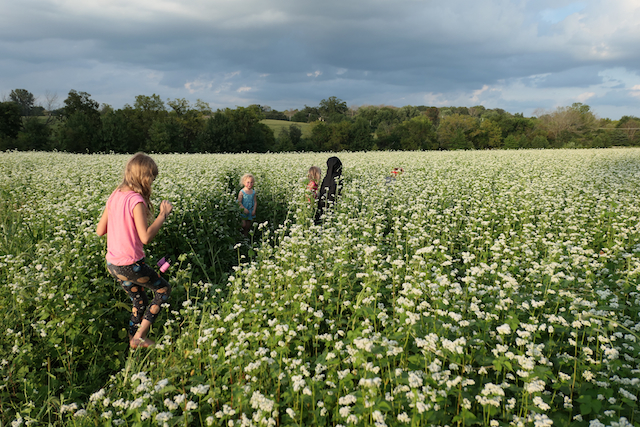 Buckwheat exploration.
An August of old is unfolding, a return of what feels and seems like a normal weather pattern for this time of year. Spotty showers, mostly missing us, more heat and plenty of humidity, perhaps a last gasp of peak summer. We continue to will ourselves away from resorting to irrigating, but once the crops appear to be thirsty and suffering slightly we'll probably give them a drink. If we do wind up irrigating this season, at least it's now when our total footprint is smaller than at peak, though there are probably more bare ground crops now and we would have to manually add drip tape to each bed rather than tractor applied drip tape when laying the plastic mulch that assists many of the summer species. Whereas most of this year and last a 20% chance of rain would result in a 100% inundation, now we're faced with the opposite. The rain does miss us, and we do miss it. Part of me wants to irrigate so I can at least forget about the weather momentarily and quit refreshing the forecast tab every 5 minutes when I'm near a computer, but on the other hand relying on Mother Nature imparts a perception of dependence on outside forces, which I guess is humbling and/or nurturing.
Either way, we march on. Last week we hauled in whatever winter squash was in good condition and hope to cure and store it temporarily in the greenhouse where it should heal and sweeten. We also continued to dig and retrieve potatoes. At this point we've harvested almost 50% of the crop and the yield looks better than our average, probably due to regular rainfall when the spuds were forming and bulking up, but hopefully also due to increased soil health and fertility.
Some summer crops have passed their peak and some are truly waning. Zucchini, cucumbers, eggplant, and basil have slowed down and may disappear in a week or two. Field and heirloom tomatoes peaked and then quickly dropped but very soon our hoop tunnel crop will be yielding aplenty. Tomatoes should be in shares for a while yet. Greens like chard and kale are about to return to the pick up room. Late summer kale is a treat and for some reason almost always looks and tastes great even though it grows during the heat of summer. As of now our fall brassicas look outstanding, growing in a field that left a 3-year fallow period before last season. As long as the weather doesn't return to a too-wet phase broccoli, cauliflower, cabbage, etc should be bountiful this fall.
The 2/10th of an inch of rain we did receive last week at least got some cover crops going as well as direct seeded arugula, hakurei turnips, watermelon radishes, and purple daikons. The fields where we sowed buckwheat and daikon a few weeks ago are in peak buckwheat bloom now. Pollinators and kids are thrilled.
Workshifts for Week of 8/18/19
by Farmer Derek
We're taking a break from workshifts this week due to heat and vacation. The schedule will be back to normal next week.
How I Enjoyed My Harvest
Salsas and More!
By Linda Dansbury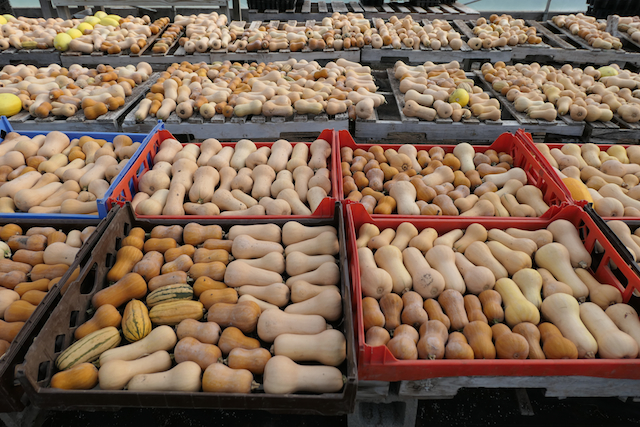 Winter squash curing in the greenhouse.
It was a busy week of cooking and eating farm fresh goodness. Please share how you enjoyed your harvest by emailing me at lindadansbury@comcast.net and please put Anchor Run in the subject line.
Ground cherries, tomatoes, sweet and hot peppers, scallions, cilantro
- made the
Ground Cherry Salsa
recipe from this site. As I have said before, time consuming to make, but well worth it.
Tomatoes, red onions, sweet and hot peppers, herbs,
local peaches, local sweet corn - made a Peach and Tomato salsa and used it over
Wild for Salmon
fish and then with tortilla chips. Very delicious.
Eggplant, basil
- made
Eggplant Lasagna
on this site. I like this version because you just bake the sliced eggplant rather than frying it. You make little stacks, so serving it is also easy.
Okra - one of the simplest ways to enjoy okra is to slice it and then cook it in a non stick skillet with a little olive oil added. Place the slices so the cut sides are down in the pan. Turn over when the first side turns brown and cook till second side is brown. Add a little salt and enjoy - they taste a bit nutty when cooked this way and are not slimy at all.
Returning to Greens
By Linda Dansbury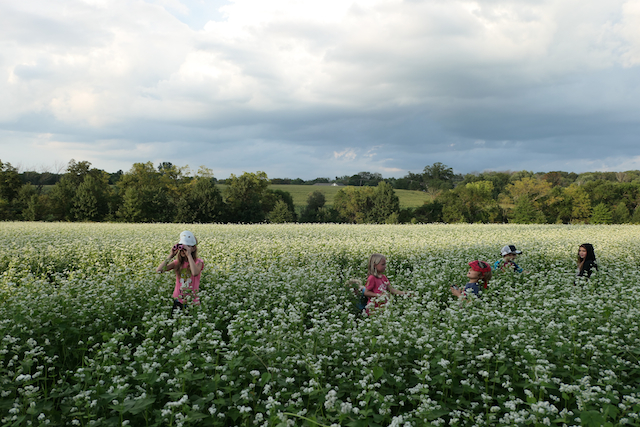 Buckwheat sown on July 17th is a good place to play.
I don't know about you, but I have been missing greens from the farm. We might be receiving kale and chard this coming week, so I am happy!
For me, the combination of ingredients late in the summer calls for summer veggies stews - there are a lot of recipes on this site, so search for any crop you want to feature, such as eggplant, peppers or okra and recipes will pop up. Although most will not have greens in the ingredient list, I normally do add any greens I have to the stew when it is nearly cooked through, adding even more flavor and nutrition to the mix.
Or just make up your own mixture of whatever you have: chop up the veggies you want to use up in the order they will take to cook. I normally start with the onions and peppers - I tend to add the garlic a little later so it doesn't burn. Add in eggplant and continue cooking - adding liquid if needed - chopped tomatoes can serve as the liquid. Add the okra or zucchini and cook till "al dente" - you don't want these to be too soggy. Finally add chopped greens, followed by chopped fresh herbs. Delicious as a side dish, but also a great topping for chicken or sausage, or to keep it vegetarian, add white beans or chick peas to bump up the protein.
Enjoy your veggies!