CSA Week 18: A Good Weather Blend
News
Expected Harvest
Mostly Barn Collection
by Farmer Dana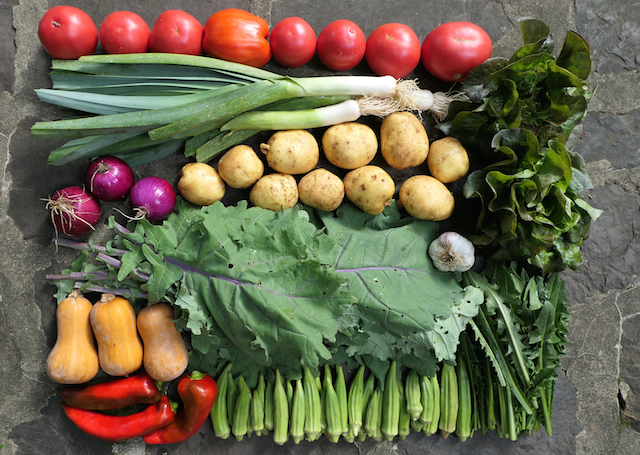 Harvest #18 (Week B) should include butter squash, potatoes, leeks, onions, garlic, kale, chard, endive, lettuce, sweet peppers, eggplant, hot peppers, okra, tomatoes, cilantro, and dill. U-Pick should include herbs from the herb garden. Field U-Pick has concluded for the season. Now we'll prepare those areas for cover crops and get ready for the installation of additional waterways for flash flood water management.
Notes From The Field
To Beckon Rainfall, Irrigate
by Farmer Derek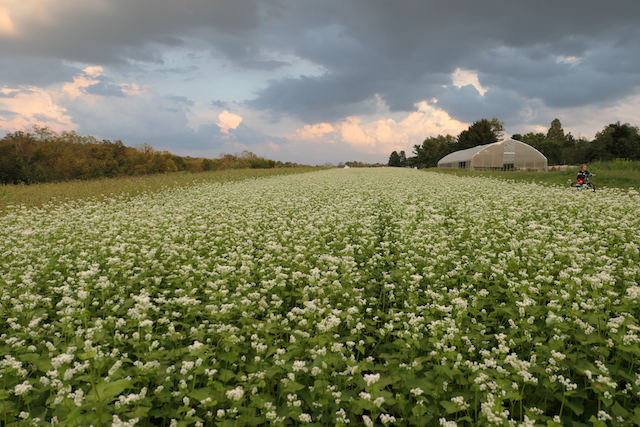 A major benefit to a lush stand of cover crop is its simple beauty. A decent sky always helps to enhance/enrich a photo.
The farm enjoyed its first legitimate rainfall in more than a month this past week. As predicted, and the reason I'm most reluctant to devote time and resources to its cause, immediately following the installation and use of the irrigation system, it rained. There's a good chance we'll resume a weather pattern that provides regular rainfall and the irrigation infrastructure will just provide mowing hazards. But if that is what it took for the weather deities to notice our need, I guess it was worth it. That is the past though and we must not dwell on it. There are new projects to devote one's time to.
In between Monday's big rain event and Friday's minor one we transplanted a few thousand little plants, perhaps the penultimate outdoor transplanting event for the season. We seeded the first of 4 indoor greens successions including spinach, arugula, and lettuce mix. The movable high tunnel by the parking lot is going through a bit of overhaul as we dismantle some ventilation systems and install new ones. It will also get a new sheet of plastic as the other one is pushing 8 years on a proclaimed 4-year life.
As crops leave the soil and those areas can now be put to sleep for the winter we've settled into a great habit of spreading compost before a cover crop so that most of the farm will receive a healthy dose at least once a year. This system fits well into our work schedule since we have more available time in late summer and fall to devote to adding compost and it also well avoids the 90 and 120 day rule for spreading compost/manure before a crop is harvested (we're spreading 180+ days before harvest). Continually adding organic matter through compost, cover crops, and crop residue makes a huge difference in the health and quality of our soils and helps plants through dry stretches. By now I would say that more than half the farm has received compost this calendar year and is now in a cover crop mix of buckwheat, oats, and daikon radish. By mid-October all of the available areas that aren't in late fall crops should composted and cover cropped.
Workshifts for Week of 9/9/19
by Farmer Derek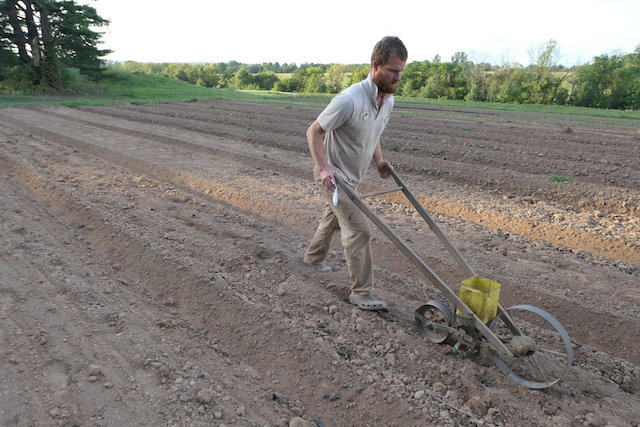 Direct seeding arugula, greens mix, and hakurei turnips with what feels like an antique contraption but works marvelously prior to last week's rain event.
Workshifts scheduled for this week:
Wednesday (9/11) 9-11am
Friday (9/13) 9-11am
Sunday (9/15) 8-10am
Workshift sign-up instructions may be found
here
. Calendar is
here
. Member Work Guidelines are
here
.
If it is actively raining during the time of the shift it will be canceled.
We're into the final quarter of the workshift season! Work opportunities will last for another 1.5 months or so but frequency will decrease as we approach and are in Fall/Autumn.
If you still need to complete your pledged farm labor hours for your share discount please sign up soon. Alternatively, if you'd rather pay the full amount for your farm share that is fine, just send us a check to cover the workshift hours.
Late Fall CSA to be Announced Soon!
by Farmer Dana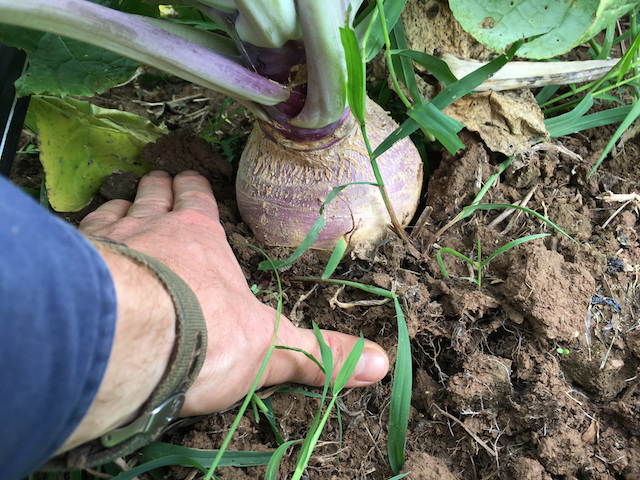 Back by very popular demand, rutabaga is also thriving in this dry weather in a field enjoying a post-fallow boost. An awesome winter storage root vegetable, it just might be the tastiest ingredient in a miscellaneous root roast, turning bright orange. It was transplanted this season instead of directly seeding into the soil and thus with adequate spacing and good fertility it is quickly approaching softball size.
Very soon we'll open registration for the 2019 Late Fall CSA. It will run for 8 weeks after the conclusion of the Main Season CSA (which ends the week of 11/4/19, harvest week #26, Week B). After the New Year there may be the occasional Flash Greens, etc, sales.

How I Enjoyed My Harvest
Cooking with Farm Goodies
By Linda Dansbury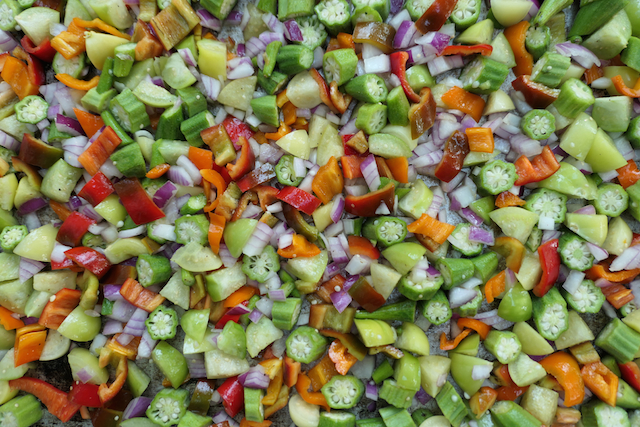 Chopped okra, red onion, tomatillos, and sweet peppers tossed with salt, pepper, olive oil, and a sprinkle of rice wine vinegar to be roasted at 400 for an hour will yield an easy and tasty dish enjoyed over rice.
I love to cook, and it is made extra special when the quality and quantity of such amazing produce is a large part of what is available to me to use. Share how you enjoy your harvest by emailing me at lindadansbury@comcast.net and please put Anchor Run in the subject line.
Doing this newsletter both helps me find new ways to use the bounty and reminds me of favorite methods and recipes that are forgotten in the "off" season for a particular crop. I hope it also helps you!
Kale, butternut squash
- made the
Northern Spy's Kale Salad
that I added last week - I made a lot and it really does keep until the next day. I only used grated Parmesan cheese (not the cheddar that is listed) and used pistachios.
Tomatoes, Hershberger bacon, parsley, scallion - found a new salad this week called BLT Salad. Cook bacon, and then for croutons, use bread you like cut into cubes and "toast" the bread in the bacon fat (I skipped this step). Put lettuces in a large bowl, along with cut up tomatoes or cherry tomatoes. I added a chopped scallion and parsley to the bowl as well, but this could be skipped. Then take about a 1/2 pint worth of tomato and a 1/4 cup of good quality mayonaise and process until smooth - for this I used my immersion blender in the smoothie cup that comes with it so I didn't have to get the big processor out. Add salt and pepper to taste, drizzle over salad and it is finished. Yum...
Kale, tomatoes, onion, hot pepper
- made the
Kenyan-style Kale and Tomatoes.
This is a recipe I had completely forgotten about. As the description says, it is eaten as is with flatbread. I think adding a can of chickpeas, white beans or cooked sausage or chicken would be delicious. I ate it as a side dish with grilled chicken, and then had leftovers for lunch.
Potatoes, onions, parsley - made German-style potato salad. Love making it this way because it keeps for days afterward, so I make large batches and then can eat it for a few days.
Tomatillos, cilantro, hot pepper
- made
Salsa Verde
with the last of my tomatillos.
Freezing Peppers and Tomatoes
By Linda Dansbury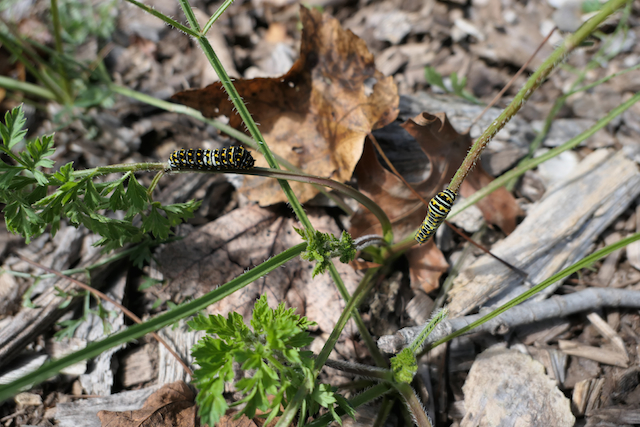 Double swallowtail larvae action on what we call wild carrot.
Maybe you are wondering what to do with all the sweet and hot peppers you have been collecting. I have been freezing peppers for years, but I decided to look it up to see how it is supposed to be done. I really like freezing some of both the hot and sweet peppers because during the winter I will often decide to make something that requires one or both and rather than having to run out to the store, I can just pull what I need out of the freezer.
For sweet peppers, remove stem, seeds and membrane, cut up the way you would like to use them, place in a single layer on a cookie sheet and freeze. Once frozen, place in a plastic bag or container. The peppers will get soft, but when you cook them into chili or stew, they are cooked until soft anyway.
For hot peppers, just leave them whole.
As for tomatoes, they also freeze really well. Remove the stem and cut out any blemishes/bad spots. Place whole in a large plastic freezer bag and freeze until ready to use in sauce, stews, soups. The skins will slip right off as they start to defrost.