CSA Week 19: Last Week of Summer
News
Expected Harvest
Green Team
by Farmer Dana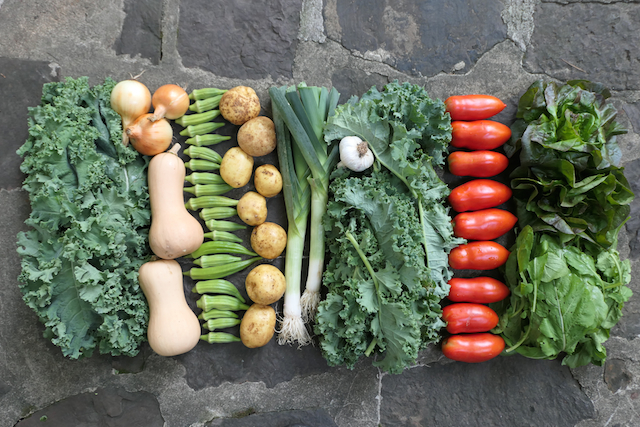 Harvest #19 (Week A) should include winter squash, potatoes, garlic, onions, leeks, kale, Italian dandelion, endive, arugula, cilantro, dill, tomatoes, sweet peppers, okra, hot peppers, Swiss chard, lettuce, and green tomatoes. U-pick should include herb garden herbs.
Notes From The Field
Perhaps the Best Time
by Farmer Derek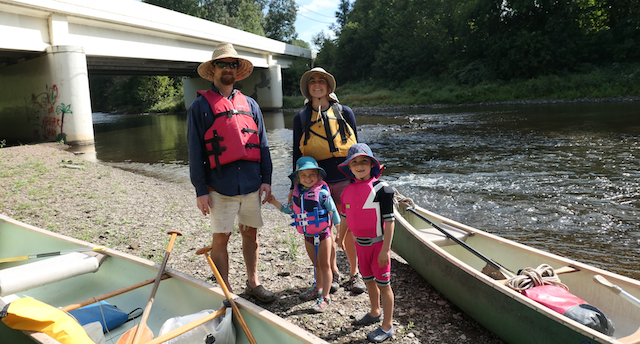 Start of a Sunday canoe trip down the Neshaminy Creek.
This time of year my well-being is directly related to the weather, state of the farm, health of the crops, and current list of jobs needing completion to keep this ship floating merrily along. Right now the weather is just about perfect (80/60, low humidity, clear skies), the farm is looking good and late summer and fall crops are mostly thriving (thanks to our good crew, members, weather, soil creatures), and the list of jobs gets slightly smaller each week as our planet's revolution around the sun slowly moves us back to winter.

We've been making great effort in cleaning up crop spaces as soon as their productive period is complete with mowing and any infrastructure removal followed by a generous compost application and the sowing of a cover crop. There aren't too many more areas that will receive a fall cover crop so pretty soon that will be another task taking a winter hiatus. I believe we're down to the field tomato and the u-pick crop patches (which cumulatively is a pretty big area). Hopefully starting this week will be the installation/excavation of water ways in that same field to better deal with heavy rain events. Earth will be moved and graded then seeded and mulched.

Our focus will soon turn to inside growing as we prepare our 4 tunnels for late Main Season and Late Fall harvests. Those areas will need manual spading, hoeing, and raking to make beds then we'll plant, irrigate, and watch the crops grow through the early winter.
We'll also begin retrieving additional roots, tubers, storage crops, and big haul items including sweet potatoes, watermelon radishes, daikons, celeriac, beets, kohlrabi, turnips, broccoli, cauliflower, cabbage, and napa/Chinese cabbage. Many of these tasks will be accomplished with the help of workshifts.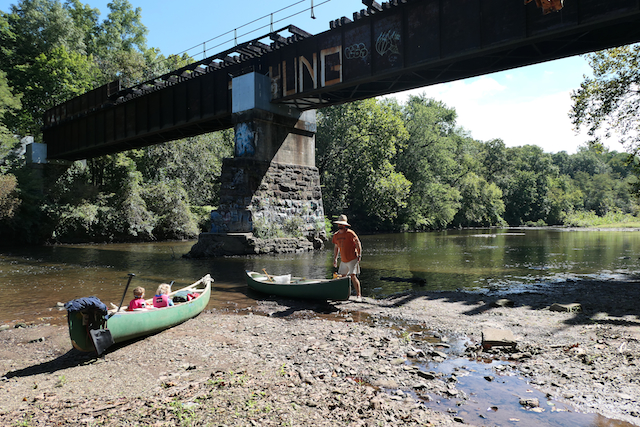 Perfect late summer weather for playing outside.
Also seen playing outside: 6 turtles, 5 king fishers, 3 water snakes, some unknown species of fish, 2 blue herons, and many delightful insects.
Workshifts for Week of 9/16/19
by Farmer Derek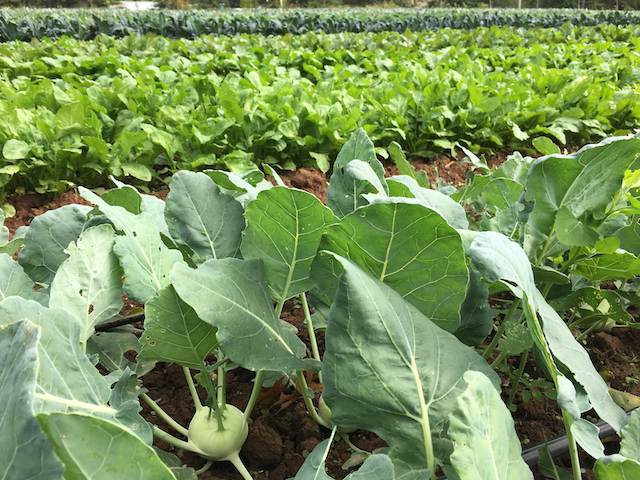 Checking on the fall planting of kohlrabi. A forest of arugula, turnips, radishes, and kale are behind. A return of stellar fall brassicas thanks to drier weather.
Workshifts scheduled for this week:
Wednesday (9/18) 9-11am
Friday (9/20) 9-11am
Sunday (9/22) 8-10am
Workshift sign-up instructions may be found
here
. Calendar is
here
. Member Work Guidelines are
here
.
If it is actively raining during the time of the shift it will be canceled.
We're into the final quarter of the workshift season! Work opportunities will last for another month or so but frequency may decrease as we approach and are in Fall/Autumn.
If you still need to complete your pledged farm labor hours for your share discount please sign up soon. Alternatively, if you'd rather pay the full amount for your farm share that is fine, just send us a check to cover the workshift hours.
Late Fall CSA to be Announced Soon!
by Farmer Dana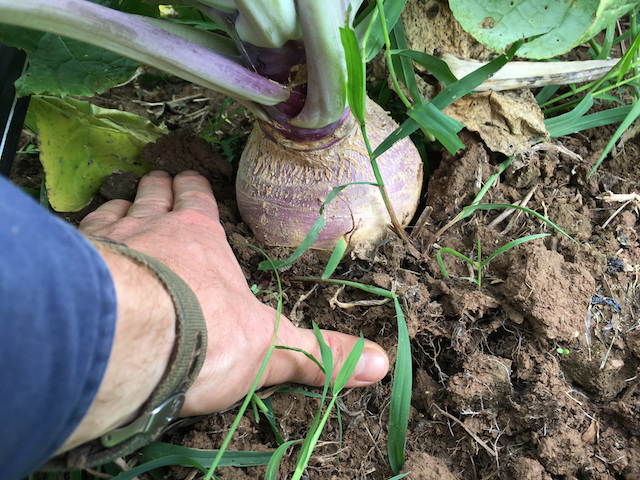 Back by very popular demand, rutabaga is also thriving in this dry weather in a field enjoying a post-fallow boost. An awesome winter storage root vegetable, it just might be the tastiest ingredient in a miscellaneous root roast, turning bright orange. It was transplanted this season instead of directly seeding into the soil and thus with adequate spacing and good fertility it is quickly approaching softball size.
Very soon we'll open registration for the 2019 Late Fall CSA. It will run for 8 weeks after the conclusion of the Main Season CSA (which ends the week of 11/4/19, harvest week #26, Week B). After the New Year there may be the occasional Flash Greens, etc, sales.

How I Enjoyed My Harvest
Farm Deliciousness
By Linda Dansbury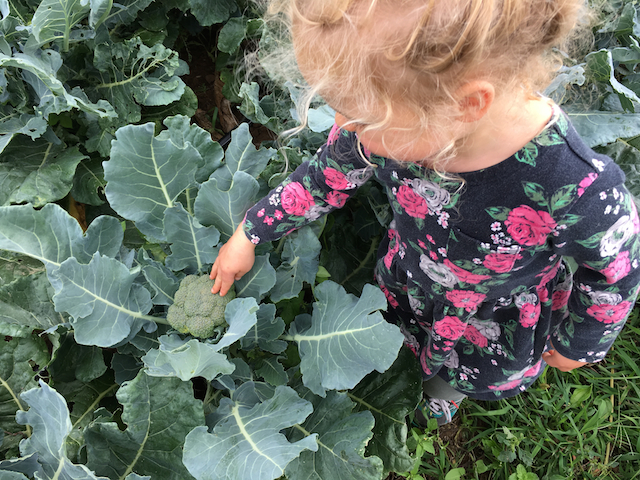 Checking on the early variety of broccoli, which should start arriving in shares perhaps in a week or two.
Fall cooking is so enjoyable (I think I say cooking is enjoyable in every season). The kitchen is cooler and the veggies start to shift to things that lend themselves to warming meals. Here are a couple of things I prepared this past week. If there is anything you would like to share with membership, please email me at lindadansbury@comcast.net and please put Anchor Run in the subject line.
Okra - I continue to take okra as one of my choices each week. I slice it into "coins" and then saute in a little olive oil. I add salt and pepper while it is cooking and cook until it is nicely browned on both sides. It turns out almost nutty in flavor - with no slime! A very, very simple and delicious side dish.
Peppers, onions, eggplant, okra, tomatoes, greens, garlic - Recently I have been making veggie stews almost every week. Saute onions, peppers and eggplant until getting soft. Add garlic, okra and tomatoes and cook for about 10-15 minutes until the veggies are blending together. I normally add the greens only to the portion that will be eaten in the next couple of days. Add If using fresh herbs, add toward the end of cooking. If adding dried herbs, add earlier in the process and of course season to taste with salt and pepper. Adding some type of protein - sausage or chicken, or beans, makes it a complete meal, or as is it is a delicious side dish. I freeze the rest to enjoy in the middle of winter when dreaming of warm days and summer veggies!
Peppers, garlic, parsley - Roasted peppers, peeled the skins off, removed stems and seeds then sliced. Placed in a bowl, adding a bit of minced garlic, chopped parsley, salt and pepper and a nice olive oil. These are delicious when eaten in a sandwich or just place a few slices on your plate along with dinner. I often add 1 hot pepper to the mix for a bit of "zing".
Kale - Made a large kale Caeser salad one night - placed a can of tuna over it and had a couple of slices of hearty local bread along with it.
Leeks, parsley, garlic
- Made
Braised Salmon with Leeks
for dinner one night - this is another recipe I had forgotten about until I searched this site. A light, simple and most importantly a delicious meal!
What to do with Leeks?
By Linda Dansbury
Leeks as fresh as we get them store perfectly nice in the fridge for 2-3 weeks. After that, the outer leaves will start to yellow. The best way to store them is wrapped in a damp paper towel in a perferated plastic bag in the fridge. From all that I have read, smaller leeks store for a longer time than large ones, so keep that in mind as you are consuming them.