CSA Week 21: Sustained Early Autumn Sunshine
News
Expected Harvest
Early Fall Mix
by Farmer Dana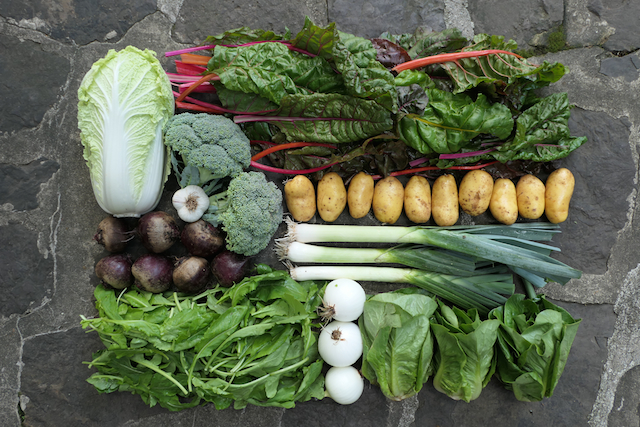 Harvest #21 (Week A) should include broccoli, potatoes, cabbage (savoy, napa, green), leeks, onions, kale, chard, garlic, tomatoes, beets, lettuce, arugula, endive, lettuce mix, and greens mix. U-pick will include herbs from the herb garden (papalo, parsley, thyme, oregano, mint, lemon grass, sage, rosemary, anise hyssop, lemon balm, etc).

Notes From The Field
Growing with the Flow
by Farmer Derek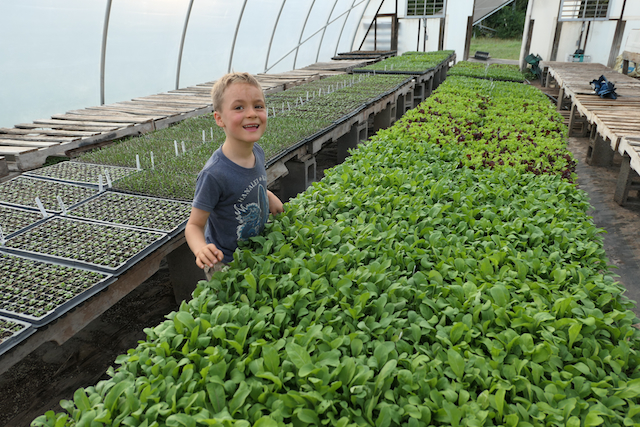 Late Fall transplants growing quickly in the greenhouse.
It's practically October but I'm pretty sure it doesn't seem or feel like it. Another potential 90 degree day is in store for us this coming week. Plenty of sunshine, warm temperatures, and added water are causing many of our late season crops to grow quicker than usual for this time of year. That's not a bad thing, as long as temperatures don't drop drastically and frost/freeze. Slow growth and slow acclimation to colder temperatures is essential for crops to best tolerate the cold of October and November. Eventually we'll switch to only harvesting tunnel grown greens, but that isn't until late November and December. Much of what we are growing outside now is tolerant of temperatures in the 20s, but a hard frost can burn the tips of lettuce leaves. Quicker unexpected growth also throws a kink in the crop plan if what we anticipate harvesting in week 24 is actually ready in week 22, but it typically all works out fine.
We're now also pretty used to the dry weather and don't even expect a rainfall anymore. We're irrigating on a regular basis, giving crops about a 3-hour drink every week or so through our drip/trickle irrigation system. That's probably more or less the equivalent of a half-inch of rain (based on the moisture content of the soil afterwards). I don't scientifically measure that; there could even be a formula to figure it out. I simply just observe the appearance of the crops and soil, notice the weather and temperature, amount of sunshine, the type of soil, type of crop, and the stage of growth. For example, the broccoli and cauliflower are heading up so they might be thirstier than, say, arugula, but because of the field they're in the irrigation might not need to run as long because the moisture sticks around longer due to the soil properties (more clay less sand; size of soil particles). Just add water and observe.

This coming week marks a smooth transition to the start of cold weather indoor growing. The first of four tunnel transplant successions goes in the ground and will be safe and protected in a controlled environment until a Late Fall harvest. Up this week is lettuce mix (1 of 4), arugula (1 of 3), and spinach (1 of 3). Eventually it will probably be colder.

Workshifts for Week of 9/29/19
by Farmer Derek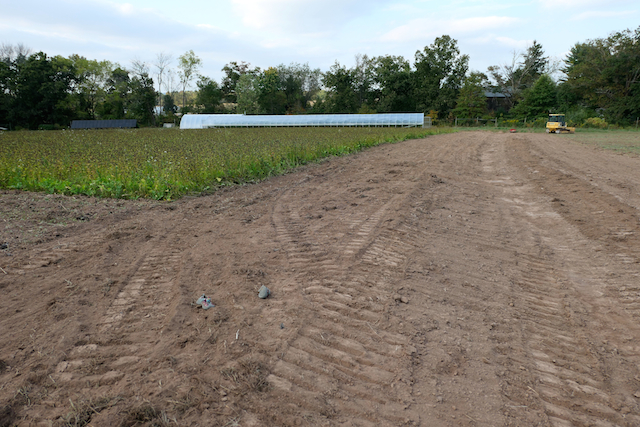 Waterway installation in what was the 2019 u-pick field.
Workshifts scheduled for this week:
Wednesday (10/2) 9-11am
Friday (10/4) 10am-12noon
Sunday (10/6) 9-11am
Workshift sign-up instructions may be found
here
. Calendar is
here
. Member Work Guidelines are
here
.
If it is actively raining during the time of the shift we'll either dismantle the hoop tunnel tomato planting or process garlic in the barn.
Work opportunities should last for another month or so but frequency will decrease as we move away from summer.
If you still need to complete your pledged farm labor hours for your share discount please sign up soon. Alternatively, if you'd rather pay the full amount for your farm share that is fine, just send us a check to cover the workshift hours.
Sign Up For Late Fall CSA!
by Farmer Dana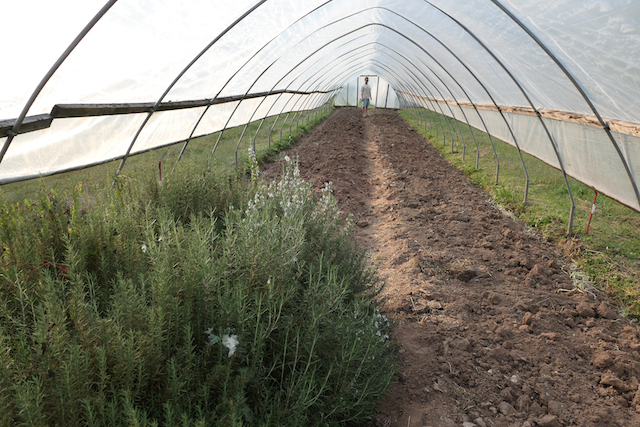 Preparations are underway for cold season growing in the Hoop House. This is the smallest of 4 structures that we're preparing for plants.
Registration is now open for the 2019 Late Fall CSA!
2019 marks the 8th Late Fall CSA season!
Offering a mix of fresh and storage crops like lettuce, spinach, radicchio, arugula, mizuna, bok choy, kale, collards, chard, cabbage, Napa cabbage, herbs, leeks, garlic, onions, beets, watermelon radishes, daikons, turnips, carrots, celeriac, kohlrabi, potatoes, rutabaga, and sweet potatoes. It's basically an extension of the Main Season share. We use season extension techniques and infrastructure such as the unheated high tunnel, hoop house, and hoop tunnel; the minimally heated greenhouse; low hoops; and row covers to provide fresh crops as well as storage crops.
Eight week season begins the week of November 11th (immediately following the conclusion of the Main Season) and ends the week of December 30th.
Full ($240), Medium ($175), and Half Shares ($130) available. Price/week remains the same as prior seasons. Half Shares will be assigned same A/B week as Main Season unless a different week is requested.
Pick up day options include Wednesday 1-8pm and Saturday 11am-1pm (you choose a day but you can switch temporarily by notifying us in advance) however...
(During the week of Thanksgiving, Late Fall Harvest Week #3, Wednesday's pick up will take place on Tuesday, November 26th to accommodate travelers and holiday schedules and...during the week of Christmas, Late Fall Harvest Week #7, Wednesday's pick up will take place on Thursday, December 26th.)
No work requirement/discount.
The total number of shares available is about half that of the Main Season, so sign up soon!
How I Enjoyed My Harvest
Fall Goodness
By Linda Dansbury
The pick up room is really starting to look like fall now that the beautiful cabbage and broccoli have arrived. I have been enjoying the potatoes - the recent cool nights inspired mashed potatoes - they were especially yummy! Steamed broccoli was a nice treat last night. It is almost time to start roasting the combo of veggies we are receiving, but I haven't done so yet. Below is a few things we enjoyed this past week.
Kale, butternut squash
- made the
Northern Spy Kale Salad
as a side dish. It is really good - make a large batch, because it is great the second day too.
Cabbage, Swiss chard - made cole slaw. I like mixing different ingredients into cole slaws. I usually do add Swiss chard if we have it - I remove the thick stems (save them as an ingredient to make veggie broth), stack the leaves and julienne them. It adds a nice dark green color to the slaw. I make a dressing of equal amounts of canola oil, mayonnaise and white wine or cider vinegar. A bit of cayenne, fresh ground pepper, and ground mustard rounds out the dressing. Allow to sit in fridge for about 30 minutes for the flavors to blend before enjoying.
Tomato, lettuce - one night we had a roasted chicken and the next we made the BLT Salad (the dressing is simply about a pint of chopped tomatoes and a 1/4 cup good quality mayonnaise, salt and pepper; I whir it all up in the smoothie cup that came with the immersion blender.) and topped it with left over chicken. It was an easy and delicious weeknight meal!
Okra, kale, tomato, onions, garlic, herbs, sweet and hot peppers - made another veggie stew. So easy and delicious - no recipe needed. Just add to large saute pan in order of cooking times. Once this is made you have a delicious side dish and/or the base for a frittata.
Cabbage and Broccoli Delight
By Linda Dansbury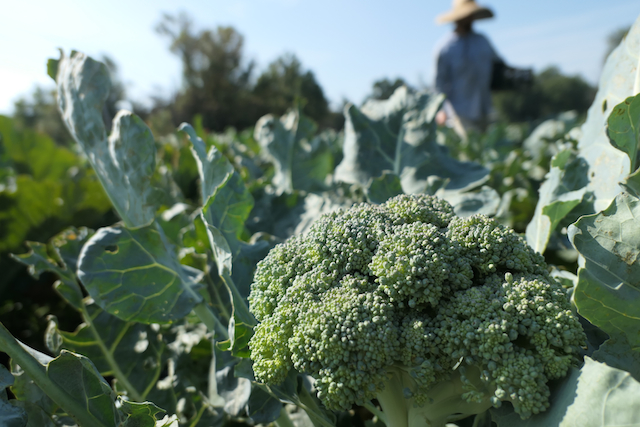 Fortunate to have good weather for a good broccoli harvest this year!
Last week I talked about similarities/differences between the Savoy cabbage we received this past week versus green/red cabbage. This week we might have a choice between Savoy, Napa and green cabbage. Although they are interchangeable, Napa cabbage leaves are a bit more soft and flexible and it is milder in flavor. Both Savoy and Napa are good cabbages to use for stuffing.
An easy way to enjoy the cabbage is to slice it thinly, like you would for cole slaw. In a large saute pan, heat a little oil or butter (or a combination) at medium heat. When warm, add the cabbage and allow to cook, stirring frequently. Cook until soft and starting to brown. Add salt and pepper and herbs as desired and enjoy! The cooking mellows the taste and it is almost nutty in flavor.
Did you know that broccoli is delicious roasted? Simply preheat the oven to 450 degrees. While heating, toss broccoli florets with olive oil, sliced garlic, salt and pepper. Spread in a single layer on a cookie sheet and roast for about 20 minutes, until softened and browned on the edges. Enjoy as is, or sprinkle a bit of parmesan cheese over the broccoli.