CSA Week 22: Fall Feel
News
Expected Harvest
For You
by Farmer Dana
We're doing our best to keep up with the plethora of mature crops that are now available, including head lettuce and infinite lettuce mix. Plentiful sunshine and heat hastened many crops earlier maturity.

Harvest #22 (Week B) should include broccoli early in the week/cauliflower later in the week and beyond, potatoes, cabbage (Napa, savoy), kale, chard, onions, leeks, head lettuce, lettuce mix, arugula, endive, green peppers, green tomatoes, beets, and garlic. U-pick should include herbs from the herb garden.
Notes From The Field
Ready for the Change
by Farmer Derek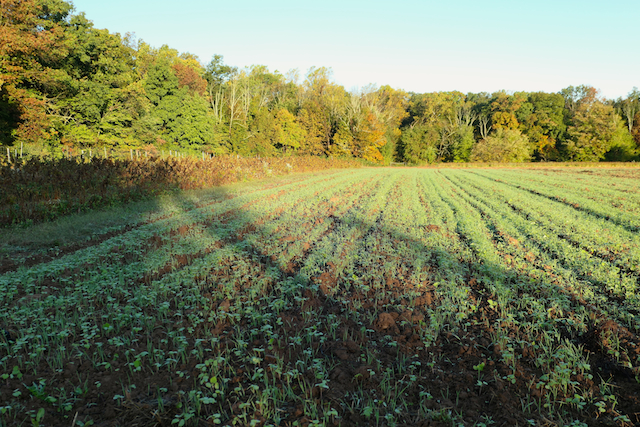 Fall in Field 1. Young cover crop mix of oats and buckwheat in foreground, prior home of husk cherries, tomatillos, and flowers.
Last week was a good and busy one, albeit one with too much midweek heat followed by lows 50 degrees colder. Laboring through summer's heat in October was a challenge, especially given the nature of the tasks that needed to be finished prior to the cool and moist weather. Record breaking everywhere in this region of the world, our previous latest in the calendar year 90 degree day was September 25th, back in '12 maybe. The heat, then the wind, definitely stressed out our young transplants that went in the ground on Tuesday, which needed to be hand watered 5-6 times over two days to get them settled into their new home. Soon I'll set up drip tape once they get some roots established then their management will be much easier. About 375' of beds were planted, 8-10 rows/bed. Another thousand bed feet will be planted in the next few weeks and will provide fresh greens throughout the Late Fall CSA.
Two out of three waterways have been finalized and seeded in Field 1, the last major component of a project that was first initiated in July 2016. In 2018 waterways were established in Fields 2 and 3 and had a huge impact this season when we were once again hit with flash flood rain events. The goal is to keep excess water from entering fields as well as collect and direct the water that falls on those fields to desired areas to prevent erosion and the loss of that precious resource, topsoil.
Ongoing around the farm is the continued collection of roots, storage crops, and the last of the summer fruits including beets, turnips, radishes, daikons, sweet peppers, and tomatoes. Tomato plants had to be removed from our Hoop Tunnel to make way for Late Fall greens. Green tomatoes and green peppers will be distributed for a couple of weeks. Eventually cold weather will nip some fresh crops and we'll dip into roots and storage crops a bit more.

Last Potluck of 2019 Season!
by Farmer Dana
The final potluck of the 2019 season is scheduled for this Saturday, October 12th, 4:30-8pm. Join us under the pavilion for a shared meal. Bring a dish to share, your own place settings, and beverages. We'll have a fire, s'mores, and music after the meal. We hope to see you there to enjoy some cool fall weather together!

Workshifts for Week of 10/6/19
by Farmer Derek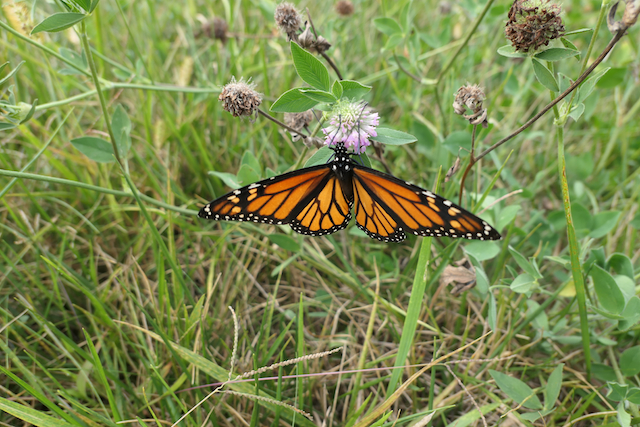 We see monarch butterflies regularly on the farm but still get pretty excited by them, perhaps due to their vulnerability and simple/exquisite beauty. Here one enjoys a late season red clover snack.
Workshifts scheduled for this week:
Wednesday (10/9) 10am-12noon
Friday (10/11) 10am-12noon
Sunday (10/13) 9-11am
Workshift sign-up instructions may be found
here
. Calendar is
here
. Member Work Guidelines are
here
.
If it is actively raining during the time of the shift we'll probably process garlic in the barn, out of the rain.
Work opportunities should last for about one more month. Upcoming tasks will include: harvest roots and storage crops (carrots, beets, turnips, etc); retrieve and trim hanging garlic; split garlic into cloves for seed; plant and mulch garlic; and maybe some miscellaneous weeding and clean up.
If you still need to complete your pledged farm labor hours for your share discount please sign up soon. Alternatively, if you'd rather pay the full amount for your farm share that is fine, just send us a check to cover the workshift hours.
Shares Available for 2019 Late Fall CSA
by Farmer Dana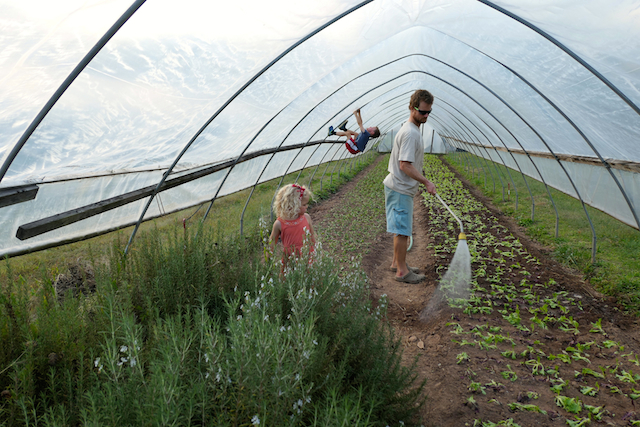 Watering in (and playing around) the first round of Late Fall greens. Overwintered, overlooked, 4-year-old rosemary also in view.
Registration is now open for the 2019 Late Fall CSA!
2019 marks the 8th Late Fall CSA season!
Offering a mix of fresh and storage crops like lettuce, spinach, radicchio, arugula, mizuna, bok choy, kale, collards, chard, cabbage, Napa cabbage, herbs, leeks, garlic, onions, beets, watermelon radishes, daikons, turnips, carrots, celeriac, kohlrabi, potatoes, rutabaga, and sweet potatoes. It's basically an extension of the Main Season share. We use season extension techniques and infrastructure such as the unheated high tunnel, hoop house, and hoop tunnel; the minimally heated greenhouse; low hoops; and row covers to provide fresh crops as well as storage crops.
Eight week season begins the week of November 11th (immediately following the conclusion of the Main Season) and ends the week of December 30th.
Full ($240), Medium ($175), and Half Shares ($130) available. Price/week remains the same as prior seasons. Half Shares will be assigned same A/B week as Main Season unless a different week is requested.
Pick up day options include Wednesday 1-8pm and Saturday 11am-1pm (you choose a day but you can switch temporarily by notifying us in advance) however...
(During the week of Thanksgiving, Late Fall Harvest Week #3, Wednesday's pick up will take place on Tuesday, November 26th to accommodate travelers and holiday schedules and...during the week of Christmas, Late Fall Harvest Week #7, Wednesday's pick up will take place on Thursday, December 26th.)
No work requirement/discount.
The total number of shares available is about half that of the Main Season, so sign up soon!