CSA Week 23: Four More Weeks!
News
Expected Harvest
Introducing a Sweet New Few
by Farmer Dana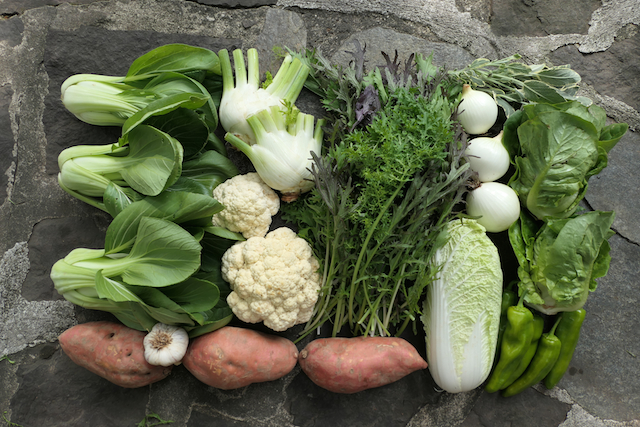 Harvest #23 (Week A) should include sweet potatoes, cauliflower, hakurei turnips, bok choy, greens mix, endive, lettuce mix, garlic, onions, head lettuce, collards, cabbage (savoy, Napa), green peppers, green tomatoes (some have turned red already), hot peppers, beets, and fennel. We're taking a small break from kale, chard, and arugula while bok choy is looking stellar. U-pick will include herbs.
Notes From The Field
Winding Down, Up
by Farmer Derek
Farmer Dana holding a hefty bin of cauliflower.
Slowly our outdoor farming footprint contracts. Crops are being harvested; fields are being cleaned up, mowed, composted, cover cropped, put to bed for the winter. Because our crop rotation plan not only organizes crops spatially by family but also temporally we can temporarily remove entire finished fields from our to-do list as well as our consciousness (except for when we walk by an old cover crop mix of buckwheat and daikon and admire its beauty while snacking on buckwheat seeds). Our outdoor production is now basically confined to two fields adjacent to the driveway near the road, approximately 10% of our max summer footprint. After the frenetic pace of summer, peak sun, and total farm consciousness, this is a very welcome respite. We're also lucky that dry conditions allowed for a much easier time excavating and installing three more waterways (plus seeding, mulching, etc.) which were finished just in time for last week's almost-half-inch of light and perfect rain.
Much of our focus shifts indoors this time of year, to tunnel production as well as proper storage conditions for many long-term storage crops. We have three separate, insulated and temperature controlled rooms with differing humidity levels to satisfy varying storage needs for different crops. Last week we transplanted the second round of spinach in the high tunnel and the first round of arugula, kale, greens mix, and lettuce mix in the hoop tunnel. This coming week we'll plant the final rounds of those crops in those buildings. Next week we'll fill the greenhouse with the final planting of the year, lettuce mix. We may even endure our first legit frost later this week following what could be the first big rain event in quite a while.
Thank you for your support; hope to see you around the farm.

Workshifts for Week of 10/13/19
by Farmer Derek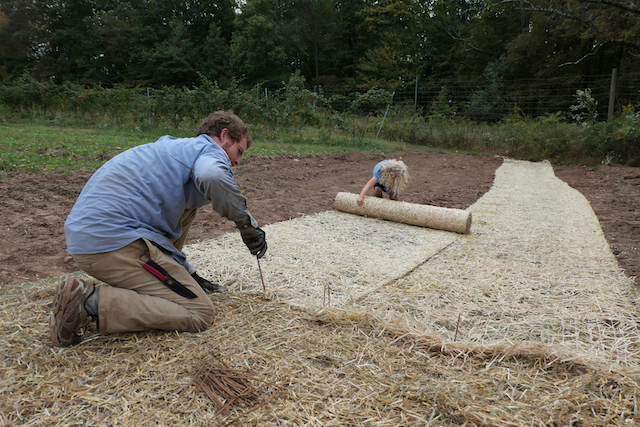 With a little help from the little one we wrapped up the NRCS/USDA funded multi-year waterway improvement project.
Workshifts scheduled for this week:
Tuesday (10/15) 10am-12noon
Friday (10/18) 10am-12noon
Sunday (10/20) 9-11am
Workshift sign-up instructions may be found
here
. Calendar is
here
. Member Work Guidelines are
here
.
If it is actively raining during the time of the shift we'll probably process garlic in the barn, out of the rain.
Work opportunities should last for 3-4 more weeks. Upcoming tasks will include: harvest roots and storage crops (carrots, turnips, etc); retrieve and trim hanging garlic; split garlic into cloves for seed; plant and mulch garlic; and maybe some miscellaneous weeding and clean up.
If you still need to complete your pledged farm labor hours for your share discount please sign up soon. Alternatively, if you'd rather pay the full amount for your farm share that is fine, just send us a check to cover the workshift hours.
Maple Syrup, Honey, Salmon, Pastured Meat, Coffee
by Farmer Dana
How I Enjoyed My Harvest
Eating into Fall
By Linda Dansbury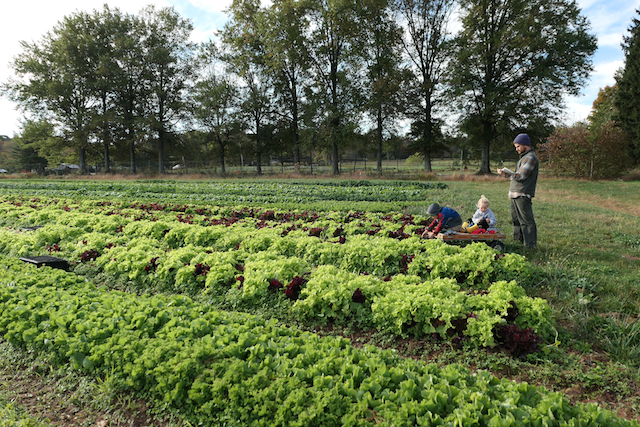 Fall growing practices for the fast and furiously growing lettuce mix will be modified for next season. It's simply impossible to keep up with and sections of a couple plantings will act as a cover crop as they attempt to flower. More numerous and later smaller plantings will be the replacement.
The cooler, crisper mornings and evenings have me searching for recipes. I have been traveling a lot lately though, so sadly I haven't been able to create new dishes as much as I would like. Here are a few things that we enjoyed recently:
Broccoli, Swiss chard, sweet and hot pepper, garlic, Hershberger steak - made a simple stir fry. Even though the broccoli is finished, it can be substituted with cauliflower, carrots, all greens, etc. Note also that the chard and peppers were not part of the recipe, but I like to add whatever I have on hand. Thinly slice the steak across the grain and marinade in a combo of garlic, ginger, soy sauce, dry sherry, cornstarch and pepper for about an hour. Blanch the broccoli (or cauliflower) for 2 minutes. Put peanut oil in a large skillet or wok and heat until almost smoking. Add meat in 1 layer and allow to sit for 30 seconds and then stir fry for about 2 minutes. Add peppers and stir fry for a minute. Add broccoli and greens and stir together. Add a couple teaspoons of Hoisin sauce and a bit of water or broth if needed. When heated through remove from heat, serve over brown rice and drizzle a bit of sesame oil over each bowl.
Cauliflower, peppers, onions - it is roasting time! Cut everything into bite sized pieces, mixed with a bit of olive oil and a couple teaspoons of zahtar spice and then roasted veggies at 425 for about 30 min, stirring in the middle of the time - this was so easy and yummy! Can't wait to make it again!
Cabbage, onions - pan fried thinly sliced cabbage and onions in a combination of butter and olive oil stirring frequently until tender and slightly browned. Added salt and pepper and chopped parsley near the end. Served it with a grilled pork roast and mashed potatoes - what a comforting fall meal!!
Peppers
- made the
Pepper Puree
from this site with the bright red and orange peppers - will freeze and use in the future as a topping for fish, eggs and/or veggies.
Glorious Greens!
By Linda Dansbury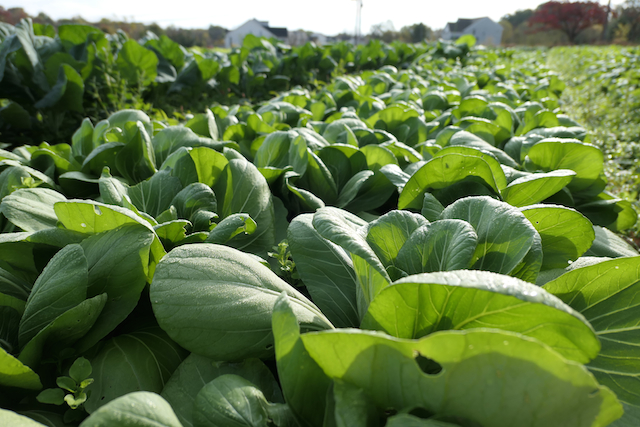 Some of the best looking (and biggest) bok choy we've grown in a while will hopefully be in shares for at least a couple of weeks.
We talk a lot about greens because they are so plentiful in the spring and again in the fall. Some may still wonder what to do with the volume and variety we are receiving now. Here is a rough guideline of what we are receiving now:
Greens for salads - head lettuce, lettuce mix, arugula
Greens for salads and cooking - endive/escarole, greens mix, kale, bok choy, radicchio
Greens for cooking - collards, Swiss chard
As I have said in previous newsletters, find creative ways to use your greens - add to omelettes/frittatas; add to stir fries, soups and stews; smoothies. Don't worry if they aren't included in a recipe you are following - just add greens toward the end of cooking (except for collards in which most people prefer these cooked longer).
Search this sight for greens and you will see many recipes featuring greens. A delicious recipe that came from one of our farm interns is called
Melum
- it does require some knife work, but cooks up very quickly!
Sign Up For 2019 Late Fall CSA!
by Farmer Dana
Registration is now open for the 2019 Late Fall CSA!
Offering a mix of fresh and storage crops like lettuce, spinach, radicchio, arugula, mizuna, bok choy, kale, collards, chard, cabbage, Napa cabbage, herbs, leeks, garlic, onions, beets, watermelon radishes, daikons, turnips, carrots, celeriac, kohlrabi, potatoes, rutabaga, and sweet potatoes. It's basically an extension of the Main Season share. We use season extension techniques and infrastructure such as the unheated high tunnel, hoop house, and hoop tunnel; the minimally heated greenhouse; low hoops; and row covers to provide fresh crops as well as storage crops.