Frosty farming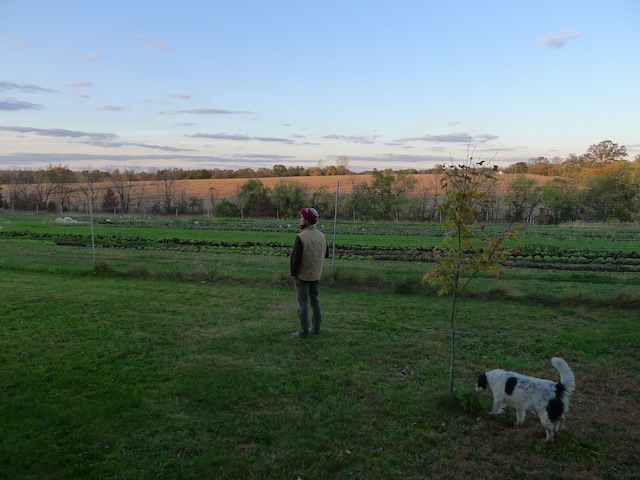 Fall colors and a nice sky.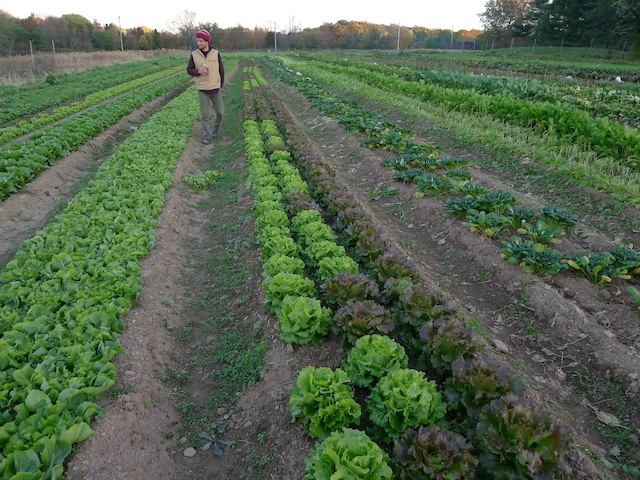 Inspecting lettuce and escarole for any frost burn.
News
Notes From The Field
Frosty mornings
By Derek McGeehan
This past week we endured four frosty mornings, with the severity of the frost different each day. At 7:00 AM on Monday morning we were surprised to see an un-forecasted frost covering a significant portion of the plants we needed to harvest from field 4a (u-pick field) for that days distribution. Fortunately, sunshine hits that field early, but not until about 7:45, so we had to postpone harvesting arugula, broccoli raab, lettuce, and the other greens until the leaves had thawed, about 9:00. The most significant frost occurred Saturday morning when temperatures dipped in the 20s. The entire field was blanketed by frozen water vapor and plants were completely stiff. This frost killed all of the warm season crops like peppers and volunteer edamame but also pesky weeds like amaranth and galinsoga. I think our cold hardy plants - basically everything else that is still growing outside - were dangerously close to being slightly cosmetically damaged but seem to have survived mostly unscathed. If you look closely, there are some subtle brown frost-burn marks. On the plus side, the exposure to frost and freezing temperatures makes plants taste sweeter!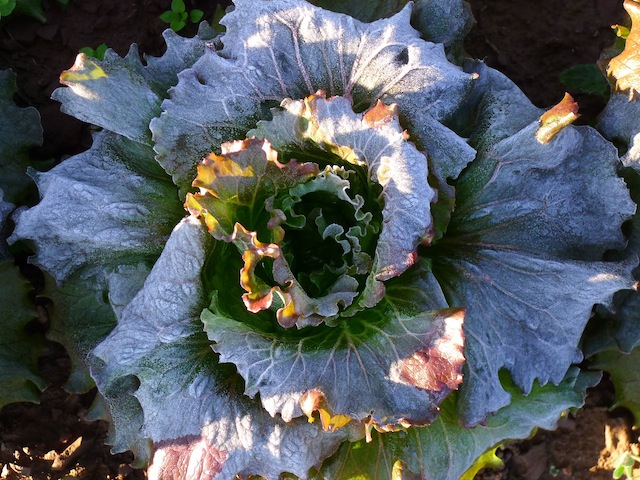 Friday morning frost covering Magenta lettuce.
The cold and frosty nights also signaled the end of the nighttime chorus of insects that have been serenading the farm for the past four or five months. It seemed to happen all of a sudden, this abrupt change in the season. Up until this past week, the fall season has almost felt like an extension of summer. Just look at the continued pepper harvest! We've never had such bountiful peppers this late in the season. While I welcome these colder temperatures and quiet nights, I'm not thrilled to endure daily morning frosts and the subsequent change in work schedule to accommodate the thawing out of plants. Fortunately, temperatures will fluctuate and rise again and we may have a significant gap in frosts. Or maybe not.
We're now spending most of our time harvesting for the twice weekly share distribution as well as putting up storage crops. Other farm tasks like weeding, cultivating, transplanting, and seeding have basically disappeared. Soon we'll begin looking at our notes from this year to start planning for next year. Now, and through the end of the Late Fall CSA season, we'll be monitoring very closely the forecasted temperature lows so that we can cover and protect plants to ensure that we'll be eating fresh produce until it is impossible. Our cold hardy plants can tolerate temperatures into the mid-20s, but lower, and they'll suffer. Let's hope it doesn't get that cold anytime soon!
Expected Harvest
Post-frost sweetness
By Derek McGeehan
Harvest #24 (Week B) should include potatoes, lettuce, carrots, napa (Chinese) cabbage, leeks, garlic, fennel, tatsoi, peppers, broccoli raab, arugula, radicchio, endive, and escarole. Some items will be a choice. U-pick should include parsley, cilantro, flowers, and perennial herbs.
Fermentation information
By Linda Dansbury
Some of our members that were unable to make Anchor Run Farm's Fermentation Workshop have emailed me asking for information that was presented. There were no handouts provided, but there were books discussed as good sources for information. They are: Wild Fermentation and The Art of Fermentation, both by Sandor Katz, and Nourishing Traditions by Sally Fallon. All of the veggie ferments are based on a general guideline in terms of a salt to veggie ratio that is talked about in Sandy Katz's books. If you want to do some research prior to purchasing a book, you can search the internet using the following terms: kombucha, milk kefir, kvass, jar fermenting raw veggies. These search terms will provide a wealth of information.
In addition, the Bucks County Foodshed Alliance is sponsoring/hosting a fermentation workshop on November 6th. Details are:
Join the Bucks County Foodshed Alliance for
"Ferment Fest: Make Your Own Probiotics"
on Wednesday, November 6, from 7:00 till 8:45 pm at the Wrightstown Village Library, to learn the basics of fermenting summer's harvest into healthy, delicious and nutritious (think "probiotic") foods.
Fermenting unlocks, expands and preserves the nutrition potential of fresh farmers' market and garden produce. The free program, led by the BCFA's Susan Pierson, will cover the ages-old techniques for making your own sauerkraut, kimchee and more. Along with samples to taste, Pierson will provide hand-outs with recipes, book recommendations and websites. Registering for the event is recommended so Susan knows how many people she will need to accommodate.
The library is at 726 Penns Park Rd., Wrightstown, PA 18940. For more information:
www.BucksCountyFoodshedAlliance.org
"Bitter greens" are delicious raw and cooked
By Linda Dansbury
I have heard many people say they don't care for radicchio, endive or escarole because they are too bitter. It is true they have a bite that other greens used for salads lack. I think fall and winter's heartier foods match so well with the greens we are receiving an abundance of right now. As much as I love butterhead lettuce, I welcome the others - all in the chicory family - for their stronger flavors. Both my Italian and German grandmothers made salads using these greens, in particular paired with the heavy meals of the holidays. I am providing 3 recipes today: 2 salads and one braised, for you doubters out there to try - I hope these make a convert of you!
How did I enjoy my harvest this week?
By Linda Dansbury
As I said last week, I really enjoy cooking this time of the year - okay, I enjoy cooking year round, but with it so much cooler now, it is so pleasant being in a warm kitchen. Here is some of what I cooked this past week:
Peppers, leeks, tomatoes (my own), garlic, greens - I made a final batch of chicken scallopini. I really like this meal. You can get it all together in the pot in about 20 minutes, and then just let it simmer away while you do other things. I typically do it on Sunday and then have it for a couple of meals during the week. I serve it over brown rice or polenta.
Winter squash, potato, beets, garlic, leeks - I roasted them in a 380 degree oven for about 40 minutes. The beets did bleed a bit onto other things, but it didn't matter. Everything tasted delicious. Roasting your veggies is such an easy and delicious way to enjoy them.
Bok choy (yes, it holds up wonderfully), cabbage, tatsoi, sweet and hot peppers, garlic - I did 2 veggie stir fries this week. I add onion and peppers first and let them get started, then add the garlic and the bok choy stems. Last, I put in the tatsoi and bok choy leaves. The seasoning I use is sesame oil, tamari, quite a bit of julienned fresh ginger in the beginning and fresh ground black pepper. I don't add salt, since the tamari is quite salty. I add a little bit of the seasonings at each addition of veggies. I find this easier than making a sauce and then adding it at the end. I serve this with steamed Pacific Black Cod (from Wild for Salmon). I steamed the cod in a steamer basket and put sliced scallions and julienned ginger and a little salt and pepper on the fish. It only needed about 6 minutes of steaming. I served it with brown jasmine rice and then chopped fresh cilantro over it all.
Salads, salads and more salads! - I use arugula, lettuce and endive - yum! See my other article for ideas on salads and other uses for fall's "bitter" greens.
Recipes
Escarole, radicchio and arugula salad
From Balsamfarms.com; serves 4
1 head radicchio, leaves cut into 3 or 4 pieces
1 head endive, leaves cut into thirds
1 bulb fennel, stalk and core removed, leaves cut into lengthwise strips
¼ cup whole Italian parsley leaves
2 tablespoons balsamic vinegar
¼ cup olive oil
1 teaspoon Dijon mustard
coarse kosher salt and freshly ground black pepper
8 ounces Parmesan cheese, sliced paper thin - I use a potato peeler to do this
Preparation
Gently toss the salad greens and parsley together in a serving bowl. In a small bowl, whisk together the vinegar, oil, and mustard. Season with salt and pepper. Toss the salad with the dressing, top with Parmesan slices, and serve immediately.
V Braised radicchio, escarole and fennel
From Emerils.com; serves 4; ready in about 30 minutes
olive oil
1 tsp red pepper flakes
1 Tbsp chopped garlic
1 small head fennel (about 1/2 pound), fronds removed and discarded, thinly sliced
1 pound escarole, cleaned and chopped
1/2 pound radicchio, cleaned, cored and chopped
1 cup vegetable stock
salt and freshly ground black pepper
1 cup tomato concasse (peeled, seeds removed, diced and juice drained)
1 lemon, juiced
In a large pot or Dutch oven, heat enough olive oil to lightly coat the bottom of the pan over medium-high heat. When the oil is hot, add the red pepper flakes and garlic and cook for 1 minute. Add the fennel and saute until the fennel begins to soften, about 4 minutes. Add the greens and saute until they just begin to wilt. Add the vegetable stock and salt and pepper and cook until the greens are tender, about 10 minutes. Add the tomatoes for the last 5 minutes. Season, to taste, with lemon juice, salt and pepper.

Yield: 4 servings
V Radicchio, fennel and apple salad
From Food52.com; serves 4; ready in about 30 minutes
1 medium head radicchio, cored and thinly sliced
1 large fennel bulb, thinly sliced with a mandolin
1 large, crisp sweet red apple, thinly sliced
2 Tbsp apple cider vinegar
1 tsp Dijon mustard
1 shallot, finely minced
1 pinch salt
Freshly ground black pepper, to taste
1/4 cup extra virgin olive oil
1/3 cup chopped pecans, toasted
Combine the radicchio, fennel and apple in a large bowl. In another bowl, whisk together the vinegar, mustard, shallot, salt and pepper. Gradually whisk in the olive oil, then pour half of dressing over vegetables and stir to combine. Taste, and gradually add more dressing until it's to your liking. Garnish with parsley leaves if desired and pecans.