CSA Week 24: Autumn Palette, Palate
News
Expected Harvest
A Fine Mixture
by Farmer Dana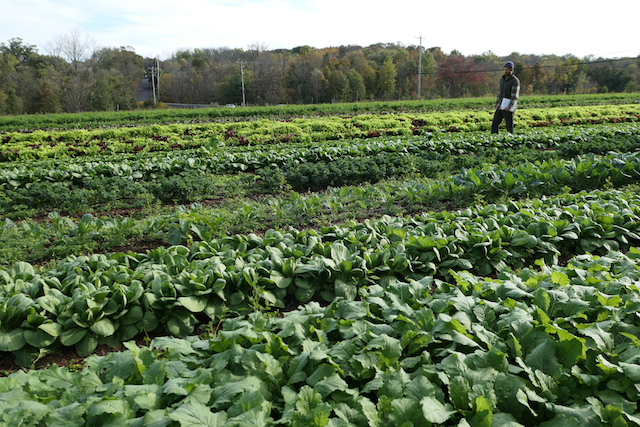 It's been a good fall season for an abundance of greens.
Harvest #24 (Week B) should/could include sweet potatoes, cabbage (green/savoy/napa), head lettuce, garlic, onions, bok choy, lettuce mix, arugula, endive, fennel, cauliflower, hakurei turnips, celeriac, collards, escarole, kohlrabi, radicchio, and green tomatoes. U-pick should include herbs.
Notes From The Field
Almost Assessment & Reflection Time
by Farmer Derek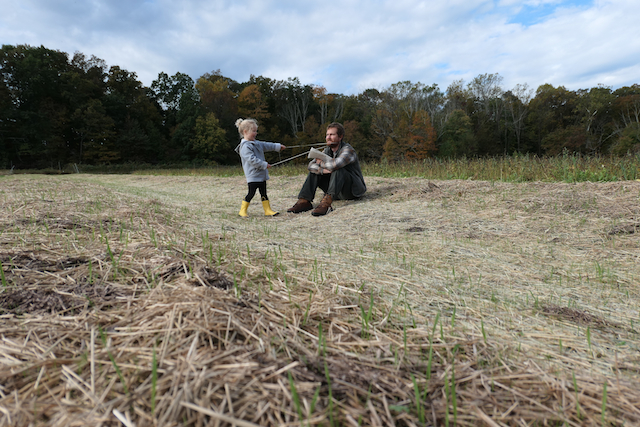 Fast germinating wheat poking through the mat of straw in new Field 1 waterway.
Time moves quickly during the Main Season, perhaps due to the fact that there's hardly a minute to pause, reflect, and consider the passage of time. I do make an effort to take a second and make a note whenever something occurs with crop production that is worth having record of in the future. While my memory is probably okay, if I don't write it down (more accurately type it digitally) there's a chance we could make the same mistakes all over again. Farming, like many tasks and jobs and life, is a series of trials, experiments, experiences that one learns from and builds upon. Because some crops might only be grown once per year and because we have to wait a full year until we go about it all over again, it is helpful to have a good record of production. A lot of our 'off season' is spent reflecting, scrutinizing production and yield, finding ways to improve, deciding what may be superfluous, trying to identify what keeps members' tummies happy. Thus, we're about to depart the time of the season of serious hustle and bustle as we embark on the season of reflection and planning. That said, please let us know if you have any specific helpful tidbits of information to improve your/our CSA!
Last week we endured/enjoyed the first real rain event in a few months. It was definitely good to receive an ample soaker before temperatures and day length drop. It's worth noting that even though it rained outside and the ground is now saturated, we need to manually add water to our indoor tunnel environments where we exert control of most variables. The penultimate round of 2019 transplants was deposited in the soil last week and with each round the tunnel crops need at least two doses of watering with the wand followed by drip irrigation. When the plants are first transplanted their roots are confined to the surface of the soil; the goal here is to saturate the top of the soil profile to ward of transplant stress and encourage establishment of roots. After a few days they perk up and their roots begin to grow. We then water with drip tape about once per week, giving them a good drink, hoping their roots are now well established. Turning drip tape on is much quicker and easier than manually watering with a hose and wand which would take hours. Come December we probably won't have to water at all since evaporation will be minimal, roots should be well established, and soil moisture should be omnipresent.
The last few weeks of the Main Season are now upon us and we're feeling very thankful for what has been a pretty good year of farming. We're grateful for the support of our members and truly appreciate your support and trust. Since the light at the end of the Main Season tunnel can now be glimpsed with proper glasses we're confident the final few weeks will hold a bounty of good produce. Enjoy!
Workshifts for Week of 10/20/19
by Farmer Derek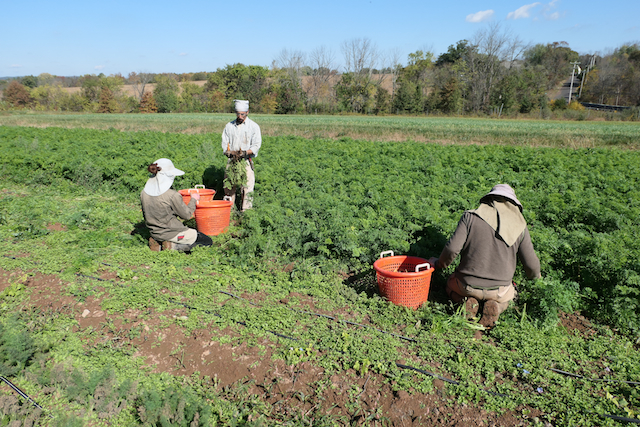 The farm crew along with members at a couple of workshifts harvested the entirety of the fall carrots on a beautiful fall day.
Workshifts scheduled for this week:
Wednesday (10/23) 6-8pm (garlic splitting into cloves for 2020 seed in the barn; a BYOB event!)
Friday (10/25) 10am-12noon
Workshift sign-up instructions may be found
here
. Calendar is
here
. Member Work Guidelines are
here
.
If it is actively raining (or too cold and windy) during the time of the shift we'll probably process garlic in the barn, out of the weather.
Work opportunities should last for 2-3 more weeks. Upcoming tasks will include: harvest roots and storage crops; retrieve and trim hanging garlic; split garlic into cloves for seed; plant and mulch garlic; and maybe some miscellaneous weeding and clean up.
If you still need to complete your pledged farm labor hours for your share discount please sign up soon. Alternatively, if you'd rather pay the full amount for your farm share that is fine, just send us a check to cover the workshift hours.
Extend Your Share of the Harvest!
by Farmer Dana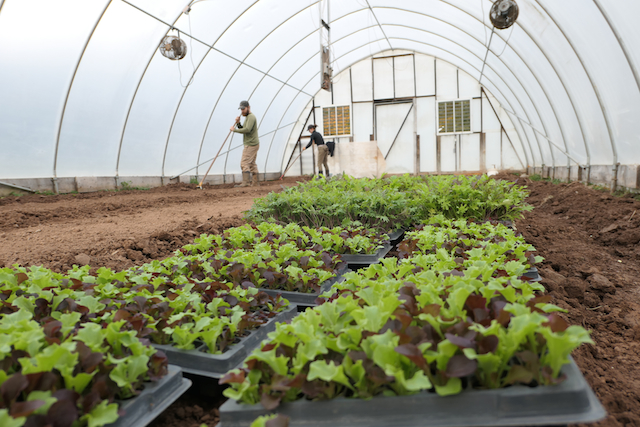 Farm crew members Jacob and Haley prepare beds in the greenhouse for the final round of transplants.
Registration is now open for the 2019 Late Fall CSA!
Offering a mix of fresh and storage crops like lettuce, spinach, radicchio, arugula, mizuna, bok choy, kale, collards, chard, cabbage, Napa cabbage, herbs, leeks, garlic, onions, beets, watermelon radishes, daikons, turnips, carrots, celeriac, kohlrabi, potatoes, rutabaga, and sweet potatoes. It's basically an extension of the Main Season share. We use season extension techniques and infrastructure such as the unheated high tunnel, hoop house, and hoop tunnel; the minimally heated greenhouse; low hoops; and row covers to provide fresh crops as well as storage crops.
For more information,
click here
and scroll down to Late Fall CSA.
How I Enjoyed My Harvest
How Sweet It Is!
By Linda Dansbury
There is an almost complete transition to fall crops now, and with that, a big transition in what we are eating. Here are a few things I did this past week:
Sweet potatoes - My pick up day is Thursday. This past Thursday was the first of the sweet potatoes for me. I
went right home and put one in the oven to bake. When it was nice and soft I enjoyed it with a bit of salt and pepper - so, so sweet and delicious! Can't wait to have another one this simply cooked!
Cauliflower, leeks/onion, thyme - the large amount of cauliflower and cool temps had me making soup. Simply saute the onion and leek in olive oil until soft. While this is working, cut the cauliflower up into small pieces - stems, little green leaves, core and all. When the onions were translucent, added all of the cauliflower and covered it with veggie stock (you can use chicken stock or water), added salt and pepper, a couple thyme sprigs and a bay leaf and let it gently simmer until the cauliflower is soft. Removed bay leave and thyme stems and used the immersion blender and whirred it up until smooth. No need for cream or milk - this simple soup is delicious as is!
Cauliflower, leek, butternut squash (I still had 2), potatoes, sweet peppers, beets, rosemary sprig - it is veggie roasting time! Just rough chop everything and put in bowl. Mix with a bit of olive oil - not too much or the veggies won't brown - salt and pepper. Spread the veggies in a single layer on a large cookie sheet and add some roughly chopped rosemary. Roast in a 425 degree oven for 30 or so minutes, turning midway through. Cook until desired tenderness. Yum!
Lettuce, endive, fennel, parsley - made a large salad. Broke up the lettuce and endive and placed in a bowl. Shaved fennel with a mandoline into the bowl and chopped some parsley into the bowl as well. Made a dressing of olive oil, red wine vinegar, a bit of honey, salt and pepper. Mixed well and enjoyed!
Fall Enjoyment
By Linda Dansbury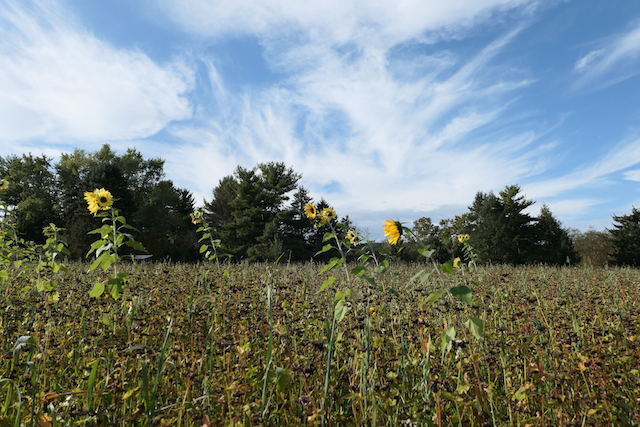 Volunteer sunflowers from the 2018 u-pick flower patch grow within a buckwheat/daikon cover crop.
Last week there were a few new additions in the pick up room. Here is some tips on storing and enjoying them.
Sweet potatoes - we receive them unwashed so they will keep longer. Their skins are very delicate and washing will nick the skins, causing them to have openings that will cause the potato to rot. Gently wash them right before using. Sweets are best stored in a cool, well ventilated place - I store mine in wooden boxes. Right now they are in the garage, but when the air turns colder I will bring them to the basement. Cold storage is not good for sweet potatoes - it changes the chemistry and the sugar content will drop causing bitter tasting potatoes and can also make the texture woody. Sweet potatoes can be peeled, boiled and mashed, alone or with other veggies such as potatoes, turnips, celeriac and rutabaga. They are delicious cut up and added to a veggie roast. Baked and eaten plain, especially now that they are at their optimum sweetness. We also have a lot of recipes for sweet potatoes on this site, if you are looking for something a little different.
Fennel - fall crops of this licorice tasting veggie are so much fun, because it goes so well with apples and bitter greens such as escarole, endive, and radicchio and it is so delicious when braised as part of a stew or pot roast. Use a mandoline to slice it thin for raw preparations such as salads. The use of lemon juice and zest in a salad dressing that incorporates fennel is delicious. I also love it sliced thin with a dressing of olive oil, lemon juice, salt and pepper and then Parmesan curls shaved over the top. Fennel and lentils are also meant to be together - cook up lentils with onion, fennel, salt and pepper and simmer until lentils and veggies are tender. Serve with a beautiful piece of salmon or roasted chicken. Fennel will keep for at least a few weeks when stored in plastic in the fridge.
Bok Choy - many people don't really know what to do with bok choy, but it is actually one of the easiest, fastest veggies to cook. It is also delicious raw and can be incorporated into a green salad, with the stalks providing a nice crunchy texture. I like to cook it by either stir frying or sauteing. Chop up some garlic and saute and then add the bok choy, which has been halved or quartered - this past week's crop is large, so quarter it and use a large saute pan. Since these are large, I add a bit of stock, but not much - just enough so the garlic doesn't burn. Add minced ginger and move the bok choy around along with garlic and ginger, when getting close to desired doneness, add soy sauce. Remove from pan and serve with a drizzle of sesame oil, if desired. Bok choy will store in the fridge in plastic for about a week.