CSA Week 25: A Warm October Conclusion
News
Expected Harvest
Penultimate Main Season Share
by Farmer Dana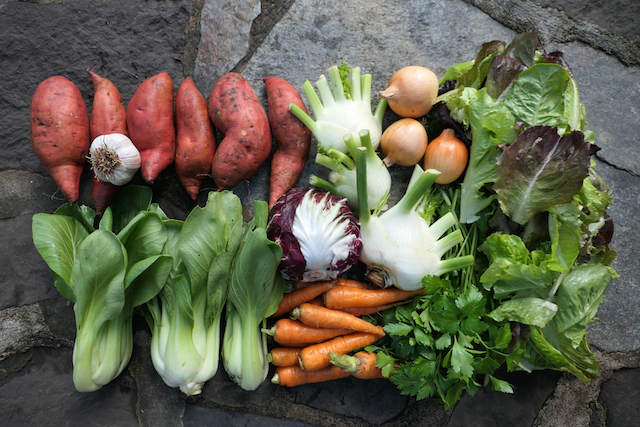 Harvest #25 (Week A) should include sweet potatoes, garlic, onions, carrots, cabbage, napa cabbage, radicchio, head lettuce, bok choy, lettuce mix, arugula, parsley, escarole, beets, celeriac, kohlrabi, collards, hakurei turnips, and fennel.

Notes From The Field
And In The End, Eat Well, Be Thankful
by Farmer Derek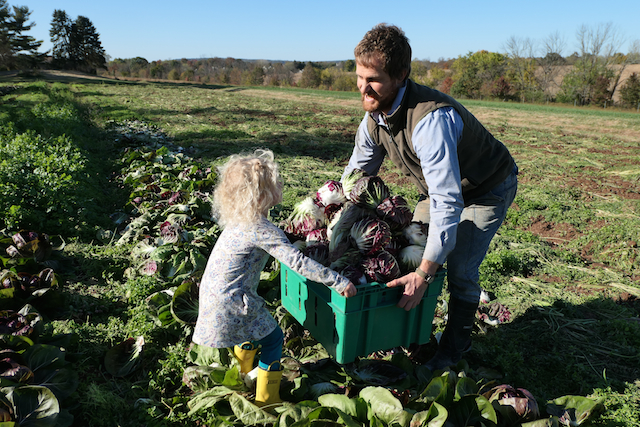 With a little help from the little one, bountiful radicchio is inbound.
We're down to the final two weeks of the 2019 Main Season. This will be the last week of pick up for Week A Half Shares. To all members, we hope you've enjoyed the farm share this long 1/2-year of what will be twenty-six weeks of continual harvesting and eating. It's a commitment on your part, and we truly do appreciate your support of us and this farm. This 100-acre open space preserve is made whole and wholesome by the coming together of our community for a healthy and hopefully sustainable reason. We give thanks to be able to live and work here and strive to give back to the soil, the ecosystem, the earth, and you. We do our best to grow and provide to you produce that is truly worth your time to pick up, process, and consume. We hope that when you come to the farm you can breathe a little deeper, unwind a bit, and find temporary departure from some of the stresses and pressures of the world outside of this little Bucks County oasis. With your help Anchor Run CSA is successfully concluding its 16th season of harvests. Thank you one and all.

Any Workshifts this Week?
by Farmer Derek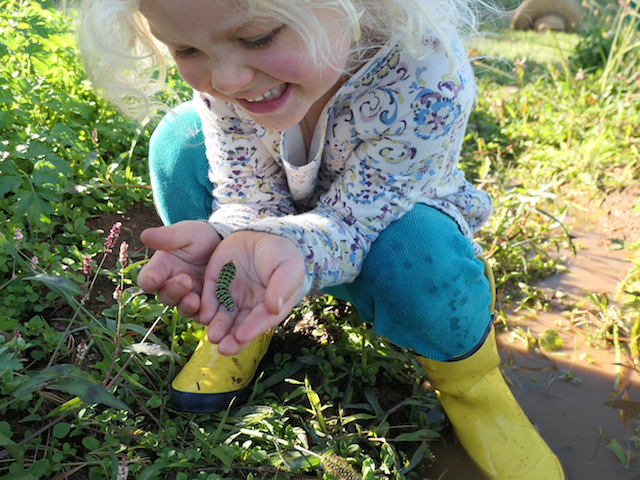 Probably one of the final swallowtail larva sightings for this year.
The wacky warm wet weather has us unsure of the tasks we'll be able to accomplish this week. For now we're not posting any workshifts but will announce in a separate bulletin if we change our minds and the ground dries out a bit. A big job we have to do very soon is plant and mulch the 2020 garlic but ideally the ground won't be swampy.
If you still need to complete your pledged farm labor hours for your share discount please consider joining us for some of the few remaining workshift opportunities. Alternatively, if you'd rather pay the full amount for your farm share that is perfectly fine, just send us a check to cover the workshift hours. Log in here to view your total hours worked. Multiply your missed hours by $15 for your balance due.
Registration Open for Late Fall and Main Season 2020
by Farmer Dana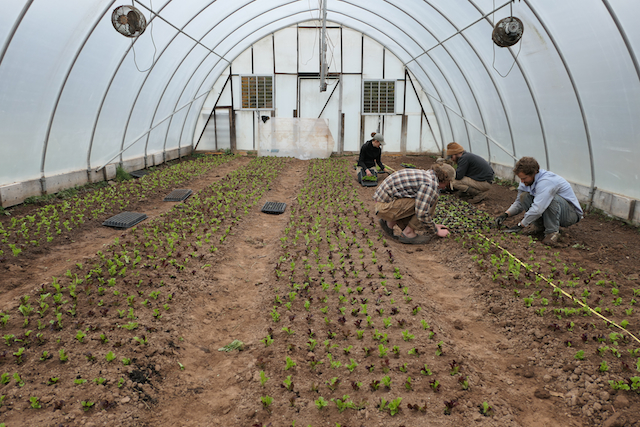 The final round of 2019 transplants is in the ground! And should be harvested and enjoyed in December.
Registration is now open for the 2020 Main Season CSA, as well as the 2019 Late Fall CSA.
For additional
Late Fall CSA
information
follow this link
. This season begins in 2 weeks!
Main Season 2020 will mimic 2019 except it will be even better! That's our goal anyway. Mother Nature promises to oblige. Prices, pick up days/times, share sizes, etc. all remain the same.
Radicchio
By Linda Dansbury
Oh lovely radicchio. Good for the eyes, mind, and digestion.
The heads of radicchio are spectacular this year! I know some of you say it isn't your favorite veggie, but maybe you just need preparation advice. It keeps well in a plastic container in the fridge. I tear a leaf or 2 off the head and chop it into salads, and here are other ways to enjoy it:
Check out this site and try it in combination with other fall veggies: Escarole, Radicchio and Arugula Salad, Radicchio, Apple and Fennel Salad, and Braised Radicchio, Escarole and Fennel.
Grill or roast radicchio by cutting into quarters (or eighths), leaving core intact. Drizzle with olive oil and grill or roast in a 425 degree oven until slightly charred and barely wilted - this method helps cut the bitterness. Chop up and add to pasta or salads - balsamic vinegar works really well.
Chop into large pieces and saute in olive oil with or without things such as onions or garlic. Add some chopped fresh parsley at the end.
Combine with other ingredients that help offset the bitterness - cheeses, vinegars, citrus, meats such as proscuitto.
Blend and incorporate into a healthy smoothie.
How I Enjoyed My Harvest
Fall Delights
By Linda Dansbury
The current harvest is a nice mix of greens, roots, and other veggies, giving us so many options for cooking and eating. I have been sauteing, roasting, stewing and "salading". Below is a sampling of what I have been cooking.
Fennel, onions, garlic, parsley, tomatoes - I always think of fish soup when I have fennel, and last night was no exception. I never use the same recipe twice and last night's was really yummy and perfect for a cool, rainy fall night.
Onions, fennel, garlic, herbs - made warm lentils as part of a salmon dinner. Fennel and lentils go together so well. I made the leftover lentils into a salad by adding shaved raw fennel, thinly sliced carrots, parsley, lemon juice and olive oil.
Sweet potatoes, cauliflower, sweet peppers, onions, rosemary - once again, I roasted veggies at 425 for about 35 minutes. Easy and delicious.
Bok choy - I have found that for these large heads of bok choy, cutting the green part of each stalk makes for better cooking. Either leave the stalks whole or cut into bite sized pieces. Put a little oil into a large saute pan or wok and add a few red pepper flakes or a hot pepper. When hot, put stalks in and stir fry/saute until almost desired tenderness. Add greens, turn off heat and mix until greens are just wilted - add a drizzle of sesame oil and/or soy sauce and enjoy.
Salads - been mixing the lettuce, endive, escarole, arugula together for beautiful salads. I also sometimes chop bok choy or shave some fennel into my salads. Adds crunch and another flavor profile. Add thinly sliced apples to your salads for healthy sweetness. Yum!