Bring on the chill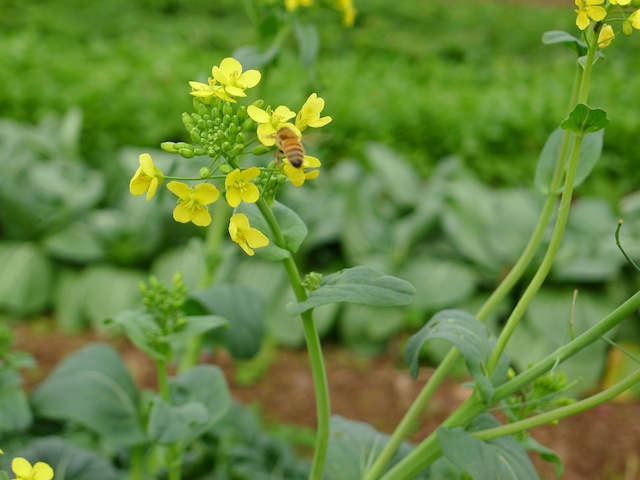 Flowering tatsoi with yellow flowers attracting autumn honeybee.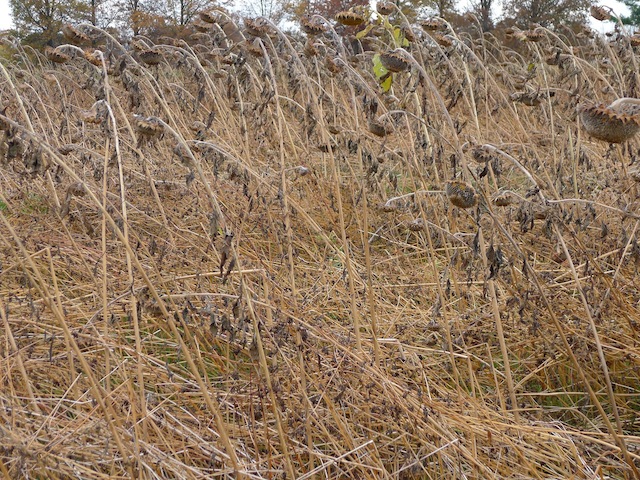 Dried out and brown, sunflower cover crop ready to sustain birds over the winter.
News
Notes From The Field
Getting ready for cold winds
By Derek McGeehan
Today was the first Sunday that we asked our staff farmers to come in for work in the 5 seasons that Dana and I have been at Anchor Run. It is a testament to their dedication and work ethic that they obliged, trudging away even beyond the timeframe we had originally agreed upon. We were hoping to accomplish necessary tasks in about a half day, 4 hours or so, but of course, we ended up working way beyond. Because of the forecasted lows in the 20s with a cold north wind, we were forced to harvest some tender greens for tomorrow's harvest distribution as well as cover the remaining lettuces and chicories in the field. Covering sounds easy. In reality, we had to put hoops and sand bags every 6 feet over ten, 200 foot beds, and then roll out fabric and finally secure with the sand bags to cover the plants. On a windy (beautiful) day, no less. Fortunately, everyone persevered and we wrapped up the necessary task in time for dinner and a beer.
Lettuce mix trial run looking eager to be harvested.
The off-and-on cold weather has forced us farmers to adjust our schedules and allow for much flexibility. For example, on frosty mornings, we have to wait until the sun warms plants up so that we can even harvest them (9-10 AM). Because of the dwindling heat and sun, the farm workload overall has really lessened and hibernation isn't too far away. This time of year we're mostly harvesting and dealing with the cold by covering crops. It is really nice how the season changes and puts our dependence on the natural world in perspective. One goal I hope to accomplish, repeatedly, is to educate our CSA members about how we're all dependent on a clean, healthy environment to sustain our health and nurture us into the future. Mother Nature and Grandfather Weather help remind us farmers who is really in charge.
Expected Harvest
Sweets and butternut
By Derek McGeehan
Harvest #25 (Week A) should include sweet potatoes, butternut squash, hakurei turnips, head lettuce, lettuce mix, swiss chard, garlic, napa/chinese cabbage, celery, radicchio, celeriac, and kohlrabi. Some items will be a choice.
Email from farm member
By Linda Dansbury
Member Temmie Sadow sent me the following regarding the black radishes we have received at the farm:
My family has 2 ways that we've traditionally prepared black radishes.
1) We slice them thinly, and make sandwiches on rye bread with butter, salt, and radish slices
2) We peel and coarsely grate then make a salad with grated radish, salt and oil (vegetable or olive oil). A drop of vinegar or lemon juice can be added, if desired, after "taste-testing" the salad.
It's hard to say where the recipes originated, as family members came from Hungary, Russia and Poland.
I love to hear about traditional family recipes. In thinking about the last couple of pick ups, I would love to hear about how your family enjoys the bounty of the fall seasonal veggies.
How did I enjoy my harvest this week?
By Linda Dansbury
We are on another roller coaster weather week, but I hope you took time to cook the many wonderful veggies from the farm this week. Here are a few of the things I did with my harvest:
Peppers, garlic, tomato (you can use canned), onion, wild mushrooms, rosemary, spaghetti squash - I made a big batch of fresh vegetable sauce and served it over spaghetti squash. There was plenty of sauce and squash left for a 2nd meal, so the next night I picked up a bag of mussels, thinned out the sauce a bit and cooked mussels in the sauce. It was really great!
Sweet potatoes, fennel, leeks, cauliflower, garlic - I roasted them in the oven for about a 1/2 hour. I served it alongside fish.
Broccoli raab - I made it the easy, classic way. I sliced garlic and red pepper flakes in pan with olive oil for a minute, then added the broccoli raab. I sautéed until wilted and a little tender, but still bright green.
Fennel, garlic, tomato, mushrooms - In a baking dish, I layered lemon slices, fennel and mushrooms. I added some veggie stock, put foil over it and baked it in the oven for about 20 minutes. I removed it from the oven, laid a large snapper filet on top and placed chopped tomato on top of the fish. I baked it in the oven for another 20 minutes until the fish was just done.
Cauliflower, carrots, leeks - I made cauliflower soup. I sautéed carrots, leeks and celery in a soup pot until it started to get tender. I added cauliflower florets and stirred until it was coated with the olive oil. I sautéed it for a few minutes then added vegetable stock and thyme and let it simmer until the cauliflower was tender. I puréed it with an immersion blender, until smooth. I topped the bowls of soup with fresh thyme (or fresh parsley) and some fresh ground black pepper.
Recipes
Roasted fennel and white bean dip
From Food52.com - sent to me from fellow core group member Judith Richardson. Judith says she didn't put the final product back in the oven to bake. She put everything in the food processor warm and didn't need additional olive oil. I think I'll take her advice.
Roasted Fennel
1 large or 2 small fennel bulbs, trimmed and cut into 1 inch pieces
2-3 Tablespoons olive oil
2 cloves garlic still in papery shell
salt and pepper
Cannellini Bean Purée
3/4 cups olive oil
2 garlic cloves, peeled and minced
2 1/2 cups cooked cannellini beans, drained and rinsed
1 Tablespoon fresh rosemary, chopped
1 Tablespoon lemon juice, freshly squeezed
1/2 cup Parmigiano-Reggiano cheese, grated
crostini
First make the roasted fennel. Preheat the oven to 400 degrees. Toss the fennel and garlic cloves in the olive oil and spread on a sheet pan. Season generously with salt and pepper. Roast for 30-40 minutes, turning twice during cooking. Take out and let cool. When cool squeeze the roasted garlic out of their skins.
Start the cannellini bean purée. In a small frying pan heat 1/2 cup olive oil over medium heat. Add the garlic cloves and cook until lightly golden, add rosemary and cannellini beans and cook for one minute more. Be careful not to burn the garlic. Take it off the heat.
In a food processor combine the garlic bean mixture, fennel, roasted garlic, lemon juice, remaining 1/4 olive oil and all but 3 tablespoons of the Parmigiano-Reggiano. Purée until smooth.
Raise oven temp to 450 degrees. Transfer purée into a small baking dish and sprinkle with remaining cheese. Feel free to add more. If your dish is near full, place it on a baking sheet, in case it bubbles over in the oven. Bake until cheese is golden on top, about 15-20 minutes. Serve with crostini. Enjoy!