Welcome to the 2020 Harvest Season!
News
Expected Harvest
The First 2020 Share!
by Farmer Dana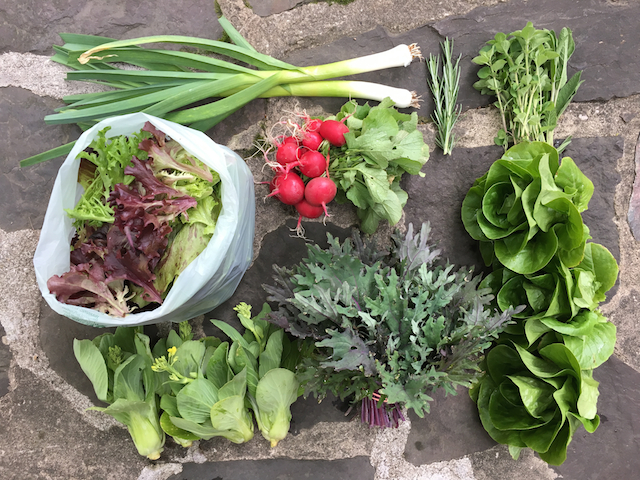 Main Season Harvest #1 (Full, Medium, Week A Half Shares) should include head lettuce, lettuce mix, green garlic (whole plant is edible at this stage!), bok choy, kale, rosemary, and radishes. U-pick should include a small handful of perennial herbs (catnip, oregano, lemon balm, bee balm, thyme, sage, mint).
First Pick-Up Essentials
By Farmer Dana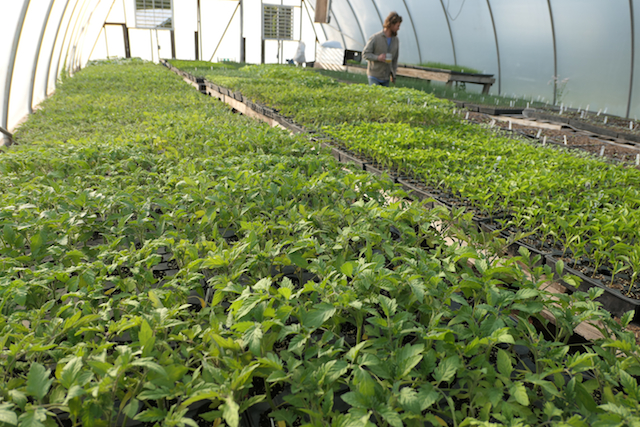 The first harvest is here! There may be a few hiccups as we navigate this new system of harvest distribution during COVID times, but to maximize our chances of success make sure you do the following:
- You should have received an e-mail this weekend with your share and pick up information. Please E-mail us if you did not.
- Bring your own bags/baskets/boxes to take your share home.
- Bring your own scissors for u-pick herbs.
- Make sure you've signed up online for a pick-up time slot (log in and sign up on the
calendar
).
- Harvest pick-up is from 1-8 pm on Monday and Thursday, 10am-12 pm on Saturday.
- E-mail us if you need to switch your pick-up day temporarily or permanently.
- Remember we are practicing mask wearing and 6-foot social distancing on the farm.
- Driveway speed limit is 10 mph - there are children, animals, and the potential for dust.
Email or call us if you have any questions, we are looking forward to seeing you all!
Pick Up Guidelines During COVID
by Farmer Dana
Binned Shares (Collecting Your Own Share That is Preassembled)
We will be pre-assembling shares in harvest bins. Members will collect their shares from a harvest bin at a table just outside the barn hallway entrance under a tent where a Farm Staffer will verbally sign you in. This process will require members to bring their own bags/baskets/boxes to collect the share (same as pre-COVID). Shares will be assembled by staff during pick-up hours. Harvest items which are Choices will be specified on blackboards on the outside of the barn that you'll be able to view while you wait in line (if there is a line). You'll be able to tell the Farm Staffer which Choice you'd like included in your share when you are transferring your share to your own bags/baskets/boxes. To make this process easier, greens that in the past have been harvested loose will be either rubber banded or put in bio-degradable bags. Bins will be washed and/or sanitized after share collection before they are reused.
Pick-Up Day Time Slots
To reduce crowds forming on pick up days, and to give staff time to assemble binned shares, members will sign up in advance for hour-long time frames in which they can pick up their shares (a maximum of 25 members will be able to pick up their share per hour). Signing up will take place through the calendar feature on our website the same way members sign up for workshifts. Time slot sign up will open Saturday morning at 9am prior to the pick up week. Only one week will be open at a time. The first hour of pick up will be reserved for senior citizens and members with high risk medical conditions.

You can now sign up for your Pick Up Day Time Slot for this coming week if you have a Full, Medium, or Week A Half Share (
log in
then go to
calendar
). The first hour of pick up, 1-2pm, is reserved for senior citizens and members with high risk medical conditions. Sign up the same way you would for workshifts. Instructions can be found
here
.
U-Pick
We plan to keep the u-pick portion of the harvest open with a few changes. A collection of quart, pint, and half-pint containers will be sent home with each member in their first binned share of the season. These will be yours to measure and collect your u-pick crops over the course of the season (use them to measure then dispatch produce to your own bags). Members will need to bring their own scissors for cutting herbs and flowers. Please respect the 6-foot social distance minimum in the fields. The u-pick list will be displayed on the outside wall of the barn, instead of inside the barn, to facilitate social distancing.
Pandemic and Food Safety Gear
Farm staff will use necessary pandemic and food safety measures while harvesting and working around harvested crops. Whatever scientific rules and regulations are in place will be followed which may include gloves and masks, and will be worn during the harvest and handling of all farm produce. We ask members to respect the guidelines issued by Governor Wolf regarding the wearing of masks in public.

Please reach out to us if you have questions and concerns.
Workshifts this Week (5/18/20)
by Farmer Derek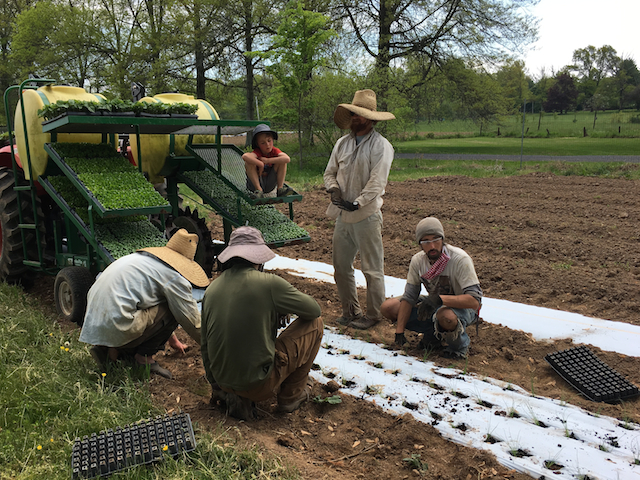 Workshifts scheduled for this week:
Tuesday 5/19 9-11am
Tuesday 5/19 2-4pm
Wednesday 5/20 5-7pm
Sunday 5/24 9-11am
Notes From The Field
Let the Season Begin!
By Farmer Dana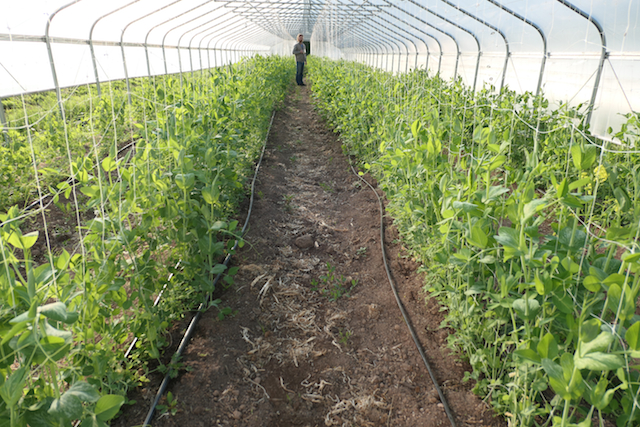 What a spring this has been! We had snow and mid-80 temperatures just last week, an apparent switching of places by March and April, and, oh yeah!, a global pandemic. But fear not, this is our 12th season and pandemic or no, we got this. The first harvest is here! We are excited for salads and greens and hope you are too. The first shares of the season tend to be smaller and are typically greens heavy, giving us ample opportunity to get creative with salad dressing recipes. Given the severity of the cold this late in the year, please expect to see some frost damage on some of the kale and radish leaves. The lettuce and salad mix, however, appear to be the picture of perfection since they rode out the extreme late cold in the comfort of one of our tunnels.
All things considered, we are in good shape on the farm, albeit a little behind in the herb garden. The first carrot seeding has been fully weeded as of this afternoon. Sugar snap peas in the hoop tunnel and strawberries are both flowering. Heirloom tomatoes settled into their high tunnel home last week. Many frost sensitive crops which were itching to leave the greenhouse finally got their chance as we rounded zone 7's frost date of May 15th. Thus last week was a marathon of transplanting watermelon, tomatoes, peppers, cucumbers, zucchini, husk cherries, tomatillos, basil, beans, and u-pick flowers.
It finally feels like the growing season is upon us and we are eager to see our returning and new members come to the farm and collect their veggies! We've missed you, welcome and welcome back!