CSA Week 3: Hi June
News
Expected Harvest
New Week, New Crops
by Farmer Dana
Harvest #3 (Week A) should include kohlrabi, romaine lettuce, mini head lettuce, salad mix, bok choy, swiss chard, escarole, green garlic, strawberries (just starting!), dill, and cilantro. Some items will be a choice. U-pick should include perennial herbs from the herb garden (sage, thyme, mint, lemon balm, oregano, tarragon, garlic chives, catnip). Peas and strawberries should be available as a u-pick crops soon. Like most crops in the ground over the winter or since early spring they're a bit behind due to the cold early-to-mid spring weather.
Notes From The Field
Blue Sky Beauty
by Farmer Derek
Following another satisfyingly ample Friday rain event we rejoice in some quintessential late spring weather. To beckon Friday's circumspect rain cloud performance I turned the irrigation system on for a few hours. After water communicated with water, we were doused by a nice trailing storm cloud that dumped just what the farmer ordered. It doesn't happen often, but when it does we're appreciative and thankful for the exact right amount of rain, especially at the end of the normal Mon-Fri work week. And by right amount I mean enough to give plants a good drink but not enough to keep us out of the fields (in this case .7").
Last week was full of farming (planting, seeding, weeding, cultivating, harvesting, mowing, plowing, bed-shaping). Into the ground went the 4th and 1st plantings of beans and edamame, respectively. The 2nd zucchini and cucumber succession went in and was covered to keep the pesty/pesky striped cucumber beetle at vine's length. The 10th planting of lettuce, the 5th scallion, and the one and only eggplant and okra patch was planted. The eggplant was hooped and covered just like the zucchini and cucumbers to keep the nightshade flea beetle away while the plants are young and getting established. The acre of potatoes and the new raspberries were fertilized and tractor cultivated. Three successions of beets are almost finished being weeded while the onions were wrapped up. Beans, flowers, lettuces, and herbs were manually cultivated. Fields were mowed in preparation for upcoming fall crops like broccoli, cauliflower, and cabbage that we will transplant in early July. Seeds of beans, edamame, lettuce, dill, and cilantro were sown. Crops were harvested, binned, and distributed.
Upcoming this week we have leeks, sweet potatoes, cantaloupe, lettuce, basil, dill, cilantro, beans, and edamame to plant; more crops to seed and harvest; prepare soil for summer planted crops including the 2021 strawberry patch that goes in at the end of June; and begin setting up the trellising systems for field, heirloom, and cherry tomatoes. See you around!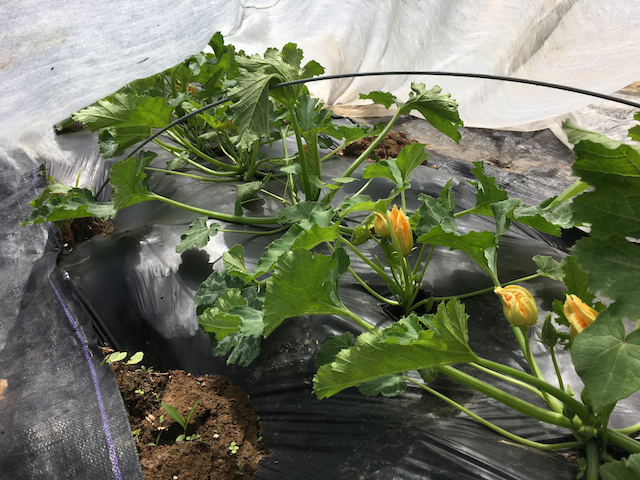 Workshifts for Week of 6/1
by Farmer Derek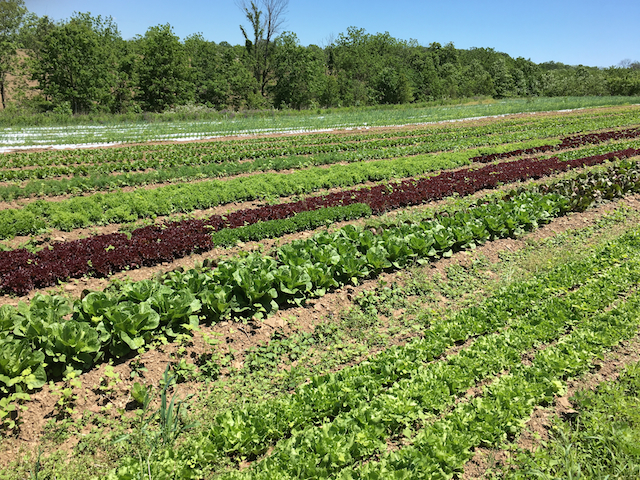 Workshifts scheduled for this week:
Tuesday 6/2 9-11am
Wednesday 6/3 10am-12pm
Wednesday 6/3 6-8pm
Friday 6/5 10am-12pm
Sunday 6/7 9-11am
Kohlrabi and Turnips
By Linda Dansbury
These are 2 of my favorite spring veggies - they are both equally delicious plain as a snack or sliced into salads for crunch. Use along with, or instead of carrots and celery with your favorite dips or hummus. They are great shredded as components for cole slaws - check out
Asian Style Cole
Slaw
recipe on this site - it is one of my favorites and great for cookouts because with no egg or milk based products, you don't have to worry about it spoiling quickly.
They are equally delicious cooked up and make delicious side dishes. Try the
Asian Turnip Green and White Saute.
The greens are so delicious and this recipe sweetens the turnips by caramelizing them. I really like this recipe served along grilled chicken, fish or pork.
A really interesting and delicious way to cook the kohlrabi is by making it into fries -
Kohlrabi Fries
- perfect for accompanying your favorite burger! And kids will love them. Check out this site for additional recipes.
Use the greens separately as additions into soups and stews, saute them and add to a frittata, or saute with oil and/or butter, some chopped fresh garlic, chili flakes if desired, and cook until as tender as you like. Top with a squeeze of lemon juice, toasted breadcrumbs, or grated cheese - so yummy!
Both of these wonderful veggies are in the same family as broccoli and cauliflower, and are very nutritious! To store them, it is best to separate the greens from the bulb and store separately. I like using large Tupperware (showing my age) or other good quality plastic containers to store greens - a towel placed on bottom of container captures excess moisture preventing rotting, and the container traps moisture inside - plus you use it again and again. For the bulbs, I usually do store in plastic bags, which I rinse out and reuse as well. The greens are best used within a few days and the bulbs will keep for at least 2 weeks.
How I Enjoyed My Harvest
Welcome/Welcome Back to Delicious Local Eating!
By Linda Dansbury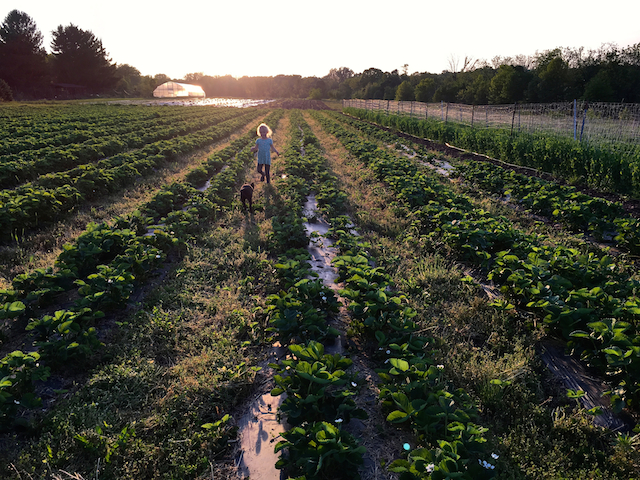 Several years ago, I began this article in the hope of helping and inspiring members on how to enjoy the weekly harvest, which at times can be overwhelming, especially for new members. I do add or recommend recipes, but in addition, I like to provide ideas without specific recipes. The Farm is a community, so as such, I invite fellow members to send me the ways they like to use the harvest - be it a recipe or method. I will then post to the next newsletter for all members to see. Please email me at lindadansbury@comcast.net. Questions are welcomed too - if you have a question, it is likely that other members are wrestling with the same thing.
I was so excited to start the harvest and used much of it up pretty quickly.
Bok choy, radicchio (picked out of the salad mix), green garlic, radishes
- made
Asian Style Cole Slaw
. The recipe is flexible and you can use many different ingredients, including cabbage, turnips, spinach, etc. It comes together quickly and you can prep the veggies ahead of time and then dress it shortly before serving. I have served this dish to family and friends for years and everyone has enjoyed it.
Radishes, mint, chives - made a dip that is so delicious when we have such fresh radishes. It is 4 ounces plain goat cheese, 4 ounces plain yogurt, about 2 Tablespoons chopped chives, a Tablespoon of chopped mint, some lemon zest. Original recipe calls for using a food processor, but I just mix it up in a small bowl and save on dirty dishes. Place the bowl in the middle of a serving platter with whole radishes with their greens still intact around the bowl. You can use other/additional veggies as you like.
Kale - made a Caesar salad - there is a complete recipe on this site if you want to make it from scratch, but I use a bottled dressing (rare for me) by Litehouse - it is Greek yogurt based and is nice and light. I julienned the kale, placed in large bowl and massaged kale to soften it - you can actually feel the texture of the kale change to be softer and silkier. Add as much dressing as you like, mix well and enjoy.
Fresh Garlic and Rosemary - been using both in different ways - use the entire garlic; it is more mild than garlic cloves and delicious. Used garlic and rosemary as seasoning for fish grilled in foil packets - season fish with salt and pepper; place chopped garlic on bottom of sheets of foil along with cherry tomatoes; place fish on top; drizzle a little olive oil and white wine (or broth), then place rosemary sprig on top. Wrap up and place on grill and cook until fish is cooked and tomatoes burst - about 5 minutes, depending on fish thickness.