CSA Week 4: Strawberry Madness
News
Expected Harvest
4th Farm Share
By Farmer Dana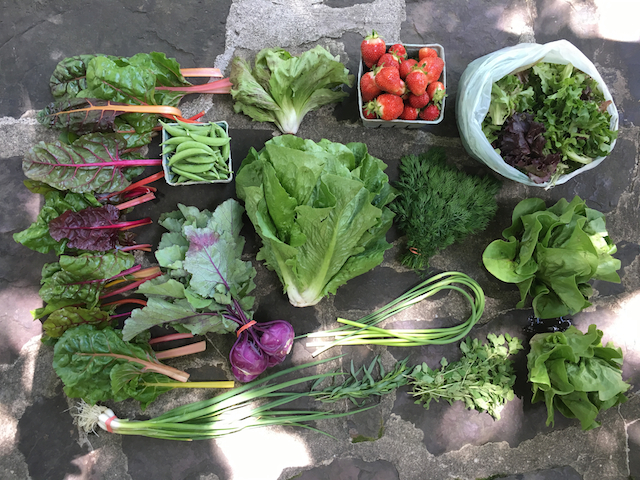 Harvest #4 (Week B) should include kohlrabi, romaine, mini head lettuce, salad mix, scallions, strawberries, cilantro, dill, chard, radicchio, escarole, and garlic scapes. Some items will be a choice and may not be available during all pick up times. U-pick should include strawberries, snap peas, and perennial herbs.
Notes From The Field
Drying Out
by Farmer Derek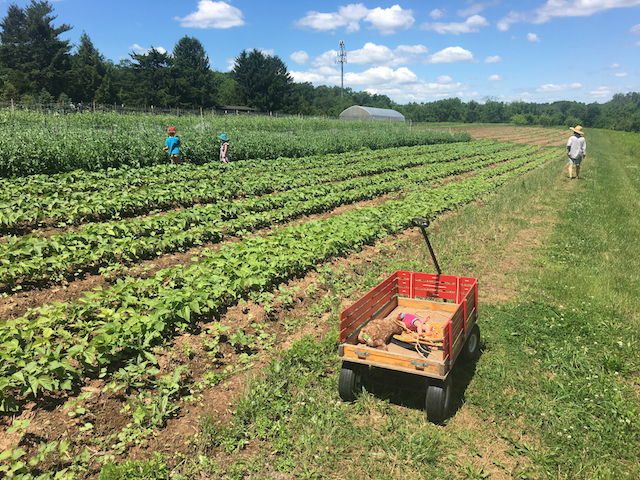 Ample rain, high temperatures, a good amount of sunshine. It's the season for growth and the time to maturity of crops to speed up (lettuce can mature twice as fast in June-August as March-May). Somehow we're already into the 2nd week of June and harvest week #4. Time has sped up as well; at least it feels that way, since there's hardly a restful or reflective minute during this part of the growing season to slow it down. That said, I believe we're about to embark on a transitional phase as the bulk of our spring and summer crop planting is behind us. We're entering a few weeks of summer succession plantings of crops like beans, edamame, herbs, and lettuces before we descend into the fall crop planting timeframe. During this time there aren't any huge plantings of long-season crops. Roughly 2/3 of the farm is already under crop production so we're also firmly in crop maintenance mode. There's less open field space to chisel plow, make raised beds in, and plant into. We don't begin incorporating crop residue, spreading compost, or the sowing of cover crops until mid-July. I still need to finalize the last few pieces of our annual crop rotation puzzle to determine which fields will be the home to which late summer and fall crops, based on a 3-5 year plant family cycle that also factors in time of planting. Probably some portion of the still unused land will be fallow this year.
We filled a lot of field space with crops this past week. Three thousand sweet potato slips were planted in wet/muddy/slippery conditions this past Friday. Earlier in the week we planted 5,500 leeks, 800 lettuces, 450 cantaloupe, a few thousand beans as well as edamame, and hundreds of basil plants. New on our agenda for this coming week will be tomato pruning and trellising.
We were lucky during the multiple rounds of crazy weather this past week and we hope you were too. This coming week looks to be a bit more mild with lower humidity; perfect for strawberry picking. See you at the farm!
U-Pick Considerations
by Farmer Dana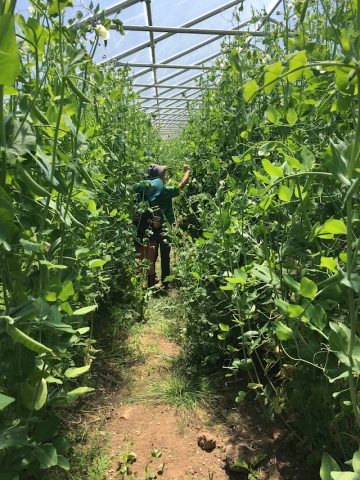 U-Pick begins in earnest this week with the start of strawberries and peas. Regarding u-pick:
Bring your quart, pint, and 1/2-pint containers and scissors to collect your produce.
Consult the u-pick board for quantities.
You can collect your weekly u-pick allotment 8am-8pm Mon-Sun. Our harvest weeks are organized Monday through Sunday.
Wear appropriate shoes.
Collecting your u-pick portion does not need to happen during your share pick up time slot but should occur during your pick up week (Mon-Sun).
There are no time slot sign ups for u-pick.
Follow the state's COVID guidelines for masks and social distancing.

Workshifts for Week of 6/8
by Farmer Derek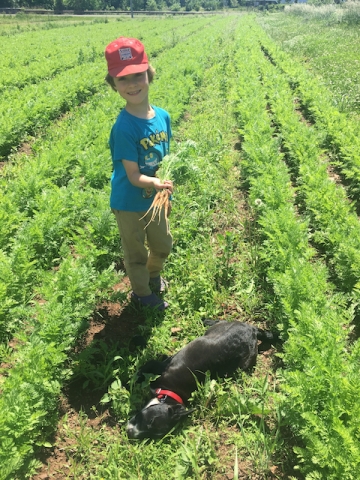 Workshifts scheduled for this week:
Tuesday 6/9 9-11am
Wednesday 6/10 9-11am
Wednesday 6/10 6-8pm
Friday 6/12 9-11am
Sunday 6/14 9-11am
Hershberger Heritage Farm Back but With Pre-Ordered Boxes
By Farmer Dana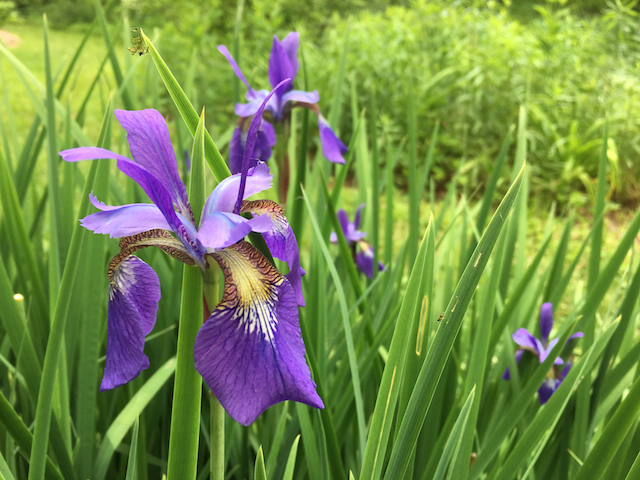 We're once again partnering with
Hershberger Heritage Farm
to bring you local, pastured, organic meat and poultry. They won't set up their farm stand this year; instead you'll pre-order a customizable 'berger box' that will be delivered to our farm for free. There are three sizes/values that you can choose from (small-$40, regular-$80, large-$200). You basically select the box/size you would like to fill and then choose what you want to go in it based on the value of the items. For example, if you choose the $80 regular box, you can fill it with $80 worth of goods. If you happen to go over the value that is okay too, you'll just pay the difference.
Orders must be placed by Sundays at midnight for your order to be dropped off here that same week, at our farm, in our freezer, for you to pick up on a regular CSA pick up up day (Mon & Thu 1-8pm; Sat 10am-12pm). Orders won't be dropped off until Tuesday or Wednesday so the earliest they could be picked up would be Thursday 1-8pm. They can be held in our freezer until your following pick up day.
For more information and to order, go to their website. The first week for distribution will be the week of 6/15 so order by Sunday 6/14 at midnight to receive a box that week.
When you order, select 'Try It Once' since this will be an as needed system, not a farm share.
Also select to 'pick it up at their farm store' so you aren't charged for delivery. **In the notes indicate that you are part of Anchor Run CSA (that way they'll know to deliver it here).**
How I Enjoyed My Harvest
Salad Days
By Linda Dansbury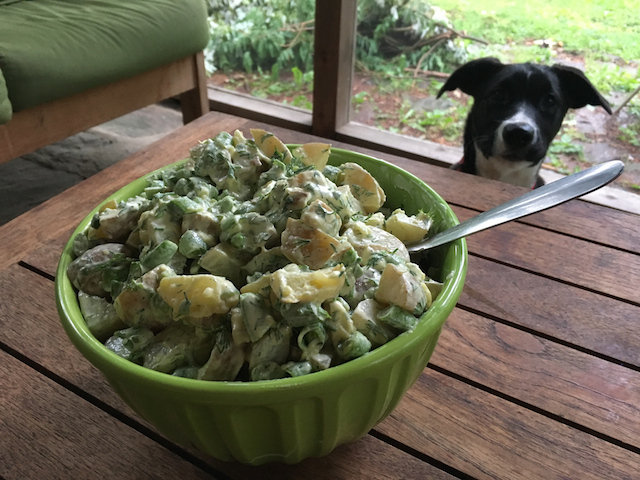 This time of year we always receive a lot of greens, which is fine with me because we eat a large salad almost every night. There are a lot of salad dressing recipes on this site; select the Salad Dressing category for several suggestions. Homemade dressings are delicious, and if you place them in a sealed container, they will keep in the refrigerator for about a week. Change up the dressing to keep from getting bored. The recipe section's Mixed Greens category has salad ideas as well as cooked ideas for using these wonderful greens.
If you are wondering how best to store all the lettuces (and other greens), I have found the best is to place in large, good quality plastic containers. I place a folded up towel in the bottom of the container to absorb excess moisture. The worst thing for greens is to sit in a puddle of water - it causes rotting within a few days. Greens will easily keep this way for over a week.
Romaine lettuce, fresh garlic
- made a grilled romaine Caesar Salad. Cut the head of romaine in half or quarters, depending on the size. Brush with olive oil. Place on the grill and leave for about 30 seconds - less if the grill is really hot. You want to get the head slightly charred, but not wilted. Turn the lettuce over and let grill for about 10-15 seconds. Place on cutting board, chop up and dress - I actually used the
Creamy Basil Dressing
this time. My basil plants needed to be snipped, so it was a great use of the cuttings.
Mini head lettuce
- this time I made a
Lemon Vinaigrette
- served with a grilled chicken.
Appreciation of Alliums
By Linda Dansbury
One of the (many) things I love about the farm is the constant supply of Alliums - that is garlics, onions, scallions, and leeks. It began with the first week and the fresh green garlic, which I am enjoying immensely! This week we will receive scallions, which is kind of my go-to for so many things, including salads of course.
We will be receiving garlic scapes for the next few weeks - they are the flower shoot of the garlic plant, and must be removed so the plant's energy goes into growth of the bulb, rather than into reproduction. What a benefit for us as it provides us with an additional product. Store these in plastic in the fridge and they will keep for a few weeks. As with the fresh garlic, it has a more mild flavor than garlic bulbs and is best used raw - if you do cook it, add it at the end so the flavor does not get cooked out. One of my favorites is
Garlic Scapes and White Bean Dip.
Later, if all goes as planned, we will get fresh uncured mature garlic bulbs, then fresh onions, then storage onions, leeks, and cured garlic bulbs. A full season of these important seasonings from our farm!