CSA Week 5: A Reason to Smile
News
Expected Harvest
Peak Peas and Strawberries
by Farmer Dana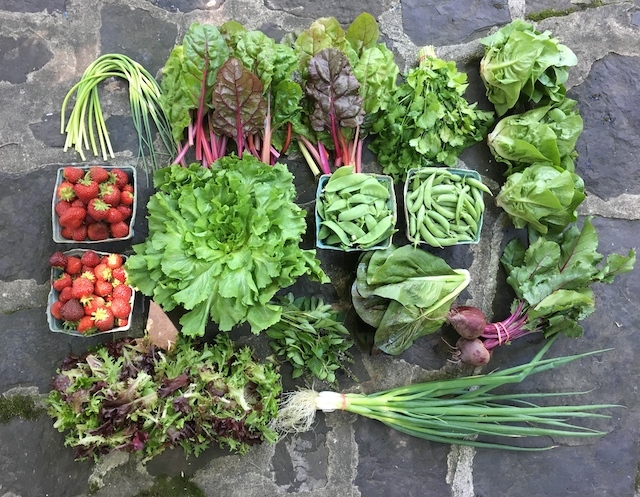 Harvest #5 (Week A) should include beets, lettuces, escarole, salad mix, scallions, scapes, radicchio, chard, kale, cilantro, and dill. Some items will be a choice and may not be available during all pick up times (we'll do our best). U-pick should include snow peas, sugar snap peas, strawberries (all in the same field now), and herbs.
Notes From The Field
Benevolent Weather
by Farmer Derek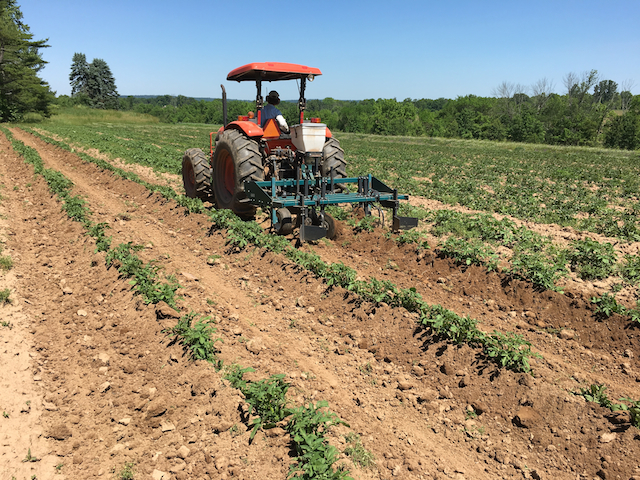 This stretch of awesome weather is both invigorating and calming. We can work a bit longer, a bit harder, without worrying about succumbing to some kind of heat-related malady. Mid-week was a real challenge as temperatures soared into the 90s with high humidity but the crew persevered and accomplished much. Perhaps the only downside to this weather is the need to hook up and run irrigation but with everything looking so beautiful and peaceful it's hard to feel negative about the extra weekend hours required to set these systems up. When the weather is this nice all I want to do is be outside anyway.
Last week began the many-man-hour-continuous-job of tomato trellising. Seven foot t-posts are pounded 2 feet deep every 12 feet or so, 5 wires are installed every foot up the post, hybrid plants are pruned to 1 leader/heirlooms to two, then each plant is clipped to the wire as they grow up. We will be working on this system every week or two until late July. Pruning and clipping are good jobs for hot days, but carrying and pounding stakes not so much. Growing our tomatoes in this manner is a lot of work, but makes the fruit easier for find and harvest and has the benefit of increased airflow to hopefully ward off illness.
The potatoes were finally ready for their first round of hilling, which is basically mounding soil up around the plants using heavy-duty disks on a tractor pulled toolbar. If the plants don't grow too fast I'll probably try to get another round in this week. Since I hilled them last Tuesday it appears they've already shot up another foot. Hilling them gives the tubers more room to grow and increases yields. From the potato 'seed' (aka last season's potato) all new growth is above, so we plant the seed deep, then hill.
This is also the time of year when we can drastically reduce the amount of crops perpetually covered by the floating bug barrier fabric. Susceptible crops such as watermelon, zucchini, cucumbers, cantaloupe, winter squash, and eggplant have all been in the ground long enough so they're beyond the sensitive stage and are even beginning to flower. Removing the cover will allow us to view all of these crops for the first time since they were planted a month or so ago. We perceive and glimpse them through the fabric but once they're uncovered we can finally do a full check-up. It's also nice to clean up the field and put this infrastructure back in the barn. Some of the aisles also need mowing maintenance.
I hope you're enjoying this weather as much as we are. It's a perfect time to pick strawberries and peas and to come to the farm to work with us during a workshift.
Workshifts for Week of 6/15/20
by Farmer Derek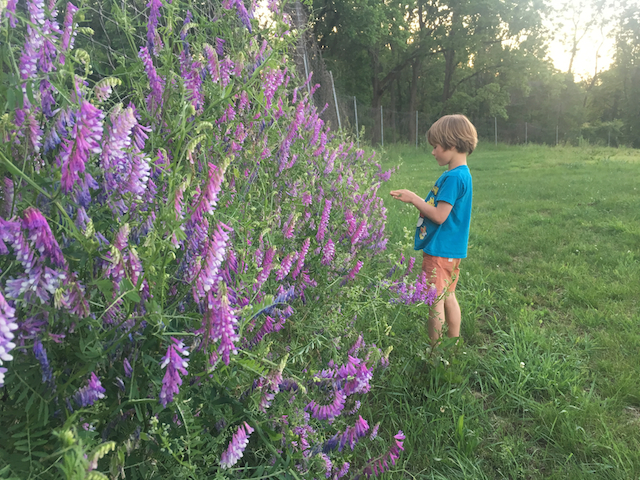 This is a perfect time to contribute some labor at the farm! The weather is ideal for working in and the weeds are really starting to grow. If you signed up for a share with work discount, please consider joining us soon.
Workshifts scheduled for this week:
Tuesday 6/16 9-11am
Wednesday 6/17 9-11am
Wednesday 6/17 6-8pm
Friday 6/19 9-11am
Sunday 6/21 7-9am
Hershberger Heritage Farm Back but With Pre-Ordered Boxes
by Farmer Dana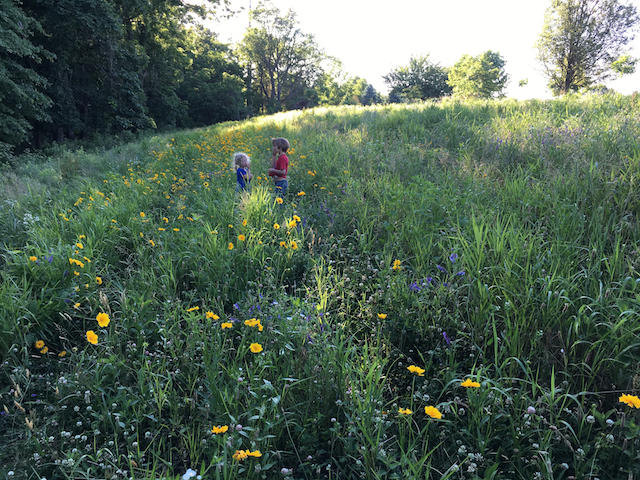 We're once again partnering with
Hershberger Heritage Farm
to bring you local, pastured, organic meat and poultry. They won't set up their farm stand this year; instead you'll pre-order a customizable 'berger box' that will be delivered to our farm for free. There are three sizes/values that you can choose from (small-$40, regular-$80, large-$200). You basically select the box/size you would like to fill and then choose what you want to go in it based on the value of the items. For example, if you choose the $80 regular box, you can fill it with $80 worth of goods. If you happen to go over the value that is okay too, you'll just pay the difference.
Orders must be placed by Sundays at midnight for your order to be dropped off here that same week, at our farm, in our freezer, for you to pick up on a regular CSA pick up up day (Mon & Thu 1-8pm; Sat 10am-12pm). Orders won't be dropped off until Tuesday or Wednesday so the earliest they could be picked up would be Thursday 1-8pm. They can be held in our freezer until your following pick up day.
For more information and to order, go to their website. The first week for distribution will be the week of 6/15 so order by Sunday 6/14 at midnight to receive a box that week.
When you order, select 'Try It Once' since this will be an as needed system, not a farm share.
Also select to 'pick it up at their farm store' so you aren't charged for delivery. **In the notes indicate that you are part of Anchor Run CSA (that way they'll know to deliver it here).**
U-Pick Considerations
By Farmer Dana
The bountiful U-Pick season has begun and will continue for a few months. Regarding u-pick:
Bring all of your quart, pint, and 1/2-pint containers and scissors to collect your produce.
Consult the u-pick board for quantities.
You can collect your weekly u-pick allotment 8am-8pm Mon-Sun. Our harvest weeks are organized Monday through Sunday.
Wear appropriate shoes.
Collecting your u-pick portion does not need to happen during your share pick up time slot but should occur during your pick up week (Mon-Sun).
There are no time slot sign ups for u-pick.
Follow the state's COVID guidelines for masks and social distancing.
How I Enjoyed My Harvest
Pea-licious!
By Linda Dansbury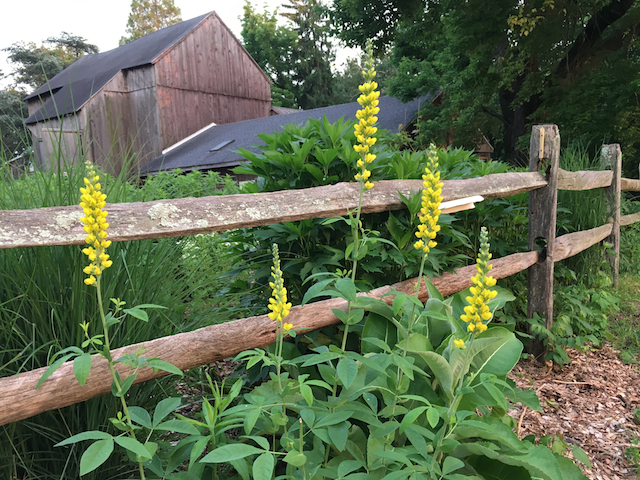 It is perfect U-Pick weather, and you won't receive the delicious strawberries and peas if you don't get out to the fields. Saturday the parking lot was crowded but the field is so large that it never felt like we were too close to each other.
The field peas are so tender and sweet that you can just eat them raw. Or add them to your nightly salad for extra crunch. Use with other veggies in dips (White Bean and Garlic Scape Dip anyone?). We have several pea recipes on this site so just select "Peas" in the pull down bar and you will find them.
Here are a few things we enjoyed this past week. I guess by now you see that I prepare a lot of Asian food - and I do. To me at least, Asian flavors enhance the fresh taste of the ingredients, rather than cover them up. In the salads, the unique flavor of each veggie comes through, and I really like that.
Scallions, fresh garlic, kohlrabi, cilantro, peas, broccoli, hot pepper (from my freezer that was from last year's harvest) - made an Asian inspired salad using rice wine vinegar, soy sauce, sesame oil, a touch of honey and lime juice - really yummy. I didn't cook the veggies so I cut them up small and shredded the kohlrabi. We had enough for 2 nights.
Lettuces, scallion - made several large salads using either a lemon or red wine vinegar vinaigrette - these are both light dressings which are best for the delicate salad mix and mini head lettuces we are receiving now.
If you have a method or recipe to share with the rest of membership, please email me at lindadansbury@comcast.net and please put Anchor Run in the subject line to make sure I see your message.
Beets and Escarole!
By Linda Dansbury
Okay, so I would bet that some of you are not jumping up and down for these items, and that's a shame. Both crops are delicious and provide much needed vitamins and minerals.
I disliked beets until I joined the farm and then had to learn what to do with them. Fresh beets are so yummy! When you get them home, separate the greens from the roots and store separately. Do not throw the greens away. They are in the same family as chard and spinach so can be used in cooked dishes that call for either of those. Or, make the
Roasted Beets and Beet Green Risotto
. A delicious dish with a crazy pretty color, since the beets color the rice. I just learned a new way to roast beets. I have always wrapped the beets in foil and roasted them, but I read an article and it said to place them in a covered baking dish, so I tried it. Pre heat oven to 450 degrees. Place beets with all but the top 1 inch of greens removed, and place in single layer in the baking dish. Drizzle with a little olive oil and bake covered for 1-2 hours, depending on the size of the beets. Check them starting at 45 min. I found the beets cooked faster this way, to check them you don't have to unwrap the beets, and there is no wasted foil. Peel the beets when they are cool enough to handle. If you wait to peel them too long, the skins won't slip off as easily. Since Father's Day is next week, you could also make the
Chocolate Beet Cake
on this site - it is absolutely delicious! There are also a lot of other recipes to try using the farm's beets.
Escarole is one of those greens that causes people's brows to furrow when they see it. Growing up with Italian grandparents, I mainly knew it in Escarole Soup (aka Italian Wedding Soup), but it is good in other ways too. Escarole is a member of the same family as radicchio (of which we received last week) and endive, but is less bitter. The outer leaves tend to be darker and slightly more bitter than the inner leaves. So you can take the head a part and saute the outer leaves on their own or with other greens for a side dish and then add the inner, more tender leaves to your nightly greens mix to add another texture and flavor, try a new recipe -
Salad of White Beans and Greens
- this salad accommodates a mix of all sorts of greens and since it incorporates beans, it can be a complete meal.
Be adventurous and use recipes as a guide - use whatever the farm is giving us to form your meals! And most of all, enjoy the harvest!