CSA Week 6: Summer Solstice
News
Expected Harvest
Summer Veggies
by Farmer Dana
Harvest #6 (Week B) should include zucchini (green and/or yellow), lettuce, salad mix, swiss chard, italian dandelion, kale, escarole, fennel, garlic scapes, scallions, beets, dill, cilantro, basil, and parsley. Some items will be a choice and may not be available during all pick up times. U-pick should include snow peas, sugar snap peas, strawberries, flowers, and herbs. Sugar snap peas and strawberries are on their way out. Cucumbers may be available later in the week.
Notes From The Field
Into Summer
by Farmer Derek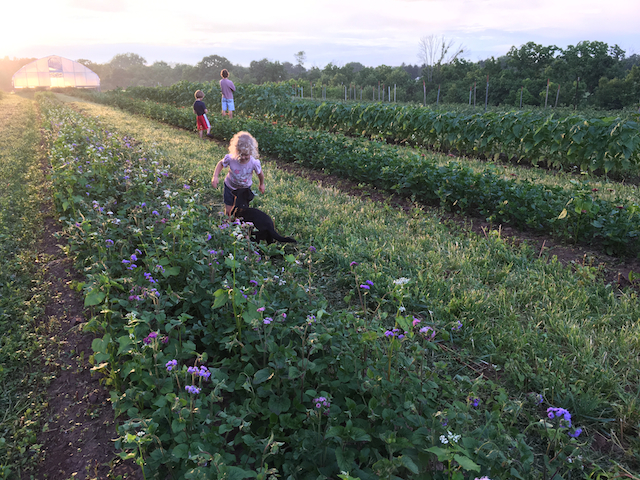 There are times when we're extra appreciative of our fields' aspects, situations, soil types, organic matter, etc. It's mostly when we go through extended dry spells, like we're in at the farm right now, because our soils do not require a lot of precipitation to remain productive (face north, high clay content, decent amount of organic matter). Yesterday there were storms all around us and we watched the dark clouds and yellow and red radar spots go right on by. It appears there's a chance of rain daily for the foreseeable future but I figure the just-right rain event is waiting until I've spent significant time adding irrigation to new locations. Fortunately I already installed tubing for the high value long season fabric covered crops such as peppers, tomatoes, melons, squashes, cucumbers, onions, and leeks but all of the bare ground short season crops currently wait for Mother Nature to provide. We received 2/10 of an inch of rain 10 days ago and now we try to patiently wait for more. I did just read that parts of southern Jersey received 3-5" of rain within the past couple of days which is way more than we need here. Plus that's of the disastrous heavy type which we can always do without.
Ignoring the weather for a minute, the farm is in pretty good shape at the moment. The dry weather allows us to move swiftly through our to-do list. Last week we planted the last of the 4 melons; another succession of lettuce, edamame, beans, basil, cilantro, and dill; and the second round of tomatoes. These tomatoes went into the hoop tunnel where the first round of sugar snap peas resided. It was flipped and planted in record time. Inside the various tunnels are some of the places around the farm where we practice intensive cultivation (multiple plantings in the same piece of ground in the same year; we have enough outdoor field space that we can only grow one crop in each spot per year and let the soil rest a bit longer). Raised beds were prepared and finalized for the 7,000 dormant strawberry plants we'll be receiving next week that we'll harvest in 2021 (we treat strawberries as annuals, planting a new patch each season as a way to stay ahead of pests and diseases). Tomatoes were pruned and clipped to the trellis system. Landscape fabric was installed in the aisles of the final planting of zucchini and cucumbers. Seeds were sown and fall celery was potted-up. Onions were weeded a second and final time (now that we're past the solstice most of their time and energy will be spent forming bulbs, or so I've heard). The entire farm was flail mowed. Four thousand feet of preliminary beds were formed for fall cabbage, broccoli, cauliflower, and rutabaga. Three thousand feet of sweet potato and eight thousand feet of potato beds were hilled and cultivated.
This coming week we'll embark on more crop maintenance and a lot of aisle mowing. More time will be devoted to harvesting now that zucchini and cucumbers are starting. These need to be picked every two days (and as of now the plants are the biggest I've ever seen and hopefully this translates into an exceptional harvest). Weeds will be pulled and crops will be stirrup-hoed. More lettuce and beans will go in. And just maybe we'll spend a lot of time irrigating.
Workshifts for Week of 6/22
By Derek McGeehan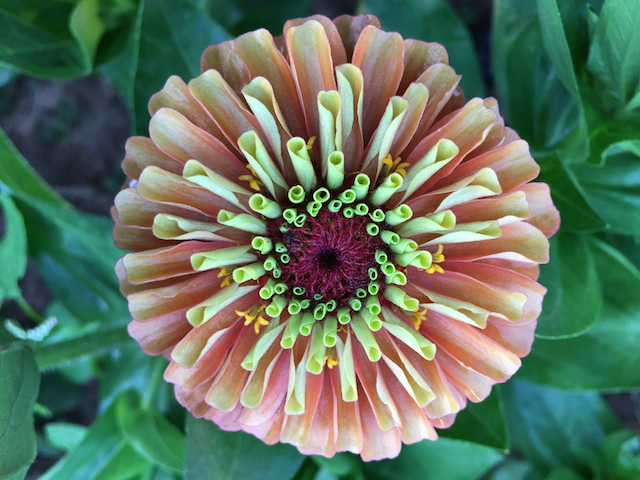 This is a perfect time to contribute some labor at the farm! Summer weather is here and it's great for helping you sweat out the bad stuff. And the weeds are really starting to grow. If you signed up for a share with work discount, please consider joining us soon.Workshifts scheduled for this week:
Tuesday 6/23 9-11am
Wednesday 6/24 9-11am
Wednesday 6/24 6-8pm
Friday 6/26 9-11am
Sunday 6/28 7-9am
Summer Crops Arriving
By Linda Dansbury
As Derek always talks about in his posts, nothing on the farm stays the same - it is so true with the crops at this time of year. Long summer days and warmth help the veggies mature at a rapid pace now. This week, we are definitely receiving summer squash, aka zucchini. Zucchini provides many nutrients, including a good amount of vitamin A, vitamin C, potassium and more. Enjoy the various colors and shapes offered - they taste similar with very subtle differences and can be used interchangeably in recipes. If using within a day or 2, they can be kept on the kitchen counter. If you want to keep it longer, place in a produce cloth bag, a paper bag, or perforated or open plastic bag in the refrigerator. They need air circulation to prevent spoiling.
I think everyone knows what to do with their squash, but for some new ideas
search this site
under Squash (summer) for everything from squash salads, to main courses and of course dessert! One of my favorite and easiest ways to enjoy the squash is to grill it. Cut lengthwise in half or quarters and brush with olive oil. Grill over a medium flame. Be careful about walking away because it cooks up quickly. Turn until browned on all sides and cooked to desired tenderness. Remove from grill and if desired drizzle with olive oil, sprinkle a little salt and pepper and chopped fresh herbs. Enjoy!
Fennel is another new crop we'll probably receive starting this week. Like squash, fennel has a significant amount of potassium and vitamin A, as well as some vitamin C and a good supply of fiber. Fennel stores well in a loose plastic bag or container in the refrigerator. It will keep for a couple of weeks. One of the easy ways I like fennel is to thinly slice or mandolin fennel and add to salads - it adds a really nice crunch and slight anise flavor. This is a very versatile crop and is equally delicious raw and cooked. Again, search fennel on this recipe site and you will find a lot of recipes. A good one to try now is the
Cous Cous with Fennel, Chard and Chick Peas
and/or the
Shaved Fennel Salad with Parmesan Cheese.
Now that the herbs are coming (yay), a word about storing. Cilantro and parsley seem to store for 1-2 weeks in the fridge in a plastic bag or container. Basil, on the other hand, does not like to be cold. When you get it home, snip the stems and place the basil in a glass or jar of water and keep on the counter. I have heard that it keeps best if you place a bag over the basil, but stems of basil don't hang around long enough for me to measure the difference. I do like to place some of each herb in a glass of water on the counter so that are at arms reach when I am cooking.
How I Enjoyed My Harvest
Healthy Eating
By Linda Dansbury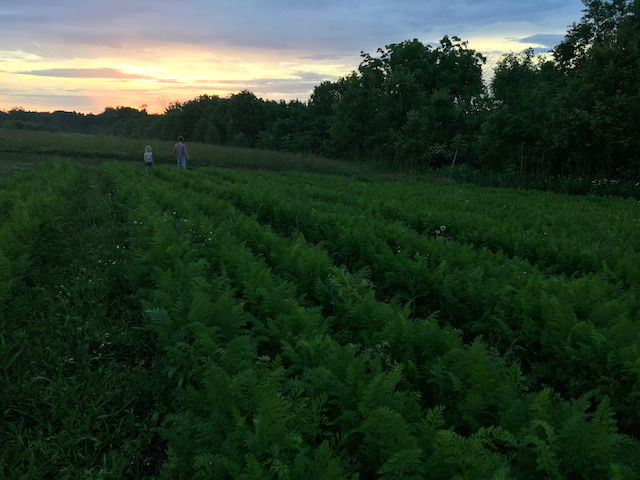 I love all these farm veggies! Knowing we are eating such healthy food is so comforting. Share how you are enjoying your harvest by emailing me at lindadansbury@comcast.net and please put Anchor Run in the subject line. Here is a bit of what we ate this week. And, a very Happy Father's Day to all the Dad's out there.
Peas, kohlrabi - ate on their own as a snack and with a homemade yogurt and goat cheese dip.
Peas, scallions, garlic scapes, herbs - made a cous cous and pea salad, but have to say it wasn't my favorite, ok but not worthy of sharing. I should note that others at the table thought it was good!
Escarole, radicchio, scallion, garlic scape, herbs - briefly grilled the escarole and radicchio, until barely wilted. Sauteed garlic and scallion with a can of white beans and a bit of broth. Roughly chopped the greens and poured the bean mixture over. Drizzled with good quality olive oil, a good amount of freshly ground black pepper and a bunch of fresh chopped herbs. Had it alongside one of our Wild For Salmon fillets. A very satisfying meal.
Greens, garlic scape, herbs - several years ago a fellow member shared a wonderful skillet dinner idea and I make it when I am trying to figure out a delicious way to use my greens (you can freeze greens, but I have found that I am not very good about getting them out of the freezer and using them so it is better if I use them up). Saute garlic and scallion/onion in a large, non-stick skillet. Add chopped greens - pretty much anything you have on hand - chard, kale, dandelion, escarole, radicchio, etc. If you use kale, place that in the skillet first, since it takes longer to turn tender. Once the greens are nearly desired tenderness, make wells in the skillet, push the greens to sides of the pan. Carefully break eggs into the wells and allow the whites to start to set. Cover the pan and steam for a few minutes - keep checking as you want the whites to cook, but the yolks to stay runny. Once you get to that stage, serve giving each person 1-2 eggs and a good portion of the greens. Salt and pepper to taste and add fresh herbs if desired. Serve with a nice piece of crusty toasted bread.
Hershberger Heritage Farm Back but With Pre-Ordered Boxes
by Farmer Dana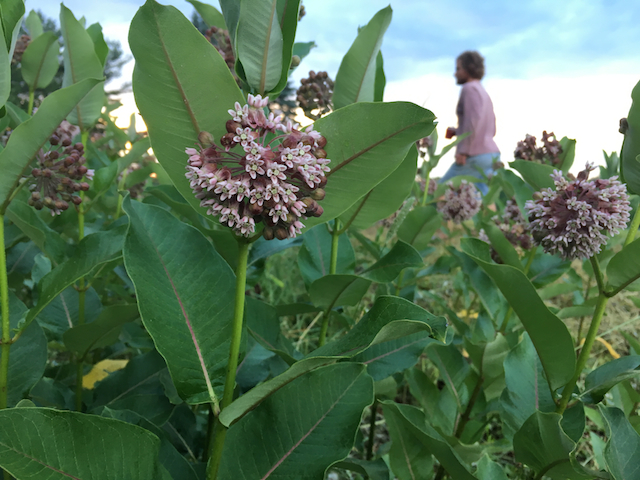 We're once again partnering with
Hershberger Heritage Farm
to bring you local, pastured, organic meat and poultry. They won't set up their farm stand this year; instead you'll pre-order a customizable 'berger box' that will be delivered to our farm for free. There are three sizes/values that you can choose from (small-$40, regular-$80, large-$200). You basically select the box/size you would like to fill and then choose what you want to go in it based on the value of the items. For example, if you choose the $80 regular box, you can fill it with $80 worth of goods. If you happen to go over the value that is okay too, you'll just pay the difference.
Orders must be placed by Sundays at midnight for your order to be dropped off here that same week, at our farm, in our freezer, for you to pick up on a regular CSA pick up up day (Mon & Thu 1-8pm; Sat 10am-12pm). Orders won't be dropped off until Tuesday or Wednesday so the earliest they could be picked up would be Thursday 1-8pm. They can be held in our freezer until your following pick up day.
For more information and to order, go to their website. The first week for distribution will be the week of 6/15 so order by Sunday 6/14 at midnight to receive a box that week.
When you order, select 'Try It Once' since this will be an as needed system, not a farm share.
Also select to 'pick it up at their farm store' so you aren't charged for delivery. **In the notes indicate that you are part of Anchor Run CSA (that way they'll know to deliver it here).**