Wrapping up the season
Derek, Jenna, and Wayne harvest scarlet queen turnips for storage.
A method for extending the harvest season and protecting crops: hoops and row cover.
News
Notes From The Field
A final harvest!
By Dana Hunting
The last week of harvests for the regular season CSA! Goodness, that crept up on us rather suddenly. Overall it has been a good year of farming. A few crops failures come to mind - onions, carrots and parsnips - but mostly the harvests were varied and abundant with no major weather crises to speak of. We are eager to hear about your experiences of this year in our member survey. We appreciate the feedback in order to tweak our operation here to please you, our cherished membership!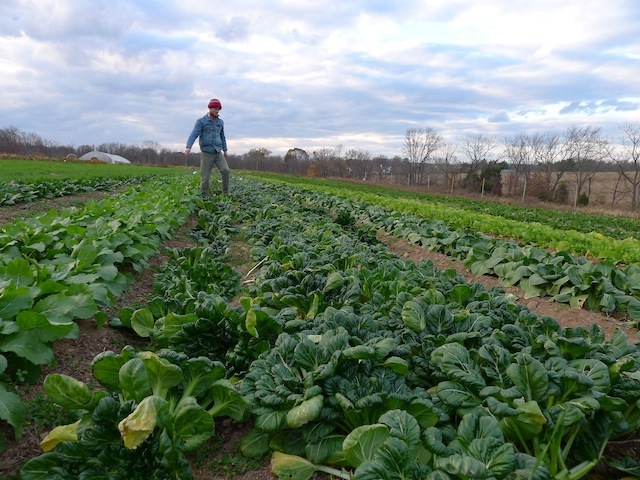 Harvesting tatsoi on a blustery day. Will it survive the upcoming cold?
One change that we made this year, based on member comments from last year, was growing successive plantings of parsley, dill and cilantro. By seeding and transplanting them at regular intervals during the season we were able to enjoy a more consistent supply. We're already planning some modifications for next year including seeding a few beds of u-pick sunflowers separate from the sunflower cover crop and growing lettuce mix for more weeks as a result of positive feedback this fall. So do offer your reflections as we take them seriously.
We continue to be grateful for your support which makes an operation like ours successful. It's a wonderful thing that a community of folks can collectively shape their environment to be what they'd like it to be. It never gets old remembering that the choices we are making, as a community, to have a CSA are actually happening and shaping our world. Amazing! Together we are contributing to a clean environment which benefits all of us. It's a simple equation: clean environment = healthy environment = healthy food = healthy people.
Have a wonderful winter!
Expected Harvest
Greens and roots
By Dana Hunting
Harvest #26 (Week B) should include sweet potatoes, butternut squash, hakurei turnips, head lettuce, lettuce mix, swiss chard, arugula, garlic, celery, radicchio, bok choy, tatsoi, celeriac, and kohlrabi. Some items will be a choice.
Celeriac - a strange looking but delicious veggie
By Linda Dansbury
When I was in the pick up room this past week, there was a choice of kohlrabi and celeriac. A fellow member asked what the celeriac is. It is in the same family as celery, but it is a variety in which the root expands into a bulb looking veggie. It is not considered pretty, but peel off the skin and it yields something that is tasty both raw and cooked. It can be julienned and made into the classic French dish - celeriac remoulade, which is best described as a cole slaw type dish, but with a subtle flavor of celery. It is also delicious roasted with other veggies, or boiled and mashed either alone or in combination with white or sweet potatoes. It can also go into soups and pairs beautifully with carrots, leeks and apples - a true taste of fall. Store the celeriac in plastic bags in the refrigerator - it will last for at least a few weeks. Please check out the website for various recipes and enjoy!
How did I enjoy my harvest?
By Linda Dansbury
As we near the end of the 10th season at Anchor Run, I want to thank those that took the time to send me your ideas on how you enjoy your harvest. I learned new recipes and ideas from many wonderful cooks out there. This year's membership was the most prolific in their emails to me and I look forward to hearing from even more of you in 2014.
Brussels sprouts, leek -- yum! one of my favorites - I know they are limited due to harlequin bug infestations that are so difficult to control. Dana had a note on the board to roast them, which is really a great way to use them. I did mine in a pan along with leek, a little cider vinegar and a bit of veggie stock. So delicious.
Carrots, celery, leek, thyme, rosemary - made osso bucco for my mom's birthday dinner.
Lettuces - I really love the lettuce mix that we have received the past few weeks. The variety is great! So, we have been having a lot of large salads.
Cauliflower, carrots, leeks - made another small batch of cauliflower soup - it is soup season after all.
Leeks, carrots, garlic, thyme -- made lentils and sausages -- another long-cooking fall weather dish - made this on Sunday and then had it for dinner 2 nights during the week.
Enjoy the harvest and have a very healthy, happy holiday season and early 2014. I hope to see you around the barn in 2014!