CSA Week 8: Amidst a Heat Wave
News
Expected Harvest
Commence the Cukes!
by Farmer Dana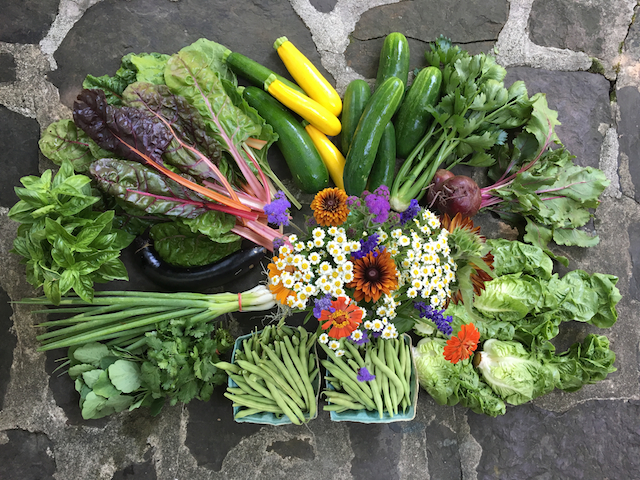 Harvest #8 (Week B) should include beets, zucchini, cucumbers, basil, lettuce, scallions, Swiss chard, Italian dandelion, parsley, dill, cilantro, fennel, eggplant, and celery. Some items will be a choice and may not be available during all pick up times. U-pick should include green/string/snap beans, flowers, and herbs.
Notes From The Field
That Summer Feeling For Sure
by Farmer Derek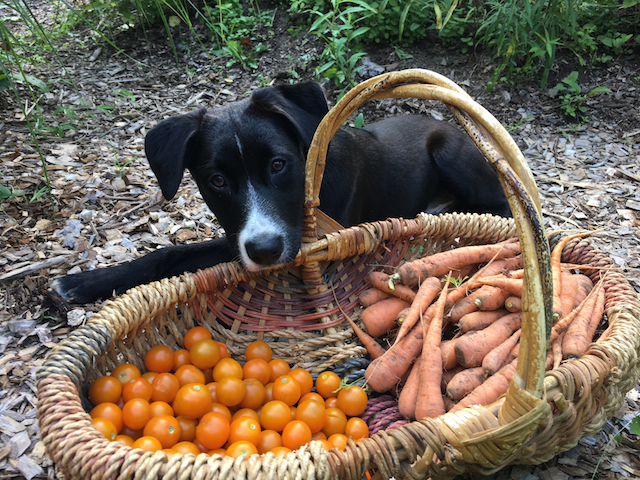 You know it's July when the 10-day forecast shows temperatures reaching 90 degrees daily. And it's early July when the spring-sown carrots and fall-planted garlic need to be harvested. And there's a chance of a thunderstorm every day. And when the sun wakes you up at 5:30am on a day when you don't need/don't want to set the alarm. But at least those afternoon moisture events bring clouds and cooling rainfall. Another 1/2-inch of nice rain was received this past Friday evening following the planting of 4,000 of the 7,000 strawberry plants (3,000 were damaged/destroyed/lost by FedEx but will be re-sent this week). We've been lucky so far this season with just about enough rain with no major deluges. We're much happier when things are on the dry side though our nerves do fray when it doesn't rain at all and temperatures soar. At least with this heat wave there's a chance of daily rain though that could mean you receive 3" and I receive .25". It'll be a challenge working in the heat but we must.
Besides planting 4/7ths of our 2021 strawberries last week we were of course busy doing many other things. Another round of cilantro, dill, and lettuces went in. Cherry tomatoes were pruned and trellised. Pea trellising was removed. Beet roots and cabbages were harvested. Crops were cultivated and weeded. Aisles were push mowed. Thousands of seeds were sown into trays (fall kale, chard, beets, fennel, lettuce, basil). Unused fields were flail mowed and chisel plowed. Raised beds were fertilized and reshaped for the 4,000 feet of fall broccoli, cauliflower, and cabbage. Each pass with the shaper takes place after a rain event and removes germinating weeds and lowers the weed seed bank. Rain also stimulates microbial action in the soil and helps break down organic matter making for some nicer planting conditions. In a perfect world I'll chisel plow once, primary shape twice, and finish shape twice, with a rain event between each action. I typically begin preparing ground a month in advance. We've now opened up ground for our entire 2020 planting footprint. Areas I just chisel plowed will be planted in August and September.
Upcoming this week will be planting the rest of the strawberries as well as lettuces. Aforementioned broccoli, cabbage, and cauliflower may also go in. Speaking of those, they were attacked by flea beetles in our hoop house. What was a few beetles became an onslaught of perhaps the entire spring colony. Today I went out with our vacuum and spent an hour sucking thousands of them off the plants and from the roof. I'm curious to see if it will be effective but I do believe I put a serious dent in their population. I'm pretty sure vacuuming is an organic approved pest control. I will save our fall brassicas!
Workshifts for Week of 7/6/20
by Farmer Derek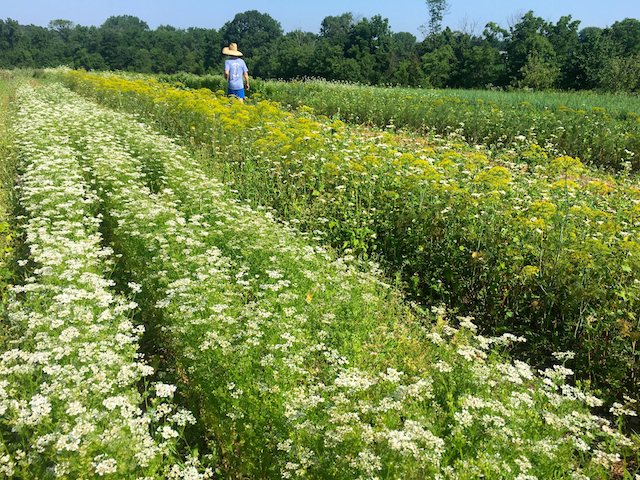 Long and hot days are here, and with high summer, big harvests commence. If the weather allows, this week we'll embark on the harvesting of carrots and garlic. Shifts will be scheduled earlier in the mornings to beat the heat. These harvesting events are kid friendly but please don't sign them up on the website (if they work with you their hours can count).
If you signed up for a share with work discount, please consider joining us soon.
Per the PA Dept. of Health, masks and social distancing are required.
Workshifts scheduled for this week:
Tuesday 7/7 8-10am (carrot harvesting)
Wednesday 7/8 8-10am (carrot harvesting)
Friday 7/10 8-10am (carrot or garlic harvesting probably)
Sunday 712 7-9am, 9-11am (probably garlic harvesting, tying, hanging)
How I Enjoyed My Harvest
Cooling Veggie Salads
By Linda Dansbury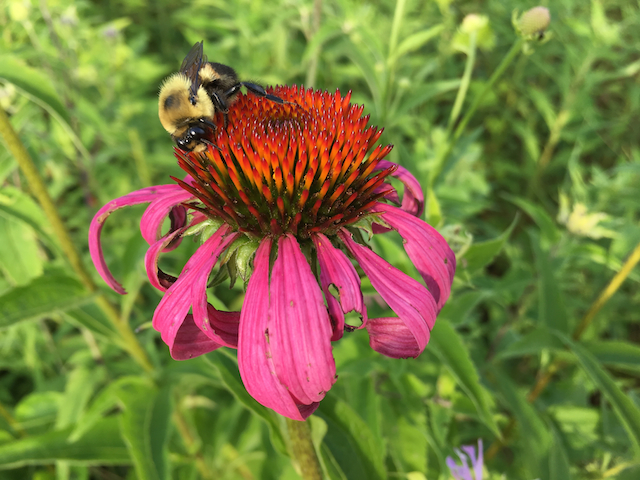 This time of year, I take a lot of the produce we receive and turn it into salads - squash/zucchini, cucumbers, beets, even green beans make delicious salads. July 4th weekend is generally quite hot and humid, so to have some type of grilled meat (last night was ribs) accompanied by room temp or chilled veggie salad, is so satisfying. I often make the salads early in the day on weekends - when I make several of the salads, we end up having them to eat for several days, so weeknight dinners are very simple.
Here is some of what we enjoyed this week, and if you have something to share, I would love to hear from you - please email me at lindadansbury@comcast.net and please put Anchor Run in the subject line to make sure I see your message.
Squash, mint
- made a new dish called
Refreshing Summer Squash Salad
- I am adding this as a new recipe this week. This dish is so fast, simple to make that it will now be one of my go to dishes. Simply "zoodles" with lemon, mint, olive oil, salt, pepper and feta. The recipe also calls for proscuitto - we have bacon, but I didn't feel like cooking it, so we just used a little locally made feta on top and it was delicious - we didn't miss the pork addition at all and we are pork lovers. Had it with seared scallops and leftover salad with ribs the next day.
Cucumbers, mint, cilantro, garlic, scallions
- another new dish!
Vietnamese Cucumber Salad.
The mix of flavors in this is so good! It calls for a hot pepper, but since they are not yet in season, I added a bit of Sambal Oelek to add some heat
Green beans, scallions, garlic scape, basil, parsley, oregano - made my version of a green bean salad. I cook the beans until tender - I cook them a bit longer than if we were eating them plain. Stop the cooking by plunging in an ice water bath, and drain well. Place in large bowl, chop everything else up and add. I also like to add a can of chick peas, both for the great taste and the color contrast. Make a simple red wine vinaigrette, stir well and let sit for a few hours to allow flavors to blend in - it is actually better the 2nd and 3rd day, and will last at least a week in the fridge. I sometimes top with some crumbled feta cheese and once we have cherry tomatoes, I cut them in half and add - these add beautiful color and taste.
Beets, scallions, tarragon and/or parsley - made a beet salad. Roasted beets in oven as described in previous newsletter - 425 degrees in a covered pot, such as a la Crueset. Roasting took about 1.5 hours for the large beets. Peeled when cool enough to handle. Made a vinaigrette with red wine vinegar, olive oil, a bit of Dijon mustard, salt, pepper, scallions (I also use shallots I grow if there aren't scallions), fresh or dried tarragon. Pour over beets and again, allow to sit for awhile so flavors go through. Serve with mixed greens, a bit of goat cheese and some type of candied nuts if you like.
Fennel, parsley - used our fennel in the broth for making steamed clams - we sliced it real thin with a mandoline so it would get "melty" soft in the broth. Topped the clams with a lot of chopped up parsley.
Member Ideas and Suggestions
Colorful Foods
By Linda Dansbury
I received a wonderful email from fellow member Kim Sorensen. As many of you know, I do prepare a lot of Southeast Asian dishes. The colors and flavors of the veggies shine through in this genre of cooking and Kim and her mom demonstrate it with her email.
"My mother and I have been exploring Korean cuisine as a means to enjoy the harvest. In the attached photo you'll see, from left to right: grilled tofu with bibimbap sauce and thai basil; snap beans and snow peas sauteed with lots of garlic; a simple cucumber salad with rice vinegar and tajin; zucchini sauteed with gochujang and garlic with Vietnamese coriander sprinkled on top; and finally a kimchi pancake with garlic scapes and green onions."
Thank you so much for taking the time Kim and if other members want to share their dishes, please send an email to me at lindadansbury@comcast.net and put Anchor Run in the subject line.