CSA Week 12: Welcoming August, and Isaias
News
Expected Harvest
Such a Good Time
by Farmer Dana
Harvest #12 (Week B) should include watermelon, basil, lettuce, cucumbers, zucchini, carrots, scallions, tomatoes, sweet peppers, eggplant, onions, hot peppers, okra, and Italian dandelion. Some items will be a choice. U-pick should include cherry/grape tomatoes, edamame, snap beans, tomatillos, husk cherries, blackberries, flowers, and herbs. U-pick reminder: Open 8am-8pm Mon-Sun.
Notes From The Field
August Shares
by Farmer Derek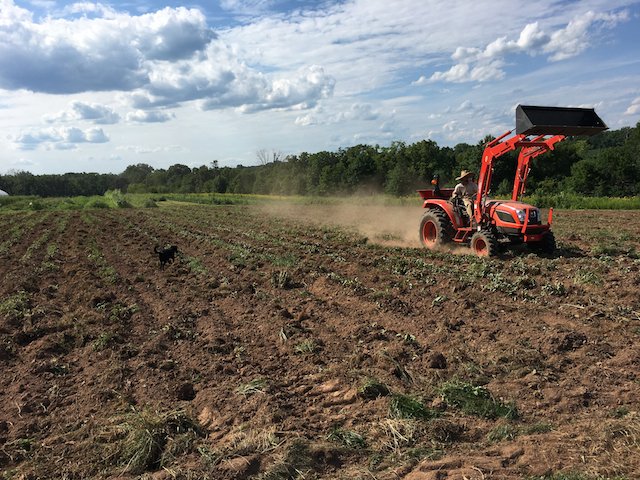 What a week. I'm tired but pulling energy from deep within, from somewhere, from the future because there is eventual rest there. Borrowing. Monday is normally the most difficult day of the week. Not just because the weekend is over, which is basically just a time for different work, and the official work week begins, but because harvests are huge and heavy right now and it's the day cucumber and zucchini harvest coincides with an actual pick up day so harvest morning becomes harvest afternoon. Binning shares the way we are this year also means that two of our staff need to break for lunch and be ready to pack by 12:30pm. Added to Monday last week was an epic tomato yield. Seven hundred pounds of heirlooms came out of the high tunnel and 800 pounds of red slicers were harvested in the field. The prior harvest day, Thursday, yielded about a third of that weight, and this peak caught us by surpise. Hey, but rejoice, fresh tomatoes are a summertime treat, a thrill! In my mind I associate early August with peak tomatoes, but perhaps I need to adjust that brainwave to the end of July since that's when it's occurred this year and last. Oh, and it was super hot, like borderline unsafely hot. But we persevered and will.
This is a great time of year. Early August marks the halfway point between the summer solstice and the fall equinox and daylight hours will quickly reduce and hopefully the worst heat is behind us. Large contiguous areas of spring and early summer crops are now available for cover crops, which is what I spent all day Saturday preparing for. Timing matters and when a perfect opportunity presents itself I try to take advantage. Perhaps I even get excited by the prospect of putting those fields to sleep for the winter which largely removes them from management and active thinking for the next half year. That's if the sown seeds take and we get a good stand of desired plants. I flail mow, chisel plow, broadcast the seeds (in this case it was oats, wheat, and buckwheat), then disc harrow them in. The chisel penetrates the soil a good 8" deep every 12" across the 7-foot implement, loosening and fracturing but without too much negative disturbance, and the disc penetrates 2-3" every 6" across, chops up residue, and mixes the seeds into the soil. It's the best and quickest method for us to convert spent 'cash' crop fields into cover cropped fields. Dry conditions followed by ample rain are ideal. On Saturday I was also able to sunrise sow another mile of carrots, destined for a mid-fall harvest. I also upgraded/improved a waterway at the top of the u-pick field below the ranch house where excess water has been bothering crops and me.
Upcoming this week is a hurricane, harvesting, a farm tour, weeding, transplanting, seeding, cultivating, and mowing.
COVID Etiquette Reminder
by Farmer Dana
Per the PA Department of Health:
BCFA Farm Tour Wednesday 7pm
By Farmer Dana
We're hosting a Bucks County Foodshed Alliance farm tour this Wednesday at 7pm.
Follow this link
for more information.
Workshifts for Week of 8/3/20
by Farmer Derek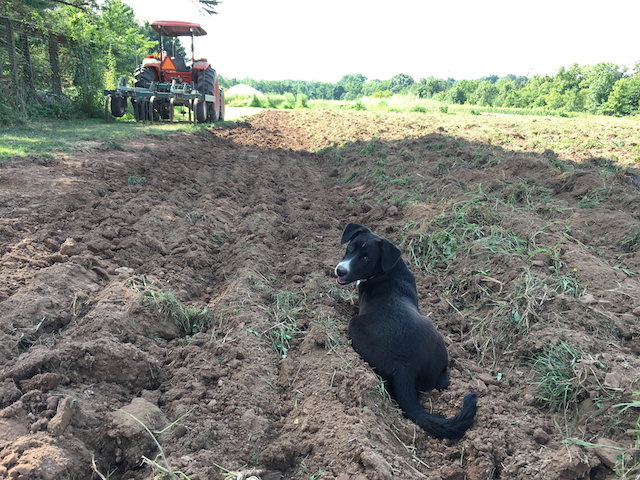 Workshifts scheduled for this week:

Friday 8/7 8-10am
Sunday 8/9 7-9am
**Workshop 8/23** Now What… Did you do with your share?
by Gia Yaccarino
Hosted by longtime farm and core group member Gia Yaccarino.

Please join me Sunday, August 23, from 1-3pm at the Pavilion (a rain-out make up date from 8/16).
Wow – This has been one crazy year – both for the world and at the farm! I think we all have settled into our "farm routine" for this growing season – but it is a vastly different routine from previous years! At least for me. And as I take a step back to consider the differences, I of course think of the things I am missing at the farm.
Sorrel! I miss the Sorrel! I love that "lemon lettuce"!
I also miss the "community" part of the CSA – the talking in the pick-up room as we patiently wait to weigh out our share. Passing the time while doing the U-Pick by talking to other members. And the potlucks - YUM! (We have some excellent cooks at the farm!!!) I miss you guys – the other farm members that I felt a camaraderie with as we all attempted to find creative ways to use our plentiful shares of produce. I understand – with the current state of things, people are giving each other space – lots of space – thank you. But, still- I miss the community!
So let's have a workshop!
If you have been a member, prior to this year, you probably remember that I usually run a "Now What" workshop at the start of the season. This year, I want to add a twist – since we are already 10 weeks into the season, I also want my fellow members to contribute what they have done with their shares. Successes, Disasters (we learn from our mistakes!), Misadventures! Are you stuck in a rut and do the same thing with certain vegetable?
I will also be talking about using a dehydrator, since that always seems to be a popular topic!
Please bring a notepad and pen or pencil to take notes!
Please Join me Sunday, August 23, from 1-3 at the Pavilion.
How I Enjoyed My Harvest
Tomato Days!
By Linda Dansbury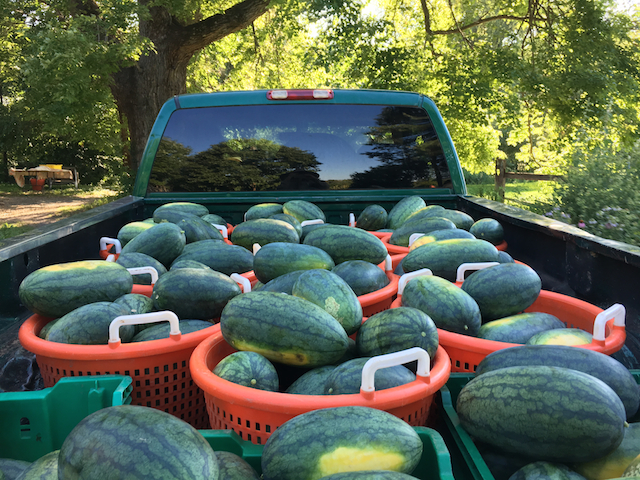 Tomato days are here and that is so, so exciting! They are so delicious that I don't do too much with them. I know a lot of people do their Caprese (aka tomato and mozzarella) salads with either balsamic vinegar or even a balsamic glaze, but I simply dress the tomatoes with a drizzle of good olive oil, salt, pepper and basil - the flavors are just perfect! We alternate this with bruschetta - again, keeping it simple so the tomatoes are what shines. Here is a bit of how we enjoyed the harvest - please share what you are doing with your harvest by emailing me at lindadansbury@comcast.net and put Anchor Run in the subject line so that I see your email.
Tomatoes, garlic, onion or scallion, basil, peppers - I love making the tomato salad I grew up eating when garden tomatoes were in season. Peel the tomatoes and cut into bite sized chunks, chop peppers into small bites, slice onion or scallion thinly, tear or chiffonade basil, and grate a bit of garlic - grating makes the garlic a bit milder than chopping or mincing and you don't want an over-powering flavor. Place everything in a bowl and salt and pepper to taste, add a bit of oregano, then drizzle a little red wine vinegar and olive oil and mix well, but gently because the tomatoes are delicate without their skins. Enjoy - an added treat is to dunk bread into the dressing - oh my! What a delicious treat.
Tomatillos, garlic, hot pepper, papalo (substitute for cilantro; it's in the herb garden)
- made the Tomatillo sauce for the
Chicken Stew with Tomatillo Sauce
with 2 weeks worth of my tomatillos and placed in freezer for use later. I really like having things to pull out of the freezer in the middle of the winter.
Zucchini, cherry tomatoes, basil, garlic
- made an
uncooked tomato sauce
and put over warmed Zoodles - we have 2 recipes on this site - just type tomato sauce into the search bar on the recipe section of this site.
Eggplant, zucchini, onion, greens, garlic, peppers
- a blend of hot and sweet - I made the
Veggie Fritters
recipe sent by fellow member Ashmali Patel. It was a fun and delicious way to use the veggies!
More new Crops
By Linda Dansbury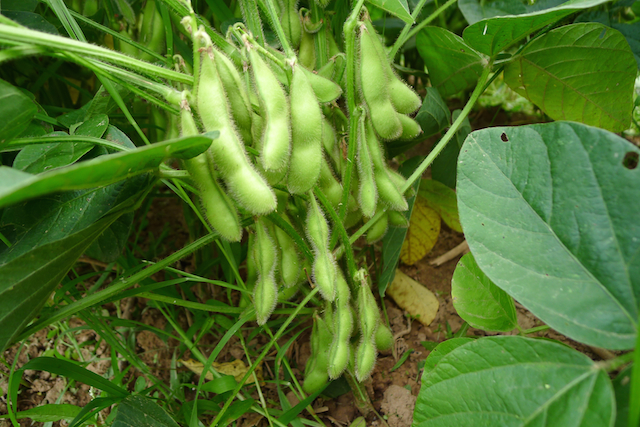 One of the favorite farm crops should be ready for this week - edamame. Very nutritious and a fun, healthy snack to eat. Look for the plumpest beans to be at the bottom of the plants. Use 2 hands when pulling the pods off the plant, so you don't remove the entire branch. Fresh edamame should be eaten or frozen within a week. Store the pods in a perforated plastic bag in the fridge. To freeze, bring a large pot of heavily salted water to a rolling boil and have a bowl of ice water ready. Boil the beans for about 3 min, drain and place in ice water. Once they cool down, place on a towel to drain. I place the bean pods on a cookie sheet, and place in freezer until frozen. Then place in a plastic bag or container.
To snack on, boil the pods in heavily salted water for 9-12 min, checking for done-ness starting at 9 minutes. Drain well, salt again and enjoy! There are a lot of recipes on this site for edamame - so take a look and enjoy.
Okra made it's first appearance this past week. People in line waiting to pick up commented that they don't know what to do with it. One of the simplest and most delicious things to do is to put a bit of oil in a pan. Slice the okra into "coins". Place in hot oil and cook until browning. Turn over and continue cooking until browned on both sides. Remove from pan, salt and enjoy - Okra Chips!
Something I do every year with okra and other veggies is to make batches of veggie stew. I start by sauteing onion, I add garlic and then whatever veggies I want to use, including okra, eggplant, zucchini, peppers, tomatoes that may have gotten over ripe, corn and greens and allow to simmer until the flavors meld together and the veggies are softened. Spices such as cumin can be added, as can a hot pepper. Stock or canned tomatoes can also be added - I like this to be a bit saucy. I freeze it in serving size containers and then pull it out during the year to enjoy over brown rice, along with grilled sausages, as a topping for fish, chicken or pork, etc. There are also several delicious okra recipes on this site. One of my favorites is the
Easy Indian-Style Stewed okra.
Enjoy the harvest.